Ways to Cover a Brick Fireplace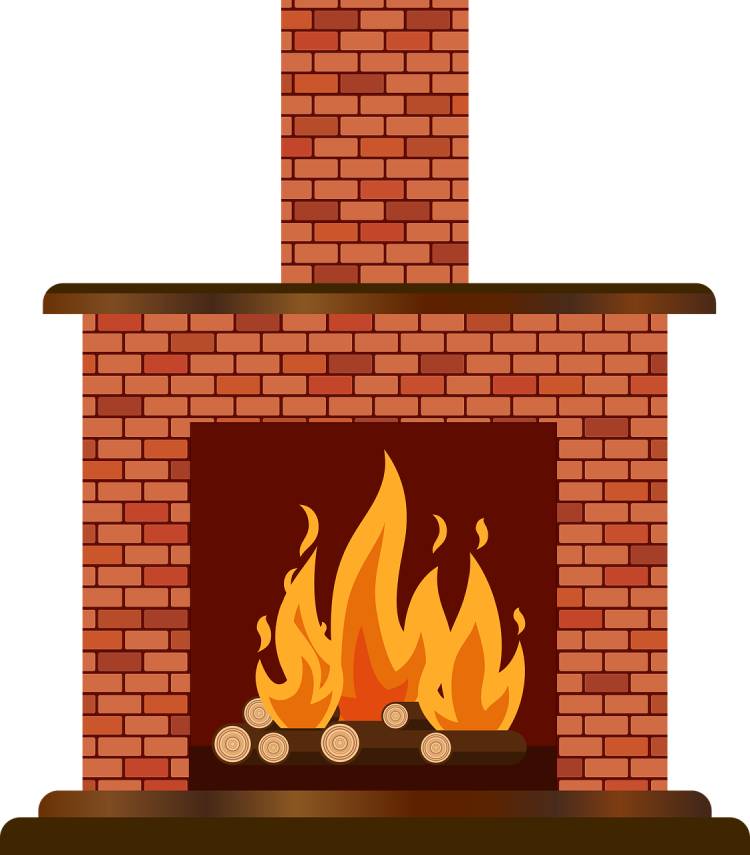 A brick fireplace is a cozy home feature that many people desire, and contrary to popular belief, it isn't just for farmhouse-style or traditional-style homes. With the right finishes and accents, a brick fireplace can blend in with any design style and even become the eye-catching focal point of your home. Whether your style is simple or modern, a brick fireplace is an eye-catching architectural feature that can be transformed or decorated with a bit of imagination.
If you were curious, there are a few terms related to fireplaces and brick that you should be familiar with. The fireplace, well, it's where the fire goes. The shelf above the fireplace is known as the mantel. The hearth is the area beneath the fireplace that can be as simple as a small surface area or as elevated as a bench. Whitewashing is the process of applying sheer white paint to a surface, such as brick to lighten its color. On the other hand, the painting uses an opaque formula to cover the brick completely.
You don't need a large budget or a lot of know-how to update your fireplace. All you need is a great style concept and a little motivation. You may be able to complete a complete fireplace makeover using items already in your home. Most of these DIYs can be completed in 1-to 2 days, so bring on the weekend, warriors!
Colorize the Brick
If you do not like the appearance of the brick around your fireplace, you can paint it to give it a new look. Brick fireplaces are typically red brick, but your home may have a different brick color. Regardless of the original color, a paint that will cover it can be found at your local hardware store. If you want a more stylish look, use a single bright color to make the fireplace the room's focal point. If you want to give your existing brick an ancient appearance, you can buy paint in the form of a kit that will do so.
Also See: How to Choose Exterior Paint Colors for House
What you will require?
Wire scrub brush
Rubber gloves
Safety goggles
Drop cloths
Paint roller for textured surfaces
Small paintbrush
Non-sudsy trisodium phosphate, also known as TSP
Fireplace cleaner
Painters tape
Oil-base primer
Indoor latex paint
You may also read our article on Tips for Painting Concrete Floor.
How to do it?
Clear the surface of the fireplace.
To ensure that your paint sticks and dries properly, thoroughly clean the brick. Tape off any areas you don't want to be painted and cover your floor with a drop cloth. Remove any dirt or dust with a wire scrub brush, then vacuum away any debris. Apply non-sudsy trisodium phosphate next (also called TSP). Wear gloves and safety goggles, and thoroughly clean the fireplace with soapy water or a cleaning product. Allow drying after rinsing.
Prime The Brick
A stain-blocking, oil-based primer shields your paint from future soot stains caused by the use of the fireplace. Use a small, stiff-bristled brush to get the primer within the crevices along the mortar lines. Following the paint manufacturer's instructions, apply the primer evenly across the entire surface of the brick fireplace with a roller. Because brick is porous, a second coat of primer may be required. Allow the primer to dry overnight.
Paint The Brick
It's time to paint your brick fireplace once the primer has dried. Choose an indoor, latex, heat-resistant paint (flat, semigloss, or gloss) that is rated to withstand the temperatures produced by the fireplace (generally around 200°F). Remember that this paint is only suitable for the exterior of a brick fireplace, not the interior firebox. You'll need special heat-resistant paint if you want to paint the firebox.
Begin by getting a small paintbrush to paint any areas you can't reach with a roller, including the mortar lines. Then, cover the brick surface evenly with a roller designed for textured surfaces. Allow plenty of time between coats to dry and apply a second and third coat as needed.
Finishing Touches
Touch up any blemishes or missed spots with a small paintbrush. Remove the painters' tape and drop cloth, and wipe up any splatters with a damp cloth.
Resurface the Back Panel
You can give the entire area a new look by simply updating the inside of the fireplace. To contrast the surrounding brick, one option is to tile or paint the inside of the fireplace. Surround the hearth with potted plants, a small seat, or a log stack if your fireplace isn't operating or you don't use it for fires.
Refresh the Mantle
If you don't want to paint the entire fireplace, you can brighten up the area by painting the mantle. You can also replace the old mantle with an entirely new one to update the look of the fireplace. (If your fireplace does not have any mantle, then you can easily add one in the form of a floating shelf.) The room will look more modern if the existing brick is paired with a new metal or brightly colored mantle. You can then use the mantel to display interesting pieces of art or family photos that will serve as conversation starters.
Accessorize it
Accessorize when in doubt. If you want to liven up your fireplace but don't have the time or money to execute a DIY project, you can decorate the surrounding area and mantle. The fireplace should be a focal point because it is interesting and not cluttered. A large mirror hung above the fireplace is a great way to add decoration and make the room appear larger. Allow your imagination to run wild and decorate the mantle with fresh flowers or buy a fire screen for the actual hearth. Whether you have a mantle or not, the possibilities are endless; don't go overboard. You may also refer to our article on How to Decorate Using the 60-30-10 Color Rule? fro more guidance on this.
Choose what you want to emphasize
Is there anything you like about your fireplace, or is the entire structure unappealing to you? A large mirror or artwork hung above the fireplace is an excellent way to conceal unsightly brick. The only disadvantage is that hanging artwork or a mirror from brick or masonry necessitates the use of specialized tools (and the process creates hard-to-hide holes). Hang the painting or mirror on the mantel for a less permanent solution.
Use a hook and some decorative (but strong) ribbon or rope to hang the artwork or mirror from the ceiling. If the mirror or artwork is heavy, use a stud finder to ensure the hook is anchored in a ceiling joist.
Make symmetry
Symmetry is known to be naturally pleasing to the eye, so take advantage of it by putting identical vases, floral arrangements, or other decorative elements on either side of the fireplace.
Twinkle lights should be hung. We believe twinkle lights are the go-to for ugly rooms or locations around the house that require an infusion of comfort since we believe they make everything appear nicer. Choose warm white LED lights for the most soothing (and energy-efficient) effect. If there's no way to hide the yellow, 1970s-era brick fireplace that dominates your living room, don't waste your time and money trying. Instead, take advantage of the opportunity to scour local yard and estate sales. You can go crazy with macramé wall hangings, vintage furniture, shag carpets, brass lamps, and accent pieces.
See Also: Best Minimalist Home Decor Tips | How to Choose Lights for Home?
Allow it to blend in
If you don't want to make the fireplace the focal point of the room, consider blending it in as one of several elements. Consider painting the brick the same color as your walls to give the wall a unified look. The fireplace will still stand out because they tend to draw attention, but it will blend in better if it is the same color as the walls. The key is to coordinate the colors of the room's furniture and decorations with the colors of the fireplace and surrounding area.
Refinishing the Surrounding Area
If you like the look of your brick fireplace but want to update the area, leave the brick alone and consider redoing the wall around it. You can create the accent wall by painting the wall behind the fireplace a different color than the other walls in the room. Consider installing shiplap or tile around the fireplace. Adding shelves or bookcases to the walls around the fireplace will add depth and refresh the overall look of the wall.
Make it an entertainment center
Many people choose to hang a large TV above their fireplaces, transforming the space into an entertainment center. Because the fireplace is frequently the focal point of the room, it only makes sense to hang the TV above it. Don't get too carried away with using the mantle to store DVDs or set up speakers for a surround sound system. Because having a TV over your fireplace gives the entire room a sleek and modern look, which you don't want to clutter up with too many decorations or items.
Also See: Best Gaming Room Ideas | How to Paint a Deck? | How to Paint Textured Walls
Conclusion
Even though a fireplace is a common must-have for many homebuyers, it is still a trending item (and personal style). Fortunately, a fireplace can be updated like almost everything else in a home.
The way you approach a fireplace update is largely determined by whether you rent or own your home, but your budget and interest in DIY projects also play a role.
Painting the fireplace or building a removable cover for it might be right up your alley if a weekend of painting or light woodworking sounds like fun. If not, look for fun decorations to accent (or camouflage) your fireplace at local home stores and yard sales.
Frequently Asked Questions
Is it necessary to prime a brick fireplace before painting it?
Yes! Priming is the most important step in painting a brick fireplace because it protects its integrity, particularly against humidity and staining. Priming also creates a smoother surface on which to paint.
Should I use specific paint for my brick fireplace?
To ensure that your brick fireplace fits its purpose, you will need to use special paint when painting it. Latex paint is more breathable than acrylic and oil paints, making it ideal for painting brick to preserve its integrity. If you wish to use your fireplace for real fires, you should also choose heat-resistant paint.
Is painting a brick fireplace a good idea?
Yes, painting a brick fireplace is completely safe if the fireplace is properly prepared. This includes cleaning the fireplace, inspecting the brick's integrity, priming, and applying the appropriate paint.