Turning Your Bedroom into a Hotel Sanctuary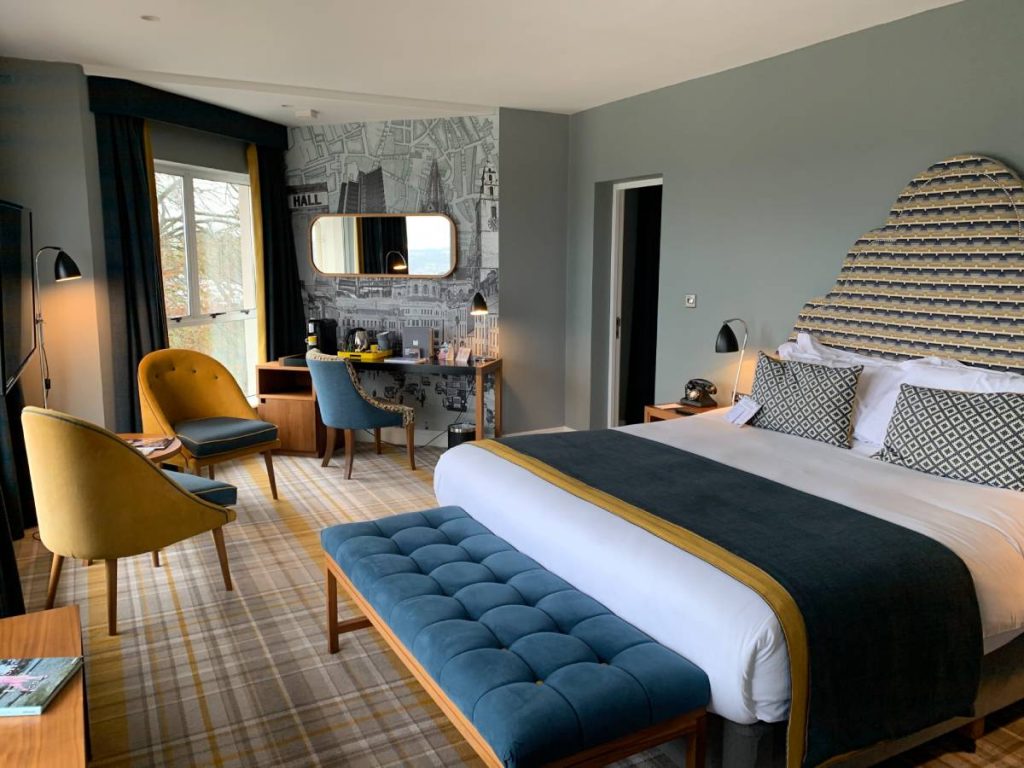 Wouldn't it be nice to start the month with a few great additions to your bedroom at-home sanctuary? Since the bedroom is one of the essential rooms in the house, and it is typically a room that guests do not see, it is frequently overlooked.
People spend the most time in their bedrooms than in any other room. Even though we spend most of that time sleeping, our bedrooms are where we start our days. They significantly influence whether we wake up feeling energized and excited or tired and grumpy.
Our bedroom is our personal & private space where we can unwind, refresh, and rejuvenate at the start and end of the day. It is critical to ensure that your bedroom is a haven of calm, stillness, and tranquillity. A bedroom that will serve as a sleep haven. With almost every family member at home, getting a full eight hours of sleep is a bit of a challenge if you can't create a sleep sanctuary. It is not easy to transform bedrooms into a peaceful haven for rest, but it is doable.
Luckily, there are numerous inexpensive ways to transform your bedroom into a sleep sanctuary. This article will explain to you how to convert your bedroom into the ultimate sleep sanctuary easily:
Keep The Layout Simple
The bedroom should be warm and inviting. It does not have to be crammed with useless items and furniture. Imagine returning home from a long hectic day at work to find a cluttered space (how upsetting!) As a result, it is only natural to furnish your bedroom with what you require. Choose soothing shades and a restful palette of monochromatic tones, in addition to keeping the design simple.
Select The Right Furniture
Starting with a floor plan and a measured drawing of the bedroom space is essential because the furniture should fit the room it lives in. Allow at least three feet between the bed and any large furniture or sidewalls and two feet between the bed and any low furniture such as dressers and tables for ease of movement. Choosing a large, heavy bed and dresser for a small bedroom is not a good idea, nor is selecting furniture and accessories that are too small for a large room.
Also Read: Where to Buy Cheap Furniture
Get The Most Out Of Luxurious Bedding
Good bedding improves the bedroom's appearance and positively impacts the way you sleep. Beautiful linens add a lot of comfort to a bedroom! Replace your old bedsheets with 100 percent organic cotton luxuriously soft bedding to achieve that blissful hotel feeling.
See also: How to Move the Mattress?
Use Lighting To Create Ambience
Lighting is crucial in creating the ideal relaxation environment. So, to begin, replace your old ceiling light with something that adds a soft glow to your bedroom. It is common to practice using two or three different types of lighting in the bedroom, including warm table lamps, wall lamps, and white bulb ceiling lights. This way, you can choose the best light for your current mood. The truth is that no matter how old you are, you still want to sleep as peacefully as a baby.
Wall lighting is difficult to beat for functional, beautiful, and space-saving bedroom lights. Look for a model with a rotating neck or extendable arms to perfectly position. Light bulbs that are soft, diffused, or dimmable are ideal because they allow your eyes to adjust and prepare for sleep. They can be used to highlight architectural features or accessories in your bedroom. Sconces, or wall lights, free up space on bedside tables for books, reading glasses, and drinks.
Bedside table ecstasy
Bedside tables in your home bedroom may exist solely to store the necessities for your nightly rituals. Bedside tables are used as beautiful accents in hotels, and cleverly designed hotels can combine bedside table aesthetics with functionality.
Remove unnecessary clutter, keep only what you need, and add a decorative ornament like a houseplant or scented candle to make your bedside table an aesthetic oasis rather than a storage space for books, glasses, and chargers.
Pillows, stack them!
Every hotel provides various pillow options, including at least two down pillows and two fiber-filled pillows. They frequently include some luxuriously decorative pillows or scatter cushions as well, and you'd be surprised at how much of a difference one or two trendy spreads can make in your bedroom.
The number of threads
The thread count is one of the most important factors to consider when purchasing new linen. The softer the sheet, the higher the thread count. Most luxury sheets are 100 percent cotton and have a thread count of 300 or higher.
Duvet secrets for your bedroom
Have you ever noticed the difference between your average duvet at home and the luxurious feel of your favorite hotel's duvets? A down duvet with a pure-cotton duvet cover often does the trick to create the ideal setting for an elegant night's sleep. The natural fibers are breathable, regulating your body temperature and preventing overheating.
Select a Color Scheme
The first thing you should consider is painting your bedroom. Because wall color significantly impacts your overall mood, choosing the right color for the bedroom is critical. Warm, bright colors can feel energetic and overstimulating, whereas neutrals and cool shades can provide a sense of calm and relaxation. Dark colors can feel cozy and enveloping, while light colors help to expand a space visually. Keep in mind that stark whites can appear harsh.
Consider which colors are the most relaxing to you as a starting point. Create a color palette based on the colors you like!
Include plenty of storage space
Store items out of sight to add to the tranquillity of a bedroom. To avoid clutter, everything must have a 'home.' This will create a feeling of spaciousness and calm in the room.
Make sure to choose bedside tables with drawers or doors that can be used to conceal odds and ends. Use shallow boxes for storage under your bed if you have a bed skirt. Optimize closet organization to prevent items from spilling into the bedroom.
Include Natural Elements
Natural elements have a calming and meditative effect, making them ideal for your bedroom sanctuary. There are numerous ways to incorporate these elements into your room. Add potted plants or fresh flower vases, hang nature imagery on the walls, or incorporate textured elements with bedding, rugs, or throw blankets.
Window Treatments
Selecting the right window treatments for a bedroom is critical because they add privacy, make it easy to adjust natural lighting, and help to maintain a comfortable temperature. Before selecting window coverings, consider the size of your window as well as the style and color palette of your room. The floor-to-ceiling window in this bedroom is dressed with textured, black-out drapes that shade natural light in the afternoon, complement the color scheme, and add a sense of warmth.
Fee-fi-faux fur
Luxury hotel rooms are full of visual experiences, and the EDITION Hotels faux fur throw begs to be touched. Throw it over a chair or at the foot of the bed for a tactile surprise, but chances are you'll want to cuddle up under it and run your fingers through the lush texture.
This opulent throw elevates your luxury hotel room, making your home feel more like a castle.
Set the ideal sleeping temperature.
Having the proper temperature in your bedroom is critical for a healthy and relaxing night's sleep. Maintaining the best moderate temperature in your room is ideal for a comfortable sleeping environment.
Our body's temperature drops when we sleep, so a warm and cozy room will help you get a good night's sleep all night. The National Sleep Foundation always recommends keeping your bedroom temperature between 60 and 70 degrees Fahrenheit.
Clean up your bedroom and remove any unnecessary items or lightin
A clean bedroom can have a considerable impact on you, especially when going to bed. Please always make it a routine to clean up the entire room before bed. When your space is neat, you won't be thinking about the mess you need to clean up, which will help you sleep better.
Examine your bedroom and identify each item that must be present and those that are unnecessary. Take control of your space by keeping your storage area organized and clean. Aim for a clean, clutter-free, well-organized bedroom, and remember that less is more.
Furthermore, a dim and dark sleeping environment is highly recommended. Total darkness promotes the production of melatonin, which is required by the body to help regulate the relationship between day and night.
Make your bedroom technology-free
The concept of a technology-free bedroom will always be considered counter-cultural.
We all have reasons for using our devices in bed, such as "it's our only time to rest and browse social media." "It's a timer," says the narrator. "I have to watch so that I can sleep," among other things.
Technology is a wonderful thing, but it has an unintended side effect: technology addiction. The best reward you could give yourself is to have a sleep sanctuary. A wide range of products is available for your sleeping needs, including a premium memory foam topper, premium bed mattress, orthopedic cooling pillow, and many more.
Reset Your Alarm Clock
We're all aware that having your phone next to your bed isn't ideal for getting a good night's sleep. Turning off overnight is critical, with your entire life at your fingertips 24 hours a day. A good old-fashioned alarm clock or even a clock radio does one thing well: it wakes you up so you can start your day on your terms.
Conclusion
If you're having trouble deciding which of these tips to use for your bedroom, consider your budget and needs. Consider both your style and the aesthetics of your home.
All of this information will assist you in narrowing down your options, resulting in methods that will transform your primary bedroom into a luxuriously relaxing haven! And there is a lot more information about bedroom design and how to make it luxurious.
Frequently Asked Questions
Can your bedroom serve as a haven?
Your bedroom should be your sanctuary in terms of a place of quiet after a long day, a place to unwind after work, a place to read or journal. After a long day, your bedroom should be a relaxing, comfortable place where you can relax.
How can I convert my bedroom into a sanctuary?
Your bedroom is your personal space to relax, revive and refresh. From changing the bed linens to going clutter-free, there are various clever and innovative ways, as mentioned above, to create such a secluded place for yourself.
Also See: How Much Does it Cost to Move a Bed?