How to Decorate Using the 60-30-10 Color Rule?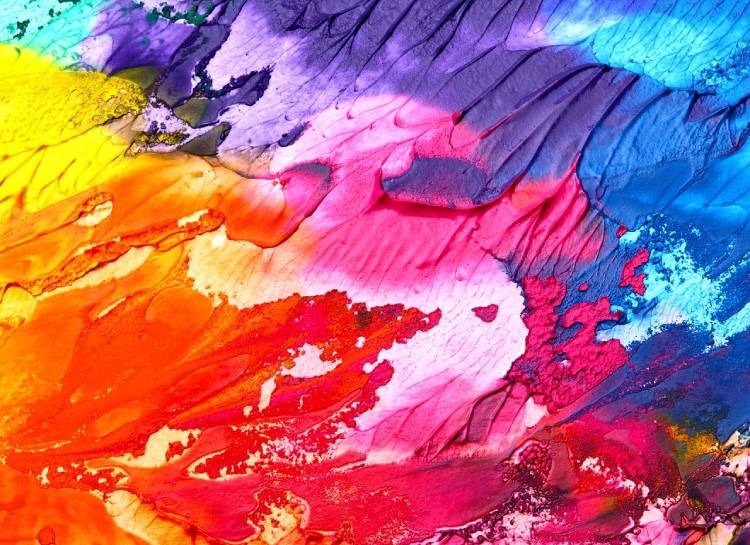 Adding some bright colors and a painted dresser if you're redoing your interiors or want some excitement in your home sounds fun, isn't it! Many people believe that interior design must be sleek, cautious, and dull to convey a specific feeling or look. That is not true. Colors that pop don't have to be cheesy. The opposite is true. Bright colors can be both elegant and appealing. Bright colors on a painted dresser are a great way to add a dash of color and transform any room in the house.
Although bright colors can liven up a room and add a sense of excitement to your home, we don't recommend a chaotic transformation. Instead, use bright colors strategically to make a noticeable change in how a room feels and what kind of emotion or energy it evokes.
Home decor can be an art form that leaves us feeling stumped, stuck, or frustrated! There is, however, a very simple and easy way to create a balanced color palette for your space. Here's general guidance on how to decorate your home with bright colors to assist you. It's called the 60-30-10 Rule.
What Is the 60-30-10 Color Rule?
It's straightforward. The numbers represent the desired color percentage breakdown in your room. The lion's share (60 percent) should be a single dominant color around which the rest of your palette is oriented. Using a single color to cover 60% of your space will serve as a touchstone for the entire color scheme. Typically, the 60 percent is achieved primarily through the wall color and other large pieces such as furniture and large rugs. Whether you've already decided on a base color or are looking for ideas, browse our wallpaper collection by color.
Following that, 30 percent of the room should be decorated in a secondary color that complements the base color. The secondary color is usually derived from one-of-a-kind furniture, area rugs, textiles, curtains, and wood trim. The remaining 10% should be devoted to accent color, brighter or more unusual than the dominant and secondary colors. Throw pillows, artwork, and other décor items can highlight the accent color. Look through our framed wall art to find pieces that match your accent color.
Also See: How to Hang Wallpaper (and How to Remove It)
60 – The Majority Is Right!
Your walls – and probably some of your larger furniture in your space – will make up the majority of the 60%. If you're redecorating a bedroom, family room, bathroom, or playroom, walls of the same color will likely complement the room the best. Larger pieces of furniture, such as couches, chairs, game tables, desks, and beds, are frequently the same color.
Because neutral colors account for 60% of your space, they are the most dominant colors in this section. Colors like creams, whites, tans, soft yellows, and even muted blues and greens are excellent choices.
30 – What Is Your Secondary Interest?
Your secondary color will take up approximately 30% of your room and will most likely be similar to your primary color. The secondary color isn't too bright, but it's also not muted.
If you choose cream or white for your room, a soft yellow, blue, or green as a secondary color may work well. These will be medium to small pieces of furniture, carpets, or rugs most of the time.
A light forest green rug under your bed or couch, for example, could be your secondary color in your bedroom or family room. Other small pieces of furniture, such as beanbags, chairs, or blankets, can also be used.
10 – Your Accent!
Your accent colors will add flair to your room while also taking up the smallest amount of color. Orange highlights on the pillows (complementary colors! ), chairs at the foot of the bed, and artwork over the bed balance out the dark blue in the bedroom above.
People may want their favorite color to be their dominant color, but favorite colors are often bright, loud colors that make a room scream. Instead, perhaps the best way to plan your room is to choose your favorite color and use it as a highlight color rather than the dominant color. Then proceed from there! This way, you can have your favorite color represented while still maintaining a color balance in your room.
Because they only take up a small area of the room, the colors that work best for the 10% are your louder, brighter ones. Yellows, oranges, reds, greens, blues, and even purples will stand out here.
Also See: Warm Colors vs. Cool Colors in Home Design |
SPECIFIC ITEMS FOR THE 60-30-10 RULE:
60%
Walls
Accent Pieces
Rugs
Sofa
Large "Foundation" Pieces
30%
Curtains
Painted Furniture
Side Chairs
Smaller "Foundation" Pieces
10%
Throw Pillows/Patterned Fabrics
Decorative Accessories
Artwork
Choosing a Color Scheme for Your Home
It can be difficult to select a color palette that works well together and that you like enough to look at every day. Fortunately, stealing the color palette you want is the quickest and easiest way to choose it!
Because your color palette should begin in the living room, go there and select a pattern you like. Some people, for example, prefer to use the largest design in the room, such as a rug, upholstered furniture, or a large piece of art. It can, however, be any pattern that speaks to you. If you're stuck for ideas, look to throw pillows, baskets, or book covers.
See Also: 10 Colors That Make a Room Look Bigger | How to Choose Exterior Paint Colors for House
The 60-30-10 Rule: How to Apply It
First, you need to keep in mind not to limit yourself to just three colors to follow the 60-30-10 Rule. Depending on who you ask, your base "color" could be a mix of neutrals, your secondary "color" could be brown or wood, and your accent "color" could be green or blue.
Interior color palettes designed with a mind toward color theory, like nearly everything else in this visual world, tend to work best, so if you're familiar with color theory, you're already ahead of the game. However, if visual art is not your area of expertise, do not worry! You have likely seen a color wheel before. All you will need to do is to choose a few colors from the wheel according to one of several color combination principles:
Monochromatic: While it may appear boring, a monochromatic color scheme can be quite classy and even interesting. This works best with dark, light, and neutral wallpaper colors, such as charcoal grey, black, off-white, and cream.
Complementary: Choose colors directly across from one another on the color wheel for a striking yet balanced look.
Analogous: To use this color scheme, choose three adjacent colors from the color wheel, then use the middle color as the base.
Split-Complementary: This complex strategy entails selecting a base color, then using its inverse across the color wheel, as well as another color next door.
The 60-30-10 Rule: How to Break It
Even if you admire the spirit, it's unlikely that you'll be able to keep a lived-in space limited to three color categories in everyday life. It is nearly impossible to follow the letter of the law regarding the 60-30-10 Rule, whether the "extra" colors come from artwork or other everyday objects. However, rather than lamenting this fact, you can easily exploit it.
While maintaining an aesthetically pleasing space, there are numerous ways to embrace variations to the 60-30-10 Rule—or even break the Rule entirely. As previously stated, the Rule is open to interpretation. For your dominant and secondary colors, you can use a color family rather than a single color, or you can choose more than one accent color.
Another scenario in which you could successfully break the Rule is if you prefer a design style that uses more than three colors. Eclectic and bohemian styles, for example, typically make use of a broader range. In this scenario, you don't have to be concerned about the Rule.
Tips & Tricks
Begin with grayscale – By applying colors too soon, you can waste a lot of time. Priority should be given to spacing and laying out elements.
Contrast the text – Make it readable by making it stand out from the background.
Avoid using pure grey or black – It looks more natural to add saturation. In real life, we rarely see pure grey colors.
Utilize color generators – They will make it simple for you to find a well-balanced color palette.
Conclusion
For a reason, the 60-30-10 rule is timeless and revered. Decorators and homeowners alike use it to create stunning spaces regularly. While the Rule's stricter enforcers may not accept, say, a rainbow or a combination of metallic colors as the 10%, there is plenty of room for experimentation. If done correctly, decisions like this can add interest to your space.
Frequently Asked Questions
How many colors should a room have?
A room should have three colors, according to the 60-30-10 color scheme. The primary color, followed by the secondary color, and finally, the accent color. Some people prefer to use more colors, but this can make the room appear too crowded. Whatever your preference, you'll want your room's color scheme to be balanced. So, trust your instincts, but don't go overboard with the colors.
Is it necessary to use the same paint color throughout the house?
No, you do not have to use the same color throughout your home. However, it would help if you tried to use the decorating Rule to connect the colors. Combining colors creates continuity, which promotes cohesion and harmony throughout the house. This is especially significant if you have an open floor plan in your home.
What color makes rooms appear larger?
Use soft tones such as off-whites, greens, greys, and blues to make your rooms appear larger. Brighter colors make the space seem more inviting and larger. You can also paint your ceiling in white and use a satin or eggshell finish in the room to reflect light.
Is it necessary for all rooms in a house to match?
Matching all of the rooms may appear to be a simple task, but keep in mind that each color will behave differently in each room. The color's appearance may be affected by the size of the room and its undertones. You can use different colors in each room, but make sure to maintain harmony. Do not use more than 5 to 6 distinct colors throughout the home to maintain a cohesive color scheme.
Which colors will be popular in 2022?
Sage green, Bluish-green, Green foliage, and Gray + green/orange/red/yellow are popular colors for 2022. Several other colors are available, but you must ensure that your chosen color communicates to you.
Read Also: Best Minimalist Home Decor Tips | DIY Home Decor Ideas for New Home | Teen Room Decor Ideas