Home Gym Setup Guide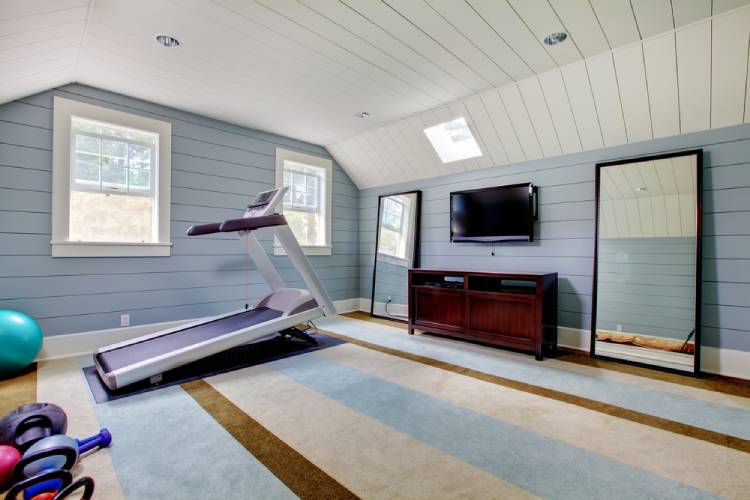 A home gym setup is no more a luxury but a necessity for our busy lives. A comfortable and consistent fitness regime does not warrant an expensive gym membership. Who does not want to have a leg day or a cardio day at the comfort of their homes! Many are conscious and feel judged at posh gyms where their super strict trainers exhaust them and wear them out mentally and emotionally more than their physical burnout requirements.
People bound by their tight corporate routines are hardly finding time to strike a proper balance between their fitness regimes and their workaholic lifestyles; hence, most millennials opt for a similar fitness setup at the comfort of their homes. To not worry about climatic extremities outside to grapple with the time crunch and take care of the budget in the long run for fitness goals, a home gym setup is a bliss in its truest sense.
A home gym setup generally has a minimalistic approach, saving time and our wallets. Typically, light exercises and relaxation sessions are conveniently aided by house gym setups for older people and kids. Home fitness equipment is readily available online too. The fitness equipment market in the USA had crossed 15 billion dollars last year. If you ever want to ditch your spandex gym tights and meditate in your comfy pajamas, a house gym setup is quintessential for you. If you wish to avail yourself some privacy when exercising or meditating, then a home gym is the perfect plot for you inside your house.
People these days want to have family gym time or family yoga sessions to spend some quality time with their kids, spouses, or parents, and what better than a house gym in that case! Also, you get to choose your time slot, be it 3 in the morning or 2 in the noon.
Points to be considered before having a home gym set up:
Finding The Apt Space
If the space is not thermoregulated or air-conditioned, it must be open and airy. The space is not supposed to be too small so that sufficient room for air circulation is there. An airy and spacious arena is preferred. The space might not be soundproof like professional fitness studios, but try to find a place inside your house that is comparatively less noisy and peaceful in general. If your fitness regime warrants privacy, then locate the space accordingly. Many adults prefer a space attached to their bedrooms to set up a gym so that they can enjoy complete privacy and might have a quick leg day or a cardio day quickly before hopping out for the office.
For the very basic and core exercises, a space that allows you to roll out and stretch your Yoga mat should be enough. You might require a whole room for your heavy lifting gym equipment set up, but if you are into lightweight exercises, Pilates, yoga, and freehand exercises, a comparatively smaller space might be sufficient. It is often difficult to accommodate gym equipment inside our living space, especially in high-rises and gated communities or apartments with limited spaces. Hence, the first step should be finding an unused section of the room or the living room and utilizing it for our home fitness regime. Try groping for spare spaces, maybe a spare garage, a spare washroom, and turn it into your beautiful and cozy home fitness setup.
Equipment Guide For Your Home Gym
Well, definitely, the space will be smaller than a professional fitness studio; hence, the lesser, the better. You would not like feeling claustrophobic and suffocated inside your little gym. Bulky machines are a complete 'no-no.' Considering cardio to be an essential part of your Gymming routine; you might skip a space-consuming treadmill and buy a jump rope instead. You are saving space as well as a good amount of money. Adjustable kettlebells and dumbbells should be purchased since that will save space too.
Most athletes and dancers are concerned about their core strengths, and hence, heavy gym equipment is solicited. Considering a small space inside the house, balance discs are smaller and more economical options. Well, balance discs will not cost you anything more than 20-25 Dollars, which saves the wallet from a burndown.
Hack For Home Gyms
Multitasking equipment is generally warranted when accommodating stuff in a smaller space. Installing such stuff is highly recommended since overburdening of a small area can be avoided. The foam roller is a piece of magical equipment that can be used for several purposes, such as yoga pose practice kneading out core strength and muscle strength. The soreness of muscles can be reduced after a very long and tiring day by using foam rollers. Any muscular recovery is accelerated and treating muscle fatigue by a foam roller. Fitness expert Ellen Barret says that a foam roller is the most efficient home gym equipment that serves diverse purposes.
Home Gym Must Have
Due to limited time and increasing workload (gift of modern lifestyle), fatigue is accelerated, which needs a quick fix. Home gyms should have immediate pain relief equipment such as a Thera gun to give us vibration therapy and relax the muscles and hot n cold foot rollers. Thermoregulated contraction and relaxation of muscles are superbly aided by these tools easily at home. Even though a Thera gun is a pricey pick (around 300 to 400 Dollars) but is value for money, a foot roller will not cost anything more than 15- 20 Dollars.
Budget Floor And Ceiling
To have an approximate budget for the interior, equipment, and space renovation will require some calculation and planning. What are your fitness goals, what amount will you be able to invest as a down payment? How much will it cost you to maintain and upgrade the space monthly? How many people would use the space? How frequently will the home gym space be used? Will the home gym be used by kids and older adults for regular exercise? These are some of the most crucial questions you should ask yourself before setting up a home gym setup. This would project a certain sort of clarity in terms of how much it might cost you.
Storage Is A Quintessential Aspect
Home gyms must have a minimalist approach. The lesser, the better. To keep it simple is the key, but with the progression of time, requirements might increase, and you might feel like giving your home gym a fancy upgrade. In that case, planning your storage is the key. A storage container that can be slid down under your bed or couch is to be bought so that the portable stuff can be shifted as per convenience; after all, you do not need everything at a time.
A storage container will not cost you anything more than 25 to 30 Dollars hence, pretty economical if you want to store well and keep mess and fuss at bay. It is better to pre-plan seasonal workout storage if we do not wish to trip over random ropes, bars, springs, rollers, or mats at the gym space. Hanging gym space organizers are quiet these days; they will not cost you anything more than 45 to 50 Dollars.
But what about the heavy sandbags that might tamper with the lightweight storage containers? In this case, heavyweight compact frame racks and mass storage corner shelves are saviors. Investing something around 120-150 Dollars will save us the time to fuss over storing heavyweight stuff like a boombox, slam balls, medicine balls, weight plates, kettlebells, dumbbells, and so forth.
Aesthetics For The Space Matters
Looking at yourself working on your body and appreciating your consistency is beautiful. That zeroes down to installing mirrors around you in the home gym space. Maybe dedicate at least two walls around the space to have glossy mirrors so that you look at yourself every single day and motivate yourself every moment." Mirrors are great for meditating on movement-the mirror lets you be your instructor." Says Ellen Barret.
Well, mirrors being essential, another hack you might try is planting indoor plants and keeping the theme of the gym space green, as green as possible.
Place a poster of your fitness role model for that glance of inspiration the moment you feel exhausted.
Do make sure that the space is well lit to avoid accidents. The space must have natural light inlet through glass panels on one side of the wall and ought to have enough lights installed for evening workout sessions.
The floor must not be slippery since that will lead to nasty accidents owing to water or sweat drips. Some cushiony floor carpets are highly recommended to allow you to choose your favorite hue and pattern.
Choose a bright color for the gym walls, floor, and ceiling since many gym spaces are meant for venting out, some are doing it for medical needs out of compulsion, and they require immense motivation even to visit that space packed with exercising equipment. The moment you feel like giving up on your tiring rigorous regime, the happy colors around you should make you feel gleeful again.
The boom box mentioned before was just an emblem for having music around you, be it soothing symphony for meditation or yoga, metal rock, or anything of your choices that makes you pull up your socks and lace up your shoes.
Why do we at all need a home gym setup?
The very honest answer would be; it saves time, it saves money. We all know how much of a hole it burns into our wallets to get ourselves enrolled as posh gym members. A similar setup at home might require some initial investments but the long-term returns are quite gainful.
Secondly, our ultra-modern lifestyles are uber busy, and most of us are as busy as bees. It is hardly practical for most of us to make time out from the mundane day-to-day routine for swinging by the gym, especially when traveling a considerable distance. There is absolutely no constraint in time and duration and a strict trainer giving you cold sweat. You can determine as long or as little you want to work out at home as per your requirement and mood.
We are superbly conscious around others ogling at us inside a gym. Hence, a space inside our houses that provides us with a similar feeling and almost similar fitness setup is bliss. In the USA, many weight-conscious teens are known to drop out of their gym regimes just because of being fat-shamed by others. A setup at home is a judgment-free zone where you can be comfortable without being ogled.
Is a home gym setup at all worthy?
A home gym does not require you to travel. It is a lot more convenient to schedule your work all through the day. Hence, you do not have to worry about the weather conditions outside. Be it extremely sweaty and sunny or snowing outside, you can still punch that sandbag and have that quick yoga asana session. Moreover, your wallet will be super happy once you stop shedding thousands of bucks to retain that membership.
Frequently Asked Questions
What should I buy first when I plan my home gym setup?
Well, there is an array of gym stuff that you might feel like investing in while planning your own little cozy home gym, but it is highly recommended that you start with the basics to keep fuss at bay. Get your sectorized dumbbells first, and do not forget to get a heavyweight rack for that. Do make sure you get your yoga mat at the very beginning.
What is the possible con of exercising at home?
With an array of advantages, a home gym brings in some certainly considerable cons such as lack of motivation and lack of strict training. If you are not hiring a personal fitness coach at home, you might misguide yourself. Looking at others around you inside a shared fitness regime space gives rise to healthy competition when others contour their muscles better, even you tend to speed up your exercising game.
Is a home setup for exercising better than a formal professional gym?
Well, this answer is completely relative and depends upon individual perceptions. But a formal space is more dedicated compared to a home gym. A house gym setup offers better flexibility and comfort. Exercising should be less physical and more inclined towards emotional, mental, and spiritual health. In that case, a home gym setup is better comfort.
What are some of the best home gym workouts?
Aerobic training is quite popular and easy-going when it comes to a house exercising space. After a quick warm-up session, you might indulge in air biking, bench dips, flutter kicks, dumbbell calf raising, chin-ups, and crunches as some of the most convenient home gym exercises. Some lightweight strength training is also suggested and suitable for home gyms.
What is the most overlooked home gym equipment?
An abs rack is something that people often forget to include in their home gym accessory list. Ankle weights, too, are forgotten frequently but are home gym must-haves.
What is the expected expenditure to have a home gym setup?
A house gym setup is quintessential to meet your fitness goals and be consistent with your body and mind routines to stop spending on expensive gym memberships. The basic setup with a barbell and a bench/rack combo would cost around 500-600 Dollars. If you want to include a smith and a rowing machine, that might escalate your cost by more Dollars. A fancy thermoregulation setup, lights installation, mirror panels, pop colors around the walls, and some music setup will increase the cost by 600-1000 Dollars but might be worth the money in the long run
What is the must-have home gym equipment?
A basic pull-up, dips, leg-raise combo should be fine to start with. A foam roller, a jumping rope, and a yoga mat must be there on your 'to boy' list". It is good to have basic sandbags, kettlebells, and dumbbells too.
What are some basic home gym exercises that might be done informally without any fitness expert supervision?
You might work on your legs. Hence, squats are benevolent. Yoga and meditation go without saying; they are gym mandates. Air cycling is another cool exercise for beginners in their house gyms. Alternating barbell curls, concentration curls, hammer curls, reverse curls are some of the best exercises for starting your home gym regime for comfort and consistency.
See also: Gaming Room Ideas | Attic Remodeling Guide | Tips to Re-Decorate Your Child's House Once They've Moved Out