DIY Home Decor Ideas for New Home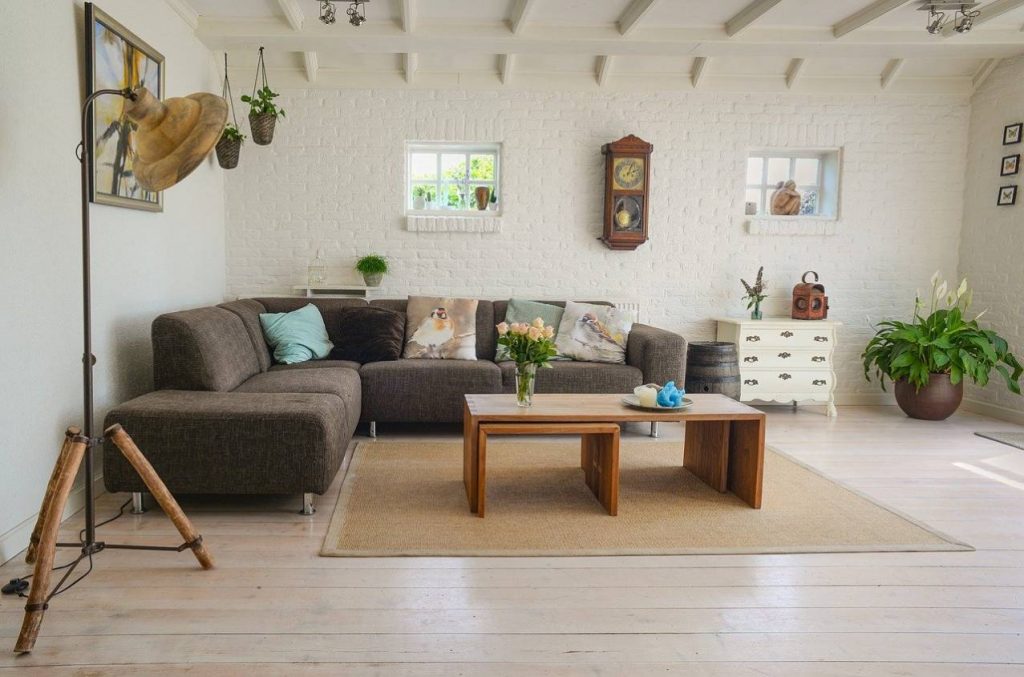 Decorating your home with your own bare hands possibly is the best option for anyone. It creates a unique bond between you and your home & gives a unique flavor to your living place.
Moreover, it might save money from your wallet because DIY means' doing it yourself" and that too without any expert help, without any expensive decoration material.
It is pocket-friendly, refreshing & most importantly, creative. Here we are about to find out some ideas about DIY home décor.
1. Handmade Decor for Bedroom
If you want to decorate your bedroom with some handmade stuff, you can decorate it with colorful wallpaper.
Cut them into different shapes, more like stickers, and attach them in a series. When you have 20 or more similar series, you can hang them with the help of a rope through the wall.
If you have a glass bottle around you, add some color and lights to it to make a colorful lantern.
You may also add some flowers to it if you like and place this thing beside your table.
Also See: Choosing Lights for a Home
2. Photo Collage
Photo collage may sound cliché, but when applied, it is a creative idea to make your wall look beautiful; it also gives a homey touch. To create a wall collage with picture frames, first, you need to:
Choose a clean wall where you can place the frames for visibility.
Choose a spot that can be accessed easily; after that, you have to decide on the theme.
Choose the images according to where you plan to put the collage; for example, family photos will be better for the living room.
For the living room, you may create a photo collage of your children as they grow up and so on.
And last but not least, do not forget to measure the picture frames, make an outline, and put them accordingly, and your photo collage for the wall is ready.
3. Bring Nature In
If you have recently moved to a city, lack an outdoor place, and can not reach out to nature, then bring nature close to you and decorate your little home with the same.
Use your bowls or jars, use some small rocks, coffee filter, or soil may be, then put some plants into it and place it around the balcony.
You can also use some rugged imperfect branches to give your walls an enchanted look or use some house plants. There are a thousand ways to decorate your house with plants, and the best part is that it's never out of fashion.
4. Baby Room Decoration
If you plan to decorate your entire house, your nursery can not be an exception.
A kid's room should not only contain chalkboard walls or bunk beds. Designing kids' rooms according to their taste is one of the best options.
If they like sports, you may place sports items; if they like music, place some frames of musical instruments or musical instruments if you already have them.
You can also add some colors to the room, paint it with rainbow colors, or starry nights. Try to get kids involved in the design if possible; it may develop some of their skills.
See Also: Tips to make Room Look Bigger
5. Bookshelf Ideas
A simple but unique bookshelf design might bring the best look out of your room. A wooden and well-crafted bookshelf can give your room an elegant look.
Not only wood, recycled pallets, industrial pipe, used wooden boxes, but an old ladder can also be used to create a bookshelf.
Apart from this, many other ideas can be used to create a homemade and less expensive bookshelf and give your room an elegant look.
6. Paper Feather Lamp
It is a creative and charming idea to make your home look better than too with a minimum cost.
Yes, Paper feather lamps are not costly at all, which requires inexpensive paper lamps, glue, and of course, feathers created out of paper.
This can be the best idea for you if you want to create a romantic atmosphere or enjoy a relaxing time with your family or friends.
7. Door Mat Wall Decoration
Not everyone can imagine a doormat as a wall decoration. But it is true; it can be used to decorate the walls.
To create such a decoration, the things you need are a rubber mat, spray paint, and of course, fine-grit sandpaper.
To begin with, spray the color very well on the rubber mat, then leave the carpet for some time and let it dry completely. You can read our Article on How to Clean a Carpet for more tips on this.
Once the mat is dried at the top of the carpet, apply more pressure in some particular places.
It will give the mat a worn look; after that, you can hang it on the wall horizontally or vertically.
8. Mirror Gallery
Mirrors are the best decorative addition to any room. Not only because they make your walls look great, but it also affects the lighting in the room.
It can be of two types; one is where you purchase a particular shaped mirror, like flower-shaped or sunburst type, and decorate it with different designs or crafts.
And in the second case, you can put more than one mirror in a wall and make a cluster together to give them a particular shape. It reflects light beautifully & functions as art.
9. Hanging Textile Fabric
Hanging fabric adds some texture to your wall.
If you have a textile pattern that looks great but can not be used for pillows, upholstery, or some other places, you can hang it on the wall to create a DIY decoration.
To make it a perfect decor, first, you need to glide an iron over the fabric and remove wrinkles.
Place it on an even surface to smooth the folds out, then secure the fabric using a double-faced tape so that it does not get displaced when hanging.
After that, assemble the frame according to the size of your fabric and place the fabric within the frame, and it is ready to go.
10. Paint Your Brick Fireplace
A little print in your brick fireplace might give it an up-to-date look.
For fireplaces, you have to choose latex, indoor & heat resistance paint that can withstand the fireplace's temperature.
Read our Article on Tips to Weatherize your Home for more information.
Now the question is how to do it?
For step 1, clean the fireplace's surface and dry it properly; remove dust using a scrub brush.
Next, use an oil-based primer; it protects your paint.
After that, when the primer is dried, paint it with a heat-resistant paint that can withstand at least 200°F temperature.
Lastly, use a small paintbrush and touch up the missed spots.
11. Coat Rack
If you love wearing a coat, you might décor your coat rack in several different forms.
Using a plank and some plaques, a vintage-looking coat rack can be made,
Using repurposed pallet wood, a pocket-friendly coat rack can be made to get a rustic feeling.
You may also use the wooden scrap to create a standing coat rack.
In short, there can be a thousand types of coat racks that can bring out the beauty of your wall, but you have to choose it according to your own taste.
12. Colorful Carpet
When it comes to decorating floors, what else can be better than floor cloths or carpet. It doesn't just make your floor graceful but also adds warmth to the cold floor.
They are also economical and easy to make DIY home decor.
To make a floor cloth, first preshrunk the canvas before painting and let it dry; once dried, cut it into your desired size and leave a few inches for the hem; a clean hem is necessary.
After that, sew the corners and edges to make them long-lasting, paint the hem and dry, then apply the base coats of paint twice.
Once this base coat is soaked well, you can paint the design and let it dry for another 24 hours at least.
Cure the floorcloth for a week at least before using
Conclusion
These were the 12 different ideas that explain how you can decorate your place according to your own taste. A home is a place where people come to find peace and solitude, and if they can add some personal touch to it, it becomes no less than heaven.
Apart from planning for the DIY for your new home, you also need to take care of the shifting part. And for this purpose, you'll need reliable packers and movers for your delicate household items.
Thus, you can plan for the DIY of your new home at ease- so call up your friends to your home and get ready to welcome them with a smile on your face!
FAQs
How can you spice up your interior with the existing furniture?
Many people think they have to replace the entire furniture to give their home a new direction. Well, it's a myth. You can now spice up your interior with the existing furniture by adding some accessories.
Choose the best accessories that can light up the things in your interior. With the help of decor items, you can make your room look elegant and fresh without being expensive.
For example, you can use plants or framed art to add aesthetics anytime to your living space.
Is it possible to transform your balcony into a garden?
The sure-shot answer to this question is yes. It is possible to transform your balcony into a garden. You can build a vertical plant wall or install tiny plant baskets.
If you want more, you can use artificial grass carpets as flooring or garden stools as well. Read our Article on Front Yard Landscaping Tips.
How does home decor help?
Home decor is considered an art that can make your home look nice and give it an aesthetic.
There are multiple styles of home decors, and so are the availability of options when it comes to colors, furniture styles, and arranging each object to make it look organized.
Not to mention, the home decor also helps by affecting our self-perception, confidence, and productivity level in a positive way.
Also Read: Best Home Remodeling Ideas | How to buy Home in New City | Best Minimalistic Home Decor Ideas | What is Wabi-Sabi Design?