Creative Gazebo Ideas for Your Backyard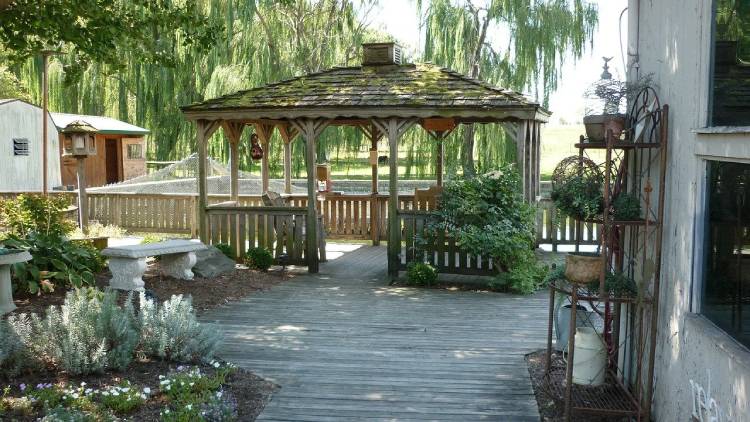 Are you on the lookout for innovative ways to enjoy the great outdoors this summer and spring? Consider building or getting a gazebo for your backyard. This backyard addition will give you the best place to sit and enjoy fresh air and nature and provide shelter and shade during hot and rainy days. Gazebos can also help in increasing the value of your house. Many homebuyers see an elegant gazebo in the backyard as a major selling point for the home.
Therefore, if you are looking for amazing ways to appeal to buyers in a competitive real estate market, it is certainly not a bad idea to consider adding a gazebo to your premises.
What is Gazebo?
If you want to create a space in your backyard where you can gather with friends or shelter from the sun and bugs that aren't attached to the house, you should consider building a gazebo. The Gazebo is used for both recreational and decorative purposes. By definition, a gazebo refers to a freestanding structure with a roof that provides shelter. It usually features open sides and is generally hexagonal or octagonal. Gazebos have a nostalgic appeal; however, these time-honored outdoor hideaways are making a comeback in backyards all across the USA.
Today's gazebos can go with any decor style, ranging from traditional to modern to farmhouse. No matter your aesthetic or style, a gazebo adds interest and beauty to the landscape while offering a cozy, welcoming place to entertain guests. Or, you can take a quiet moment there to yourself, all while enjoying the great outdoors. A gazebo can be used for various purposes, including hosting dinner parties, gatherings, weddings, providing shelter for a hot tub or grill, and even as an intimate space for reading or reflection.
Creative ways to enhance your yard with Gazebo
Install a built-in grill
What better way to cook than to do it in your backyard under a shaded pavilion? For an ultimate backyard barbecue this summer and spring, we recommend attaching a built-in grill to your Gazebo. Not only will you have a grill inside your shaded Gazebo that makes it more enjoyable than cooking in the scorching summer sun, but it will also provide you with a space for visitors to sit and socialize during the overall cooking process.
Also See: How to Move a Grill
Add a wet bar and wine cooler
If outdoor entertaining is your goal, adding a wet bar with a sink and wine cooler is one of the most easy-peasy ways to upgrade your outdoor Gazebo. With the outdoor bar, you can have family and friends over for drinks and events without having to step inside of the primary home. It will also make it easier for you to host parties or gatherings outdoors when the climate heats up.
Make your Gazebo extra comfy with seating.
What good is a gazebo without a cozy place to sit? One of the best gazebo ideas to upgrade your outdoor space is to add super comfy seating around a main focal point, like a large flat-screen TV. This outdoor mini theater will provide a place for you to relax and guests to gather. If the Gazebo is situated next to a pool or is exposed to the elements, make sure the seating and pillows are covered with waterproof fabrics.
Also Read: Benefits of Buying house with Pool
Hang the string lights around Gazebo
Practical and aesthetically pleasing, string lights are the must-have on our list of gazebo ideas. After all, how will one be able to sit outside and enjoy your Gazebo at night without good lighting? Hanging string lights around your Gazebo and on the ceiling is one of the excellent ways to provide good lighting at night and set the perfect mood for entertainment. If string lights are not your thing, try hanging a chandelier in the center of the ceiling or an outdoor fan with light.
Add fancy curtains for privacy
If Gazebo faces another home or you want to add a bit more privacy, you can try adding curtains at each corner. Given that most gazebos are open on the sides, having curtains will certainly give you some sense of privacy. They are also sure to add a bit of design pizzazz to your Gazebo's overall appearance. Make sure to pick the weatherproof curtains and go along with the rest of the elements.
Adding a fireplace
Many backyard gazebos are made around outdoor fireplaces. This lets owners enjoy their outdoor Gazebo around the year, even during the harsh winter months. It also gives the Gazebo a center that is not television and is perfect for families and those who enjoy entertaining. Whether cooking something delicious by the fire or hosting a holiday gathering outdoors, a gazebo with a firepit is certainly the ideal setting for many lovely memories.
See also: 10 Small Backyard Ideas on a Budget
Adding a hot tub in the middle
For those who would like to place a hot tub in the yard but are anxious, it will be more of an eyesore than adding a gazebo around the outside is the best way to beautify any outdoor spa. Given that a pavilion is covered, it also means you'll be able to enjoy your outdoor hot tub rain or shine.
Try this Quick Gazebo Décor tips
Get Checkered Flooring
If you already have had enough of your drab patio flooring, then bring your Gazebo to life with tiles in a checkered design that go well with your furnishings.
Display Plants on a Fence
Are you looking for the easiest way to elevate a basic wooden fence? Try mixing and matching your favorite potted plants to give them an eye-catching look.
Amp Up Accessories
Like a woven tray serving cocktails and easy desserts, simple yet stylish accessories are a must-have for an inviting patio.
Add a Swing Chair
Any gazebo can benefit from a playful piece of furniture, like a swing chair crafted of materials such as rattan or wicker.
Get Anchor Seating with a Petite Table
Looking for the easiest way to bring charm to a patio set up with woven chairs? Just place a low-profile table, topped with a colorful floral arrangement, right between them.
Incorporate the Foundation
Balance your yard full of Greenery and add a sophisticated flair to the space with a tall garden fountain.
Place a Rug Under the Dining Table
Rugs will never fail to make a design scheme feel cozier. You can bring a dose of comfort to your patio set up by placing a graphic carpet under your dining table set. Your guests are guaranteed to be impressed.
Don't Overlook Brick Flooring
Brick flooring isn't just a durable option for your patio, and it looks great, too.
Weave in a Hammock
There is nothing peaceful like enjoying the warm weather in a hammock, perfect for reading or taking a quick nap.
Try an Oversized Ottoman
A large ottoman is not just great for serving drinks—it can also function as extra seating.
Add more Greenery
Breathe life into your Gazebo with potted plants, hanging planters, and trailing vines.
Incorporate the Preppy Touches
Embrace your preppy side by getting the gingham cushions to brighten up your space.
Hang the Paper Lanterns
Now you can enjoy an evening outdoors by illuminating your Gazebo with paper lanterns. Try to layer them with candlelight to make your outdoor oasis shine.
Put Up a Shelf
Who said shelves could not go well into outdoor spaces? Consider one to display your styling skills or keep entertaining essentials close by.
Use a Patterned Stool
A graphic stool can rest drinks or double as extra seating in a pinch.
Purchase the All-Weather Gazebo Set
Durable furniture will carry you through every season. You can give it a fresh look with graphic cushions and pillows.
Also you may read our guide on Where to Buy Cheap Furniture
Add a Flower Box to the Fence
If you are disgusted by your dull fence, turn it into a conversation starter with a simple flower box.
Read Also: Types of Fences You Can Consider For Your New Home
Experiment with a Hanging Candle Holder
If you are dining al fresco, make your table arrangement more inviting by dressing up a hanging candle holder with faux Greenery.
Snag a Foldable Umbrella
Celebrate the advent of warm weather with a foldable umbrella that will instantly make your gazebo space feel chicer.
Go With Big Pillows
Big pillows can hide any unforgiving marks on your furniture. Just keep in mind that you will likely want them all to be in a similar shade or pattern to help bring the space together.
Grow Your Porch With Pavers
You can lay stone patio tiles next to an existing deck to extend the usable space. Neutral stone certainly creates the perfect canvas for all styles. You can leave it bare or cover it partially with an outdoor rug.
Hang an Instant Green Wall
Floating plants resemble the gallery wall for the outdoors! You can attach flat-backed planters to the slats using zip ties or small hooks. You can include plant, flower, and herb varieties for maximum interest.
Put a Garden Bench to Work
Think of your gardening table as a multi-use station for all the backyard duties, from repotting plants to serving up the food and drinks for your guests. You can paint it a bright color or add hooks for further customization.
Transform a Window Into an Outdoor Bar
With a quick trip to the nearby hardware store, you can simply create a clever serving and hangout area close to your kitchen. Install sturdy brackets to the exterior wall under a window and screw a painted piece of plywood on top for the serving ledge. Highlighting the window with a charming awning will make it appear bigger.
Paint your fence, Black
Make your Gazebo feel even more like an intimate enclave by installing a high fence and painting it with a muted shade of Black.
Cozy Up with an XL Outdoor Sofa
A multi-piece sectional cozy sofa can turn your patio into a party-ready hangout spot in outdoor-friendly materials and clever configurations. You can layer in an outdoor rug and some colorful pillows, and you've got yourself a pretty new place to lounge day or night.
Create a Backdoor Perch
Here is an easy way to keep your house clean. You can stick a bench on the porch to give kids a place to ditch muddy shoes.
Relax on Poolside Loungers
No matter the size of pool your house has, tasseled towels and fringed umbrellas will make it feel like you are at a fancy resort. Don't forget the giant swan float!
Borrow from Your Kitchen
When it comes to setting an outdoor table, materials like melamine and acrylic are key to ease, but don't hesitate to mix your seasonal pieces with serving pieces and linens that live inside.
Make Your Own Outdoor Bar
Stock a wheelie cart with entertaining essentials — like napkins, cups, and straws — and let your drinks follow the action.
Build a Backyard Bonfire
You can transform a streak of grass into a camp-like retreat right in your backyard. To create a pebble patio, build a wooden border and fill it with gravel. Refer to our blog on DIY Backyard Ideas to get some interesting tips.
Go Bold With Geometric Flooring
Let your patio floors do the talking. Refresh the space with painted geometric designs instead of adding new floors or tiles.
Showcase Plants on a Tiered Display
Convert a wooden ladder into a space-saving stand for flowers, veggies, and herbs. It's as easy as adding a few shelves and a coat of paint.
Link Indoor and Outdoor Furniture
Keeping the same color scheme indoors and out helps connect the spaces seamlessly. Here, retractable glass panels turn the patio into an extension of the living room.
Also See: How to remove rust from Outdoor metal Furniture | Factors Influencing the Value of Your Home | Hosting a Housewarming Party | How to Move a Gazebo
Frequently asked questions
How much will it cost to build a gazebo?
The average cost range for building a gazebo is $3,401 and $9,554. Custom-built structures cost anywhere between $5,000 to $10,000, and residential pavilions generally cost between $8,000 and $20,000. However, the cost depends on what materials were used in building it.
Can you purchase the pre-made Gazebo?
Yes, you can. If you are paying a pro to construct a custom build is out of the question, then consider buying a pre-made gazebo.
What are the benefits of building a gazebo in your yard?
Gazebos are both beautiful and useful in several ways. Not only do these ornamental landscaping features improve the aesthetics of your home and backyard, but they also provide you with shelter and shade during hot summers while making them excellent gathering places for holidays and social events.
Can I enclose a gazebo?
If you want to enclose your Gazebo, then we recommend using a screen or windows that back off and open so that you can enjoy the outdoors once the weather warms up.
Conclusion
Don't pass over a design element just because it has a taint of being 'old-fashioned.' You are free to be as modern or classic as you like, and when you add a gazebo to your backyard, you get to create something that is meant to gratify you. It is not for everyone else. If you like it and feel relaxed in your outdoor space, you can not go wrong. But do not feel stuck in the dark ages, either. Incorporate the elements you like into the design, and let your neighbors, friends, and family gaze upon it in awe!