Moving to Fort Lauderdale | 2022 Cost of Living and Relocation Tips


VanLines Inc
Secure Storage
Easy Booking Process
Fully Trained Employees
GET QUOTE

Colonial Van Lines
Storage Services
Long-Distance Moves
Corporate Relocations
GET QUOTE

Moving APT
Available Nationwide
Award-Winning Movers
Extensive Vetting Process
GET QUOTE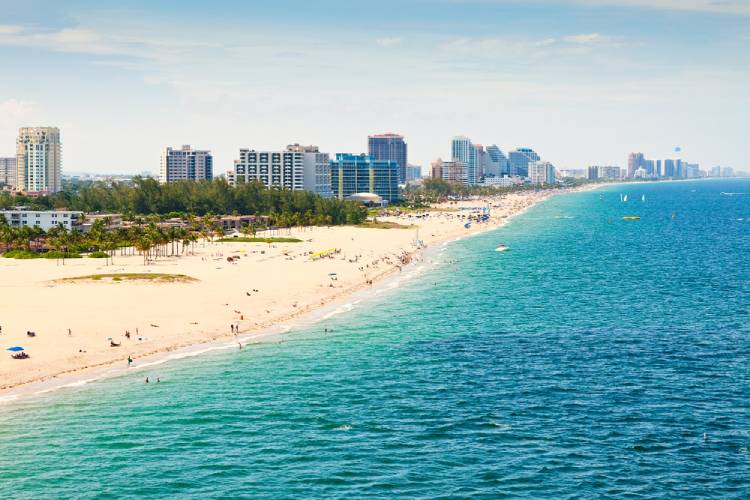 Fort Lauderdale is just an hour from Miami's glamor and coast life, but that is not the only thing that makes the city interesting to live in. It is an oceanfront community that boasts of beautiful homes, great restaurants, breathtaking beaches, and a diverse culture.
All the beauty of the area is enclosed in a picture-perfect serpentine wall. Fort Lauderdale is a great place for a vacation, and a better place to relocate to. If you are planning to move to Fort Lauderdale, the first thing you need to know is its tropical climate – sunny and weather with frequent and unpredictable short rains. You might also be familiar with its sandy beaches and its subdued but diverse life.
Some highlights of the area include the national park, the underwater bridge, and so many other local attractions. The city has 162 bridges with almost 500 miles of waterways, features that have earned it the nickname "Venice of America." This guide takes you through everything you need to know before you move to Fort Lauderdale, Florida.
Why Move To Fort Lauderdale, FL
Fort Lauderdale is surrounded by glamorous cities including Miami, Orlando, Tampa, and Jacksonville. However, it still remains an interesting city to call home. If you love beach life on sunny days, Fort Lauderdale presents you with plenty of sunny days and long stretches of sandy beaches.
It is a cosmopolitan city with lots of employment opportunities, cultural diversity, and endless entertainment spots. If you love adventure and are looking for a new perspective in life and new experiences, the city will be more than glamorous for you. It is a city that embraces the ocean and river life, with more than 40,000 residents living off their yachts.
See also: 13 Reasons to Move to the Southeast
Below are some of the reasons you might consider moving to Fort Lauderdale, FL:
Favorable Climate
The climate of Fort Lauderdale almost matches that of Miami, but the sun will burn you less. All year round, you will experience plenty of sunshine. The winter months are warm with little fluctuations in temperature. There are frequent rain bursts, sometimes, with thunderstorms, but nothing to restrict your fun.
With its tropical rain forest climate, you can experience 365 days of outdoor fun. Some of the fun activities in the area include swimming, snorkeling, beach yoga, and biking.
The only downside to the Fort Lauderdale climate is the likelihood of a hurricane between June and November. The dangers increase in September and October.
Beautiful Nature
The beauty of Fort Lauderdale starts in its beautiful sandy beaches and continues into the interior. The Atlantic Coast turns the city into a seaside town where every day is full of fun.
Just close to the shore is a living coral system that you can snorkel too. This should be fun for you if you enjoy snorkeling and sea life.
Further from the sea life, the Hugh Taylor Birch State Park is located in the middle of the city. It is for those who need to experience nature away from the hassle of the big city. Inside the park are two nature trails, picnic spots, freshwater lagoons, bicycle trails, canoeing areas, and the Birch House Museum.
The city is also home to the Everglades National Park which houses the endangered species such as the Florida Panther and the Manatee. This park is a few minutes drive from the city.
The Venice of America has an extensive system of canals and waterways that add to the area's beauty. You can use any of the 162 bridges to cross to any part of the city as you enjoy its beauty.
Strong Economy
Being a metropolitan, the city of Fort Lauderdale has turned to be a great tourist attraction. Tourists boost the economy of the city. Each year, more than 10 million visitors flock the city to relax on the beaches and a getaway spot.
Due to the high number of tourists, Port Everglades has become the third busiest port in the United States. Each year, the Fort Lauderdale Boat Show attracts more than 125,000 boat enthusiasts from around the world. Some of the people who come for the boat show live on the shores in their yachts, about 40,000 people: these people and many more visitors yacht across the ocean.
Other industries are also gaining root in Fort Lauderdale, and this has reduced the unemployment rate significantly. Some large industries in the area include boating and healthcare – these two are responsible for the greatest number of jobs. The Fort Lauderdale Downtown has seen significant growth in the recent years and is one of the largest employers on the area.
Good Education System
The education system in Fort Lauderdale is diverse with so many accredited schools. There are prestigious and notable institutions of higher education such as Keiser University, Broward College, The Art Institute of Fort Lauderdale, Nova Southeastern University, and so many satellite campuses of prestigious universities in Florida. National and international students all have a chance in the system.
Progressive and Dynamic Environment
The climate and features of Fort Lauderdale make it a fascinating beach resort. However, the city has morphed to achieve a unique character as a yachting center, a flourishing economy, and a city, all at once.
After the 1960's film "Where The Boys Are," the city became a hub for college students from all other cities of Florida and other parts of the country. College students would flock the city to have fun each spring. However, the government enacted laws that hindered the rowdy college students from flocking the area. Since then, the city has thrived to be a trendy place where domestic and foreign tourists can experience a cool atmosphere. The city mostly attracts boat lovers, but if you only enjoy a beach resort life, you will be proud to call it home.
Over the past few years, so many artists have come up, making the art scene flourish. This development can be attributed to the festivals, music shows, and sports events common in the city. The Flagler Arts and Technology Village (FAT Village) attracts thousands of artists from all over the country each year.
Artists have more to enjoy, thanks to Fort Lauderdale's art and entertainment district, which is the Riverwalk Arts and Entertainment District. This is a long stretch that runs along the Olas Boulevard all the way to the beach. The district houses the Broward County Center for Performing Arts and the Museum of Fort Lauderdale. It is also home to so many restaurants, shopping centers, bars and nightclubs, and a place where you can enjoy the local cuisines and exotic delicacies.
There are splendid golf courses, museums, casinos, marinas, and many other places of interest such as the largest drive-in theater in the world. Fort Lauderdale hosts the International Swimming Hall of Fame for those who love swimming. Generally, there is something for everyone in Fort Lauderdale.
Things to Know Before Moving to Fort Lauderdale
There are lots of reasons why moving to Fort Lauderdale is a good idea. From the impressive weather, the natural beauty of the land, the vibrant city life, and much more. You can get a house of any design you want in almost all locations in the city. Most of the areas are accessible and located in beautiful neighborhoods. You will love the charm of the neighborhood and the exotic lifestyle.
The most popular areas in the city are Victoria Park and the neighborhoods around Las Olas. These two areas are considered very safe and they are also lively. Property prices are competitive and you can get employment in one of the many industries in the area.
Even with its attractive features, there are some aspects of the area that may not be as you want. These include:
High Cost of Living
Compared to the national average, you will have to pay higher for amenities, housing, and others to enjoy the best of what Fort Lauderdale has to offer. The high cost of living can be attributed to the popularity of the city and the high standards of living. The only solace is in the utility costs which will cost you 4 percent less than the national average. You will pay higher for food and transport than in other areas in the city. Besides utility, you can make savings in annual taxes, thanks to the Homestead exemption you get as a resident of Florida.
See also: States with Lowest Cost of Living
Less Secure Neighborhoods
Crime has been an issue in Fort Lauderdale for a long time. Once you relocate to the area, you need to invest in advanced security for your home to ensure that you, your family, and your property are safe.
Traffic Congestion
The public transport system in Fort Lauderdale might need an improvement. You can only take the Sun Trolley or a water taxi. Most of the residents are on roads with personal cars and this increases the traffic congestion. Heavy traffic is experienced early in the morning and in the evening. Some of the notorious areas include Boward County, Florida's Turnpike, Highway 869, and many others. During such times, you need to be a patient and skilled driver as you may sit in traffic for more than one hour. The city plans to install an electric streetcar system for the Fort Lauderdale Downtown area, but that may not be complete until several years to come.
Large Number of People Living in Poverty
A large proportion of the residents of Fort Lauderdale are wealthy. However, there is still a significant percentage of residents living below the poverty line. Fort Lauderdale has a high population of newcomers who might find it challenging to get a job and adapt to life in the beach resort.
How to Move to Fort Lauderdale, FL
Once you have made up your mind to move to Fort Lauderdale, you will find the moving process easy, no matter where you are coming from. However, you need to have a moving strategy.
Moving Preparations
Moving is costly whether you are moving from one city in Florida or moving from another state. Therefore, you need a moving budget and a reliable moving timeline. With these two, you will enjoy a seamless relocation. Once you have that set, you need to deal with other aspects of a rigorous moving process including:
Choose a moving company and set a moving date.
Schedule different tasks to carry out from now to the moving date to ensure that you do not forget anything.
Pack your items as you sort them out to determine which is fit to move with you and which should stay behind. Create a moving inventory where you tick out items that you pack.
If there are items that you do not want to move with, sell them out or donate them so you never take up the space for the items that matter.
Ensure all your belongings are safely packed. Delicate items such as your TV set, your china, and others should be carefully packed.
Ensure you have the relevant paperwork to move your items.
Moving Options
There are lots of moving options for you. You need to research intensively before choosing a mover or a moving option to ensure that you get the best deal. If you currently live within a short distance from Fort Lauderdale, you can self-move without the need to seek the help of a professional. However, if you live far, may be a county or state away, you need the help of a moving professional. Professional movers take off the stress of moving from you and make the process seamless.
Find a Reliable Mover
There are so many cross-country movers, and all you have to do is find one who is reliable. You can start by searching online to see customer reviews and recommendations. Visit the websites of different movers, and read testimonials. If a mover is on Better Business Bureau, TrustPilot or any other consumer reviews site, you can better see what customers have to say about their services. Search for movers in your area and understand their costs, insurance policies, discounts, and any other services they offer. Ensure the business is licensed to operate.
Once you have narrowed down your choices to a few movers, ask for a free moving quote and compare your options before settling on a single mover. Pick one mover and proceed to discuss the details of the relocation. Some of the things you need to discuss include extra services offered and their costs, liability options, handling requirements, shipment preferences, pick-up, and delivery times, special conditions and how they affect the trip, and any possible problems.
Before signing the contract, read all the details of the fine print and ensure you understand everything. If there is a section of the contract that you do not understand, ask. Pick the USDOT Number of the mover and do additional research before hiring any company.
See also: Affordable Moving Companies in the US
Getting to Fort Lauderdale
Once you have a reliable mover, it is now time for you to get to Fort Lauderdale. You can fly through the Fort Lauderdale-Hollywood International Airport, which is the fastest growing international airport. You can also fly to Palm Beach International Airport or the Miami International Airport.
Amtrak ferries passengers from the Atlantic Coast. Depending on where you currently live, you can take a train to Fort Lauderdale. If you opt to drive, there are so many highways through the Broward County.
Fort Lauderdale Relocation Guide
When moving to Fort Lauderdale, there are some factors that you need to consider.
If you are not pressed for time, choose to move in winter. Most moving companies will give you a better deal when you move in winter than when you move in summer. Between October and April, you will experience less moving problems associated with winter moving as the Venice of America will have the best weather. However, so many people want to move to Florida during the winter. As such, you may face heavy traffic and your mover may take longer. Again, avoid traveling on September and October as these two months may experience hurricanes.
You no longer need the winter clothes you have had in other areas such as long winter coats and fur-lined boots. The temperature in the city is always above 65 F and there have not been snow flurries in the city since 1977.
It rains frequently in South Florida. As such, your car needs high quality windshields and tires to navigate the city. Also bring your umbrella, a rain coat, and waterproof shoes.
Because the city is prone to hurricanes, do not plan to enjoy and forget to prepare for a disaster. Create a disaster management plan the moment you settle in Fort Lauderdale.
If you plan to drive to work every day through the Florida Turnpike or any other major highways, get a Sun Pass so you never have to stop to pay certain tolls. You will also have access to faster lanes so you can get to work or home faster. You can also consider carpooling on high-occupancy lanes that allow for two or more people in a car.
Stay updated by subscribing to Miami Herald or The Sun-Sentinel once you get to Fort Lauderdale. This will help you learn the city and adapt to the environment faster.
Interesting Facts and Things to Do in Fort Lauderdale, FL
Things to Do
There is a lot of fun and things to do in Fort Lauderdale, FL. Whether you want to join the locals in waving goodbye to ships or want to spend a day at the Everglades National Park, there is something for everyone. Some of the fun activities you can engage in include:
1. Sunbathe at the Sunny Beaches
The Fort Lauderdale beach is popular all over the world as a beach resort. The sands in the area are soft and pleasant to touch or lie on. You can head to the beach any time of the year and enjoy the view from the sandy beaches. While there, you can sunbathe, swim, snorkel or walk along the beach.
2. Visit the Everglades National Park
The Everglades National Park is one of the largest national parks in the United States. It covers 1.4 million acres. In the park are saw-grass prairies, swamps, and jungles. There are so many animal species including 14 rare species such as the Florida Panther, West Indian Manatee, and the American Crocodile. You can set camp in the area and experience great wildlife.
3. Tour the Fort Lauderdale Waterways
You can tour the waterways through a water taxi or the Jungle Queen, a tour paddle steamer for the Fort Lauderdale waterways. The steamer takes you past beautiful houses and further along the Intracoastal Waterway and Port Everglades. There are lots of picturesque views as you tour the area.
4. Dine at Las Olas Boulevard
The Las Olas Boulevard is like the artery of Fort Lauderdale. It draws visitors any time of day. Inside the boulevard are bars and nightclubs, shopping centers, art galleries, boutiques, restaurants and the IMAX Theater. While dining there, you can take your time and visit the Stranahan House where you will learn more about life in Florida. You can also visit the Museum of Art which is full of art from all parts of the world.
5. Shop at The Galleria Mall and Swap Shop
Fort Lauderdale is popular for its electric products. There are a lot of home appliances and other electronics that you always want to buy. One of the most popular shopping centers is the Galleria mall, which is home to stylish boutiques and sophisticated stores. In the mall are also fabulous restaurants and entertainment joints.
The Swap Shop is a flea market where you can shop for food, clothes, artwork, and furniture. There are 13 drive-in movie screens where you can drop at night and enjoy your favorite films.
6. Learn at the Museum of Discovery and Science
The Museum of Discovery and Science is a learning hub for children and adults alike. It has more than 200 spectacular exhibits. In the museum are bats, snakes, the IMAX theater, the largest coral reef captured, and exhibits for Runaways to Rocket aerospace.
7. Visit the Seminole Hard Rock and Casino
When you need to dine, gamble, and be entertained, the Seminole Hotel offers you all that. You will enjoy the Hard Rock live shows where they hold different music, sports, and comedy events.
Interesting Facts about Fort Lauderdale
Before Fort Lauderdale the city, there were several forts built during the Second Seminole War. The forts bore the name of Major William Lauderdale, who built the first fort. Fort Lauderdale developed from these forts, and that is how it gained its name.
Fort Lauderdale Downtowns has ranked among the top 10 downtowns in the country.
The Osborne Reef is an artificial reef off the coast of the Fort Lauderdale. Although it looks like a natural reef, it has proven to be a disaster ecologically. The reef, which is made of waste tires, is slotted for removal.
FAQs about Moving to Fort Lauderdale
Is Fort Lauderdale Florida A Good Place To Live?
Fort Lauderdale enjoys many conveniences like ideal sunny weather, a growing cultural scene, the beachfront and easy drives to Miami. But the cost of living is high and the public transportation system can do with improvements. You need your own car to get around conveniently. If you can keep up with the prices and the traffic, Fort Lauderdale will be like a slice of paradise to live in.
What Is A Good Salary In Fort Lauderdale?
The cost of living in Fort Lauderdale is 16% higher than the national average. A family of 4 will spend around $3,670.72 a month while a single person here will spend around $1,011.74. The average salary of residents living in Fort Lauderdale is $65k. If you earn a salary of around $65k or more, you can consider it to be a good salary.
Is Fort Lauderdale Safer Than Miami?
Comparing the violent crime rate comparison per 1,000 residents in both cities, Miami is at 6.3 and Fort Lauderdale at 6.42, a marginal difference. In terms of the property crime rate, Miami comes in at 35.96 per 1,000 residents, which by itself is worrying. But Fort Lauderdale is much higher at 50.44. This data helps us realize that Miami is comparatively safer on both counts, violent and property crime.
What Is The Minimum Wage In Fort Lauderdale Florida?
As of 2021, the minimum wage in the state of Florida is $8.65 per hour. This is slightly higher than the 2020 rate of $8.56 per hour. Florida's minimum wage has historically been increasing on January 1 of each year.
Where Should I Live In Fort Lauderdale?
Fort Lauderdale gives you the unique chance to live off a yacht, joining the +40,000 residents who already do so. But you also have plenty of nice neighborhoods to choose from. Young families can live in Tarpon River that has plenty of single-family homes. People looking for diversity can head to the historic Victoria Park while the exclusive life lies in Harbor Beach.
Conclusion
There are a lot of opportunities in Fort Lauderdale and a lot of fun activities too. All you have to do is choose a home in a neighborhood you love and pick a moving company that swiftly makes the moving process. If you are moving from another state or another country, you need to familiarize yourself with the laws of Florida, so you never find yourself on the wrong side.
You need to learn about voting in Florida, changing your driving license, and your car license plates, and any other aspects that will help you start life in the Venice of America. You can visit the City of Fort Lauderdale website or My Florida website to learn more on the laws, and requirements when you move to Fort Lauderdale.