Moving Tips for Single Parents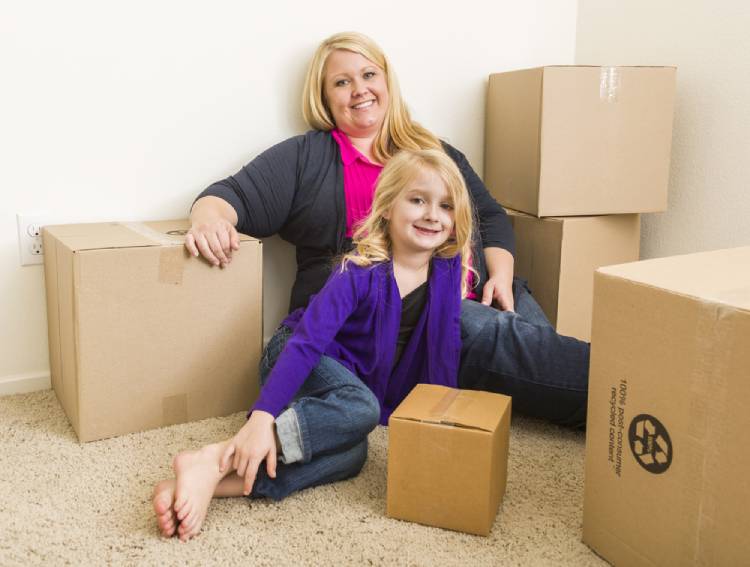 Moving houses is a daunting task, no matter how large of an army of people you have to help you out. There are tons of things to be done, often so much more than you initially realize. Which is why it seems even more intimidating for single parents. You may be wondering how to best manage with one less pair of hands to do the packing and lifting. Decisions like choosing the right moving company is left to you, and all the while you're trying to do it all on a budget so you don't blow a hole through your pockets!
Thankfully, when done right, moving houses is as breezy as ever, even if you're a single parent or a senior. We've drafted a comprehensive list of moving tips for single parents that is sure to cover everything you could possibly need to know about moving houses. From tips on how to save money to having 'the talk' with your kid, read on for moving tips for single parents.
Your 4 Golden Rules
Most moves have a few rules that help to make them effortless. However, you do have a lot more on your plate than other people do. Keeping single parents in mind, we've narrowed down to a list of 4 golden rules to be followed. You may not be able to follow all the steps we've listed in our blog, but keep these rules in mind every step of the way, and you should do fine.
Get Help – Get as much help as possible. Tap into your network of friends and close employees, and rope in your family members. There's always things to get done, and even if it's something as small as watching the kids on moving day, you'll benefit from it.
Be Organized – Organization brings a level of control and calm to a situation that nothing else can. The best way to go about the move is to be as organized as possible. Make checklists and keep them together; buy a new diary just for that if you must.
Lower The Stress – Stress is an inevitable part of moving houses. But if you follow our steps and keep your head, you can use the stress to fuel yourself. Getting too worked up will only hamper your ability to deal with the move.
Stick To The Budget – Chalk out a rough budget for your move and stick to it as much as possible. Moving is generally expensive, but we've got some great affordable moving tips for single parents.
Cost Saving Tips
As mentioned, moving is generally expensive. There's a lot happening, and the better service or the more help you want, the more you have to shell out. Thankfully, these cost saving tips are sure to help you cut corners without sacrificing anything.
Free Boxes: Ask friends and family for any moving boxes they may have lying around the house or in the garage. You can also drop in to your local grocery and liquor stores to ask them for their spare boxes, many of whom may give them to you for free. You can also look up resources online for free boxes.
Packing Material: Packing paper and bubble wrap are the usual packing materials you'll need. However, there's several instances where you can use much easier things like newspapers and old sheets for stuffing and cushioning. Newspapers make for great shock absorbents – as long as the inky surface isn't in contact with your items, you're all good to go. Keep your eyes peeled for such things at home to cut down on spending for packing materials.
Comparing Movers: A rookie move is looking up the first movers you find and going with them. A great way to cut costs while ensuring you get good service is by comparing movers. Most movers offer an on-site inventory, where they come over to assess how many things are to be moved and give you an approximate cost. Ideally, you want a binding quote, or a fixed or not-to-exceed estimate. This is a guarantee that your move's final cost won't exceed the estimate.
AAA Discounts: Being a member of the AAA sure has its perks when moving homes. AAA offers a number of discounts to their members that can be used when moving, for things like renting a storage unit, moving truck and others. These can greatly help reduce your moving costs.
Decluttering: With any move, the less there is to move, the better. Decluttering is always a recommended step before a move, whether it is purging those clothes you've held on to for too long or getting rid of household items you no longer need.
Timing Your Move: Being able to have some amount of flexibility when it comes to choosing the date of your move can help with getting cheaper costs. For instance, moving on weekdays will be cheaper than weekends. Moving in the off-season will be more affordable than moving in the summer when most people are home and moves generally happen.
See also: Best Time to Move
DIY: Going the DIY way is a sure-fire way of saving up on a lot of different costs. However, remember that this comes with double, if not triple the workload and requires loads of time. Only attempt this if you have the time and the extra helping hands to spare.
Job Relocation Package: Are you making the move for a new job? Look into the job relocation package being offered by your new employers. These packages often have several benefits, alongside taking care of certain moving-related costs. Make sure you know how to negotiate a job relocation package so you make the most of it.
See also: Job Relocation Guide
Taxes: If you're moving for a job, specific circumstances can allow you to deduct moving expenses. In addition, you are eligible for a tax deduction when you donate good quality items to a non profit organization. There are several organizations that accept all items, from clothes to household items, so if this is on your mind you're in luck! Make sure you look at the IRS official website to know more.
Accommodation: If you're covering a long-distance on your move, look into family and friends who can accommodate you and your kid on the day of your move, on the way to your new home. This helps save up on paying for a hotel room.
Moving Preparation
One of the first things you'll probably think about is preparing for the move in a very literal sense. This involves things like choosing the right movers and getting things in place for moving day.
Moving Labor:
You are definitely going to need help come moving day. Ideally, have at least two other people around to help with things. If you don't have a heavy set of arms and shoulders to lift heavy objects, we recommend hiring moving labor. Trained hands will be able to lift, move and place your heavy furniture without causing harm to it, and you don't have to risk unnecessary injuries.
Hiring The Right Movers:
An important part of making sure your move goes smoothly is hiring the right movers. While some movers are equipped with everything you could need for an interstate move, others are better at handling shorter distances. Do your research and make an informed decision. You can also use our services that help you find the best movers for your shift.
Full-Service Movers:
We understand that as single parents, you just may find it unbearably difficult to make the time you need. In such a situation, hire full-service movers. Full-service movers will handle everything in a professional and fast manner, including packing, loading, moving, unloading and properly placing things in their new home. Full-service movers don't come cheap, but your stress load will greatly reduce, helping you and your kids deal with the move in a much more relaxed manner.
Hiring Professional Packers:
The good thing about the range of services available is that you can decide for yourselves what you can handle, and just pay someone to do the rest. Hiring professional packers is a great way to ensure you have enough time on your hands. Additionally, they will best protect all your items as they have the most experience in packing them efficiently and securely.
Hiring Trucks:
If you choose to DIY some or most aspects of your move, you're sure to need help actually transporting things from one location to the other. Make sure you look up and hire a transporting truck, along with labor who will load the truck for you. Loading a truck is much more complex than you think so don't attempt it alone or if you're inexperienced.
Handling the kids
Moving with children usually poses a few more hurdles to be conquered, mainly because we tend to forget the impact it can have on them. It is an upheaval for them too, and often can be upsetting as they have to leave behind the familiarity and comfort of their old school, friends and neighborhood to face a completely new life. There's several things you can do, and should be doing, when moving with kids.
Have The Talk
Kids can always tell when you're keeping something from them, and they're sure to sense a change approaching with all the phone calls, documentation and general sorting out you'll be doing. The best thing to do is sit them down to tell them all about the move. They may not always take it well, especially depending on their age, so be patient. Involve them in the process by letting them pack their own toys and sports things, get their friends to come over for a party where they can exchange numbers if they haven't yet, and so on.
The good thing is it is exceptionally easy to stay in touch in today's times, so remind them of that when they feel down. Be prepared to answer the flurry of questions coming your way, like where their new school will be and if they can continue doing things they enjoy like swimming classes, dancing or playing a particular sport.
Research
When looking at places to stay in your new city, look up facilities you'll need for your kids, whether that's a daycare facility, a school or college, or things like baseball classes. If possible, take your child for a visit to the new school so they start to acclimate themselves with it.
Documents
Make sure you gather and properly file all the possible documentation you'll need for your children. Get a hold of their school and vaccine records for the new school, and get copies of their medical records as well as yours.
Assess The New Location
When assessing whether a house is the ideal one for you. Try to calculate the distance from your workplace and your children's school. Look into whether the school offers a bus pickup at this location, and make sure other things like this are in place before settling on a house.
Moving Day Prep
Moving day is a day of chaos, no matter how organised you've been. It's a good idea to pre-plan how to handle it alongside your children in advance. If you have toddlers, it's best to have them stay at a neighbor's or a relative's while the loading is going on. Teens can stick around and even help out, but make sure they're out of harm's way. Pack a backpack for them, complete with a book and some snacks to turn to when they start getting cranky.
Additional Help
Starting Early
Once you've narrowed down on deciding to move, don't wait. Start your preparation, and use the time on your hands to get organised. Get a move on procuring boxes and other packing material, look up and narrow down on a few moving companies, and so on. Take a day to neatly prepare checklist and timelines, and jot down everything you could possibly need to do. Keep referring to these to make sure there's never anything left to memory and you get everything done.
Checklists
Making detailed checklists is a lifesaver. From sorting out furniture, to making an inventory of your items, to packing up clothes and household appliances, checklists can come in handy for almost every task you tackle.
Moving Timeline
This is the motherlode of the organizational process, and every checklist stems from this. Having a moving timeline on hand is your greatest weapon, as knowing just how to allocate time to tasks as your moving date approaches is the best way to have an effortless, smooth moving process. A moving timeline should start at 8 weeks before the move, and countdown to upto 2 weeks after the move. Thankfully, we've covered that in significant detail so you can start with a reference.
Self Care
Don't forget about your own health and well-being in all the chaos; something that can happen all too easily. Make sure you keep eating full, healthy meals, and getting enough rest at night. Also remember that your kiddies will rely on you to help them see through the move, and watching you tackle it in as healthy a manner as possible will only make it easier on them to process the changes happening on their level. Moving tips for single parents can only help so much; don't hesitate to ask for help when you need it, be it from friends or family. And, when it's all done with, take a short trip or picnic with your young'uns to properly unwind after the moving stress.
Also Read: Mortgage Tips For Single Homebuyers With Children