Mortgage Tips For Single Homebuyers With Children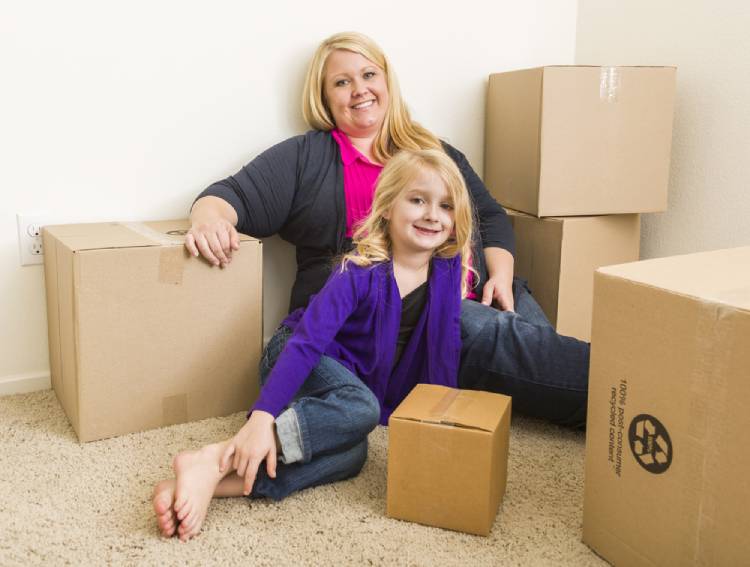 The thought of moving into a new house with your children can be really exciting. And why not? It's great to find a place that you can call your home and spend some quality time with your children. For single parents with children, being able to find the right home within the budget can be like a dream come true. But wait, is it really that easy?
It goes without saying that many people get caught up in the waves while losing sight of the most important things to consider when buying a home. And if you're a single parent, managing your household and children and juggling through your job isn't going to make it any easier for you. Right from finding the right location to ensuring that both your and your child's needs are met, home buying requires you to think of a lot of things. Let us take you through some of our best mortgage tips for single homebuyers with children.
Make A Budget
The first thing to do when buying a home is to create a budget plan for yourself. It's easy to get carried away looking at different properties. And if you happen to fall in love with a house you can't afford, you're definitely going to be disappointed. So, it's best if you make a budget plan based on your needs. You'll have to do some research and serious number crunching when you plan out how much you can afford to spend on a home, with and without a mortgage.
Here are some of the things you should consider when making a budget plan for home buying:
Down payment and interest
Property Taxes
Insurance
Mortgage costs
Maintenance costs
Moving related costs
Homeowner association fee costs
It's a good thing to try and calculate all the expenses you'll need to take care of when buying or renting a home. We suggest you use an online mortgage calculator that'll give you an idea of how much you'll be spending on a house. Depending on this estimate, you can make a realistic budget plan for other things like your monthly loan payments, mortgage interest, and other expenses.
Understand Your Overall Income
One of the things to keep in mind when applying for a mortgage is that you'll be asked to disclose your income and savings. So you'll have to give the mortgage lender an insight of your salary, income you earn from rental properties, your social security payments, etc. All of these things will be the important factors in determining how much loan you can get from your mortgage lender.
When single parents with children seek a mortgage loan, there are chances of their alimony payment to be included in their overall income. Do keep in mind that a higher income will qualify you for a larger mortgage loan from your lender. If you ask us, one of the best ways to go about it is to get in touch with a mortgage banker and seek their advice on what's the best way to give out your overall finances to your mortgage lender.
See also: Things You Need to Be Pre-approved for a Mortgage
Be Ready With Your Income Verification Documents
Along with budgeting your overall income for home buying, you also need to think about your mortgage qualifications. This is an important thing, especially if you think you'll need a huge amount of loan from your mortgage lender for buying or renting a house. So make sure that you keep all your income verification documents prepared well in advance.
Here are the important documents you'll need for your mortgage loan qualification:
Form 4506-T
Recent W-2s and pay stubs
Bank statements (investment assets, insurance, statements from trust or savings accounts, etc)
Credit score and history
Proof of any long-term debts
Proof of your current rent payments
Proof of gift funds or letters (if your friends or relatives are helping you buy the house)
Legal documentation for alimony or child support (divorce decree)
Letter of explanation (if you've had any credit mishap)
Photo ID (Driver's license or passport)
Stick To The 25% Rule
As a single parent with a child, it's going to be difficult for you to meet your mortgage payments as you'll be doing it on your own. That's why you need to manage your income smartly and make sure that all of your money doesn't go into your mortgage payments. Let's not forget the other expenses you'll need to take care of like parenting needs, homeownership, renovations, maintenance costs, etc.
When you start your new life in your new home, you'd want to live comfortably there. Nobody wants to go through the hassle of making ends meet to pay off mortgage debts after moving to their new home. That's why one of the golden rules of home buying and mortgage is that the amount for your mortgage payment should not exceed 25% of your monthly income.
Consult A Financial Advisor
If you want a loan from your mortgage lender, you need to keep reminding yourself that your credit score is going to be a key factor in determining that. One of the most common mistakes people make when buying a home is settling for loan terms that can be long-lasting or less favorable.
You should get in touch with a financial advisor who can help you with your home financing. Right from making a budget plan, reviewing your credit history to helping you understand your credit score, a financial advisor can help you with all these things. It's important that you start planning your finances for your new home at an early stage under the mentorship of a financial advisor. This will make the whole home buying process a lot easier for you.
Choose The Right Location
When it comes to home buying, one of the most important things to consider is the location of your home. And if you're a single parent, you have tons of things to be mindful of when deciding upon a property. So, if you want to save yourself a headache later, it's best if you start looking for properties immediately after making your budget plan. Keep in mind that the location of your new home is a priority you can't afford to compromise on, especially if you have a child.
Here are some things to consider when choosing the location for your new home:
Proximity of the property to your close relatives and friends
Proximity of your workplace from the property
Availability of school districts in the neighborhood
Distance of important places like grocery stores, healthcare centers, parks, etc from the property
Quality of education in the schools near the property
Property tax in the neighborhood
Also Read: What's More Important: The Size Of The House Or Location
Prioritize The Features Of Your House
Another thing to consider before choosing a property is the features of a house. Being a single parent, your needs can be different from those of other families. So, you need to sit and think about all the things you'd like in your new home. After all, the more features and amenities you add, the larger the overall cost of the property. That's why when you start looking for properties, it's good to have a clear idea of the essential features you're looking for in a house.
Here are some things to consider before you decide upon a property:
Total number of bedrooms in the house
Total number of bathrooms in the house
Size of the kitchen
Size of the yard
Style and condition of the house
Flooring of the house
Child safety
Storage facility
Age of the house
Need for renovation, repairs and maintenance
Overall cost of the house
Make A Significant Down Payment If You Can
If you pay a significant amount as your down payment for your new house, then your mortgage lender will charge you a lower interest for your house loan. It's advisable to pay a decent amount of money as your down payment for a house. It'll be difficult for you, as a single parent, to get a good mortgage rate, especially if you're buying a new house without seeking any help from your relatives or friends. So, to increase the chances of getting a good mortgage lender as well as a good deal, it's best to save enough money for the down payment.
Having said that, you also have to be mindful of your existing financial situation. This is when the budget plan mentioned before comes in handy. You need to go through your budget plan and see the total amount of money you can afford to buy a house. It wouldn't be a smart move to spend all of your savings on the house. You'll have to keep some money aside for other expenses like your child's school or college fees, utilities and other maintenance expenses. Consider making a significant down payment only if your financial position allows you to do so.
Avail Of The First-Time Homeowner Programs
If you're worried about not being able to get enough money for your down payment or homeownership, you can always avail yourself of the first-time homeowner programs. In cases when you need a large amount of money in a short period of time, down payment assistance programs can actually save your day. If you're fortunate enough, you can qualify for a loan that needs less than the standard 20% down payment for a home.
There are several special loan programs like the USDA (US Department of Agriculture), VA (Veterans Affairs), FHA (Federal Housing Administration), etc that can help you with home buying and mortgage. You'll need to first check if you qualify for any of these loan assistance programs. For that, you can always get in touch with a mortgage professional who can guide you through the whole process.
Final Thoughts
Home buying and mortgage can be a really tedious process, especially for single parents. After all, settling on a house that suits both your needs will require a serious commitment. If you've read our mortgage tips for single homebuyers with children, you're all set to get a house and begin a new life.
Also Read: Mortgage and Homebuying tips for Newlyweds | 10 Best Cities for First-Time Home Buyers
FAQs On Mortgage Tips For Single Homebuyers With Children
Can Parents Take Out A Loan For My House Deposit?
If your parents want to help you take out a loan for your house deposit, they can give you money in the form of a gift fund or a gift letter. Do keep in mind that you'll need proof of that when applying for a mortgage. Also, your loan repayments will be taken into consideration by your mortgage lender when deciding upon the amount they're willing to loan you.
Can I Buy A House With My Daughter?
Yes, you can apply for a mortgage loan for buying a house jointly with your daughter. Just make sure that you get in touch with your mortgage lender and prepare all the necessary documents in order to qualify for the mortgage loan. By doing this, you can certainly help your daughter with home buying.
Can I Give My Child Money To Buy A House?
Yes, you can give your child money to buy a house. Many parents either choose to give their children gift cards or funds to help them with their home buying and mortgage payments.
Also Read: 12 Best Places to Raise a Family in the U.S. | Moving with Kids | Moving Tips for Single Parents