Relocation Services – A Complete Guide


VanLines Inc
Secure Storage
Easy Booking Process
Fully Trained Employees
GET A QUOTE

Colonial Van Lines
Storage Services
Long-Distance Moves
Corporate Relocations
GET A QUOTE

Moving APT
Available Nationwide
Award-Winning Movers
Extensive Vetting Process
GET A QUOTE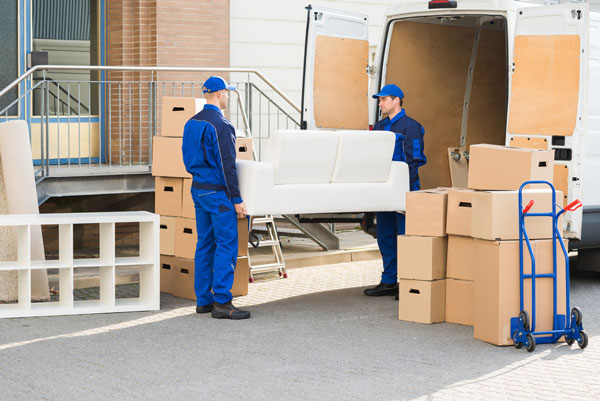 Moving is a life event that many of us experience one, maybe two times during our lives. Unless you work for the military or for a company that requires you to bounce around the country every few years, you will probably stay in one place for decades at a time.
The infrequency of relocation for most people means we are in the dark when it comes to knowing about relocation services.
This guide presents several sections that thoroughly explains every facet of relocation service. We start by explaining the types of relocation services, followed by teaching you how to save money on relocation services and learning what comprises a comprehensive relocation service checklist.
Common Types of Relocation Services
There are four primary types of relocation services, with each service catering to specific customer needs.
Going Local
As the most convenient way to relocate, local relocation, which is also referred to as door to door relocation, involves a company that performs every moving task. This includes complete packing and unpacking, as well as delivering your stuff to your new home. Under the supervision of licensed and bonded moving professionals, relocation responsibilities fall in the hands of a company you trust.
Office
Often called corporate relocation, office relocation is similar to the local relocation services for residential customers. The difference is office relocation services often involve much more logistical planning because of the large amount of supplies, equipment, and furniture that needs to be moved. Office relocation services are also available for non-profit organizations, such as the American Red Cross.
Interstate
A long distance interstate relocation is a much different animal than a local relocation, which typically involves moving to a different neighborhood in the same city or to a new city located fewer than 100 miles from your current home. Logistical planning is more extensive for an interstate move because of the increase in the time and the distance needed to pull off a successful move. Interstate relocations have undergone a significant transformation since 2000, as a growing number of interstate relocation services offer pods that are transported and dropped off at new residences.
International
Moving from one country to another country is the most complicated type of relocation. Not only do you have to consider moving your stuff, but you also have to become acclimated to the culture that is present in the new country. Highly rated international relocation services offer a feature that helps customers seamlessly transition from one country to another country.
Cost Factors for Relocation Services
Relocation services of any type require careful financial planning. From having to deal with sharp spikes in fuel prices to having your move delayed because of the weather, your relocation bill can soar through the proverbial roof.
Let's look at a few factors that determine relocation costs.
Packing and Unpacking
Having a relocation service pack, your stuff gives you more time to perform other tasks on your relocation checklist. Just make sure the moving company you hire has earned the reputation for taking care of customer possessions.
Loading and Unloading Moving Vehicles
When a relocation company presents a moving estimate, it uses cargo weight as the most important factor for determining the cost. The company will also add a charge for the cost of the labor required to load and unload your things from a moving vehicle.
Transportation
As we mentioned, a long-distance move triggers a significant increase in the cost of relocation. In addition to fuel costs, relocation services that specialize in long-distance moves also have to pay tolls and maintenance expenses.
Disassembly and Reassembly
One of the most convenient features offered by highly regarded relocation service is the disassembly and reassembly of furniture and electronics. This feature also saves you time, but it also bumps up the price of a move.
Insurance
Insurance is not an option; it is a mandatory expense that ensures your valuables are covered financially if they become lost and/or damaged.
Storage
A growing number of relocation services offer storage to give customers the flexibility to move things around throughout the year.
How to Save Money on Relocation
Just because you are relocating to another city, or another state, or another country does not mean you have to bust the bank account to get there. With thorough financial planning, you can reduce the amount of money you pay to a respected relocation company.
Kick the Things You Do Not Need to the Curb
We do not mean this literally. Instead, you can lighten the weight of the cargo hauled by a relocation service. One way to alleviate the cargo load involves donating the stuff you do not want to a charitable organization like Goodwill and the Salvation Army. Both organizations have large time windows in which you can stop by and drop off your unwanted possessions. You should also consider holding a yard or a garage sale. The cash generated by selling your unwanted items will defray the cost of moving.
Get In-Home Estimates
Reputable moving services perform in-home moving inspections to present a viable cost estimate. If a relocation insists on presenting a moving estimate over the phone, move on to the next company on your shortlist. You can research how a relocation service calculates its in-home moving estimate by going online to each website operated by the companies on your shortlist. Make sure the moving estimate reflects the total cost of relocation.
Move when it Costs Less
Like sports, relocation has an off-season, but that does not mean you are not active by moving your stuff to another location. It means moving your things when demand for relocation services is down. Relocating costs the most between Memorial Day and Labor Day, when kids are out of school, and busy professionals take time off from work. Summer is when you can expect to pay higher than average for relocation services, so schedule your move during the other nine months of the year.
Employer Subsidy
Many relocations are triggered by employers that need to move talent around the country. If your job is the reason for a move of any distance, ask your employer to foot some, if not all of the moving bill. The best employers provide 100% financial coverage for employees that have to relocate for professional reasons. Here's a recent article we published about "How to Finance a Move".
Discounted Moving Supplies
Shop smart for moving supplies, and you should enjoy a substantial savings that leads to a lower moving bill. Many relocation services run supply discount programs throughout the year, but especially during the offseason when demand declines for relocation services. You should also look hard for a relocation service that bundles the cost of supplies with the entire cost of relocation. Try to find free boxes that large retailers discard after unloading the boxes on produce delivery days.
Finally, stick to your moving budget by resisting to pay for relocation features you do not need. Also, find out if you qualify for any tax breaks. Tax laws change every year, so what was legally valid to deduct last year might not be legally valid to deduct this year.
Relocation Checklist
Planning and organization are the keys to pulling off any successful move. Creating a comprehensive relocation checklist is an effective way to get planning and organizing relocation off to a good start.
Your relocation checklist should cover the basics first, and then you fill in the blanks with more detailed descriptions about what you need to do for getting from point A to point B. Remember that timing relocation perfectly is almost an impossible thing to do. There are too many wild cards that can disrupt the timing of relocation. With that in mind, we use general time frames to separate different moving tasks.
A Few Weeks before Relocation
This is the best time to remove the things you do not want from your home. You do not need an appointment to stop by Goodwill or the Salvation Army. Load up your unwanted stuff and head over to the charitable organization of your choice. Then, book your reservation with a relocation service. Book early if you plan to move between Memorial Day and Labor Day. Make sure to insure your most valuable possessions, before you begin to plan for packing your stuff.
Now is the time to obtain moving supplies, preferably supplies you get at a discount or for free. You will need tape, boxes, and bubble wrap to protect fragile items. Label every box by item category. You can label a box "Flatware" to describe the silverware inside and label another box "Shoes" to separate your footwear from other apparel. Add the room where the labeled boxes need to go upon arrival to your new home. A few weeks before moving day is an excellent time to review all of the furniture to note any dents or scratches.
One Week Before Moving Day
When the moving clock ticks down to seven days, the time has come to act with more of a sense of urgency. After all, relocating requires tight coordination of several tasks that need to be performed around the same time.
Remove all hanging pictures and other items hanging from the ceiling or walls. Organize the pictures and other hanging items in the room closest to the door where the professionals from the relocation service will enter and exit. Pack all electronics using bubble wrap to prevent impact damage. Make sure miscellaneous items are packed in the same box. You can decide where to store miscellaneous items upon arrival to your new residence.
Safely store fragile items in the boxes you have labeled for fragile item storage. After emptying the fragile items and other items from desks and drawers, position the furniture near the point where the movers will retrieve your things. Clear out the bathroom of non-essential items and organize the toiletries you need quick access to during relocation by putting the items in small bags or inside of a toiletry kit. The last item on your relocation checklist a week out from relocation is to pack the clothes you will need after arriving at your new home. Packed clothes should give you apparel to wear for up to three days.
Moving Day
Now it is time to clear the bed of sheets, pillows, blankets, and comforters. These items should be stored in a cardboard box labeled "Bedding." Ensure everything has been removed from every appliance. For example, check the oven to make sure there is not a crockpot or a large basting spoon inside of it. You should also inspect the dryer and washing machine for clothing. You never know if a family member decided to do some last-minute clothes washing the night before.
After the moving company loads the moving vehicle, walk through your home one last time to verify nothing gets left behind.
Top 10 Relocation Companies
How did we come up with the top 10 relocation companies? Each of the relocation services on our list offers similar features that separate them from the rest of the companies operating in the moving industry.
The best relocation services do much more than safely move your most cherished possessions. Each company on our list offers a vehicle moving service that allows customers to travel conveniently by plane to their new homes. The ten best relocation services offer comprehensive liability insurance to protect you against lost and/or damaged items. The top 10 companies offer all four of the primary types of relocations services on our list.
The ten best relocation services provide around the clock customer support online to ensure your move unfolds as smoothly as possible. Friendly and knowledgeable customer service professionals can help guide you towards making the right relocation decisions. Real-time vehicle tracking separates the top 10 relocations services from the rest of the pack.
With a drum roll, here are the 10 best relocation services:
AGS Movers
Mayflower
Champion International Moving
Graebel
Hilldrup
Crown Worldwide Moving and Storage