Packing Outdoor Items for a Move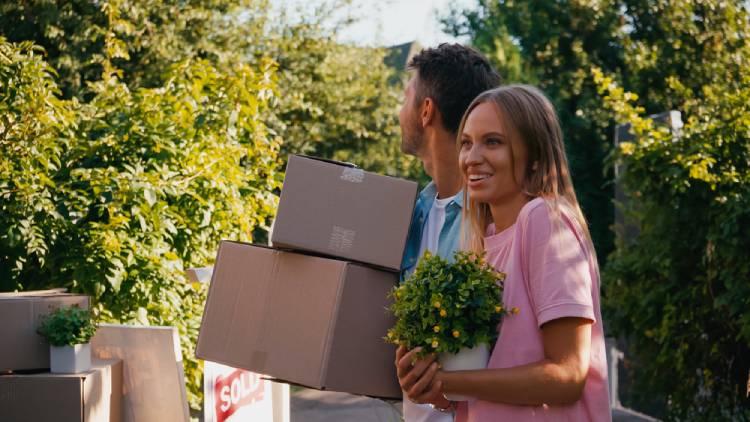 When packing for a move, most people focus on packing their indoor items. This is understandable, as the process of moving all of your indoor belongings can be daunting. However, don't forget about your outdoor items!
If you take the time to pack your outdoor items properly, it will make the process of unpacking them at your new home much more manageable. Here are some tips on packing your outdoor items for a move.
Getting started packing outdoor items
There are several things you can get started packing for your move to make it easier. For outdoor items, there are three main things you will want to get started with:
Cleaning your items
Labeling them (especially if they aren't already labeled)
Securing the pieces that may break or need extra protection
Cleaning your outdoor items should be easy. You don't want to transport dirt, grime, and other debris into your new home. If you have plastic furniture, consider washing it before packing it up. This will ensure that nothing sticks or stains anything else during the move. You can also wash any cushions you have, but remember to let them dry before you pack them away.
Labeling your outdoor items is essential for two reasons: it will help you unpack faster and because you probably won't be familiar with your new home by the time of move-in day. Labels provide a simple reference point so that you know what goes where. If your items aren't labeled, consider using a sharpie marker with permanent ink to write directly on furniture surfaces or other outdoor items that will likely be moved around a lot.
Securing your outdoor items. You may want to think about securing several outdoor furniture pieces by tying them together so they don't shift during transit. Note that this isn't foolproof, and you should take precautions to keep your items from slipping out of their bindings. Most outdoor furniture will have holes along the bottom that allow you to secure them this way. If thinking of using zip ties or other fasteners, try keeping just a few on hand so that you don't risk damaging your items over time.
Also See: Tips for removing rust from Outdoor Metal Furniture
What you'll need to start packing outdoor items for a move
Before you get started packing outdoor furniture, consider what it is that you'll need. Depending on the size of your move and how many outdoor items you have, some of these may be more or less applicable:
Bubble wrap: Bubble wrap is a good option for padding around outdoor furniture legs and other potentially breakable pieces, such as glass tabletops. Plastic bags can help protect anything made of wood from water damage during transit. Movers' blankets are worth having on hand for protecting larger pieces or chunky armchairs from dirt and water damage during a move.
Packing tape: You'll want a few rolls on hand to secure the bubble wrap and plastic bags around outdoor furniture legs. You can also use these to secure any loose pieces of wood that may be present in your outdoor furniture. If you have any breakable glass or ceramic pieces, don't forget to tape them securely in place before you pack them up.
Bungee cords or rope: Bungee cords are another good option for securing outdoor furniture parts that are loosely attached, such as excess cushions. This will keep everything together so they can't disrupt your other items during transit.
Boxes (possibly new ones): If you're going to store your outdoor items until after the move, you'll want a few boxes on hand. You can use these to separate different types of furniture or equipment. Ensure that any new boxes have been properly sealed so that they aren't exposed to any water damage from the rain outside the warehouse storage facility.
Plastic bags: If you need to store your outdoor items until after the move, consider using plastic bags around them. They will help keep anything from water damage and dirt.
Tape measure: Have a tape measure on hand to check which boxes fit well together or measure how much bubble wrap or packing paper you'll need.
Large plastic bins: If you're going to store all of your outdoor items until after the move, consider getting a few large plastic bins. This will help keep them separated from other boxes and prevent anything from leaking or spilling during transit.
Ramps: Moving companies will have ramps that their trucks can use for loading and unloading your items. However, if you're using your truck for the move, you'll need something to place under items so that they can be lifted. Consider buying ramps or creating makeshift ramps out of plywood and cinder blocks.
Pegboard: Pegboards are an excellent way to keep large patio umbrellas secure during transit, as long as they're small enough to fit on the back of a moving truck.
Plastic ties: If you have patio furniture sets with different components, consider getting some plastic ties if one piece needs to be broken apart from the rest for more accessible transportation.
Moving blankets: Moving blankets are an excellent way to secure outdoor furniture during transit. Before you pack up outdoor furniture, use these blankets to wrap up any pieces that may be exposed to dirt or water damage.
Packing paper: When packing up outdoor furniture, use a generous amount of packing paper to cushion any items that may be vulnerable to damage during transit.
Packing outdoor furniture
Packing outdoor items for a move is no simple task. During transit, you'll need to know how to protect crucial outdoor furniture pieces, like patio sets and grills. If you plan on storing your outdoor items until after the move, you can use plastic bags or other types of waterproof tools to keep them safe from any damaging effects of the elements.
You'll need plenty of supplies before you start packing up your outdoor items. Make sure that you buy enough plastic to protect any wood parts from water damage, as well as several rolls of packing paper, bubble wrap, or moving blankets. Have a tape measure and other essential tools for measuring loose pieces or checking which type of boxes will work well together.
You can also have some box buffers on hand to keep glass pieces separate from each other and prevent anything from getting damaged during transit. As long as you're using waterproof packing materials, outdoor decorations like lawn gnomes will be safe to store until after the move.
See Also: Front yard Landscaping Ideas
Packing a patio umbrella
If you plan on storing your outdoor furniture until after the move, one of your biggest concerns will be packing a patio umbrella. If you can detach it into individual pieces (some umbrellas only require detaching the handle), then it'll be much easier for transport. You can place small patio tables and chairs on top of larger pieces, like patio sets or grills, to weigh them down and prevent any items from sliding around during transit.
To fit everything onto the back of a mover's truck, make sure you have ramps or pieces of plywood that you can place under items for lift-off. You may also have to use several moving blankets or bed sheets if some parts are particularly large. Please make sure you use plenty of bubble wrap or packing paper on any fragile pieces to keep them from breaking apart.
Smoothing out the exterior of boxes
Remember, even if you're putting outdoor furniture into one box, it's easy to put things on top of that box, and they're more likely to shift around during transit. It may take some extra time, but it's essential to make sure that no pieces are sticking out of the top or sides of any boxes. Some of your patio furniture might likely have metal pieces, like screws or catch-all dishes. Wrapping metal parts in bubble wrap or placing plastic sheets over them can prevent damage to these items.
Wrapping up cushions
While most outdoor furniture objects are made with waterproof materials, it can be easy to forget about the actual seat cushions. They may appear damp after sitting in the rain for a day or two, but they should be much more manageable than smaller items like pillows or lawn gnomes. You can wrap each cushion individually in towels, packing paper, or bubble wrap to keep them in place during transit or pack them in moving blankets.
Packing up grill parts
Before packing your outdoor items, remember that some pieces are easier to disassemble than others. If you can remove any screws for easy folding and storage, then it'll be much easier to transport your grills and other objects without worrying about damage during transit.
Grills can be particularly difficult to transport because they may have many small parts that are easy to lose track of. While separating each grill part with bubble wrap is important, you should also ensure that smaller items like grilling tools don't get misplaced during storage.
Moving heavy patio sets
Patio sets can be particularly large and heavy, so they're likely to take up the most space in your inventory. Ensure that you have all of your patio furniture items packed into a single box before placing them onto a moving truck.
It would help if you also remembered to use plenty of bubble wrap or packing paper around any wooden pieces, as well as several moving blankets or bed sheets. The last thing you want is for these items to get scratched up during transit, so it's important to keep them safe until they can be properly stored.
Remember, if you have any outdoor furniture that doesn't fold down for compact storage, then you should pack the heaviest pieces, like patio tables and grills, at the bottom of a box. You can then stack chairs and small patio tables on top to reduce the weight that needs to be lifted during transit.
Packing swing sets and playsets
While a patio set might contain many wooden pieces, swing sets and playsets can have even more complex parts that may be difficult to disassemble. If you have one of these items, it's important to start packing up all of the metal parts first.
You should place smaller parts onto several layers of bubble wrap, packing paper, or moving blankets, then use more of these materials to enclose them into a box. Make sure that you have several boxes lined up before wrapping parts individually so that they're easy to access during transit.
If you have any plastic pieces for your swing set or playset, then it's also important to keep these items in mind. Many types of plastic can become extremely brittle when exposed to moisture, so don't place them near any potentially damp parts that could damage the plastic pieces. You may read our article on Moving Swing Sets.
Wrapping up loose hardware
Loose hardware is another item that can be difficult to pack during a move, especially if you haven't separated screws from other small pieces. Place hardware into several layers of bubble wrap, packing paper, or moving blankets before placing the materials into a box.
Remember that hardware like metal washers and nuts can become extremely heavy when packed together, so separating them during transit is important. Make sure that you place plastic bags over washers and nuts not to get scratched or lose their shape.
It's also important to remember that hardware can vary dramatically in size, so you should use several different plastic containers for these items. If possible, avoid placing metal screws into the same box as other metal pieces to prevent scratching.
Packing lawn equipment
The last outdoor items that can be particularly difficult to pack for a move include lawn equipment like rakes and shovels. It would help to place these items perpendicular inside moving boxes and fill in any space with several layers of packing paper, bubble wrap, or blankets.
Remember that metal and plastic parts can also become scratched and chipped during transport if packed with other items, so keeping these pieces separate is important. If there are any loose parts for your lawn equipment, you should pack them separately in several layers of bubble wrap or packing paper.
Packing pots and plants
There are several different outdoor pots and plants that can be difficult to pack during a move. If you have ceramic or clay pots, make sure they're placed upright inside moving boxes.
It would be best to separate plastic containers into individual boxes and plant hangers that will be packed up separately. If you choose to pack plants, place them inside their original containers and water them thoroughly before packing.
Bottom Line
Outdoor items can make up a large part of your home, but they're even more at risk during the moving process. Maintain the quality of your outdoor furniture, swing sets, play equipment, lawn tools, and pots by using proper packing procedures to protect them against damage. Remember that it may take longer to pack some outdoor items, but the results will be worth it in the end. With this knowledge, you can ensure that your outdoor decor arrives at its new home undamaged and ready to be used again.
FAQ's
What should I do if I don't have enough moving boxes?
If you're planning to pack your outdoor items during a move, it's important to start packing up all the metal pieces first. If you don't have enough moving boxes, consider using plastic containers or pails to separate smaller parts.
What should I do if I have pots and plants?
If you have pots and plants that need to be packed, then it's important to remember that they may still be very damp when you come to pack them. To avoid the risk of mold or mildew setting in before you can move your plants, try packing them during either very warm or cold weather.
Is bubble wrap necessary for packing outdoor items?
Bubble wrap is not necessary for packing most outdoor items, but it can help provide an extra layer of protection during transport. If you decide to pack your items with bubble wrap, place several layers between metal pots or any potentially sharp pieces.
What is a good way to store my pots and planters?
When storing pots and planters, you should always use the original container. Dig a hole in your garden that's deeper than the length of the container, then place it into that hole. This will help retain moisture while protecting your containers from potential weather damage.
Is it safe to use newspapers for packing outdoor items?
Unfortunately, newspapers are not a good choice for packing your pots or planters. Moisture can absorb into the paper and cause mildew or mold growth that can damage your plants, so always avoid using this type of packaging. Instead, place potting soil around the outside of the pot to help provide extra support for the plant.
Also Read: List of Out of State Moving Companies | How to Pack Heavy Items for Moving | Things to be Pack in an Essentials Box When Moving