Front Yard Landscaping Ideas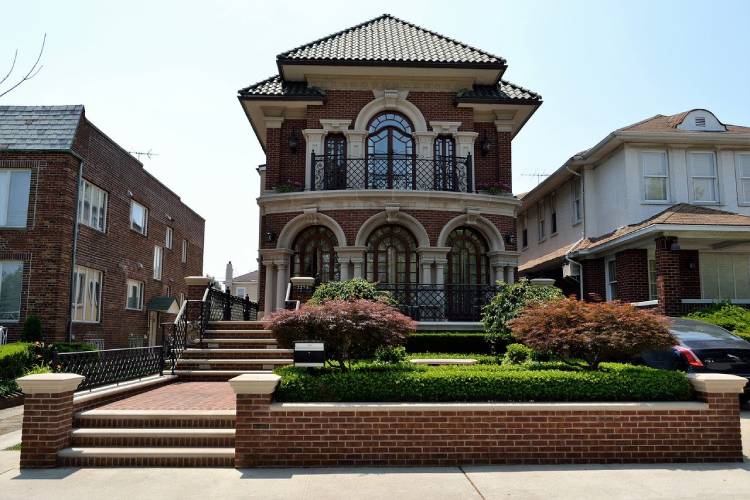 They say 'first impression is the last impression' and one of the best first impressions any house can have for the people living in it is a beautiful front yard. Of course, we're not saying you want to impress the people who visit you once in a thousand years or the neighbors who look at your place, but never really step in. We think a beautiful front yard is something that you see when you come home, see the face of a beautiful house and be proud of your humble abode.
However, one thing to note is that maintaining a front yard, much like anything else, takes a lot of effort. Make sure that the plans you make fit well with the homeowner association, if you have one. Additionally, you also need to make sure that the plants you pick are suitable for the geographical location. Since the 101s of landscaping are covered, here's a list of ideas for landscaping your front yard.
Classic Boxwood Installations
Boxwood hedges are one of the best plants to decorate your front yard with since they have a rather compact structure, and are tightly leafed. In fact, you can even trim them to shape in your front yard and have a theme that leads to your door. Additionally, you can also line the edges of your pathway.
Boxwood hedges that are clipped into rectangular or circular individual pieces can be a great way to lead the eyes of every visitor to your door. Combined them with some simple and elegant groundcover such as thyme or phlox, and you can create one of the lowest costing front yard designs.
Multi-season Flowerbed
A multi-season flowerbed enables you to have a beautiful display of colors throughout the entire year. Having plants that bloom through different seasons for your flowerbed will allow you to have a pop of color right outside your door, whenever you look.
Pick your plants from two categories – annual and seasonal. Then, put these plants in an interspersed pattern with each other. The reds and pinks of these plants not only complement each other, but the structure of a house as well. Additionally, you can also apply the same technique to the window boxes, giving the façade of your house a unified look, making it just as elegant as it is poppy.
Dynamic Potted Border
If you're someone who does not know gardening very well, does not have a lot of time to tend to a garden, or just suffer from a case of ever-changing opinions, this technique is the best to have a front yard that is beautiful to look at, and modular to your heart's wishes.
This technique requires you to plant your plants by having them in the planters and putting the planters in the ground, instead of just the plants. This way, you can change the plants as you see fit. Moreover, you can decorate the area around the planters with rocks, pebbles, or other yard embellishments in order to make them look as though they follow a theme instead of a static design.
Low-Maintenance Evergreen Border
A low-maintenance border allows you to have the best of both worlds. While the evergreens keep your front yard from looking barren all winter, adding in just a couple of blooming seasonal plants in a rather inconspicuous spot makes them the crown jewel when they finally do bloom. The best part? Since your front yard is mostly evergreens, you don't have to worry about maintenance a lot.
You can arrange these two categories of plants in two ways. Either have the seasonal plants in the center, letting the evergreens take the eye for the most year and present a pop of color on the inside, or put them at the very ends of your border, letting the entirety of your entryway look similar, while the seasonal plants are what the eyes track when they bloom.
Wall Climbers
If you have a fence or a wall that you're not exceptionally proud of and you want to give it a rather lively look, having a wall-climber would be the best vertical continuance to your front yard.
If you are going for ivy, the procedure is fairly simple. However, we recommend using Clematis as these flowers are available in over three hundred colors and some of them are even evergreen! However, unlike the ivy, you might have to put up trellises in order to give this plant enough space and footing to grow.
Easy Care Evergreen Entryway
Evergreens are the ideal plant for a modern family's front yard since they do not require a lot of maintenance, have relatively low watering, and do not die easily once they establish roots in the soil. Having a front yard full of these plants is an amazing way to have some green cover in the front of your house while taking almost no effort to do so.
Moreover, a majority of the evergreens can be easily shaped or trimmed, making it very easy to create interesting topiary forms and giving the entryway a lot more character than some of the more care-intensive ideas. Want your front yard landscaping to be easy-to-maintain? This is it!
See also: How to Get Rid of Moles in Your Yard
English Courtyard
An English courtyard styled front yard will not just give you the opportunity to have a chic and rustic space at the entryway, but a very personal place to lounge and relax that's not indoors or behind your house.
The idea of an English courtyard uses a lot of cobblestones and bricks on the ground, while everything else can be decided by you. Wooden furniture, decorative pieces, old pots and jars can be used as planters, and every other idea that you can think of can be used to make your front yard feel more rustic.
The addition of a few small trees, along with topiaries and trellises gives your front yard some deep and lush green cover, and also provides it with a vague form of a barrier from the rest of the world, giving you the perfect spot to relax and grab a cup of tea.
Mediterranean Façade
A Mediterranean look on your front yard is a little maintenance-intensive. But the trade-off is that it looks very beautiful and also shades a lot of your house from the sun and the peeping eyes of the people outside. Moreover, this look also uses a lot of pieces that are not necessarily water-dependant.
Planted urns, small fountains, and flowerbeds full of plants like petunias and different kinds of cacti are some of the more notable pieces of this design. In fact, even the ground is usually tiled or stoned, meaning you don't have to look after a lot of green cover at all.
While the construction of a front yard with a Mediterranean façade might be a little more expensive, the management of the same is a treat. In addition, if you live in an area with frequent droughts or overall scarcity of water, a front yard like this is one of the best ways to go.
Multi-level Front Yard
A multi-level front yard is an amazing investment as it allows you to have a space that looks very elegant and spacey while being one of the simplest forms of a façade to a beautiful house. This idea uses a lot of exterior stairs and landings, giving you much more use of limited space.
This idea also provides you with a space to have specific parts of your front yard filled with green cover while making sure you do not get any amount of dirt on your feet in the other areas. You can also have multiple light installations incorporated into this front yard, giving an even more elegant look.
Rustic Flowerbeds
Rustic flowerbeds are a great way to establish unobtrusive boundaries in an open space by using the elements you can easily find laying around. A stacked rock retainer, with a few terraced areas, makes for an amazing flowerbed that allows you to look after the plants very conveniently. This natural border is also a great way of separating the flowerbeds from the actual lawn, making it seem much tidier and elegant.
Archways
Do you remember the beautiful houses they had in the cartoons we used to watch as kids? The beautiful arches, lined with some light coloured picket fences that lined the entire front yard? Well, why not turn them into reality as much as you can?
The archway and picket fence idea gives you an empty canvas on the inside of the yard while the borders are lined with beautiful plants. The archways can be incorporated with a few trellises, too. This idea also gives you the opportunity to make your home a little more secluded and private.
Light Installations
Having light installations in your yard is an amazing way to incorporate utility and aesthetics. You can use rustic lamps to line the entryway, use a spotlight to bring focus on some of the embellishments in your yard, or even your home itself! You can also use discreet lights that are hidden under walls and shrubbery to light the entire place up in indirect lighting, giving your front yard a very elegant ambience.
The best part of having a front yard that is focused on pieces that involve utility and aesthetics is that you can change it according to your wish and that the only limit to any installation is your imagination.
Minimal Approach
Minimalism has been a trend for a long time, and for very good reason: simple spaces look much better than crowded and congested spaces. Not only that, the idea of minimalism also allows you to create a design that focuses on a singular piece, or even your home!
The best part is, there's no preset for this idea to work. You can have any sort of ground cover and any sort of green cover; the only thing to remember is to keep them from looking crowded and letting the elements do the talking for themselves. You can even throw in a couple of flowerbeds to give your front yard a pop of color.
While these are full-fledged themes and ideas for you to implement in your front yard, there are a few things that you can do that might not change the entire look of your yard, but definitely give it more of a character. Most importantly, a lot of the things listed below can be done by you, making it a great project for you to keep in front of the world.
Use installations based on waterworks.
Add whimsical touches like a bathtub flower bed or a tiny bridge over a hedge.
Create landscape designs out of rocks and pebbles.
Make yard installations, or even furniture, out of upcycled things.
A front yard might not be your first thought when you think of moving into a new place. But, it's a very important part of it, not just because it is the first thing you see when you approach a house, it's also a very good way of showing the people what you are and showing yourself what you can accomplish.
So, this list of ideas is a small percentage of things you can do to make your front yard a place that represents you just as much as the rest of your house. Regardless of whether you choose to keep it simple, go overboard, do it all yourself, or hire the best developers in the world, we hope you find the design that suits you best, and that you love it!
Also See: Importance of Curb Appeal to Sell your House
FAQs On Front Yard Landscaping Ideas
How Do I Landscape My Front Yard On A Budget?
First things first, you might want to start with using materials that do not require a lot of maintenance, like gravel pathways, stepping stone walkways, rocks-and-pebbles yard, and evergreen plants and trees for green cover.
What Can I Do With A Small Front Yard?
A small front yard can be used as an accent piece for your home, as a utility corner, or you can turn it into an English courtyard and have a private space right outside your house.
What Do You Put In A Small Front Garden?
You can use small pieces like flowerbeds and vertical pieces like lamps and post boxes in a small garden to make the best use of the space while giving it a specific aesthetic.
How Do I Create A Landscape Layout?
In order to have the perfect layout for your front yard, you have to take into consideration all the things you want to put there. Once that's done, you can draw a rough layout on paper or do it digitally on one of the many softwares available for free.
You can also read our article on What renovations you can make to increase value of your home? | Backyard DIY Ideas