Tips for Unpacking With a Baby After You Have Moved


VanLines Inc
Secure Storage
Easy Booking Process
Fully Trained Employees
GET A QUOTE

Colonial Van Lines
Storage Services
Long-Distance Moves
Corporate Relocations
GET A QUOTE

Moving APT
Available Nationwide
Award-Winning Movers
Extensive Vetting Process
GET A QUOTE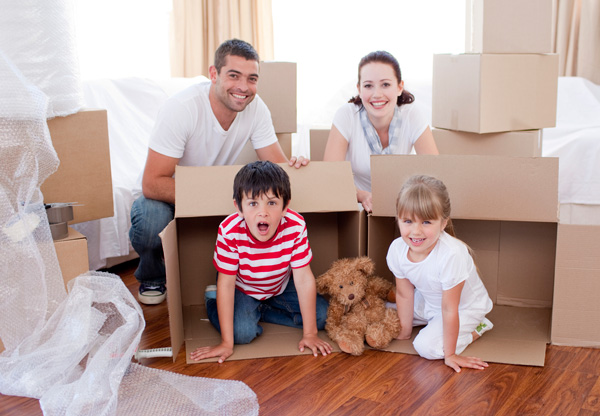 When you're unpacking your belongings after a move, the last thing you want to deal with is a fussy baby. There are so many other things to do with a newborn baby that it can be hard to find time for such a mundane task. But moving is part of life and something we all go through eventually. With a little bit of preparation and organization, you can make the process go as smoothly as possible for both you and your child. Here are some tips for unpacking with a baby:
Make a plan
The last thing you want to do is try to figure out what you need and where it goes as you're unpacking. It's much easier if you do some groundwork before your move. First, settle any ground-level issues before moving. Sit down with your partner (or a friend or family member) and make a plan of action. Decide what rooms the different boxes will go in and which items you'll need right away. This will help keep you organized and focused as you start unpacking.
Declutter your house
Another critical consideration is to get rid of superfluous goods. Anything you no longer need or want, whether because you have outgrown it, it's damaged, or you simply don't need it anymore, should be disposed of or given away. Moving is always a wonderful time to declutter, and with a baby around, the less stuff you pack and unpack, the better.
Ask Mover to unpack the nursery first
As your movers begin loading your household belongings into the vehicle, remind them to load the nursery goods last (think: crib, changing table, and rocking chair). This will simplify them to unload and repack the nursery when they get to their new residence. As soon as the truck arrives at your new house, request that the movers unload and assemble the crib. You may put your kid down for a nap while they continue to unload the rest of the home this way.
Also See: How to Safely Unload a Moving Truck
Hire Professional
Hiring professional movers, especially if you have a newborn, is advised. They will supply the muscle and logistics to ensure that all of your belongings transfer from the old house to the new one safely and quickly. This allows you to spend more time with your child so you may focus on more important concerns, like getting them settled into their new home.
Ask for Help
Don't be embarrassed to ask for assistance when shifting with a kid. Your friends and family would be delighted to assist you at any time, so make use of this opportunity. Try not to be a hero in this case; having assistance is helpful. More hands are required for the task; therefore, if your friends volunteered to come and help, be sure to take them up on it.
Start packing early
Begin this procedure as soon as possible. We all know how difficult newborns can be. Even if they sleep for most of the day, they still consume a lot of your time and energy (in a good way, of course). Prepare early and efficiently. And start packing early. Here are some tips:
● Label every box with a room name – This will help you when you start unpacking. You will be able to determine where everything goes without having to waste time opening every single box.
● Pack heavy items on the bottom – This prevents boxes from becoming too heavy and difficult to carry, especially if stairs are involved in the move.
● Pack light items on the top – This prevents delicate items from becoming damaged.
● Pack fragile items separately – Don't risk them getting crushed by heavier boxes. Bubble wrap and packing peanuts are your friends in this case.
● Create a baby proofing checklist – This ensures that you don't inadvertently leave any dangerous items within your child's reach.
If you don't have time to do all these things, it is recommended to hire professionals.
Clean air and a clean house are critical to your baby's health. We recommend hiring a cleaner to thoroughly clean the home before you move if possible. Clean the air vents and replace air filters since these might accumulate dirt and dust over time. Sweep and mop the floors, and clean all the surfaces. Wipe down cabinets and appliances. You'll breathe a lot easier when you're done!
Baby Proof the home
Make sure your home is baby-proofed before bringing the kid inside, especially if you have a curious toddler just beginning to walk or crawl. Close the room or space with gates to put potentially hazardous things, as well as a safe area to place the baby while you work. Close cabinets with latches and use outlet cover to keep certain items little ones out of reach. You can also install cabinet locks, drawer locks, and door locks. These measures may seem tedious, but they are worth it in the long run.
Do most of the unpacking during the baby's naptime
Have a newborn who eats every hour or a rambunctious 10-month-old who crawls all over the place? While the baby is awake and active, it might be tough (sometimes even impossible) to get any real unpacking done. If this is the case, you'll want to unpack as much as possible during the baby's naptime. This will minimize the disruption in your home and allow you to get things done without constantly being interrupted.
Keep your baby distracted
The only choice you have is to keep your baby as busy as possible; then, only you will be able to unpack the goods. Your little one will be obsessed with the greatest toys, so make sure you have some fantastic ones on hand. Have suitable playthings and novels for your kid's best pals. You'll have plenty of time to figure out who will watch the children while you are at work.
Try to stick to the baby's schedule as much as possible
Everybody knows how important sticking to a routine (and a flexible schedule) is to parent sanity. While unloading the house, attempt to keep your baby's schedule in mind. Don't worry if the timetable is disrupted by an hour or two; just try to get back on track as soon as possible. On moving days, naps are likely to get a little messy.
Give your baby a tour
Before you bring your child home, take them on a thorough tour, so they become familiar with the surroundings and atmosphere. Point out important places such as the kitchen, bathroom, and their room. This will help minimize any anxiety they may feel once they're actually in the home.
Make sure you have food and beverages on hand.
Begin unpacking your pantry and fridge items as soon as you arrive home. Fill your baby's meal arsenal with all of their favorite munchies and easy-to-prepare finger foods. On moving day, set up the high chair (or bring a portable one) and make it available to use. If you're able to do a little cooking, make a big batch of your child's favorite food, so you have something to reheat later on.
Before you move, try to put things in order at your new home.
If you've already done some groundwork before the move, the unpacking process will be much easier. Before relocating all of your belongings into the new house, we recommend that you complete certain parts of it. The pantry, refrigerator, closets, and bathrooms are all areas of the home that may be prepared ahead of time. The majority of these goods (think: clothing, food, and toiletries) may be transported without the assistance of expert movers. When you move with the baby, it will be simpler to unpack and organize these parts of your house.
Read Also: How to Get Organized for a Move
Pack the baby's essentials bag.
When packing for a move, it's always a good idea to pack the essentials last. This includes diapers, wipes, bottles, formula, and clothes. You'll want to have these items on hand as soon as you unpack, so you don't have to search for them later.
Take a break
Newborns or infants can be exhausting, so don't feel guilty if you need to take a break. Step away for a little bit, and then come back rejuvenated and ready to continue unpacking. There's no shame in admitting that you can't do it all on your own. Ask family and friends for help, and take the time to relax and recharge. You'll be more efficient that way.
Conclusion
Unpacking with a baby can be difficult, but it can be done with a little bit of organization and preparation. By following these tips, you'll be able to minimize the stress that comes with moving and unloading your home. Make sure to stick to your baby's schedule as much as possible and take breaks when needed. With a little bit of effort, you'll have your new home unpacked in no time!
Also See: Moving with a Toddler – Useful Tips and Advice | Top 11 Tips for Moving with Kids
Frequently Asked Questions
How can I make unpacking easier?
These organizing ideas will help you get your things in order more quickly:
● Only bring the items you need.
● Pack a bag with the essentials.
● Make a schedule for unpacking and try to follow it.
● Verify that the correct rooms get the appropriate boxes.
● Before you unpack, make a list of everything you'll need for the first day in your new home.
● Take breaks when needed.
● Keep your baby's schedule in mind as much as possible.
How long should unpacking take?
If you have enough assistance, it's conceivable to completely unpack in a few days. However, the majority of people take weeks to fully store everything away. Allow yourself enough time to get it done correctly, so you don't feel overwhelmed.
Can I unpack everything by myself?
Unpacking can be a time-consuming and difficult process. Although it's possible to do so, it's not recommended. Ask family and friends for help to make the job a little bit easier.
What should I do with my child during unpacking?
If possible, try to keep your child on their regular schedule as much as possible. This will make the transition to the new home easier for them. If you need to take a break, ask a friend or family member to watch your child for a little while. That way, you can relax and rejuvenate before continuing the unpacking process.