How to Safely Unload a Moving Truck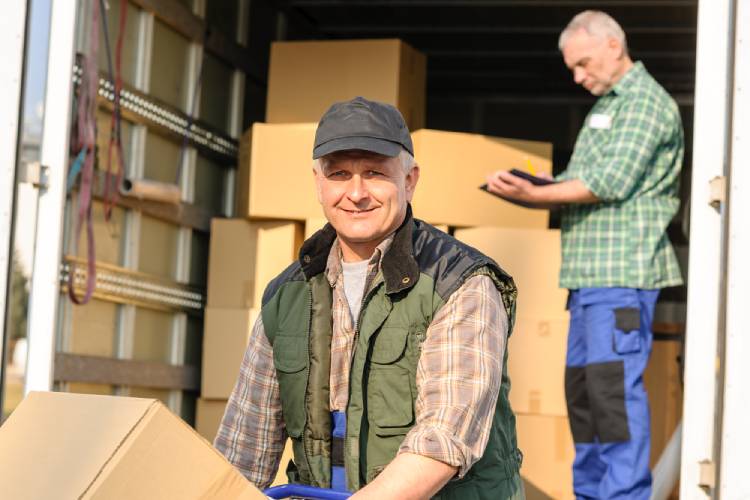 Parting with your old home where you have so many memories is very difficult. And to add to that, you have to see to it that all your belongings are packed in the right manner. That's not all, you also have to carefully load all your belongings onto your moving truck. So many things to do, and these things definitely need a lot of time and hard work. If you think your work is done after loading your items, you're mistaken.
There's another big challenge waiting for you even after your moving truck is on the way to your new home. Have you thought about how you're going to unload your truck? Just so you know, that too involves a lot of planning and efficiency. To help you with a smooth relocation, we've covered everything you need to know about how to safely unload a moving truck.
What To Do Before Unloading A Moving Truck?
In your excitement to settle into your new home, you'll probably just want to rip open those boxes. It's natural to get excited to begin a new life in a new home. If not that, your other priorities might require you to get started with your daily routine and work. But don't forget that hasting the unloading process will just add up to your problems.
Here's everything you need to plan before your moving truck arrives at your new home:
Reserve A Parking Space
Just consider this, you've loaded all your belongings onto your truck which was a very tiresome job. Your truck is on its way to your new home. The truck reaches and you realize there's no place outside your home to park it. Wouldn't that be frustrating?
That's why it's best if you reserve a parking space in advance. It would be better if you reserve a spot right outside the main entrance of your house. That way, unloading your items and taking them to your new house will be easier.
Clear The Pathway For Your Moving Truck
There can be certain obstructions on the path outside your new home. These obstructions really ruin your moving day. Wondering how? Be it overgrown bushes, litter, mud, slippery surface, or uneven ground, these things will make it difficult for your movers to take your items from the truck inside your home. Don't overlook this possibility, as any kind of obstacle can make your movers trip and fall. You wouldn't want your first day at your new home to be like this, right?
Let's not forget the unforeseen weather conditions that can totally affect your moving day. Whether it's rain, storm, or snow, you'll face a lot of difficulties while traveling to your new home. Your furniture and other fragile items are especially at risk if they get damaged because of the bad weather. As a precaution, one thing you can do is check the weather forecast on your moving day. In case you're compelled to plan your move in the rain or during snowfall, make sure you purchase essential supplies that'll help you deal with the bad weather.
Make A Floor Plan
Your items will be of different shapes and sizes and you'll need to allot a place for them depending on their usage. That's why you need to have a clear idea of which item should be placed where in your new house. On your moving day, unloading your items isn't going to be an easy task. Deciding what to move where can get time-consuming and may even cost you a few extra bucks from your movers.
So, the best thing to do is create a floor plan in advance. It will be a 2D or 3D blueprint of your house. With the help of a floor plan, you can easily decide the places of all your items. You can even get photocopies of the plan for your movers to save yourself some time and money.
Take Precautions For Property Damage
On your moving day, before your movers unload your items and bring them to your new home, there are certain things you need to take care of. In case there's snow or rain outside, there are chances all the rain and snow will not only damage your belongings but also your floor. So you'll have to keep things like old carpets, rugs or old blankets to protect your floor from all the dirt outside. One of the best things to do is keep doormats at the entrance of your house.
Let's not forget the walls, banisters, corners, stairs, and frames in your home. They can easily be damaged and so you need to protect them as well. You can use foam padding for your door frames. Don't forget to cover your walls and banisters with old sheets and corner guards to avoid any dents or scratches.
Wear Appropriate Clothes
On your moving day, you'll be engaged in tons of activities like packing your items, loading and unloading them. You might give a helping hand to your movers with unloading large and heavy items like your furniture. Moving is risky and can cause you severe injuries. Imagine you tripping and falling because the sole of your shoes doesn't have a proper grip. You don't want to end up on a hospital bed on your moving day (or any day for that matter!)
That's why it's important you wear the right kind of clothing and footwear especially when you're moving. Looking good should not really be a priority on your moving day. Your heels and sleeveless T-shirts increase the risk of you getting injured.
So see to it that you wear long-sleeve T-shirts, work boots or comfortable sports shoes. Another important thing you should have is gloves. Apart from that, make sure you have the right moving equipment like appliance dolly, moving straps, moving blankets, etc. to safely load and unload your stuff. You may also read our article on Guide to rent moving blankets.
Make Arrangements For Your Kids And Pets
You wouldn't want your kids and pets running around on your moving day. There will be so much moving equipment and supplies in your house that can be dangerous for your kids and pets. That's why you need to make arrangements for them to ensure that they are safe while you carry out your move. The best thing to do is ask a family member or friend to look after them while you do your work. You can allot a room for your kids and pets and keep them while you help your movers do their job.
See also: Things Nobody Tells You About Moving House
How To Unload A Moving Truck Safely?
Now that you know about the planning and preparations to be done before your moving day, let's understand everything about unloading a truck. There are certain things you need to keep in mind before you hastily unload your items.
Here are certain things you should remember to understand how much time you'll spend unloading your items:
Total number of items you possess, their size and weight
Availability of moving equipment (appliance dolly, etc.)
Type of your move (DIY or with professional moving services)
Distance of the pathway from your moving truck to the entrance of your house
Once you're done with all the preparations before unloading your truck, it's time to safely take all your belongings to your home. Here's everything you need to know about unloading a moving truck:
Step 1: Extend The Unloading Ramp Completely
The first step you need to take is to make sure that your truck's ramp is in good working condition. You need to see to it that the ramp is dry. Only after ensuring that will you completely extend the unloading ramp.
Step 2: Carefully Open Your Truck Doors
Don't open the doors of your truck excitedly with the intention of getting the job done as soon as possible. There are chances that your items may have shifted during the transportation. Why risk breaking any of your precious items? So, see to it that you open the truck doors carefully to avoid any of your items falling out and breaking.
Step 3: Unloading Items In The Right Order
Start With Lightweight Items: You can start unloading the items which you loaded last onto your moving truck. There will be certain lightweight items that you may have accommodated above your large items. You first need to unload them. That will make it easy for you to reach bulky and heavy items like your furniture later on.
Unloading Furniture And Other Large Items: You can carefully unload all your large items like your kitchen appliances, furniture, wardrobe, etc after dealing with the lightweight items. See to it that you use an appliance or utility dolly to move items like your appliances or any large items. Don't forget to secure the items using a moving strap. Also, don't try to be a superman and do all the tasks alone. Whether yours is a DIY or professional move, you can seek help from your friends and family members.
Precautions To Be Taken While Unloading: When it comes to unloading your furniture, you have to ensure that all the doors and drawers are secured properly. Even your other fragile items like mirrors and paintings need to be handled with care. Unloading your furniture will at least require four or five people. Having said that, you'll have to take small steps and carefully move it to your home. You can assign a few movers at the entrance of your house to take your things inside. That way, you'll reduce the chances of any dirt or dust entering inside and spoiling your floors.
Step 4: Rearranging Your Items
After you have carefully unloaded all your items, it's time you organize and arrange them to their respective places. All your things won't move to their appropriate places on their own, right? That's when your floor plan will come to your rescue. If you've already made a detailed floor plan, arranging your items is going to be easy and less time-consuming. With the help of your movers or friends, you just have to carefully place all your items in their designated places.
Step 5: Final Check Of The Truck
Before you send away your moving truck, you first need to do a thorough check. Just take one last look at the storage area of the truck to see if you've missed out on any of your items. You can go through your moving checklist and see if you've got all your items moved inside your new home. So don't forget to do a final check of the truck with the help of your movers before you bid them and the truck goodbye. See to it that you have taken all your moving supplies and equipment out of the truck before it leaves.
Tips For Safely Unloading A Moving Truck
After unloading your items, check them and see if any of them are damaged. You need to note all of it in your inventory. That will help you get compensation from your moving company.
Make sure that all your boxes are labeled. That makes the unloading process much easier. All your boxes with fragile items like mirrors and paintings can be labeled as 'Open First' or 'Handle With Care'.
You can collect all the cardboard boxes, packing materials, and other supplies after you've unloaded and unpacked all your items. Some moving companies also help you recycle such items. You can pile them up and later on reuse or recycle them.
When you have to unload your kitchen appliances like your gas, refrigerator, washing machine, etc., you'll need professional help. Also, see to it that you call a professional when you have to install these appliances in your new home.
Your safety is the most important priority and so don't overlook any possibilities when it comes to moving. That's why you can take precautions like clearing the passage outside your house and removing any doors which can become an obstacle for moving your items.
Conclusion
Relocating to a new place is exciting and at the same time very stressful. You'll need to pay careful attention to so many things. Starting with properly packing your items, then loading and unloading your moving truck can be really difficult. But if you've read our guide on all the preparation and steps you need to take for unloading, you're ready for it. All you have to do is be a little patient, rest assured your move will surely be smooth and efficient.
See also: How to Drive a Rental Moving Truck | Lowe's Rental Truck Review | Budget Truck Rental Review | How to Calculate Fuel Costs When Renting a Moving Truck
FAQs
How To Properly Unload A Moving Truck?
First and foremost, see to it that you have taken care of all the necessary precautions before you unload your items. That involves clearing the passage outside your house, labeling all your boxes before loading them and making arrangements for your kids and pets. You can seek help from your friends and movers for unloading. Just be careful and start with lightweight items and then move on to the large bulky items.
Is It Quicker To Unload Or Load A Moving Truck?
If you've loaded all your items properly, your unloading process will be less time-consuming compared to loading. If the weather is in your favor and you've taken all precautions, your unloading can be much easier and faster than the loading process.
How Long Does It Take To Unload A Moving Truck?
The time it takes to unload a moving truck depends on the number of belongings you have. For instance, if you're moving a one-bedroom house, you'll require a 10' truck. With two movers, it'll take about 1-2 hours to unload it. On the other hand, unloading the larger 26' truck (for a five-bedroom house) may take at least 3-4 hours.
How Long Does It Take To Unload A 20 ft Truck?
It'll take you at least 2 to 3 hours to unload a 20' truck. That being said, there are other factors that'll determine the overall time for unloading. For example, the number of items you have, their size and weight, number of movers to help you, etc.
Also See: Does my Moving Truck Need to Stop at a Weigh Station
See Also: Can You Hire Movers to Load a Truck?