How To Babyproof Your New House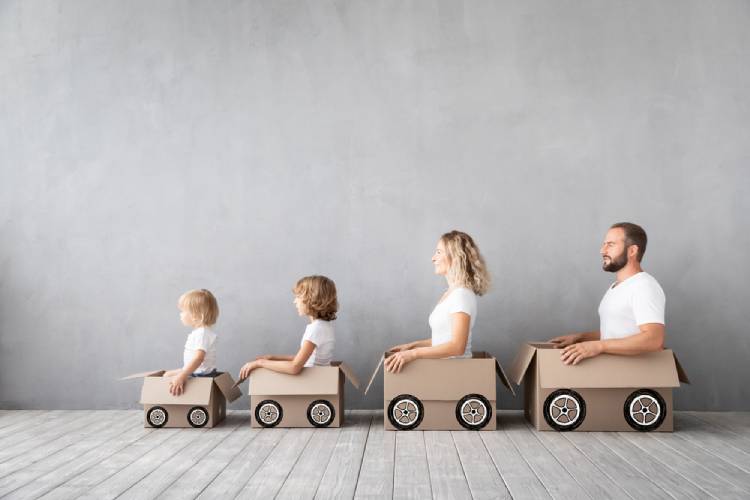 There is a new life on the way and we cannot imagine the rollercoaster of a journey it must have been so far but hey, let us begin by congratulating you for bringing a little baby into this already fairly populated world! Jokes aside, we are sure the bundle of joy will bring so much excitement and love into your life and we would love to help you figure out how to make your new house a safe place for your baby. We can all agree that babies are adorable for the most part but at the same time, they can be pretty chaotic and unpredictable, especially when little.
You have a new house and you are about to have a new life populating it. This dual excitement can easily get overwhelming if you don't plan right and that's where we come in! If you are about to be parents, babyproofing your house must be top among your priorities right now–as it should be! But don't worry, we will try to make the research aspect easier by providing you with all the necessary information so you can get on with the babyproofing as soon as possible.
How To Begin Babyproofing Your New House
The biggest question you must be facing is where to begin and, according to us, it is always smart to start by making separate checklists for each room, kitchen, and even bathroom. Paying attention to every detail will be necessary so your little one doesn't end up getting in trouble. Everything aside, the most important thing is to try to keep yourself as calm as possible through it all because it will get overwhelming as you move forward. However, deep breaths and checklists will definitely help you go through it a bit easier.
The Baby's Room/Nursery
This is the room where your baby will be spending most of their time in, hence we thought we should start by telling you how to create a perfectly functional and safe nursery for your baby. This is essentially the baby's room so its primary purpose is to have all the things your baby will need without any risk factors.
A crib and changing table are the two most important items in your baby's room and it will be a smart idea to not hang anything on the crib or on the table. We understand it might look adorable but there is a very real possibility of your baby grabbing one of those things and getting hurt. You can keep all the cozy, cute things like soft toys, pillows, and stuffed dolls to decorate the baby's room. Open toy boxes are always a better option than ones with lids which can be a safety hazard for your little explorer. Keep the crib away from the windows and have child-safe window cords.
We would also recommend you to keep only necessary things in the nursery without cluttering it with unnecessary furniture items which can tip over. You can use wallpapers and stickers to add creativity and fun elements to the nursery.
Also See: How to Downsize When Moving
Living Room
The living room certainly is the most happening part of any house which probably has the most amount of things. Before you will realize it, your little one will start crawling on the floors and everything on it will be their best friend so, under any circumstances, do not leave any chemicals or sharp objects on the floor, ever.
If there is a coffee table in the living room, cover its sharp parts with padding. Installing metal window guards is the best way to babyproof the windows, especially if you have full-length floor touching windows. These guards will be screwed onto the sides of the window frame and have bars no more than four inches apart so you can be assured.
If you have a fireplace in your living room, our only advice is to never leave your baby unsupervised around it when it's lit because in spite of all the safety measurements like glass doors, they can heat up, and well, we do not want to freak you out but we are sure you get our point. Just don't leave the kid to explore around the fireplace.
One really important thing to do is to cover and tie all the loose wires and electrical cords in the house because not only can they electrocute your delicate baby but they might also strangle them. Either shorten the wires so they are out of the baby's reach or cover the open sockets with plastic and attach them to the wall.
Kitchen
If there is a place with the sharpest objects in your house, that will certainly be your kitchen. What with all the knives, forks, and other sharp-edged objects, the best thing to do will be to keep your baby away from the kitchen at all times. But we're aware that it's not always possible, so the next best step is to take preventative measures.
Start by getting knob covers and a safety latch. It will be best to keep all the sharp objects locked away from the roving gaze of your baby. A knob cover will help stop your baby from turning on the stove and causing any instances of accidental fire. If you have a separate kitchen, it's best to keep the main door locked when the baby is around but in case of an open kitchen, always keep matches and/or lighters out of sight and try to keep the dangerous stuff in the upper cabinets.
Install a lock on the under-sink to keep your baby away from all the harmful chemicals, detergents, and bleaches. Keep the edges clear and always keep hot dishes and appliances away from the reach of your little trouble-maker. Try to avoid using tablecloths because babies can pull at anything and everything.
See Also: How to Pack Your Kitchen for Moving
Bedroom(s)
This is another place where your baby will spend the most amount of time in, after the nursery. Whether you like it or not, babies cry a lot, and running back and forth to the nursery might not be ideal for too many consecutive tiring nights and you would much rather have your baby sleep in the comfort of your arms occasionally. Bedrooms already have minimal stuff and you can install safety locks on the cabinets that are close to your bed. We would also advise you to secure all the cables and get all the sharp edges sanded down.
You have a new house and a new baby, so it's an empty slate and you have all the power to turn it into something beautiful with the help of safe colors and equipment. If your bedroom has funky art pieces or frames where your baby can reach, keep them away along with any furniture that can tip over. We would also recommend you to have a rug on the floor because babies crawl and you would not want their bare skin to touch the floor.
Bathroom(s)
Bathrooms are a tricky one because you have your products along with your medications in there too. Reiterating what we've said many times before: babies put everything in their mouth, so make sure to keep all the chemicals and pills away from the reach of your baby. Get a toilet seat cover and cabinet locks so the little one doesn't mistake those things for your toys. Keep your garbage cans away or you might run into the unfortunate sight of your baby skimming through the trash in your cans.
Laundry Room
All the things that are typically there in a laundry room can potentially harm your baby as they are heavily loaded with chemicals. Keep all the detergents locked away, especially the liquid ones. Get child-proof garbage cans and buy child locks for your washing machines and dryers. The key to safety is to never leave anything on the floor and to use products that are safe for your babies. Avoid heavy chemical-based products altogether if possible as they are good for no one; neither your baby nor the environment.
Baby Proofing Supplies For Your New House
Oven knob covers
Medical kits
Open lid boxes
Child locks
Baby video monitor(s)
Edge bumpers
Foam door stoppers
Metal window guards
Furniture mounts
Electric outlet covers
Some Additional Tips (Because You Will Never Feel Like You've Done Enough For Your Baby)
It's your child, a part of your body and soul and we understand the paranoia which comes along with the joy. The fear and absolute need to protect your little one at all costs will always be there and whatever you do, it will feel insufficient. Here are some additional tips and measures for you which can hopefully make you feel better prepared:
While painting the nursery/house, make sure that the paint you use is lead-free. Though lead paints have been banned, there are many homes that still have them and they can be poisonous for a baby so do double-check. In case the paint that has been used has traces of lead, we recommend getting a fresh paint job using a safe alternative to start your fresh new life.
Install a safety gate for your child so they can crawl freely while you also have your space to work with things that might potentially be dangerous for a kid.
Babies are prone to accidents and no matter how hard you try, something can come up at any moment and it's best to be prepared. You and your partner should be well acquainted with basic medication along with knowing how to perform CPR. If you plan to hire a nanny, make sure that they are familiar with the basics too.
Try to surround your baby with natural stuff, from shampoos to body lotions–and ignore products that are chemical-heavy because not only can they cause harm to delicate baby skin but are also likely to get in their mouths which can cause severe infections. Refer to guide on How to avoid getting sick when moving.
Install a baby video monitor because your eyes will never be enough and in the blink of an eye, babies can crawl places. The baby monitor will also help you navigate your nanny situation better where you can be assured and focus on work without worrying too much about your little one back home.
Check your smoke detectors and change the batteries once a month so you can avoid accidents in the house.
Make sure to cover your electrical outlets with electrical outlet covers to eliminate the chances of electrocution for your little one. Once they grow up, the world will prove to be shocking enough, so we can do our best to keep them safe in the house while we can.
It is an exciting time for you and you have a lot to celebrate, with your new house and your precious little one. We hope that these tips have helped you gain some clarity to begin the excruciating yet delightful process of preparing your house for the arrival of your baby. Just don't forget to enjoy the little moments as you go through the bumpy ride of being a parent because it sure as hell will be a dramatically incredible yet overwhelming one.
Also See: Moving with a Toddler | Tips For Moving Homes With A Newborn
FAQs On Babyproofing Your New House
When Should I Start Babyproofing My House?
You should never leave babyproofing to the last minute because not only can it mess up your schedule but there is also the possibility of you forgetting something which you shouldn't. Since you are moving to a new house, it is a good thing because you anyway have to do your house and babyproofing it will just entail some additional steps.
Ideally, we would recommend you to shift to your new house at least 3 months before the baby comes because some steps take a lot of time and you can pay attention to every little thing that requires to be babyproofed. Once the baby starts crawling, you will need to do another round of babyproofing in case there were any loopholes or gaps earlier to make sure that the house is safe for the baby to embark upon his/her crawling adventures.
How Much Does It Cost To Babyproof A House?
Having a baby is not only challenging but will also be expensive and the expenses begin even before the baby is born. Since it is a new house, you can merge some expenses in your overall budget of moving but babyproofing still requires additional money for all the services and supplies. The national average cost to babyproof a home is approximately $411, with expenses typically ranging from $189-$635. Again, the cost can vary hugely depending upon your house and how much help it needs to be a safe space for your little one.
Are Child Locks Effective?
Yes, child locks are effective and you definitely should get good quality ones that are sturdy in nature and come with adhesives. Do not hesitate to spend on these products because prevention is always better than cure and hospital bills are always more expensive than babyproofing your place with the right quality supplies.
Also Read: Top Interstate Moving Companies | Tips for Moving While Pregnant | Tips for Unpacking With a Baby After You Have Moved