Moving From Los Angeles To Nashville – Expert Tips & Advice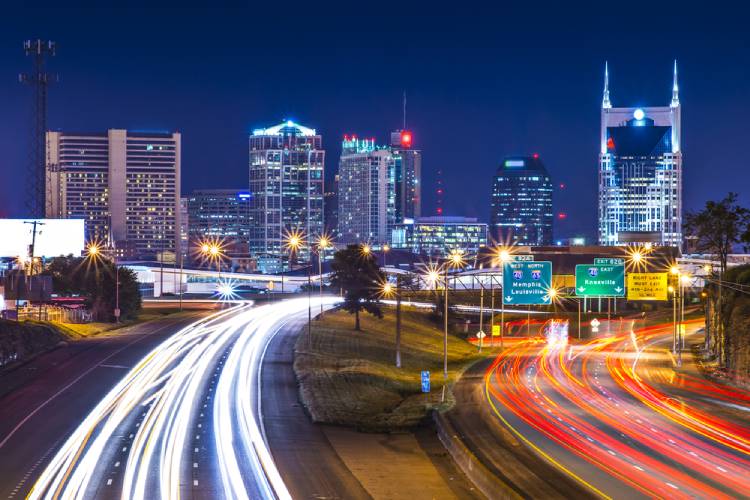 First and foremost, your decision to move to Nashville is definitely going to be one of the best in your life, not taking anything away from Los Angeles which is among the most popular cities in the world. We can understand how tough it will be to leave the City of Angels, known for being the heart of the entertainment world and the American film industry. But hey! You're moving to the Music City, or the Athens of the South, or the Country Music Capital. Nashville has a lot more nicknames than these three. The capital city of Tennessee is home to almost 700,000 people and is located in the north-central part of the state.
People between the ages of 25 and 34 consolidate the largest demographic in Nashville. It's among the top 20 cities in the US to live in. The reasons for this are its high quality of life, a strong job market, excellent education options, great places to eat and drink, growing healthcare industry, and most importantly, its music scene. In this article, we have listed the most important factors that you'll need to consider if you're moving from Los Angeles to Nashville. Let's dive right in!
Factors To Consider Before Moving From Los Angeles To Nashville
Weather Conditions
Los Angeles has a subtropical climate. This means that the people experience mild, rainy winters and hot, sunny summers. The weather remains pleasant for most of the year as the residents are able to enjoy the outdoors. On the other hand, the climate of Nashville is temperate, which means that the winters are cold while the summers are hot. You might also have to deal with frequent thunderstorms.
A few other climate-related factors are worth having a look at. The average number of sunny days in the country is 205. Los Angeles gets a total of 284 days of sunshine whereas Nashville is at par with the national average at 205 days annually. The amount of rainfall that Los Angeles receives is 16 inches a year which is much less than Nashville's 49 inches. On average, the country gets 38 inches of rain every year. And finally, there are 28 inches of snowfall in the entire country throughout the year. While Nashville receives around 4 inches of snow, Los Angeles gets none.
The summer season in Nashville lasts for about 4 months from May-end to September-end and it gets pretty warm. The bright sun and cloud coverings often result in thunderstorms. Since Los Angeles also experiences warm summers, the shift to Nashville will not be very difficult.
Here's the difference in temperatures between the two cities during peak summers:
August is the hottest month in Los Angeles and the average high temperature is 85°F.
August is the hottest month in Nashville and the average high temperature is 89.1°F.
As for winters, the cold season in Nashville lasts for nearly three months from December to February. It gets extremely cold at times. In case of severe cold waves, temperatures can even drop to 5°F. In comparison to Los Angeles, where you mostly experience mild and pleasant temperatures along with rainfall during winters, you're likely to experience much cooler weather in Nashville.
Here's the difference in temperatures between the two cities during peak winters:
December is the coldest month in Los Angeles and the average low temperature is 45.2°F.
January is the coldest month in Nashville with an average low temperature of 26.8°F.
Few Things To Bear In Mind About Nashville's Weather
Not just warm, but Nashville summers are highly humid. It is advisable to be ready with some light clothes, particularly if you want to step out of your house.
The fall season is when people celebrate the most. Don't miss any of the events and festivals like The American Music Festival, Music City Food & Wine Festival, Celebrate Nashville Cultural Festival, and the Fall Fest.
Winters in Nashville are full of excitement as well as you get to see the Christmas Parade and New Year's Eve celebration, along with the regular live music at different venues.
Also See: List of Cities To Start A New Life
Cost Of Living
Whenever anyone is moving from one place to another, this is probably the biggest factor to consider among all. Not sure why, but it makes us really happy whenever we have some good news to share. If you move from Los Angeles to Nashville, your savings are set to increase significantly. Los Angeles has a cost of living index of 173.3 which is way above the national average (100).
This wouldn't have been difficult to guess since California is the country's second most expensive state to live in. Nashville has a score of 101.4 on the cost of living index and although it is slightly higher than the national average, it is nowhere near Los Angeles. Let us now also have a look at a few other parameters that would determine your overall cost of living in Nashville.
Buying A House
The median home price in the country, according to Zillow, is $331,533. Let's compare this with the two cities that we are looking at. The median home value in Nashville is around $420,533. This price has increased by 28.3% from February 2021 to February 2022. And here comes the pain. The median home value in your current city of Los Angeles is around $944,651. Another positive?
If you were yet to invest in a home of your own because of the high costs, moving from Los Angeles to Nashville can get you a step closer to turning that into reality. As compared to Los Angeles, the housing costs in most parts of Nashville are much more affordable.
Renting A House
No matter how far behind Nashville's median home price might be when compared to Los Angeles, it's still higher than the national average. And in case you're not ready for homeownership yet, the option of becoming a renter is always there. In comparison to Los Angeles, where the average monthly rent is around $2,660, the costs for the same in Nashville are definitely more affordable.
The average monthly rent for a studio apartment in Nashville is $1,620 whereas for a 1-bedroom apartment and a 2-bedroom apartment, it is $1,713 and $2,183, respectively. A few of the best places in the city to look for rental apartments are Germantown, Sylvan Park, Brentwood, Donelson, and Bellevue.
Utilities
Apart from your housing costs, another aspect that you need to account for in your budget is your monthly utilities. Water, gas, groceries, electricity, Internet, cable TV, and any other basic services that keep your home or business running smoothly will come under the category of utilities. The average bill of utilities in the US is $238 while it is $188 in Los Angeles. While your other living costs are comparatively cheaper in Nashville, when it comes to utilities, you'll be paying around $268 a month in this Tennessee city. This figure is slightly higher than what you're paying in Los Angeles.
But you still have ample opportunities to save as groceries, restaurant prices, and transportation are much cheaper in Nashville in comparison to Los Angeles, as per Numbeo. You can also save on fuel costs as 1 gallon of gas costs around $2.62 in Nashville, compared to $3.42 in Los Angeles. Overall, when moving from Los Angeles to Nashville, your living expenses would be easily manageable with some opportunities to save too.
Job Market
Tennessee is among the top half of the states when it comes to contribution to the economy. It has a GDP of $418.29 billion (2021) and Nashville, being the capital city, has played a pivotal role in this. The job market in the city is so strong that people move in first and then start looking for work, knowing the kind of opportunities available. Just like the case with the rest of the world, the pandemic slowed down everything in Nashville, but not only is the city back on track, it is expected to grow exponentially over the next few years. The unemployment rate in the city is around 2.6%, which is lower than the country's average.
Healthcare and technology are two of the best performing industries, followed by education, music and arts, tourism and hospitality, and professional and business services. Some of the city's top employers are Nissan Motor Manufacturing, Star Transportation, BellSouth, AT&T, Vanderbilt University Medical Center, St. Thomas Health, Tennessee State University, Century II Staffing Inc, Big Idea Inc, and the National Federation of Independent Business.
While the median household income in Los Angeles is around $71,360, the same in Nashville is around $62,090.
Transportation
Most of the people in Nashville are dependent on their private vehicles to commute from one part of the city to another, and therefore, there are regular traffic jams, particularly during peak hours. Since Nashville is a bike-friendly city, some of the residents rely upon their personal bikes or the option to rent electric bikes with BCycle. There are other ridesharing options as well such as Lyft and Uber. The public transportation in the city is looked after by the Nashville Metropolitan Transit Authority (NMTA).
When Nashville's bus service was launched in the early 1990s, it was known as the Metropolitan Transit Authority (MTA). In 2018, a lot of changes were made and since then, it has named itself WeGo Public Transit. The two routes of Music City Circuit (an MTA bus service) are:
The Green Circuit: It runs between the Gulch and Bicentennial Mall and operates from 7:00 am to 11:00 pm.
The Blue Circuit: It runs between Riverfront Station and the Tennessee State University campus. It operates from 6:00 am to 11:00 pm.
Nashville's light rail system is called Music City Star Commuter Rail. It has six stations between Lebanon and Riverfront Park in the downtown area. Also, the city is home to an international airport called the Nashville International Airport that serves all the major US airlines along with having daily non-stop flights to several major US cities. Overall, Nashville has a good transportation system in place that you can easily use to travel from one location to the other within the city.
Nashville's Strong Points
No state income tax: Since there is no state income tax in Tennesse, your take-home pay is higher as you get to keep more of your money.
Job Opportunities: There is no dearth of job opportunities in Nashville. Apart from successful sectors like technology, healthcare, tourism, music, and education, the city is known for being a hub for startups.
Music scene: Why do you think it's called the Music City? Nashville has always been known for its love for music and the venues like the Country Music Hall of Fame and Museum, The Grande Ole Opry, and Ryman Auditorium are a testament to it.
Educational Opportunities: Nashville is considered among the best cities when it comes to education, regardless of the level of education you're thinking of. The Franklin County School District has top-quality schools like Franklin High School and Freedom Intermediate School. The city also boasts Belmont University, Vanderbilt Univesity, Lipscomb University, and Tennessee State University.
Also Read: Best Cities For 20 Somethings
Top Neighborhoods To Move To In Nashville
Germantown
With a population of close to 4,000, Germantown is the place for you if you're looking to raise a family. The neighborhood lies northwest of Downtown Nashville and you get to choose from a number of housing options like single-family homes, low-rise apartments, duplexes, and townhouses. One of the oldest neighborhoods in Nashville, Germantown was named after the German immigrants who came in the mid-nineteenth century, and this is the reason that the neighborhood has a European vibe.
The area is easy to walk around and while you walk, you'll stumble upon the Bicentennial Capitol Mall State Park and the Tennessee State Museum. Every year, people celebrate and organize the Oktoberfest, a festival in honor of the Germans. More than anything else, the neighborhood is known for its variety of beautiful restaurants and cafes.
Median Home Value: $469,900
Monthly Rent:$1,993
The Gulch
The Gulch is located to the south of Downtown Nashville and is home to around 5,400 people. The upscale neighborhood, with its multiple housing options of high-rise apartments, modern condos, and studio lofts, is usually suitable for singles, students, and young professionals and not so much for families. A walkable neighborhood, you can reach anywhere on foot like the Riverfront Park, Downtown Nashville, Midtown, and Demonbreun.
The youngsters are sure to have a great time in the neighborhood with the presence of restaurants and cafes, bars, music venues, fitness centers, shops, boutiques, grocery stores, etc, all within walking distance. For those who like the outdoors, there are bike paths and plenty of green spaces as well.
Median Home Value: $695,000
Monthly Rent:$2,269
Sylvan Park
Home to more than 4,000 people, Sylvan Park is around four miles away from Downtown Nashville. This is the perfect neighborhood for everyone, but especially for families since it's a tight-knit community and people are extremely friendly. The peaceful area misses out on bars and pubs, but you'll find a large number of amazing restaurants and cafes to enjoy with friends and family.
The housing options are mostly single-family homes along with recently constructed apartment complexes. If you're a fitness freak, you're going to love Sylvan Park as it has the McCabe Park Community Center, Climb Nashville, Richland Park, and Centennial Park for you to run, walk, go cycling, etc. In addition, the neighborhood is close to hospitals and schools.
Median Home Value: $784,250
Monthly Rent: $1,691
Downtown Nashville
Downtown Nashville is home to nearly 20,000 people and is extremely easy to walk around to reach anywhere you want including surrounding areas like The Gulch, Midtown, and Demonbreun. If you want to go to another neighborhood but don't want to walk, there are ample other options like Uber and Lyft at your service. As far as housing is concerned, you get to choose from high-rises, apartments, condos, and lofts.
You'll never run out of things to do in this neighborhood with its amazing nightlife, restaurants, bars, breweries, live music venues, honky tonks, boutique hotels, etc. Some of the best public attractions in Downtown Nashville are the Tennessee State Capitol, Music City Walk of Fame, and the Johnny Cash Museum.
Median Home Value: $625,000
Monthly Median Rent:$1,694
Things To Take Care Of When You're Moving From Los Angeles To Nashville
Since moving from Los Angeles to Nashville is going to be a long distance move, it's best to reach out to professional moving companies for some assistance. While researching moving companies, make sure that you shortlist only interstate movers and not just the local ones. Get quotes from at least three different moving companies so that you can compare them and choose the best one. Also, read as many customer reviews as possible.
Make an inventory of all the items that you're getting moved by your professional moving company. This will help you check whether every item is present or not when the movers reach your new house with your shipment. Keep all your important documents and paperwork safely with you all the time. You cannot afford to lose them.
You can plan your move to Nashville in the winter months as the weather is comparatively pleasant and makes the hectic moving process a tad bit easier. However, you might want to avoid the months of January and February as the city is known to receive rainfall during this time.
Los Angeles To Nashville Moving Costs
The distance between Los Angeles and Nashville is over 2,000 miles and that's a lot. This means that you'll be needing a long distance mover and not a local one. During your research work, you'll have to be extremely careful about this point since not all websites mention it. The humongous distance also means that you'll have to spend quite a lot of money for the entire moving process, but it is recommended that you don't compromise on the quality of the mover in order to save a few bucks.
Here is the approximate cost of moving a two-bedroom apartment from Los Angeles to Nashville:
Professional Moving Company: $4,080 – $7,250
Moving Container: $2,845 – $3,590
Freight: $2,580 – $3,250
Rental Truck: $1,590 – $2,020
Summing Up
You're likely to find Nashville in every list of the best cities to live in the US and a major reason is that it attracts people from all age groups, right from young professionals to retired folks. The reasons to love the Music City are endless and we have covered all of them in this article.
It has got something interesting for everyone, whether it's the booming job market, great educational institutions, affordable cost of living, healthcare, amazing places to eat and drink, electrifying nightlife, or the plethora of options for all the sports fans. Yes, there are two professional sports teams for you to cheer – Tennessee Titans (NFL) and Nashville Predators (NHL), plus Nashville Football Club and sports at the university level. You can choose your team as soon as you make your move here!
FAQs About Moving From Los Angeles To Nashville
How Much Does It Cost To Move From Los Angeles to Nashville?
Hiring a professional moving company to move a two-bedroom apartment from Los Angeles to Nashville will cost somewhere between $1,500 and $7,250. You might want to note that this amount does not include any additional services like packing, unpacking, junk removal, and packing materials. However, your final costs would depend on a lot of other factors like the distance between the locations, the timing of your move, and the kind of services you choose.
What Is The Crime Rate in Nashville?
Nashville has a violent and property crime rate of 11.57 and 40.34 per 1,000 residents, respectively. You can compare it with the national average which is 4 for violent crimes and 19 for property crimes. These figures are on the higher end but you should note that this may not be the same for all parts of the city. Some neighborhoods are comparatively safer than others.
How Much Money Do You Need To Comfortably Live In Nashville?
Taking into consideration factors like the cost of utilities, housing prices, transportation, and other living expenses, you'll need an average salary between $72,000 and $84,000 to live comfortably in Nashville. Do keep in mind that this range could vary also depending on the area of the city you choose to live in.
See Also: Best Moving Companies in Los Angeles, CA