Dolly Moving Review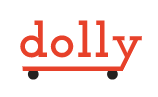 If you're wondering what the future holds for moving companies, then Dolly Moving surely proves to be a prototype. It's taken a more advanced and innovative approach towards the moving industry. This company particularly stands out since it understands the role that technology plays in today's world and moves beyond traditional services.
It's also a more convenient moving service since it's an application that you download on your mobile phone. The process of calling for moving help is similar to how you'd order food from a DoorDash or GrubHub. You make a request on the app for manpower and a truck to help with your move, so there's less hassle in comparison to finding a moving company. However, this is just the simplistic version of what this company does, we'll go over more details in our feature Dolly Moving Review so you have a better idea of what the company does.
Overview
Dolly Moving, to an extent, renovates the traditional picture of moving companies. The company was launched in the year 2013 and so is a relatively young member of the moving industry. So far they've had great success and moved over 1 million items. Interestingly, the Dolly Moving app has also been downloaded by over hundred thousand people. Customers mainly appreciate the app because of its convenience. It's easy to use and you get to see the status of the service you've called for. You can also request for same-day help at your doorstep.
Currently, Dolly is a functioning service only for 36 major metropolitan cities which proves that it is yet to grow. The cities that have the advantage of using Dolly are – Atlanta, Austin, Baltimore, Boston, Charlotte, Chicago, Cincinnati, Cleveland, Columbus, Dallas, Denver, Detroit, Fort Lauderdale, Hartford, Houston, Los Angeles, Miami, Milwaukee, Minneapolis, Nashville, New Haven, New York City, Orange County, Orlando, Philadelphia, Phoenix, Portland, Raleigh-Durham, Sacramento, San Antonio, San Diego, San Francisco, San Jose, Tampa, and Washington, DC.
Something to know is that Dolly works with independent contractors. The company claims to do a background check on the people they employ. This is probably to ensure they are upto the standards set by the company so that the quality of service is maintained. However, reviews state otherwise.
Dolly also works with some of the largest retailers in the nation, such as Lowe's, Costco, Crate & Barrel and Big Lots. These companies trust Dolly for delivery services and this adds value to the brand quality. The company also claims to operate 7 days a week so that's all 365 days a year that you can count on their service.
Now that you have a fair enough understanding of the company and their story, let's look at what they offer so you know whether they can be of help for your move.
What Services Do Dolly Moving Provide?
Retail Store Delivery
If you've ordered a big piece of furniture or appliance from Costco or Lowe's, you can turn to Dolly Moving to get it delivered to your doorstep. The company works with a mix of big and small retailers to help those furnishing their homes get the items they need delivered to their homes safely. This would essentially be useful if you're decorating your home and you've picked a bunch of stuff that requires you to rent a truck just to take it home.
At times, there tends to be some great offers in Big Box stores like Costco, Lowe's, Big Lots or The Container Store that you want to take advantage of. With Dolly, you can purchase as much as you like, and then get sufficient help for a small price to ensure everything reaches home.
Assistance With Small Apartment Moves
Now if you've chosen to do the move yourself, you'll come to realize that there's actually a ton of help you're going to need, especially with the lifting. It's okay to depend on family and friends for small tasks, but when you have huge furniture to lift down stairs, it's too big a request to ask someone. This is when you can depend on Dolly Moving for manpower.
You can simply request for 2-3 people to come help you move out your dresser, wardrobe, couch or bed, so that you're not doing this yourself. This helps you settle in quickly and reduces the stress of a self-move.
Also Read: Risks Of A Self-Move
Craigslist And OfferUp Pick-up
Both OfferUp and Craigslist target a similar audience and are great places to buy and sell electronics, furniture, clothes and much more. Now if you've got a great deal on any of these websites but need a third party to get the stuff delivered safely to your house, you can opt to use the Dolly Moving service.
Most times, you strike a good deal on these websites, but the issue is that your car may not be big enough to accommodate the things you purchased. So worry not, as you can also rent a truck and helpers from Dolly to do the job for you.
Small Business Moves
If you run a small independent business from home, it can be tough to transfer all the mass amount of things you keep in it to your new home. Dolly recognizes this need and can help you move your office belongings carefully. Dolly helpers would arrive at your doorstep with all the right equipment, so you can sit back and relax as they take care of emptying the office space.
Junk Removal
Confused about what to do with all the waste post the move? You can book help from Dolly to rid of the waste responsibly. A helper or two would haul out all the junk out of your home. This service can actually save you a ton of hassle and keep your home squeaky clean, instead of it looking like a tornado just passed through the hallway.
See also: Cost of Junk Removal
Also Read: What To Do With Packing Materials After A Move | 1-800-GOT-JUNK Review
Donation Pick-Up and Dro
When you move houses, you tend to create a ton of donation boxes for the things you don't use anymore, but are still in good condition. During the moving saga, you're going to have thousands of things to take care of and donation could be one of them. But when the place you're donating to doesn't offer pick-up, it can be a task to drop all the boxes you have. If you specifically have a dozen of boxes for donation, you can hire help from Dolly to get it delivered.
Key Takeaway
Dolly Moving is an ideal moving service for those taking the do-it-yourself or self-move approach. There's limitations to their services as they function in just 36 cities, they do mention that they will expand to other metropolitan areas.
Presently, Dolly is associated with over 5,000 helpers. A dolly helper can help you with basic and complicated tasks of a move. Loading, unloading, furniture disassembly, moving appliances are some of the standard services that 2 helpers can help you with.
Additional services that a Dolly helper can help with include dump run, junk removal, delivering furniture, office move, mattress removal and any other task that helps reduce the stress of moving. With Dolly, it's basically like having a handyman at your doorstep.
The company works with freelance independent individuals so that you have immediate help with your move. You could hire them for the most simple tasks, like moving just a couch to a new apartment for a reasonable price. It is similar to finding two guys with a truck off Craigslist to help you, but supposedly more legit in terms of professionalism.
How To Contact Dolly Moving?
Option 01 – Download The Dolly Application
The best way to get in touch with Dolly moving services is to download the application on your Android or iPhone.
Option 02 – Fill The Contact Us Form On dolly.com
You can make them contact you by filling out the "contact us" form available on their website. You would have to leave your email address and phone number for their support team to get in touch with you.
Why Choose Dolly For Your Move?
Picking Dolly for your move has a great deal of benefits. We've highlighted the top reasons why you should consider them:
● The prices are relatively cheaper than traditional moving companies. So if you're on a budget move, it's worth giving them a shot.
● You get the manpower you need even if you just need to move 2-3 items from your home.
● It's the perfect solution if you need 1 or 2 helpers when you're handling the move solo.
● You get mobile updates and can track the mover's ETA without constantly calling up, but just seeing their live location on the app.
● If you need to take some heavy items to a recycle center or a donation store, you can count on them to come at your doorstep to drop that washer or refrigerator which won't fit in your car.
● You can also hire a Dolly helper if you simply want help with rearranging your furniture and need the manpower to lift the items around.
● You still stand a chance of getting help even if you book a helper last minute. Since the company offers same day services, you can always try your luck if you need urgent help. However, we'd highly recommend always booking such services in advance.
● Helpers come to your home with all the equipment like blankets, dolly and a truck so this makes a self-move much easier.
● You can get a quote on the app within minutes so you're practically getting to save time and energy.
● A useful service if you're 1000 miles away from a store that doesn't deliver – you can get Dolly helper to get it for you to your doorstep.
Something that Dolly is constantly referred to as by customers and websites is that they are 'Uber for moving items', since the interface is almost the same. The comparison is also evident because of how easy it is to get a Dolly helper anytime of the year to come and help you out.
For instance, if you decide to move a dresser about 3 miles, you can find a Dolly mover to come to your home within an hour or 2 to help you with it. It's almost like having a friendly neighbor who is willing to lend a helping hand with moving furniture and eliminates the drama of getting help from full service movers.
Downsides
Few of the biggest limitations to the app is that it services just 36 cities so you can't really use this moving service for big moves.
Few of the other problem areas are that Dolly works with freelancers for its helpers. Not every helper will be the same or good as the one you got before. This is a frequent complaint against the company. Most repeat customers state that they loved the service the first time but were then met with disappointment when the helper is changed. This proves that it's a hit and miss situation, if you get a good helper, you'll certainly experience good service. The inconsistency in quality of helpers can be a major downside of hiring a Dolly helper.
Another problematic complaint that stems from the previous point is that the helper may be a novice to the job so at times you may not be satisfied with the manner in which the furniture was handled. But the upside is that each helper is rated on the app, so you must check the reviews and feedback left against the Dolly helper you hire.
Overall, the company has a 4.8 out of 5 ratings on Facebook with 3,228 reviews. Most of the reviews are positive and we've highlighted the downside above so that you can understand if it's worth using them.
Dolly Moving Fee Structure
When put up against the costs in the market, Dolly prices are roughly $10 to $20 less than other traditional moving companies. Most other companies in the market would charge you $40 or $60 for an hour of work or even more. But with Dolly, be assured that you'll get the lowest quote from the lot. In terms of cost, you're going to save an impressive amount of money by hiring a Dolly helper. The main reason people opt for Dolly is because the charges are extremely reasonable.
Few aspects that determine the cost you'll pay are:
● Number of items being moved
● Number of helpers needed
● The distance being covered
The company often has discount codes to entice more users to try the app, so if you find a promo code in an advertisement, you can always make a good deal.
---
Our Take On Dolly Moving
Dolly Moving is a great moving service to count on if this is a last minute or budget move. You can expect professional quality of work but it entirely depends on the Dolly helper you pick. We highly recommend reading the feedback against the helper you hire to ensure you have a good experience.
You can reach out to them if you need a truck and manpower to help with the physical stress of a move. But you have to remember that they are to an extent a new prototype in the moving industry. If you prefer the traditional way you should pick certified professional movers.
FAQs
Is Dolly a good app for moving?
If this is a self-move and you need help with limited things, then yes, Dolly is a good app to consider. You would get a truck and the manpower you need. However, the app is of service to only 36 cities in the US and isn't a great option for interstate moves.
How much does it cost to hire Dolly helpers?
The fee structure for hiring Dolly helpers depends on the number of items that need to be moved. If you hire helpers for 2 hours, it would roughly cost you $300 to $320. If you just hire a helper to move a dresser 2 miles, it could be $40. Costs vary from case to case.
See also: Cheap Moving Companies' List | Lowe's Truck Rental Review | MovingPlace Review