Best Mid-Size Cities In The US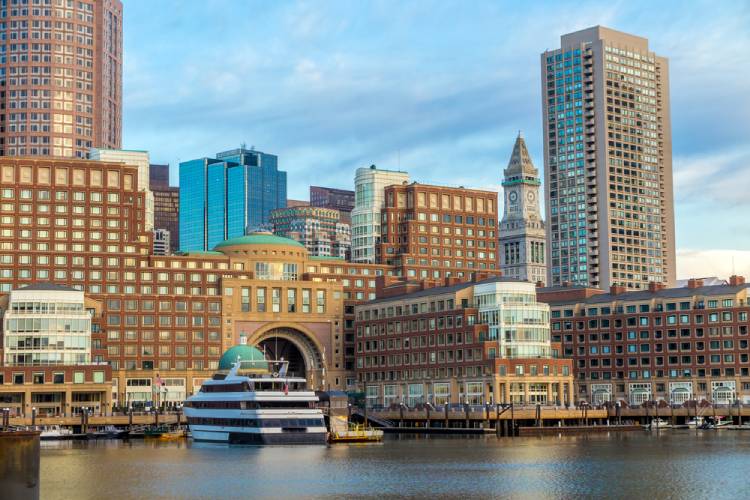 Moving to the biggest city has been a dream for a lot of people. However, living in a city like that has its downfalls, too. You have to deal with high housing prices, heavy traffic, congestion, and a lot more issues that crop up simply because there are too many people in one spot.
An alternative that has risen in popularity in recent times is the idea of living in mid-size, or growing, cities. These are the cities that have almost all the amenities and lifestyle of a big city, but aren't quite there yet. Mid-size cities, at least the ones that are currently people's favorites, are the ones that have seen significant growth in terms of population, jobs, economy, and infrastructure.
Living in such a city is a great way of having all the creature comforts and securities of a big city, without the prices, crowds, and other stresses of one. So, we've compiled a list of the best mid-size cities in the US.
Atlanta, Georgia
Atlanta is a city that has recently climbed up in the list of favorite mid-size cities in the US. In fact, this city sees some of the highest number of young professionals moving here for a career and to settle down. This is due to the high availability of jobs in fields like tech, entertainment, art, and medicine. To make this deal even better, the city of Atlanta has some of the finest educational institutions in the state of Georgia.
Other than the opportunities for a successful life, some of the things that attract people to this city are the overall pleasant weather throughout the year, and the fast-paced yet laid-back lifestyle of this city. Talking about the weather, the summers are infamous for being hot and humid. So, you'll be sweating quite a bit in the summer months. However, the winters are much more pleasant and if you're lucky enough, you might just catch the little bit of snowfall this city sees.
Population: 488,800
Median Home Price: $290,400
Median Rent: $1,153 per month
Unemployment Rate: 7.2%
Boise, Idaho
Boise, the capital city of Idaho, has been in the top 10 lists for a lot of things. In fact, this city has been topping the lists of best US downtowns, best city to retire, to raise a family, and the healthiest in the country. To put it in a much more practical perspective, the city of Boise is known for its access to outdoor recreation, the love it shows to that cause, along with the safety, affordability, job security, and last but not the least, the weather.
Speaking of job security, Boise has been serving as a hub for trading and financial activities for the logging, mining, farming, and livestock industries. These have recently been joined by the technology and science sectors. Other than that, since the city is the capital of Idaho, there are a lot of state government offices in the city, giving rise to a whole new sector of employment.
The state also offers amazing higher education options like Boise State University and the University Of Idaho. These institutions, along with the city's collection of outdoor activities and suitable venues, make it an appealing option for the youth.
The winters are cold and snowy, while the summers are hot, but not humid. The average temperatures typically swing between 24°F and 93°F, meaning this city has ideal weather conditions for all sorts of adventure lovers. What else do you need?
Population: 118,087
Median Home Price: $250,200
Median Rent: $1,114 per month
Unemployment Rate: 3.4%
Raleigh, North Carolina
Known for its lush green cover, family-friendly environment, and rather quaint way of life, Raleigh is the perfect example of the statement that the real estate market is evolving and people are not looking for the crowded metropolitans anymore. Don't get it wrong, though. Raleigh is climbing the development ladder at a significant pace and is covering almost all the bases too!
Two of the biggest things that the city has figured out are the job market and the educational opportunities. Speaking of the former, this city has seen immense growth in fields like healthcare, education, life sciences, and advanced manufacturing. In fact, the Research Triangle Park itself hosts more than half the jobs in the city.
Speaking of education, the city is home to more than 11 different colleges and universities. It's no wonder that schools complementing these higher-education campuses have taken birth here and are heavily dependable.
A big city with a small-town vibe that provides excellent healthcare, top-notch education, multiple job opportunities, and all of this in a housing market that is aggressive as best. Does Raleigh check any boxes for you?
Population: 464,485
Median Home Price: $248,300
Median Rent: $1,121 per month
Unemployment Rate: 4.66%
Also See: Moving to Raleigh | Top Neighborhoods in Raleigh for Families | Popular Neighborhoods In Raleigh For Singles And Young Professionals
Seattle, Washington
Seattle is one of the cities that is continuously ranked among the top ten cities to live in the US and it only seems fair, considering Seattle's unique culture, exquisite job market, and world-class education. Moreover, this city also has a pristine green cover, multiple outdoor venues to enjoy said green cover, and a great nightlife, too!
All of these aspects of living in Seattle do come with a price, though. The cost of living in Seattle is slightly higher than the national average, which goes up even more for renters, since the renters' market in Seattle is very aggressive.
However, the residents of Seattle do not mind paying the slightly higher costs. After all, the city does provide the opportunity to secure a very lucrative job along with a social life. Speaking of the job market, the biggest industries in this city are tech and retail. A good cumulative example of the social life and the blooming business market in Seattle would be the well-known coffee brand Starbucks, which took birth here!
This city also provides great opportunities to earn the educational credentials required for the jobs available. In fact, with over 500 schools and seven colleges inside the city, Seattle is often called 'America's Most Educated City.'
Population: 724,305
Median Home Price: $663,100
Median Rent: $1,614 per month
Unemployment Rate: 5.2%
See Also: Moving to Seattle
Ann Arbor, Michigan
Ann Arbor is a city that's home to some of the best educational institutes in the state of Michigan. Not just that, this city also has a strong and growing economy that is supported by industries like tech, healthcare, and education. In fact, the University of Michigan, Ann Arbor is one top-rated educational institutions in the US. It's known to supply a highly qualified workforce to the offices of Google, Thomson Reuters, and the like which call this city their home.
Ann Arbor also boasts of a highly educated and tight-knit community. This community also makes the most of the outdoor activities and the strong sports culture. This 'Tree Town' has multiple trails, golf courses, theaters, galleries, and many more things that contribute towards a very centered work-life balance.
To sum it up, Ann Arbor provides its residents with hundreds of tech and science-related job opportunities, along with a myriad of recreational and cultural activities, affordable housing, and top-notch healthcare. Do we really need to tell you more?
Population: 118,087
Median Home Price: $250,200
Median Rent: $1,114 per month
Unemployment Rate: 3.4%
Cincinnati, Ohio
The city of Cincinnati is a beautiful amalgamation of economic and cultural growth. Since 2019, the city has seen phenomenal growth in terms of people moving for jobs, with about 22,000 people moving in that year, and consistent growth ever since.
A huge factor for that is the industries like consumer products, healthcare, marketing services, and financial services, that are dominantly growing in this city, along with more than five Fortune 500 companies. In fact, Cincinnati is one of the fastest-growing cities in the Midwest, according to federal data.
Moreover, this city has a lot of architectural and cultural elements, the most notable buildings among them being The Music Hall and The Cincinnatian Hotel. Speaking of food, this city is amazing for some great culinary experiences. Make sure you do try the Cincinnati Chili! All of this, combined with the affordable housing options, great aspects of social life, and a very scenic landscape makes Cincinnati among the best mid-size cities in the US that you can consider moving to.
Population: 298,011
Median Home Price: $120,300
Median Rent: $662 per month
Unemployment Rate: 7.5%
Des Moines, Iowa
Des Moines is an ideal city for you to live in, especially if you're planning on settling in one place and raising a family. The city not just offers great education, but also a bunch of kid-friendly activities that are very accessible.
Des Moines also boasts of a growing job market that offers promising opportunities in the fields of healthcare and finance. The economy of this city is also extremely supportive of new start-ups and that is seen in the local business laws as well as tax systems. In fact, this city is known to try and attract young professionals and is creating a strong, vibrant, and urban downtown and business district for the same.
Talking about living in Des Moines, one of the best parts is that this city has a cost of living that is almost 13% lower than the national average. It also has many avenues for a good social life like boutiques, art galleries, craft stores, and a cuisine that offers some mind-blowing Italian-inspired dishes. Overall, this city offers a quality of life that lets you maintain a social and personal life.
Population: 212,859
Median Home Price: $119,800
Median Rent: $775 per month
Unemployment Rate: 5%
Also See: Moving To Iowa – Cost of Living & Relocation Tips
Durham, North Carolina
Durham has a very unique quality of life. It offers a great example of the Southern culture and hospitality, and also allows you to visit mountains as well as beaches without a lot of traveling. This city is also a part of the Research Triangle Region, making it a hotspot for jobs in tech, agro-tech, medicine, and life sciences, In fact, Durham is often dubbed as the 'City Of Medicine' because of the 300-plus medical and health-related companies in this region.
Moreover, this city, which was once only dependent on the tobacco and textile industries, is now taking leaps in industries like IT, software, and informatics. It's safe to say that Durham is a treasure chest full of opportunities.
Durham also has a college-town charm because of Duke University and the many top-notch schools that attract students and academia-focused professionals. Once people reach the city, they see a low cost of living, diverse housing options, and a very active nightlife to go along with their professional lives, making Durham one of the best mid-size cities to live in the US
Population: 251,761
Median Home Price: $183,900
Median Rent: $913 per month
Unemployment Rate: 4.5%
Salt Lake City is another city that was historically dependent on a very specific industry for its economy, but has taken leaps and bounds since. Today, Salt Lake City has a booming economy that is growing because of the success of the education, healthcare, and tourism industries here.
To expand on that, this city is home to some of the best ski resorts, ballet companies, and symphony orchestras, that grow harmoniously with the University of Utah, which is a leading organisation for biomedical, chemical, and biotech research.
Salt Lake City also boasts of a hypnotizing food culture, a great number of outdoor activities, and a thriving sports culture. And all of this is within the comfort of a manageable cost of living, affordable housing, and enough opportunities to offset any operating cost without making it look expensive. These factors make this city a great place for anyone starting out in their career.
Population: 191,446
Median Home Price: $248,700
Median Rent: $844 per month
Unemployment Rate: 3.9%
Conclusion
The idea of moving to a mid-size city might be new, but it definitely is a great representation of the way people now want to navigate through life. While they do not want to give up on the amenities of a big city, they want the charm and quiet of a small city. Living in a mid-size city also opens them up to the possibility of living in a place that they might not even think of when thinking of moving for a job.
If you find yourself in a position where you want to experience a life like this, check out the cities that are currently coming into the limelight. However, do your due diligence before deciding on a specific city and make sure it suits your needs and wants. Happy living!
Also Read: Best Interstate Moving Companies in the US | Cities where Americans are Fleeing
FAQs
What Is Considered As A Mid-Sized City?
Typically, any city with a population of over 100,000 can be considered a mid-sized city. However, there are multiple factors like the cost of living and the overall growth that affect this categorization of a city.
Which Are The Best Mid-Sized Cities In The USA?
Boise, Atlanta, and Salt Lake City are the cities with the best overall stats in the list of the currently-growing mid-size cities in the US.
Why Should One Move To A Mid-Sized City?
Moving to a mid-sized city gives you a chance to avoid the high cost of living, high crowds, and an overall congested life while still having these cities have access to great jobs and a secured life.
Also Read: 4 Most Livable Cities in the U.S.