Moving to Raleigh | 2022 Cost of Living & Relocation Tips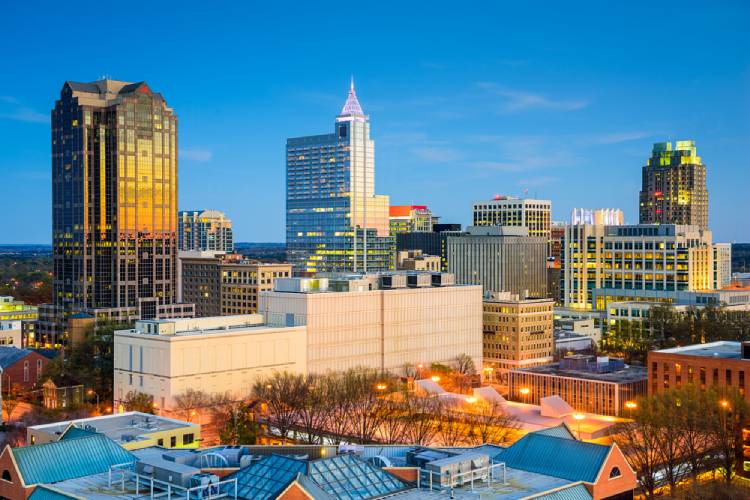 Smart, business-friendly and modern – it really won't take too long for you to experience this first hand after moving to Raleigh. The city is the state capital of North Carolina and was actually planned since its inception to give importance to quality of life. It is an all rounder and impressively checks all the boxes for being progressive in nature. Raleigh is a part of the prominent Research Triangle of North Carolina, making it a great option for those particularly looking to kick-start their career in high-tech or biotech.
Almost like a brilliant bright student, the city never fails to outdo itself. The city is a thriving hub for young professionals, families and anyone who wishes to move to greener pastures. But how do you truly know if the city is as advanced and intriguing enough for you to plant your roots? Which is why it's best to learn about other offerings of Raleigh. With that being said, here are all the things you should familiarize yourself with before moving to Raleigh.
Weather in Raleigh
The city of Raleigh enjoys all four seasons and is ideal for someone who does so too. You have spring, summer, autumn and winter. Overall, the weather conditions are classified in the humid subtropical category.
Few things you should know about the weather in Raleigh:
July is the hottest month when temperatures regularly touch the 90°F (32.2°C) mark. At this time, it is going to get muggy and humid. There's no escape!
On the other hand, January is the coldest month. During this time, the city registers temperatures in the range of 30°F (-1.1°C) to 53°F (11.7°C).
Winters are mild and not as brutal or ferocious as it is up north, but you can expect light snow. The city doesn't receive heavy snow, but you can always head to the mountainous parts of the state where there is significant snowfall.
On an average, you have around 213 days of sunshine, which makes it a great city for outdoor activities. You have beaches, lakes, waterfalls and mountains to choose from for summer breaks.
Spring (March to May) and Fall (September and October) is considered to be the most pleasant time of the year, since that is when the humidity considerably drops.
You have to keep in mind that heavy rains and thunderstorms with strong winds are an occasional occurrence during the summer and spring months. This is why you would need to have an umbrella and light rain coat handy.
See also: Sunniest Cities in the U.S.
Transportation
If you're planning on being car-less in Raleigh, you can easily count on the services provided by 'GoRaleigh' and 'GoTriangle'. The reach of these services aren't super extensive in comparison to a city like Boston or New York, but it could help connect you to your place of interest.
Both these organizations are responsible for handling most of the modes of public transportation in the city of Raleigh. The main aim of these two established bodies is to help people reach different places of opportunities. For instance, the fixed routes are specifically planned to connect residents to medical, educational, employment and recreational facilities and buildings. As we said earlier, Raleigh is a planned city; this is probably why thoughts were put into the transit routes as well.
For public transit, residents have 33 fixed bus routes and an R-Line.
What is the R-Line?
This is specifically downtown Raleigh's free bus service that runs in the shape of an inverted U. The total journey just covers 3 miles and is run by 2 natural gas buses with zero emissions. This service mainly aims to connect residents to universities, convention centers, historic districts, museums, entertainment options and retail stores in the central business district (CBD). The R-Line is an eco-friendly approach taken up by GoRaleigh and is a great transit option if you need to commute to work in the CBD.
In addition to these modes, residents can also opt for rideshare programs if they wish to reach any primary city of the Triangle area. There are similar programs to also reach the Raleigh-Durham International Airport. This is the region's primary airport and the second-largest airport in North Carolina.
Railway In Raleigh
There are three rail lines that make intra city travel convenient for residents of the city. They are mainly:
The Piedmont Line: Runs from the city of Raleigh to Charlotte. Stops in NC include Raleigh, Cary, Durham, Burlington, Greensboro, High Point, Salisbury, Kannapolis and Charlotte (Runs thrice a day, color coded blue).
The Carolinian Line: Runs from the city of Charlotte to New York. NC stops include Rocky Mount, Wilson, Selma, Raleigh, Cary, Durham, Burlington, Greensboro, High Point, Salisbury, Kannapois and Charlotte (Runs thrice daily, color coded red).
The Silver Star Line: Runs from Savannah to New York. NC stops are Rocky Mount, Wilson, Selma, Raleigh, Cary, Southern Pines and Hamlet (Includes train 91 and 92, color coded yellow).
So all things said and done, if you wish to be connected to universities or work spaces in the Research Triangle, you can opt for public transportation. It isn't easy to make your way around the city if you're not close to an R-Line or a fixed bus route. The options for public transportation aren't extensive but limited to key areas. The further you move away from the city center, the more difficult it gets. Few of the most walkable areas of the city are Oakwood, College Park and Stonehenge East.
Job Market In Raleigh
The city of Raleigh is part of the prestigious Research Triangle, this fact itself gives enough credibility to the city's business friendly profile. Most of the state's largest employers selectively choose to set up base in Raleigh to take advantage of its location and research driven community.
A large percentage of companies set up in Raleigh are linked to biotech or high-tech industries. It's true that the limelight of the job market goes to these two industries, but don't be mistaken that that's all there is to Raleigh. Healthcare, finance, pharmaceutical industries also fairly contribute to the growth of the city's economy. There are several other notable industries across various fields of work that drive the growth of the economy.
Some of the best companies to work for in Raleigh are:
Red Hat Software
PRA Health Sciences
Cisco Systems
Microsoft Corporation
Duke Energy
BB&T Insurance Services
Bank of America
Notable mentions:
Raleigh tops the list for "25 Best Cities For Jobs 2020" in the US (according to employment website Glassdoor).
Various Business journals and studies believe that Raleigh is among the top best cities to start a career.
Raleigh is also among the top fastest growing cities in the USA (according to studies conducted by WalletHub).
Raleigh along with Durham, Charlotte and Asheville from North Carolina have taken a spot on Forbes magazine annual list of "Best Places for Business and Careers".
Renting In Raleigh
The average median rent for a property in Raleigh is $1,258. The most popular areas for renters are Downtown Raleigh, Brier Creek, Cameron Village, Hope Valley and Lake View. These are some of the areas where you get the location and good property features for a decent price. The neighborhoods where rent prices are exorbitant are Worthington, Wynford Place and Wynstone.
When it comes to reasonably priced places for rent, downtown Raleigh is the ideal choice. However, it is important for you to keep in mind that there will be particular areas where you would be paying premium costs. This specifically applies if you select a more modern or a fairly newer apartment.
Cost of Living in Raleigh
According to PayScale results, the cost of living in Raleigh is 5% lower than the national average. We have done a breakdown below with average costs so you have a fair idea of expenses that will go towards housing and utilities.
Housing
The average median value of homes in Raleigh is $307,349. This is way higher than the state average which stands at $219,690. So, it is safe to say that Raleigh is a more expensive city to reside in, particularly in the state of North Carolina. However, it is a great trade off too, since you also get access to world class city amenities and top-notch neighborhoods of Raleigh.
Utilities
When it comes to utilities, you can expect your water and electricity bill to fall in the range of $130 to $150 depending on usage. Your phone bill could amount to $60 to $80. Overall, your utility bill could possibly fall in the bracket of $280 to $350 per month (for two people). Do note that this is just an average and depending on your usage of phone services or your electricity, things would differ. At the same time, you should keep in mind that since the city tends to get humid regularly, you would be using your air conditioner often.
If you were to add expenses spent on groceries, restaurants and entertainment, the monthly expenditure for 2 people would approximately fall in the bracket of $3,500 to $4,000. Once again, this is just an average and depending on your spending habits and lifestyle preferences, the monthly expenditure could look very different.
Median Household Income
According to Niche, the median household income in the city of Raleigh is $63,891. It's true that this is definitely way higher than the average median household income of the state of North Carolina (i.e. $52,413). So, even though expenses in the city of Raleigh is on the higher side of the spectrum, you can rejoice at the fact that the average income is also much better. All in all, the modest yet reasonable figure to live comfortably in the city falls in the range of 60k to 80k per year approximately. This is a rough figure to determine the rough amount of money residents need to make to live decently in an upcoming city like Raleigh.
Top Schools And Universities in Raleigh
Top 5 Best Rated Universities
Duke University
University of North Carolina at Chapel Hill
North Carolina State University
Shaw University
Meredith College
Top 5 Best Rated Schools
North Carolina School of Science and Mathematics
Cary Academy
Raleigh Charter High School
Durham Academy
Green Hope High School
Best Neighborhoods In And Around Raleigh
Oakwood
The neighborhood of Oakwood is part of the historic district of the city of Raleigh. It is filled with Victorian homes and other elegantly styled homes that look like they've just come out of a period film. The neighborhood is extremely neat, clean, safe and family oriented. You have parks, museums, and tons of other things for kids to do nearby. You also get plenty of land with your luxury property and get to live in close proximity to downtown Raleigh. These are few of the top reasons Oakwood is the most desirable place to live in Raleigh.
Median Value Of Homes – $650,000
Median Rent – $1,800
Five Points
Five Points is a term used to describe a collection of five historic districts namely Bloomsbury, Vanguard Park, Hayes-Barton, Roanoke Park, and Georgetown. If you choose to live here, you are sure to be surrounded by lovely colorful homes. Most individuals own their properties here and you most likely won't find identical homes. Five Points is a planned community, so you'd find that the atmosphere of huge parks and tree-lined streets just make the area seem more ideal for residential living.
Median value of homes – $559,308
Median rent – $1,457
Cameron Village
Cameron Village is situated near the North Carolina State campus and does have a stronger appeal for students because of the vibrant atmosphere. The housing costs are relatively low here in comparison to other neighborhoods on this list. If you choose to reside here, you'll have easy access to big shopping establishments, coffee shops, chain restaurants, libraries and more. The village has a combination of apartments, single family homes and historic homes.
Median value of homes – $266,200
Median rent – $1,380
Morrisville
The town of Morrisville is situated smack dab in the middle of the Research Triangle metropolitan area. This feature specifically makes it easy to commute to Durham or Chapel Hill. Sociable communities, vibrant nightlife and great employment opportunities makes Morrisville an overall great place to consider if you're moving to Raleigh. It is home to quite a number of parks, excellent restaurants and school systems. The strongest plus point of living in Morrisville is that everything is conveniently located.
Median value of homes – $317,700
Median rent – $1,330
Brier Creek
Attractive residential areas, recreation sites and close proximity to the international airport are the few reasons that draw people to the Brier Creek area. You also have easy access to the Research Triangle area and housing costs are relatively low. Large homes, condos and modern townhouses are the residential options you can opt for. This neighborhood is a great starting point for exploring Raleigh and the surrounding areas. You may have to head to other towns for entertainment options as Brier Creek can be slightly bland in that aspect.
Median value of homes – $241,000
Median rent – $1,256
Also See: Top Neighborhoods In Raleigh For Singles And Young Professionals
FAQs About Moving to Raleigh NC
Is it cheaper to live in Raleigh or Charlotte?
Both the cities of Raleigh and Charlotte are similar in many aspects, including their cost of living. But a thorough analysis by Bestplaces shows that the cost of living index of Raleigh is higher than that of Charlotte. Housing costs in Raleigh are 16.5% more expensive than Charlotte, while healthcare and transportation are over 7% higher in Charlotte as compared to Raleigh. Overall, living in Raleigh would be 3.3% more expensive than living in Charlotte, as per Bestplaces.
What are the best jobs in Raleigh NC?
If a fat paycheck is what you're eyeing for, then medicine physicians, psychiatrists, chief executives, or marketing managers, would be some of the best jobs for you in Raleigh, NC. The average salaries of all these professions fall between $142,000 to $204,000 per year.
What is the minimum wage in Raleigh NC?
Currently at par with the federal minimum wage rate, Raleigh NC also has a wage rate of $7.25 per hour for all employees.
What are the highest paying jobs in Raleigh NC?
According to data collated by USA Wage, Family Medicine Physicians are said to have the highest paying job with an average salary of $194,320 in Raleigh, NC. Some of the other high paying professions in the city include Psychiatrists, General Dentists, Nurse Anesthetists and Chief Executives.
---
Our Take On Raleigh
Raleigh is a productive urban pocket of the state of North Carolina. It is filled with healthy planned neighborhoods, mega city amenities and gives importance to quality of life. The city is also extremely green, clean and full of oak trees. Residents here also have the beach and mountains both within driving distance. These are just a few of the reasons families and young professionals are drawn to the city. But now that you're also familiar with the most important aspects of the city to a decent extent, there's just one question you have to ask yourself. Do you imagine yourself moving to Raleigh?
See also: Top-Rated Moving Companies in America
Also read: Best Movers in Raleigh NC | Best Neighborhoods in Raleigh for Families