Moving to Chapel Hill NC – 2022 Cost of Living and Relocation Guide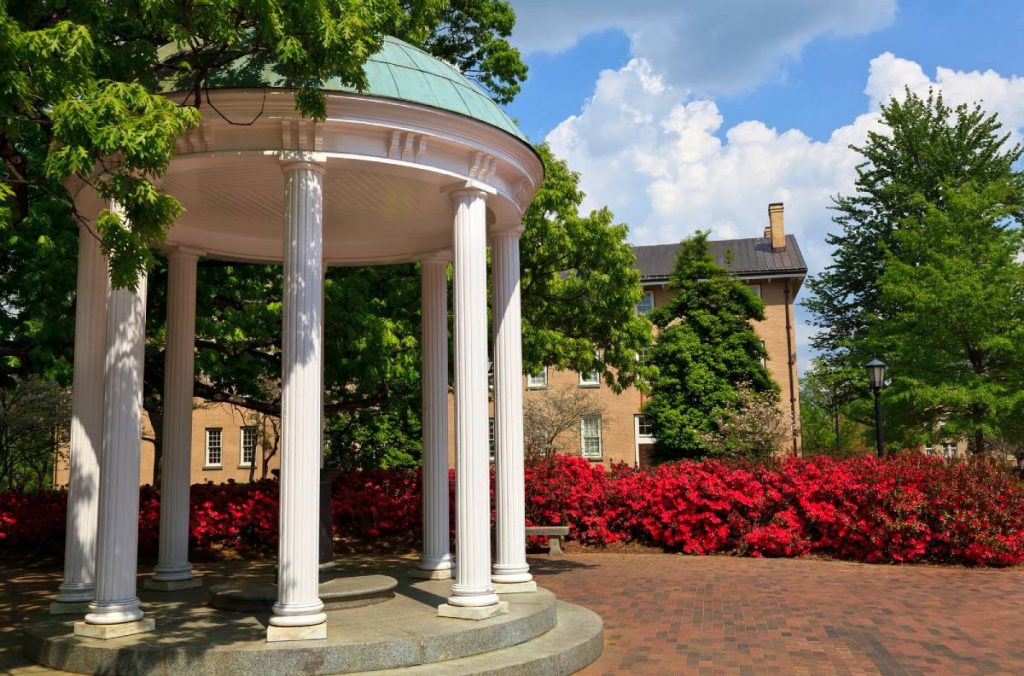 Chapel Hill is a town situated in the Durham and Chatham counties in the state of North Carolina. It is not just a lovely place with loads of opportunities to study and work in, but has countless avenues for leisure and is the perfect town to carve a forever home out of. Be it for attractions ranging from museums and food courts to other tourist spots, Chapel Hill quite literally offers everything under the sun.
This town is a little slice of heaven on earth located in the South with magic sprinkled in every nook and corner of the town, giving the outsiders a homely and welcoming feel. If you've decided to shift to this pretty little town in North Carolina, then read on ahead because we've covered basically everything you need to know before moving to Chapel Hill.
Weather In Chapel Hill NC
Here in Chapel Hill, all four seasons are experienced in all their beauty and individuality. The average temperature varies from 32°F to 88°F and you'll experience a wide range of weather conditions in Chapel Hill. The summers are usually stuffy and balmy and the winters, short and cloudy. The slight weather conditions make the atmosphere more pleasant and alluring and present a climate that is comfortable and salubrious to all. This makes it perfect for those coming to the town seeking better jobs or study opportunities or for tourists who want to get a taste of this Southern paradise. Let's take a closer look at each of the four seasons in Chapel Hill.
Winters
In winters, the town usually receives heavy snowfall which is beautiful but can also be extremely dangerous. So people might not like to visit this place during this time of the year. The winters over here last for about 3 months – from the month of December to February, with an average temperature below 58°F. The coldest and craziest month of the region is January with an average low temperature ranging between 33°F and 50°F. Snowfall here makes most outdoor expeditions impossible. The region receives an average of 3.6 inches of snowfall every year.
Summers
Summers are warm and extremely humid. At times, the summers in Chapel Hill can be mild, leaving the people wanting to explore different areas and to relax and eat out more as there are many vibrant and quirky cafes to explore on weekends (or weekdays!). The heat can be quite intense but you can still try beating it with ice-cold sweet tea while relaxing in the shade. By adopting the local habits, acquainting yourself with the summers, and exploring the various outdoor activities in the region, life in Chapel Hill can be fun and entertaining.
The summers in Chapel Hill usually last from May to September, with an average high temperature above 81°F. July is supposed to be the hottest month with temperatures rising to an average of 88°F high and not dipping below 70°F.
Spring
The spring season is the most favored season by Chapel Hill residents. This is because it is truly a miracle to enjoy the city blooming in flowers, bringing joy and cheerfulness to every face. The ideal weather conditions in Chapel Hill make it possible to harness spring in the best possible manner, converting it into the season for taking strolls on the roads, visiting art museums and exhibitions with family and friends, walking in parks, and exploring the exteriors of the region.
In the month of May, the days are said to be short and warm whereas the nights are long and chilly. The spring season in Chapel Hill usually starts from March and ends in the month of May, with average high temperatures of 16°F to 26°F and low temperatures of 3°F to 13°F.
Autumn
Autumn is all about basking in the sun almost all day long. In autumn, the town is decked in warm tones of golden, yellow, and orange, and presents the alluring nature that Chapel Hill is so famed for. There are various nature trails for all age groups to explore, especially if you are a plant and/or animal lover.
The autumn season falls in the months of September to November. The average high temperature varies from 17°F to 28°F and the lowest average temperature falls between 3°F to 15°F.
Transportation In Chapel Hill NC
If you're someone who wants to save the environment and your wallet, public transportation is for you. Here, there are various modes of public transportation to go places, so one doesn't need to worry too much about traveling near or far. One of the pros of the public transportation system is that it is cost-effective, making it convenient for people to travel without burning a hole in their pocket. The local body also ensures safe travel during the day and night time. There are different types of transit; local transit, park and ride, regional transit as well as long distance.
Let's have a look at the different categories of transportation:
Roadways
One of the most interconnected ways of traveling to other cities is by road. The North Carolina highway poses the main connection to other cities and towns like Chapel Hill, Morrisville, Durham, and Cary, which constitute the Research Triangle between Raleigh and Burlington.
Airports
Apart from the roadways, there are multiple international airports connecting to the cities and towns of North Carolina too – including Chapel Hill in its purview. Raleigh-Durham International Airport is the airport that serves the residents of Chapel Hill. In NC, most of the flights connect to Charlotte Douglas International Airport, the busiest airport in the state. Other airports connecting and serving millions of passengers are Wilmington International Airport and Asheville Regional Airport.
Railways
Railroad systems in North Carolina are very convenient as it is a mode of transport that helps people commute while skipping the traffic. The State University Railroad is a locomotive that connects the city of Glenn to Chapel Hill, twice a day. There are also other luxury train services that you can avail of in the region.
Job Market In Chapel Hill NC
If you're someone with a background in finance, business, and material production or transportation, then Chapel Hill can prove to be quite resourceful in terms of job opportunities, as these are the primary industries that thrive in the region. Smaller fields that also see many hirings every year include sales, administrative, and the office sector. While your job prospects might hinge heavily on your background, education, and years of experience, Chapel Hill is promising in terms of jobs, especially if you belong to the aforementioned fields.
The unemployment rate in Chapel Hill is around 3.3%, which is extremely low when compared to the U.S. average rate of 6.2%. The job market here has seen a rise of 2.2% just over the last year. The predicted percentage of future job growth over the next 8-10 years will be around 37%, which is higher when compared to the U.S. average of 34%.
The sales tax rate in Chapel Hill is 7.4% and the income tax rate is 5.7%. We all know that tax rates have a big impact when it comes to comparing the cost of living with other cities and towns in the country. This is specifically significant considering the fact that the average income of a Chapel Hill resident is $32,930 a year whereas the U.S. average income is $28,545. The median household income is $63,000 a year, which is also higher than the U.S. average income of $53,500 a year. All these factors together contribute to Chapel Hill being quite promising when seen in conjunction with employment opportunities and salaries.
Real Estate In Chapel Hill NC
One of the first questions you have to consider before moving localities is the question of residence. Should you rent a house or purchase a house? Where to purchase the house? Do you want to live in the countryside or in the city? Real estate plays a huge role in these decisions. Any region that has good real estate options automatically becomes more attractive to prospective residents.
Buying A House
For many, buying a house in a good city is a dream come true. It is a matter that involves a lot of effort and even more financial stability. If you are planning to buy a house in Chapel Hill and convert it into your long-term residence, then you should be aware that the median household value in the region is around $546,602. While this is higher than the national U.S. average of $374,900, because of the high standards of living and significantly low crime rates and high safety, this difference becomes one that can be overlooked if you have the required budget.
See also: 12 Best Places to Raise a Family in the U.S.
Renting A House
Today, many more people prefer renting over the high-investment decision of buying a house. If you're someone who is looking into rental options, then Chapel Hill is the place to be. It has both high-end and low-end options and has something for everybody. The average rental cost in the town is $1,657 per month. For a 1-bedroom apartment in the city, you would have to pay $1,160 per month, while a 3-bedroom apartment would be around $2,200 per month. Note that these costs would see a difference if you're looking for apartments outside the city center or in the suburbs.
Crime Rate
As mentioned above, Chapel Hill offers extreme safety for its residents. If there's one thing you don't need to worry about, it is your personal safety. This is because the city's violent crime rate is significantly low at 1.61 incidents (occurring per 1,000 residents). However, you might have to keep an eye out for the property crime rate as it is noticeably much higher at 20.21 (per 1,000 residents). As with all other cities and towns, there are some areas in Chapel Hill that are more unsafe than the others. Good research and prioritization on your part will help you choose a locality that you will grow to love and be safe in.
Cost Of Living In Chapel Hill NC
A high cost of living can be a dealbreaker for many. We are aware that this is the section that many of you are waiting to delve into, so let's get right into the good news.; the cost of living in Chapel Hill is around 4% lower than the national average. When it comes to housing, Chapel Hill charges around 1% higher than the national average. While this is true, when it comes to everything else – including transportation, utilities, and even groceries – this little Southern town is a winner.
One month of utilities in Chapel Hill costs 6-8% lower than the U.S. average. This means that one month of electricity, heating, cooling, water, and garbage would average around $138.97. As for groceries, PayScale tells us that one loaf of bread costs around $3.10, while one gallon of milk and a carton of eggs costs $1.81 and $1.69 respectively. Groceries are estimated to cost 8% less than the national average.
Good and affordable healthcare is a necessity for everybody. One doctor's visit in Chapel Hill would cost around $110.27 while a visit to the dentist would cost you $95. If you're a pet parent, then a standard visit to the vet would cost around $47.97.
See also: 15 Cheap Cities to Move to – The Lowest Cost of Living Cities in the U.S.
Education In Chapel Hill NC
One of the oldest and most renowned public universities in the country is the University of North Carolina at Chapel Hill. The entire region surrounding Duke University is considered to be highly educated and progressive. Chapel Hill has multiple elite colleges and universities offering education for students from all parts of the country and nearby cities as well. The universities and colleges in this locale are referred to as research triangles, a reference to the Research Triangle Park which was established in the 50s and then became a focal point of growth for all research institutions and companies. Therefore, Chapel Hill is one such town that pays a lot of homage to its educational legacy.
Here are some of the top-rated schools, colleges, and universities in Chapel Hill:
Top-Rated Chapel Hill Schools
Mooresville Graded School District
Orange County Schools
Haywood County Schools
Dare County Schools
Top-Rated Chapel Hill Colleges And Universities
University of North Carolina
Duke University
Wake Forest University
Top Neighborhoods To Move To In Chapel Hill NC
Meadowmont
A picturesque and peaceful neighborhood, Meadowmont offers homes in a wide range of price points, depending on your budget and requirement. It offers a combination of urban and suburban sensibilities. The spacious touch of modern architecture in Meadowmont has become quite famous among the local Tar Heels and it is one of the most favored localities in Chapel Hill.
Median Home Value: $812,500
Monthly Median Rent: $1,634
The Oaks
The homes in the Oaks are greatly valued for its central location and great educational infrastructure. If you're shifting with your family or for educational purposes, you'll be pleased to know that the schools in the Oaks are not only brilliant but are located close by. This is a family-friendly neighborhood and is relatively safe as well.
Median Home Value: $303,534
Monthly Median Rent: $1,323
Winmore
Winmore is known for its highly interconnected nature as well as for its availability of homes suiting different designs and price ranges. It offers a very comfortable and homely community feel and is relatively new in terms of its residents. The place offers great value for those who are looking to experience the essence of what Chapel Hill stands for. You are sure to find what you're looking for in Winmore.
Median Home Value: $590,000
Monthly Median Rent: $790
The Preserve At Jordan Lake
One of the most gorgeous areas you have seen, Jordan Lake is the main attraction for the people living in this area. It is also one of the area's top neighborhoods that is perched next to the 46,000-acre lakeside. Not only does it offer splendid access to the outdoors and activities, but it also has great and easy commuting options, good access to shops, restaurants, and cafes as well as lots of clean, fresh air to breathe in.
Median Home Value: $732,000
Monthly Median Rent: $1,658
Southern Village
If you're someone who loves the old-world charm of living in a village, the Southern Village in Chapel Hill is the place for you. Charming and quaint, the Southern Village is a neighborhood that gives everyone the feel of a simple life led in a beautiful, nourishing environment. The main attraction of Southern Village, however, is the school districts. So, this is another family-friendly neighborhood, if you're planning to move to Chapel Hill with your family.
Median Home Value: $380,000
Monthly Median Rent: $1,428
Summing Up
If you're planning a move to Chapel Hill, you now have a fair idea of what to expect in the city. From youngsters and students to families, this town in North Carolina has something to offer to everyone. The town has an eclectic nightlife and numerous places to explore in the field of music, art and food. Overall, Chapel Hill has a low crime rate, low unemployment rate, and decent weather all year round. If these things tick the right boxes for you, you can make Chapel Hill your next home.
FAQs On Moving To Chapel Hill NC
Is Chapel Hill A Good Place To Live?
Chapel Hill is a town with a lot of opportunities for everyone, for learning and earning. Here, you can buy or rent houses at affordable prices without burning a hole in your pocket. The amazing, serene view of nature plus the beautiful weather will have you fall in love with Chapel Hill. You can also explore local restaurants, music, and museums that this place is famous for.
See also: Best Cities To Move To Start A New Life
Where Should I Move To In Chapel Hill NC?
There are many neighborhoods where you can reside in Chapel Hill. A few recommended above are Meadowmont, the Oaks, Winmore, the Preserve At Jordan Lake, and Southern Village. All these places are amazing not only to explore but to also experience various other alluring aspects at a price range according to the desired budget.
Is Chapel Hill Expensive?
Chapel Hill is not considered very expensive when compared to the national average. While it is a tad bit on the higher end in terms of housing costs, for everything else – including groceries and utilities – Chapel Hill costs less than the U.S. average. More than 90% of the population is considered among the high society with much of the workforce having white-collar jobs which pay well above the national average.
What Are People Like In Chapel Hill?
The people in Chapel Hill are warm and welcoming. Apart from the friendly and hospitable nature of Chapel Hill residents, the beautiful aura and peaceful ambiance also complement the people. Chapel Hill values its residents and gives off a distinct community spirit. So you're not going to feel too lonely or excluded once you shift here.
What Is The Coldest Time Of The Year In North Carolina?
The coldest month in North Carolina is January. It is extremely chilly with an average temperature range of 33°F to 50°F. The cold weather in North Carolina lasts for about 3-4 months starting from November to the end of February.
See also: Best Movers in Chapel Hill