Best Home Remodeling Ideas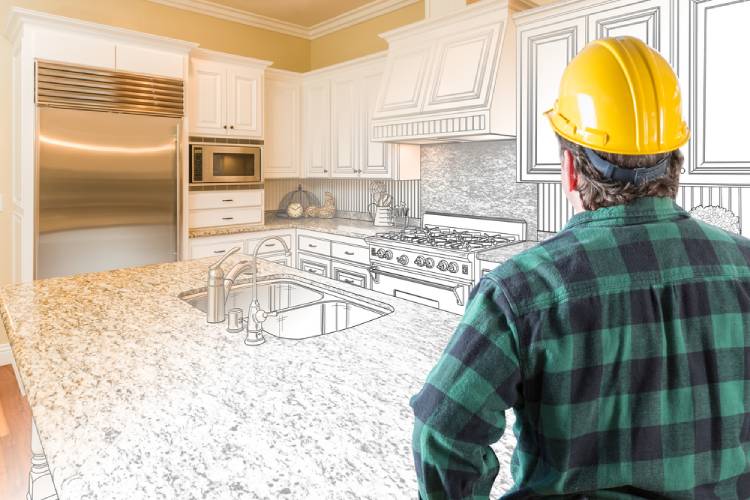 Just like no two faces can look exactly the same, no two houses are decorated in the same way. From the first day you move into your new place, you give a personality and character to your home that can be completely different from the previous owner's style. You might not keep matching tables and chairs, but pick mismatched contrasts. These are small ways in which you end up making the place look like your own.
But when it's time to approach a remodeling project to not just beautify the place but also increase its resale value and functionality, there's a lot to consider. To give you some inspiration, we'll take you through some of the best home remodeling ideas you can consider taking up room by room.
Best Home Remodeling Ideas For Your Kitchen
When it comes to your kitchen, your main goal is to think more about increasing the functionality of the place for yourself and any potential buyer. This should be your first priority, and then you can also jot down smaller DIY projects to add to the decor and aesthetic of your kitchen.
This is the heart of your home and it's key to keep things convenient and functional. Here are a few ways in which you can achieve that – \
Upcycle The Kitchen Cabinets
For this project, you don't necessarily have to spend thousands of dollars. Instead, you simply stain and apply some new paint to bring a new look to the place. We suggest giving some thought to the color theme you want to stick with when you start this task. Understand if you'd like to have floral wallpapers for your cabinet or you prefer the simple plain white look.
Tip – The kitchen cabinets, even if old, must be given a new and neat look to the eye. If you personally feel like it's way too old to upcycle then consider investing in new cabinets.
Pay Attention To The Countertops
Consider installing new countertops to your kitchen if your main goal is to slightly increase your home value. The countertop is where all the kitchen work happens, so you want to pick a material that's strong, not easily stained and has a good shelf life.
Quartz and granite countertops are your best bet. But keep in mind that if you want a good return on investment then quartz is the material that wins. It is the more expensive option, but there's a very high chance that you'd be able to retrieve what you spent when you sell your home.
Tip – Replace your countertops if they are in a bad condition with good quality quartz or granite ones. Pick the marble you want to go with in a color that compliments your kitchen cabinets.
Install Updated Faucets, Lights And Knobs
Now this is probably going to be one of the easiest tasks to accomplish for your kitchen but it makes a massive difference. Installing decorative lights and taking off knobs or drawer handles that are tarnished or discolored are small little things that change the overall look of the place. You can drive to home improvement stores like IKEA, Home Depot or Lowe's to get more ideas and purchase stylish and sleek faucets.
Before you leave your home to make a purchase, have a slight idea of the look you wish to go for. The pieces you pick must resonate with the cabinets and countertops. See that there's no clashing of themes and take pictures of your kitchen to the store so that you can visualize the way it would look.
Tip – First observe the current state of the lights, faucets and knobs of your kitchen. Post that, make a decision to buy new ones that are more updated, suitable versions of the previous ones.
Upgrade The Appliances
Depending on whether you want to go big, you can also consider buying new appliances for your kitchen. This entirely depends on the funds you wish to dedicate towards remodeling this part of your house.
There are certain appliances that will burn a hole in your wallet but at the same time give you the results you paid for. For instance, purchasing a good quality dishwasher that has an above average life span and is energy efficient. You end up saving on your energy bills and bringing some value of convenience to your potential buyer. This would be the ideal win-win situation, but the scenario will differ from person to person.
We'd say it's best to ask yourself if the costs of that new dishwasher, refrigerator or built-in stove will make things easier for you, or if it's something you want to take up later.
Tip – If you have the budget to stomach big purchases, consider buying energy star labelled appliances that use 10%-50% less energy. It will make your kitchen a more convenient place and it strengthens the resale value of your home.
Few More Easy Improvements To Make:
Make a statement with the pieces you keep on the counters of your kitchen.
Replace rugs, table covers, and other decor that looks tired and worn out.
Remove clutter, add artwork and mirrors to pull off a luxurious look.
Also Read: How To Pack Your Kitchen For Moving
Best Home Remodeling Ideas For Your Bathroom
After you've completed your kitchen, the next room in your home that brings good resale value is the bathroom. The need to update your bathroom is a must, especially when –
The tiles have cracked/stained badly.
There's very little storage.
Mould has taken over certain spots.
The toilet, sink and shower system are relatively outdated.
Redo The Bathroom Floors And Tiles
Adding new tiles and changing the floor of your bathroom will instantly give the place an uplift. You probably won't even recognize the space once you do this. If the tiles look grimy but aren't too old, you can take up a deep cleaning project to ramp up things instead of spending the big bucks on putting in new tiles.
Install A New Toilet
Obvious signs like the flapper being loose, low water levels, a flush that doesn't work well and high water bills are an indication that it's time to get a new toilet. Nowadays, it's pretty easy to install one yourself without the help of a plumber.
Tip – An easy way to check your toilet for leaks is to put a few drops of food color in the toilet tank. After 15 minutes or so, come back to see if the colored water has reached the toilet bowl. This is the best way to know if there's a leak and bring down the amount you pay on your water bill by fixing it.
Place A Modern Vanity For Storage
One of the simplest ways to give your bathroom a makeover is to get rid of the clutter. A vanity will do the job of keeping the place neat as a pin. In terms of colors, white, grey and ebony are some of the popular and more fashionable colors being used.
We suggest that you also purchase a few storage baskets and shelves for the supplies and toiletries so that things are spaced out and neat. Every item in your bathroom must have a drawer, basket, hook or a shelf that it goes back to.
Few More Easy Improvements To Make:
Remove boring mirrors for cleaner, non-frosted ones.
Make sure the knobs and drawer handles are clean and match the aesthetic of the tiles.
Buy a new faucet, towel rod or toilet paper holder if the old ones can be termed as shabby looking.
Add plants and a few artworks or funny posters to bring some character to the space.
Best Home Remodeling Ideas For Your Bedroom
The bedroom is your personal space in the house and you have all the rights to go creative and decorate the room like you own it. Before you start this room, we highly recommend that you create a mood board for the room.
The purpose of a mood board is to put down samples of colors, decor and styles you like for the bedroom. It organizes all your thoughts in one place and will ultimately help you transfer the look you have in your headspace to reality. We've also listed the smaller projects you should consider for your bedroom –
Closet Renovation
It's a no-brainer that a closet in which you can't really visually see all the clothes and things you own is not a functional one. To make things easier, you can consider installing a new wardrobe after you do an inventory of the things you own.
Ask yourself if you'd prefer storing seasonal clothes in a space inside your bed, or if your closet should take that duty. If you're thinking of also storing your shoes, bags and other miscellaneous items in your closet, you'll need to ensure that you're purchasing one in which everything can fit. When you're renovating your closet, make sure you're also getting rid of as much clutter as possible.
Pay Attention To Your Walls
Fabric hangings, paintings and mirrors are great ways to brighten up your room and bring some character to the bedroom. This is one of the smaller remodeling projects to undertake, so you can take your time understanding the type of decor you want to add to your room.
Also Read our article on Tips to remove Popcorn Ceiling.
Improve The Lighting
You can improve the amount of natural light that comes through the room by installing larger windows if possible. Natural sunlight is a luxury for buyers and at times a priority, so if you manage to successfully bring in the light there's a higher chance of someone falling in love with your property. Apart from this, you can even think about adding statement light pieces like a floor-length lamp to bring a sense of personality to the room.
Few More Easy Improvements To Make:
Create a reading nook in your room with a bold comfort chair. You can also make more areas to sit by putting a bedroom bench placed at the end of your bed.
Consider installing a soft headrest for your bed so that it's more comfortable to sit and rest in.
Be creative with the set of bedsheets and blankets you use for your bedroom. Add a throw blanket and pillows but know when to stop yourself from going overboard.
Bigger Remodeling Ideas
In this section we've listed a few of the massive projects you can take up, especially if you wish to maximize your returns at the time of selling your home. Demographics show that houses have the potential go for a little higher than the market rate if they include the following –
Wood Flooring
A report by CNN states that hardwood flooring can increase the value of your home by 3% to 5%, making them worth the investment. This flooring gives a cleaner look to your home and also an illusion that it's bigger than it actually is.
Heating, Ventilation and Air Conditioning System (HVAC) Replacement
Now, a HVAC replacement is one of the most expensive projects to take up. But at times, it can pay off and increase your home value by 20%! If you live in a top-notch neighborhood that gets a good number of buyers willing to pay above and beyond the market, it's a safe bet to make.
In other cases, you could go in for a loss. It's better to gauge other external factors to understand if it's something you should take up.
Basement Conversion
People usually have a scary and not-so-pleasant image of basements, thanks to horror films and murder mysteries. But you could change the energy of your basement by transforming it into a home theatre, gym, perhaps a wine cellar or a guest room with a bathroom. Such a project would add 10% to 15% to your property value.
Final Thoughts
In conclusion, there are various remodeling projects that you can take up to brighten your home and make it a more livable and happier space for you and your family. But it is necessary to look at finances first since some of the bigger projects can get expensive.
We'd also like to say that it's alright to start small with tiny replacements and DIYs in which you give old items a makeover. For the remodeling projects where you wish to add value to your home, make sure you give some more thought so that you recoup a considerable amount. Overall, don't shy away from experimenting with remodeling ideas and try starting these projects months before you sell your home so you can also enjoy the comfort that these upgrades bring.
See also: First Apartment Checklist | Ways to find House Remodeling Contractors | 19 Brilliant Bonus Room Ideas
FAQs
What Renovations Increase Home Value The Most?
As per the results of the study conducted by the National Association of the Remodeling Industry (NARI), a complete renovation of the kitchen space in a house can increase home value the most.
In What Order Should You Renovate A House?
In most cases when you renovate your home, you should start with the projects that require actual structural changes such as removal of flooring or ripping out a wall. This is followed by managing the wiring or any work related to plumbing. The last task should be assigned to decor.
How Can I Renovate My House When On A Budget?
If you're on a tight budget consider DIY projects and upcycling the items you already have instead of purchasing new ones. You can also thrift for unique pieces that can turn into beauties once furnished. Other ways to renovate your space are to repaint, deep clean and use wallpaper to hide stained countertops.
See also: Benefits of Creating a Floor Plan Before You Move | When do you need a Permit for Home Remodeling | Beginner's Guide to Remodeling Permits