19 Brilliant Bonus Room Ideas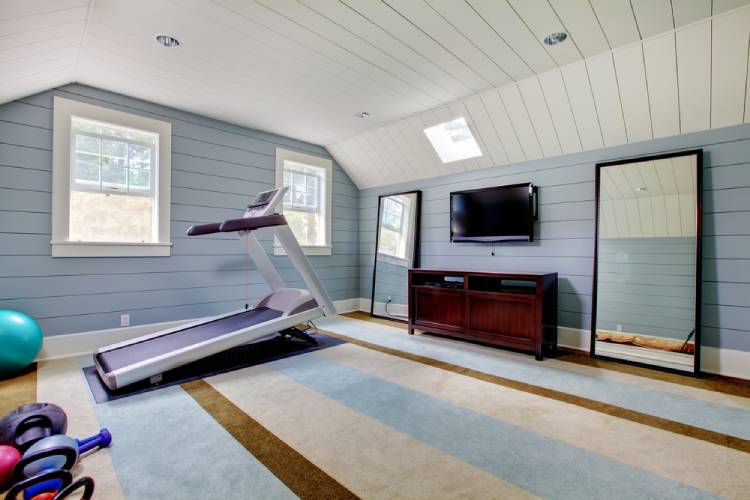 Most of the rooms in your house already have a purpose. The kitchen is where you dine with family, and your main bedroom is where you relax at night. So, if you have a room that doesn't have a clear purpose, you may be left scratching your head.
Bonus rooms are frequently found tucked away above garages or in attics, and they can sometimes create complex layouts. However, with a little forethought, you can define the space and turn your bonus room into one of your favorite places in your house. Are you stumped as to what to do with the awkwardly placed area? Presenting here some fun ideas to get you started and let your creative spark flow.
1. Homework area
If your children leave papers, binders, and textbooks all over the house, your bonus room could be the ideal homework space. A few comfortable chairs and a workspace transform a big, empty room into a peaceful place for kids to buckle down. It's quiet and free of distractions like TV and video games. Simply stock shelves with school supplies and use organizational solutions (such as folders) to keep children's work separate from that of their siblings.
2. Home office
You may not require a homework room, but bonus rooms can also be used as studies or home offices. They're ideal for doing a little work because they're often separated from noisy rooms like the kitchen. A bonus room with a solid desk, adequate lighting, and a computer could become a productivity booster — or at the very least a quiet place for conference calls.
Interesting: 10 Best States for Working Remotely
3. Yoga center
Do you enjoy meditating? Your bonus room can become a complete oasis for recharging your batteries and practicing your Eagle pose. Consider this: Bonus rooms aren't always well-lit, making them ideal for activities that benefit from low-key lighting. Grab a few reed diffusers filled with your favorite calming scents, connect a speaker to a relaxing playlist, and you've got yourself a dedicated space for your yoga practice.
4. Library
Strange angles may not be appropriate in a bedroom, but an awkward room is ideal for books. Make your library with DIY shelving and plenty of comfortable seating and lamps for separate reading areas. With a distraction-free environment, you'll enjoy bringing a cup of tea into your bonus room to finish that thriller you've been reading.
5. Teen hangout
Let's be honest. Teens aren't always eager to spend time with the rest of the family. You can, however, keep them in your home if you provide them with a private space to call their own. A teen hangout spot could come with a TV and game system, a phone speaker, plenty of charging outlets, and even a snack station or mini fridge to satisfy those insatiable appetites.6.
6. The gaming room
Suppose you have a video game addict in your family, whether a child or an adult; you know how difficult it is to have your TV constantly occupied by the latest Xbox release. A gaming room could be the solution. Setting up your gaming systems and a few bean bag chairs in the space means you'll be able to reclaim your living room.
See also: Best Gaming Room Ideas
7. The music room
Do you have a budding Beethoven in your house? Instruments can take up a lot of room, so put them in the bonus room. You'll have plenty of space, and because bonus rooms are typically located away from your main living areas, you may even be able to reclaim some peace in the process. You can even add the recording equipment and plenty of seating for impromptu concerts.
8. Home gym
Have you been putting in the effort to enhance your fitness? You can avoid tripping over dumbbells and workout mats by converting your bonus room into a family fitness center. There will be plenty of space for various workout machines and tools, as well as a few fans and a drink cooler to keep you cool and hydrated while you get your Arnold on.
Must Read: Home Gym Setup Guide
9. Craft room
If you're a crafter, you're aware that your supplies can get a little sloppy. Using the bonus room as a crafting space, organize them and place all your materials. Shelves, as well as organizers, help keep all of your supplies organized, and large, low-cost tables make excellent crafting surfaces. You can add your sewing machine and fabric stash, and you've got yourself a dedicated creative space.
10. Home theater
Home theatres were popular five years ago, but they're gradually losing favor in favor of more casual spaces. Instead of spending money on a basement theatre, convert your bonus room into a movie theatre. You hardly need to spend a lot of money on seating; try some bean bag chairs or a few overstuffed couches, and stock the room with cozy blankets. You can also invest in a low-cost projector screen to get a true at-home theatre experience without breaking the bank.
11. Bunk room
Do houseguests make you feel claustrophobic? A bunk room can allow guests to call their while also maximizing the area of your bonus room. Adding a couple of bunk or day beds provides guests with a comfortable place to sleep while also providing privacy. And, because bonus rooms are frequently oversized, they're ideal for noisy sleepovers. Bonus rooms are frequently oddly shaped and oversized. Even so, with the right planning and furniture, you can transform what appears to be a wasted space into a fully functional part of your home. Do not be surprised if that unused bonus room becomes your favorite room in the house overnight.
12. Photographer's Workshop
It's a good idea to set up your bonus room as a digital photographer's working station, where you'll be able to use all of the tools, backgrounds, and other props needed for digital photography.
You can even change the lighting and other aspects of the setup while creating a landmark studio in your own home. It would be cool to have some amazing photography sessions inside your home, using the most unusual room for it.
13. Playful Family Bonus Room
There can't be a better place for kids to play than your unoccupied bonus room. Away on the roof, you can make this bonus room a great place for your kids to gather and hang out when they don't have classes. You can use various small playing equipment and allow the children to use a previously underutilized space. Ensure there is plenty of space on the floor for your children to fall and that maximum space is utilized. To make it more fun, add small slides on one side.
14. Positive Classroom
This is yet another creative way to make use of your small bonus room. Why not turn this small unused space into a serious business space? With small bonus room ideas, you can create a study room. You can study for hours on the top floor with very little noise and disruption.
This room will provide you with exactly what you are looking for while you spend time preparing for your exam. Or it could be a nice change while you're looking for a place where you can concentrate without anyone interfering.
Place a study table with a chair next to it and a comfortable sofa on the other end of the room. You can study hard and use this comfortable sofa whenever you need a break. This will be motivating for both your children and you.
15. Dance Practice Room
Rehearsing for an upcoming school day function can be frustrating and disruptive. You'll need a place where you won't be disturbed and can rehearse without interruption. A space on top of your garage where you've created a lovely dance studio with enough space for rehearsals.
Use it daily to keep yourself motivated for the challenge. Spend some time alone with yourself, surrounded by mirrors, assessing how well your foot movement is. Prepare yourself for any competition.
This room can be used even during a family gathering. Spending some time showing off your moves while your food cooks will be a fun way to spend your evening.
16. Wine Cellar
Why build a wine cellar on top of your house when you already have a kitchen and a living room downstairs? The answer is that you can use your bonus room and keep temperature control up there to ensure that your wines are preserved and intact. The room can be decorated in a navy color scheme with leather furniture.
Because the wine is the room's main attraction, the lights usually focus on it. This can be a great way to impress your guests when you take them to the bonus room, which is beautifully decorated and arranged with various types of wines. You can even sip while discussing business or personal matters.
17. Fun Room
This room is yet another way to make the most of your bonus space. You can redesign this room with bonus room ideas to make it more usable for children and mothers. Because children will be using this room, bright colors on the walls are appropriate.
Furniture can be painted in a neutral color and moved around to adjust. This room can be a great place for a mom to concentrate on her work while keeping a close eye on her child.
Children can benefit from their time with their mom while also having fun. In other words, you've just created an ideal play area for a baby and their mother within the confines of your own home.
18. Room
This may not appear to be the best option for converting your bonus room into a dining room. It may not be feasible to have your dining room on the top of your kitchen located elsewhere.
A dining room with a very simple dining table arrangement and very little decoration. But wait, we're talking about using your bonus room, which will be empty if you don't use it. So why not make it a hangout spot where family members can gather for dinner?
19. Vacation Room
Depending on your house, you can use your bonus room as a vacation room. Your children will have enough space to sleep together, and with this bonus room available, they will have plenty of space to play.
Allow your summer to be fun inside your own home, and with a few twists and tricks, you can use your bonus room for multiple purposes. While the children are away, the elderly can use it for gatherings and playing cards. Everyone in the family will use it.
You can see how your small bonus room can be twisted, recreated, and used to its full potential. Before you decide to design your bonus room, you should conduct a simple assessment of what is required for your house at the time.
Conclusion
Whatever their lifestyle, the 21st-century homeowner requires a home as adaptable as their interests. Don't feel obligated to plan a room for each passion you wish to pursue and don't feel compelled to choose which is most important to bring into your new home. You'll be able to create a space that has everything you need if you're strategic with your design options.
Frequently Asked Questions
What can you do with your bonus room?
You can use your bonus room to pursue a hobby such as crafting, have a dedicated space to improve your workout routine, or even create a relaxing retreat for an overnight guest or two.
What is the significance of the term "bonus room"?
A "Bonus room" is a phrase most commonly heard in the United States in reference to an empty room. According to The New York Times, the appealing title bonus room, which is a spare room on the bedroom floor that may be utilized as a den, tv room, or guest room, is a recent answer to the problem of rowdy teens in 1991.
What is the added value of a bonus room?
On average, your bonus room will add $10,000 to $30,000 in monetary value to your home. However, it is difficult to put an official number on this quality because the market constantly changes, and every home is unique.
Also See: How to Re-Decorate Your Child's House Once They've Moved Out