How to find a House Remodeling Contractor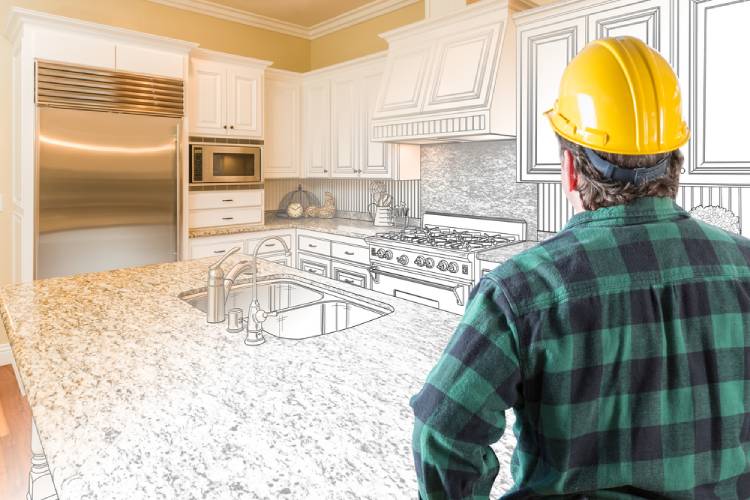 Choosing the right house remodeling contractor can be one of the most challenging decisions because you want your house done right. And believe me, not all house remodelers are great. It is always best to hire the services of a good and trusted remodeling company that has been in business for several years. They should have worked on many different projects before, giving them experiences to use while handling yours. After all, your dream house deserves only the best! There are plenty of ways to make sure you get the right contractor for the job and give yourself peace of mind while knowing you are in good hands. You may need to do a little research or ask around to find out what you want, but it should be worth it when your dream house is finally ready for living.
Here are just a few tips on how to find the right contractor.
Decide your Design
Before you hire a contractor, keep in mind how you want your house remodeled. It is seen that many times people have a dream project in their heads and, to the contractor, it's just another job. There are also times that homeowners agree with designs already at the start and then ask for some changes halfway through construction.
This could lead to more expenditure and a complete waste of time, and sometimes the construction may even stop in its tracks. So, make sure you clearly explain your expectations to avoid any confusion. You can visit our blog on Home Remodeling Ideas to get fantastic remodeling idea for your home.
Determine what you can remodel yourself – and what you will need a contractor for
If you want to save on money, you can remodel parts of your house that don't need a contractor, and a contractor can do the major components which need remodeling by a professional. That way, you would be saving time and money together.
You can paint the walls or dining room, work on some fixtures or do some small-scale demolishing, but it is best to leave tasks like plumbing or electrical work, foundation issues, major demolition, and new roof installation to the professionals.
Also See: Finding Handyman or Plumber for your House
Know the remodeling fundamentals
Before you hire a contractor, know all about home remodeling. For example, if you have an old bathroom that urgently needs redoing, check on the following steps to take yourself. That way, you can work out project costs and the time required before finding a contractor.
If you're eager to hire a contractor right away, you can do research online and read trusted home remodeling magazines. The internet makes finding the best contractor for your needs; just make sure that they're fully licensed and experienced.
Ask around in the neighborhood
It's always better to ask for reviews of contractors from people who have experienced it themselves. Asking neighbors if they would recommend a contractor they worked with, and why did they choose them in the first place? If an experienced neighbor is willing to refer customers, it's always better than looking online or asking friends. This way, you can get authentic information which is more convenient too.
If you keep these things in mind when finding a house remodeling contractor, it should be easy enough for you to make a good decision and get on with your exciting new project! Just make sure, though, not to look at every single option. It's best to narrow down choices until you find one perfect for you. And don't forget to check the contractor's references before entering a contract.
Use the internet to your advantage
Try looking up the review given by other homeowners regarding their contracts and how they feel about the final result of their house remodeling. You can get more information on home remodeling by surfing online or using your phone. Numerous websites, apps, and directories provide reviews of house remodeling contractors in your area. Some also list offers at specific times of the year to get more for less. This can help you find a wide range of contractors to work with and build your home beautifully.
Don't set a minimum (or maximum) number of estimates.
Don't limit yourself to estimates because you're not sure if you will be getting the satisfying service you are looking for. Take as many estimates as you need till you know that you are ready to work with that contractor to remodel your house. Remember, you want to be happy and love the result of remodeling; you need someone who knows what they are doing for different kinds of remodeling projects. So choose your contractor carefully; it's okay if you have to take several estimates for that.
Busy is good
Good contractors have a lot of contracts in hand to remodel homes. If a contractor is always busy with contracts, it can be a good sign meaning that the contractor is good at his job and it would be worth the wait. So if you find a busy contractor, then wait, because at the end of the day, wouldn't you want your house to look amazing?
Going professional
You are in the market looking for a contractor to help you remodel your house, not an amateur. It is always good to go with someone who has experience in this field and knows how things are done properly to get the best results. So take suggestions from your neighbors or friends when hiring or choosing a contractor to work on your home.
Don't be afraid to ask the contractor about his past work, the materials used, and if you can, visit a job in progress to get a feel of their work. A successful contractor will be more than happy to tell you about his past projects. Once you're satisfied with the answers, then it's time to give your contractor the green light.
Verify your insurance, credentials, and permits
The contractor you want to hire should have all the necessary licenses and documentation to show before he starts work on your house. You can't be doing construction on your property if you don't have the right insurance coverage and licenses to do so. So make sure you ask for these things and verify them before hiring someone.
See Also: Beginner's Guide to Remodeling Permits | When do you need a Permit for Home Remodeling
What about check-ins?
Now, before you hire the contractor, ask them how many times they will check with you when they are renovating, and they must check with you so that you don't miss out on any important decision made about your house. It would help if you were as involved as the remodeling team working on your house. And it's good for your contractor to check with you because he is now working on your house, and no one knows its intricacies better than you do.
Keep a record
Make sure you are getting everything written down as a record. The final price, timeline, payment schedule, and everything should be written in a contract. Getting everything in writing will help you to stay on the right track with the remodeling of your house. You don't want to keep calling your contractor to remind them about things they have promised because it's all there, black and white, waiting for reference at any time you need it.
Pricing
A dirt-cheap budget may lure you, but it pays to hire an experienced contractor with the highest quality materials. The contractor should give you detailed information about the whole process and help you design your new house. It is always advisable not to go with a low-cost option because that can indicate low-quality services, which can be a problem in the future. The expertise and experience are worth the extra money, and you will never regret spending that additional amount on your home. You can read our article on How much is my house worth.
Find out who is performing the task
Know who exactly will be doing the project because some contractors may offer to do it for you, but they outsource the job to an unqualified person or company that might not do a good job. So make sure you know who is giving all the necessary labor required for your house remodeling project. Ask about materials upfront.
Know what happens if the outcome is not as expected
If for some reason, you are unhappy with the remodeling of your house, then you need to know if your contractor will redo the work or refund the money. If it is rescheduling, then when are they planning on doing it? All these things have to be detailed in writing, so there aren't any misunderstandings later on.
Know that it's not a "Get rich quick" scheme
Make sure you are getting your money's worth for the house remodeling you want to be done. If it means working extra hours to save up some additional money, then do it because quality work should never come cheap. Hiring an experienced contractor is always costlier, but they will give you high-quality work, and the extra money is worth it. A good home remodeling contractor might cost more, but they will ensure it's done right. And remember – if the deal sounds too good to be true, then take your time to research about them, or you could end up with a surprise when you spend less on a remodeling job only to find out later that the quality is subpar.
Take your time to research them, or you could end up with a surprise when you spend less on a remodeling job only to find out later that the quality is subpar.
Cost of remodeling the house
The cost of remodeling varies. It depends on where you live and what kinds of renovation you need in your house.
If you don't need much repairing and are looking for a low-cost renovation, it would cost you between $20,000 and $50,000. That would include the renovation of flooring, interior and exterior painting, and landscaping.
If you need a medium-cost renovation, it would cost you $55000- $100,000. That would include everything included in low-cost renovation and additional repairs like bathroom and kitchenette remodeling and maybe countertops.
A high-cost renovation would cost between $100,000 – $250,000, including an entire house remodel and quality. That would include roof, windows, complete bathroom and kitchen remodel, countertops and other projects, electrical, plumbing, and sewage lines. You can check what renovations increase the value of your home.
Red flags you should look out for
Be aware of contractors who lack basic information like websites, social media handles regarding their companies, and previous projects.
Look out for portfolios of contractors who have had very few projects and no photos of the previous projects.
Don't hire a contractor with too few or no references; even if there are time gaps between references, make sure you ask the contractor before they are hired.
Look for red flags in the projects they have been assigned to, for example, crooked bathroom tiles, uneven lines, paint-splattered floors, overspray, stains on walls or ceilings, etc.
Do not get pressured into hiring a contractor when they say that their offer is for a limited time. Take your time and resume your hunt for professional contractors who make your house look good.
Few questions to ask a Remodelling Contractor
When you are on the lookout for a house remodeling contractor, it is oftentimes confusing to choose one who will do just what you want. Here are some questions that you should ask your proposed contractors.
1. Can I be there during the construction period?
It's important to have transparency in a business relationship with your contractor, so you should ask them if it's possible for you to be present whenever there is any work being done in your house. This will give you enough time to assess the work and address any issues before they get out of hand.
2. What kind of insurance do they have?
You are hiring professionals, but it's always good to have the reassurance that your investment is still protected if something goes wrong. Look at what kind of insurance they have, and don't hesitate to ask for a copy of their policy before hiring them.
3. Are you experienced?
You wouldn't want someone with little experience building your house, so find out if your contractor has been in the business for a long time and see their portfolio of projects to check the quality of work they have done.
4. How many workers will be at my house?
If you hire a team of workers, it is good to know how many people will be working on your house daily. This will give you an idea of how long your house renovation project might take.
5. What kind of work do they specialize in?
It's great to have a team of experts in particular areas because this means they are confident about their work and it won't cost you more for additional workers. Also, if there are additional problems during the construction, they can quickly develop a solution.
Conclusion
When you are ready to move into your dream house, you might need some help to make it happen. If you already have an idea of what work needs fixing, all you have to do is find a reliable contractor to do the job for you. Hiring a contractor can be a little confusing, and it's good to know the right questions to ask and the signs to look for when choosing one. Always make sure that your proposed contractor has years of experience in their field, good references, and insurance cover.
Also Read: Out of State moving companies in the America