How to Pack Your Kitchen for Moving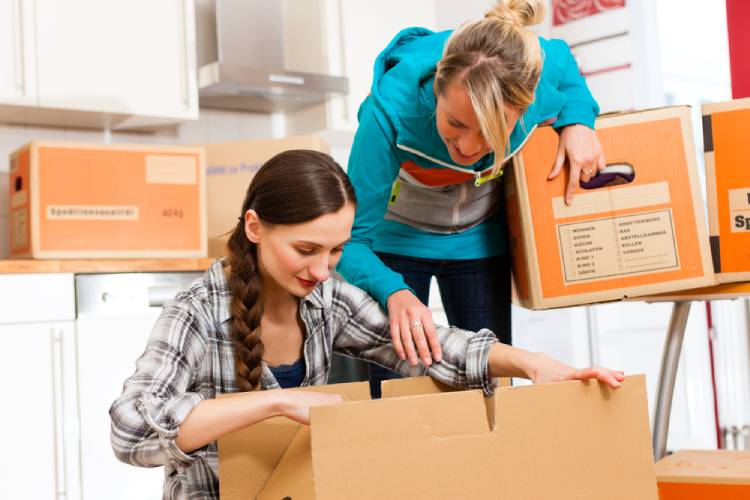 It's true that a kitchen can be the most challenging room when it comes down to packing and sorting. It holds the largest amount of breakables, sharp objects and tricky odd shaped appliances. This makes it tougher to pack in comparison to other rooms. You'll also have to go over time-consuming tasks like assembling items from a messy drawer of miscellaneous items, alongside time sensitive tasks like planning ways to finish up perishable foodstuff.
In addition to that, the room is anchored with some big electrical appliances that you can't imagine carrying yourself. Between wrapping your head around these projects, you would also have to factor in all the cleaning that comes into the picture. Well, without doubt, it can be an exhausting process to ensure everything comes together perfectly. Hence, we've got just the tips on dealing with these tasks, so you're ready to pack your kitchen for moving with ease.
Useful Tips And Tricks To Pack Your Kitchen For Moving
Phase 01: The Planning
Step 01 – Create An Inventory
Before you actually start with packing, we'd highly suggest making an inventory of the things you wish to take along with you to your new home. This way, you would be able to put a figure on the things you have and boxes you'll need. Try to create as many categories as possible. For instance, you can create a separate category for plates, pots, pans, glass items, heavy items, electrical appliances and so on. Your liquid breakables like sauce bottles and spices would come together in a separate section. Always try and bundle up items like that together.
We also suggest planning out your packing by first sorting out items that you use the least amount of times. This could be crockery sets, large size serving bowls, strainers, baking pans, serving trays and so on. Start packing these pieces a month or more in advance. Then slowly work your way towards items you use most often.
Step 02 – Prepare An Essentials Cabinet
Since you would still need to use your kitchen, we suggest that you create a cabinet of kitchen essentials. In this cabinet, put together things you need to use on a daily basis. Depending on your family size, you could set aside a fixed number of cutleries, plates, bowls, a pot and pan to prepare meals before moving day. It is also crucial to plan your meals so that you're utilizing all the food items readily available in your pantry. Lastly, don't forget to keep aside all the essential cleaning supplies out. Make sure you have a dishcloth, dish soap, sponge, rubber gloves and liquid spray for all the cleaning tasks coming your way.
Step 03 – Create A Donation Box
Purging is an important part of packing any room and your kitchen is no exception to this rule. While sorting out the inventory, there's a high chance that you'd find items that have never seen the daylight. And probably a bunch of expired items to throw away. Separate items to toss and those you've rarely used to donate it to charities running food services. A local goodwill would be happy to receive canned foodstuff, pots, plates or more. Domestic abuse shelters in particular also require household kitchen items. Put some thought into the items you're tossing away, since they could very well have a second life.
See also: 5 Charities for Donation Pick Ups
Step 04 – Deep Clean Your Kitchen
Tidying up your kitchen space is absolutely essential, so that you have a good staging area for packing. Make a schedule for tasks like scrubbing out the oven, cleaning the dishwasher, cleansing the toaster of crumbs, giving your coffee machine a good wipe, scraping gunk off your stove and so on. There might be other greasy items that need more time and the right cleaning supplies. So ensure that you have got the right tools ahead of time to keep your kitchen sparkling clean. A clean kitchen just makes packing much easier. Especially having a counter without clutter or stains would easily help you have a nice staging area. Wash all the lingering dishes in the sink and ones that have collected dust, so that these items are clean before getting into a box.
See also: Move Out Cleaning Checklist
Step 05 – Get supplies
Post cleaning, purging and donating, it's time to get your hands on the right supplies. Your supplies could be waiting for you at a Staples, Walmart, U-Haul, HomeDepot or even Amazon. You can also choose to visit a home improvement store in your vicinity for supplies. Before you step out to visit the store, we suggest looking at your inventory to understand the number of boxes you'll possibly need. A good rule of thumb is to get corrugated cardboard boxes in 3 sizes for the following reasons:
Small boxes – These are ideal for heavy and fragile items like canned foods, glassware, cookbooks and small porcelain decor pieces.
Medium boxes – Perfect for your large mixing bowls, pots, small appliances like your toaster, hand blender, deep fryer, sandwich maker and so on.
Large boxes – Pack all the big items that are also lightweight into the large box. In this box, you would basically have items that aren't fitting in the other boxes, such as baking trays, cutting boards, baking tins, dish racks and more.
See also: Types of Moving Boxes
Everytime you choose to put a set of items together in a box, keep in mind that you shouldn't be overpacking it. Lift the box to see if it's getting too heavy and take out items accordingly.
Other than boxes, you would also need to shop for packaging tape. If you like, you can get a tape dispenser that makes taping a tad bit easier. Most of your kitchen items can be packed in packing paper, but you would need to get a sheet of bubble wrap for the sensitive items like glassware. Both packing paper and bubble wrap would act as a cushion for the items before you put them in the box.
Here's what you'll need in a nutshell:
Small, medium and large size corrugated boxes
Unprinted sheets of packing paper
Packing tape or a tape dispenser
Markers to label the box and color coded stickers
Bubble wrap sheets for fragile items
Plastic wrap to seal the cap of liquid bottles
Phase 02 – The Execution
Now, the first thing you have to prepare while packing are the boxes. You don't want the bottom of your box to act as an escape chute for all the items you will be placing in it. Hence, we recommend to tape the box following the shape of the alphabet 'H'. You can also use the plus sign shape to tape the bottom. Once you've secured the bottom with tape, create a bed of packing paper at the base, which would work as cushioning for the fragile items. Now that your boxes are ready, you can begin to work on packing. Like we said earlier, the order to be followed is to start off with least used items and then make a move to pack the most used ones.
Below is a list of the categories of boxes you should be preparing at this stage, along with packing tips for each of them.
1. Fragile Items – Items like coffee cups, wine glasses, medium glasses, tall glasses, tea sets, shot glasses, cocktail glasses, porcelain decorative items, glass spice jars and so on come under fragile items.
Packing tip: For fragile pieces, we recommend creating excessive buffering for the items by using bubble wrap. Once you've wrapped them in a coat of bubble wrap, select a small size box to place similar items together. For instance, you could group all the tall glasses in one small box. Make sure there is some space at the top and lift the box to double check if you've overpacked it. Once you've done that, you can seal the box with tape and label it. If you're going to be packing a glass item that has a glass lid, tape the lid tight so that it doesn't come off. You can then continue to wrap it in packing paper. Ensure you're wiping each item before packing it.
See also: How to Pack Glassed for Moving
2. Cooking And Baking Tools – Can opener, measuring cups, storage jars, plastic containers, pepper grinder, tongs, ice cream scoop, stainless steel bowls, strainer, funnel, potato masher, cheese grater and more come under this category.
Packing tip: For items that fall in this category, you can fit the smaller equipment into plastic containers. Your ice cream scoop, cheese grater and potato masher could easily fit in one box with similar items of roughly the same size. Find pieces in the same shape to bundle together and neatly place it into a container. You can use a small size box or plastic container to pack these items as well. To an extent, you could place these items into bigger boxes that have lots of empty spaces and aren't filled completely.
3. Small appliances – Kitchen scale, coffee machine, pressure cooker, kettle, toaster, hand mixer, waffle maker and other such appliances come yogether to form this bracket of kitchen items.
Packing tip: After you've gathered all the small appliances in your house, try to figure out what would fit well together in a box. There's no harm in fitting 2-3 small appliances in one medium sized box. However, you have to ensure that each of them have been individually wrapped well enough with packing paper. Keep taping the paper sheet in place, since most of these items will come in irregular shapes. You can also choose to disassemble parts and wrap it separately. Use color coded stickers to mark parts of the same appliance so you can put the appliance back together without any hassle.
4. Big pots and pans – Make a category of pans, light-weight vessels, baking trays, loaf pans, huge pots, kitchen racks and other similar items you can find in your kitchen
Packing tip: Select a larger size box for these items. Once again, you would have to ensure each item is individually wrapped well. This prevents items from gaining scratches, since they would all be placed in one box. Like we said earlier, a large box is going to be tough to carry. So we suggest that you lift the box when you're halfway through packing it to confirm that it isn't getting too heavy. If the box is overpacked, chances are the bottom could break open. Apply 2 factors to understand if something should go into a large box. First is that it should be light-weight. And the second factor is that it should be an item that doesn't fit in a smaller box, simply because of its size.
5. Big appliances – Barbecue set, water purifier, food processor, rice cooker, ice cream maker and a deep fryer fall in this category.
Packing tip: When it comes to big appliances, ideally having the original box is the goal. But chances are you've discarded the box. In that case, you would need to mimic the way these appliances were packed originally. In order to do this, you would first need to figure out the parts that are removable. Always pack the disassembled pieces separately, this makes things much easier. Also, because you'll need to do a heavy duty cleaning of these items, try and start packing these items in advance so that it doesn't get too taxing.
6. Miscellaneous items – In this section, you would have serving spoons, forks, rolling pin, whisk, grilling tools and other tiny items.
Packing tip: Now these are probably all the items that you threw together in a drawer and you wish you could do the same when it is time to pack them. However, please control yourself from doing so, since this could damage your miscellaneous items. To pack items like the ones mentioned above, you can wrap them individually with a sheet of packing paper. Post that, place them in plastic containers or a moving carton. You can group together spoons and similar forks in bundles if you like.
7. Sharp items – Steak Knives, all kinds of utility knives and kitchen shears would come under sharp items.
Packing tips: When it comes to packing knives, you have to be careful that kids are far away from your reach. Try to create a safe space to avoid any mishaps from occurring. Ensure that sharp items are getting an extra layer of padding with a cloth or towel, since these items can easily penetrate through packing paper. You can also stick to using bubble wrap for these items. Once you've wrapped it sufficiently, you won't be able to tell which is the sharp side. Hence, use a colored sticker to indicate where the sharp side of the knife falls. All sharp objects must be placed in a separate box that you can label as 'Handle With Caution'
See also: How to Pack Knives for Moving
8. Food items – Canned foodstuff, pasta packets, rice, cereal, cake mixes, dog food (in case you have a pet), oats, oil cans and other items you store in your pantry come in this category.
Packing tips: When it comes to perishable foodstuff, ensure that you're trying to finish up as many food items as possible. Prepare ways in which you can use these ingredients in your meals. This way, you don't necessarily have to make a plan to pack them, since there's a high chance of them getting spoilt. If this is going to be a long distance cross country move, you would need to donate unused food cans, since you won't really have the option to take these along. If it's a short distance move, use ziplock bags to store them and duct tape to seal the lids of open containers. The plastic cling wrap also comes handy for sealing lids. We suggest using grocery bags to wrap food products before placing them in small size boxes.
Key Takeaway: You can use the above list to understand the number of categories you would be dealing with. Depending on the way you've styled your kitchen, it's understandable that there could be more categories for you to create. To sum it up, you need to create a schedule for cleaning, sorting out similar items, wrapping, sealing boxes and lids.
Things To Keep In Mind While Packing Your Kitchen For Moving
Don't forget to clean out and empty your fridge. Your fridge needs your special attention as you get closer to moving day. To avoid moulds or leaks, defrost the fridge 48 hours before the move.
Always label each box with a short description of the things inside. This helps a ton when it's time to unpack.
Consider taking professional help for lifting and packing tricky items.
'Well begun is half done', which is why you must begin the process early so that you're not overwhelmed with the tasks that lie ahead.
Always bundle up similar items together and use the russian doll stacking method for various sized bowls.
Double check all the cabinets and drawers before sealing the last box to make sure you're not leaving anything behind.
See also: Best Movers and Packers in America
---
Conclusion
Packing your kitchen is not the easiest room to tackle. But the key to making progress with it is breaking things down into bite size manageable tasks. Work on categories for everything you'll be packing like we've done above. This way, you can empty out your kitchen one category at a time. Lastly, plan ahead so that you have enough time to pack appropriately. If you keep everything for the 11th hour, the added stress will only make the entire moving process all the more hectic, resulting in your efforts going in vain. So plan well, and reach out to experts wherever needed. We can help you pick the right moving companies that are cut out for the job.
Frequently Asked Questions
What is the best way to pack a kitchen for moving?
The best way to pack your kitchen is by making an inventory and listing down every single item in your kitchen that you want to move. You can wrap all your utensils in a packing paper and place them in a single box and the fragile and large items can be packed separately with the help of bubble wrap or foam sheets in a special kitchen moving box. The appliances, depending on their size and weight, would likely require wooden crates or services of a moving company to help you with the same.
How do you pack dishes for moving without paper?
You can use bubble wrap instead of packing paper to wrap and pack your dishes. Other than that, you can also use your old towels, cloth or shirts to wrap and pack your dishes. But make sure your cloth is clean and dry and without any print on it as it can leave stains on your dishes.
How do you pack fragile items for a moving kitchen?
The best way to pack fragile items is to keep them in a special moving box. Firstly, you need to prepare your moving box by securing the button of the box with packing tape. Create a soft cushioning at the bottom of your box using lots of crumpled paper. Wrap each of your items like glasses, dishes or vases separately in a plain packing paper or bubble wrap and secure it with a packing tape. Place your items in the box and check for any empty spaces. Finally, close the flaps of the box, seal it with a packing tape and don't forget to label the box.
How do you pack pots and pans for a move?
You will need medium or large size moving boxes to accommodate your pots and pans. Create a soft bed for your items by placing lots of crumpled paper inside the box. Start with your large pots and then stack the smaller ones inside them. Don't forget to place a sheet of packing paper or foam sheets between them. You can fill in the gaps in the box using crumpled paper or old towels. Finally, check your box and then seal it with packing tape.
What do you wrap dishes in when moving?
Dishes are fragile and can break easily, that's why you need to pack them carefully. You can stack them on each other, but don't forget to place a foam sheet in between them. Wrap them with bubble wrap and secure it with packing tape. The best way to move them is by keeping them in special dish pack boxes, just make sure you keep them vertically.
What can I use instead of a newspaper pack?
You can use bubble wrap or your old shirts, towels and bedsheets instead of newspapers. These things can be used to wrap your items or to create a soft base in your moving box to place your items.
What is the best way to pack pots?
To begin with, make sure you clean all your pots before packing them. Prepare your moving box by using crumpled paper or your old shirts to create a soft cushioning for your items. Start by placing your large pots and then stack the small ones inside them. Make sure you keep some brown paper or plain packing paper between each pot. Fill in the gaps with crumpled paper balls and seal it with packing tape. Wrap the lids of your pots separately with packing paper and keep them in a separate box.
Should you wrap pots for moving?
Your pots and pans should be packed carefully as these are some of the most important cooking supplies. Pots and pans should be wrapped together with the help of plain packing paper. Make sure you pack their lids separately. You can use special moving boxes for your pots and pans and smaller boxes to pack the lids and other smaller items separately.