Make a Master Moving Plan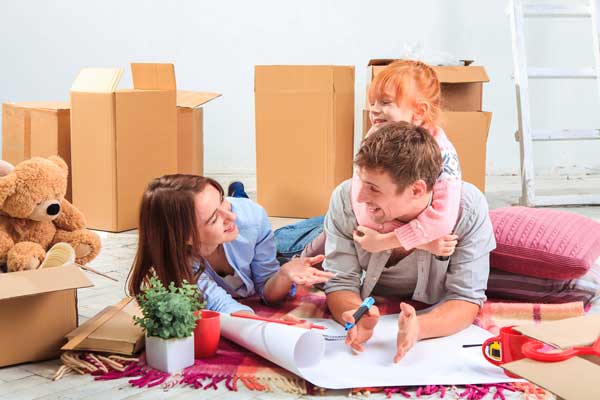 You almost don't want to sign the mortgage papers. It means you'll have to pack out your old house and unpack in a new one. It means paper, boxes, Sharpies, and mess. There's no getting around it, though. What you need is a master checklist with every last little thing to do before the move. What luck that you're reading one right now!
Before you buy the first box or roll of bubble wrap, buy a pen, notebook, and pocket file folder. Into the pocket file folder will go the contract with the moving company, receipts for moving supplies, papers being transferred from old house to new such as utilities.
The notebook will hold lists of boxes and their contents. It will hold lists of moving companies and their prices and timelines. It will hold notes on the items on this master checklist, and anything else you care to note.
Eight Weeks Before Moving Day
Research moving companies. Check the Department of Transportation or DOT number of each and every moving company. Check to see if they're bonded and insured, if you're moving out of state. Ask for estimates, then judge who will give you the best price.
Read over all the moving documents. This is important if anything happens on moving day. You'll be prepared to deal with it, because you read it in the moving papers.
Take moving day off from work. If you can, schedule moving day for a Friday. This will give you a full weekend to get organized before beginning your new job on Monday.
Sit the kids down and explain the move to them. They'll be upset about leaving their friends and everything they know. Show them you understand by having their friends over for movie night and explaining the move to all of them.
Ask the kids' friends for ideas how to stay in touch. For instance, they could ask their parents if they can use their parents' Skype account. Get the kids excited about attractions and things to do in their new town on the Internet and on the attractions' Facebook page.
Finally, if it's possible, take your pets to the new house. They know something's up, and are possibly uneasy or plain frightened about something they don't understand. Pets get scared, too, and you need to reassure them.
They'll feel easier if they see their food and water dishes in the same place they were in the old house. Place their beds and toys in the same places they were in the old house. Let them roam the new house and get used to it. When moving day happens, they'll happily romp through the new house, because they know it now.
Six Weeks Out
With notebook in hand, sort through belongings, beginning with bedrooms. Note how many boxes you will need for each room including wardrobe boxes and boxes for bed linens, comforters, and pillows. Note which linens will be used for packing around electronics and kitchenware like dishes and glassware.
Allocate three boxes for donations to Goodwill or Salvation Army, items to be sold in a yard sale, and items to go to family or friends. After noting the above, begin separating things to go into these boxes. Hold your yard sale, taking whatever is left to Goodwill, family, and friends.
Book hotel rooms and plane tickets, if you're moving out of state. Place a GPS device like a phone in one of the boxes in case the truck gets lost. Buy packing supplies. Confirm the moving date with your moving company.
Four Weeks Out
Obtain records from doctors, schools, lawyers, banks and other financial institutions, as well as the DMV. Keep these in your pocket file folder which will go with you in the car or on the plane. Change your address with these places.
Spend time with friends and family before you move. Get pictures and Skype addresses. Help the children find ways to keep in touch with their friends such as Facetime. Give them plenty of chances to see their friends before you leave.
Begin packing things you don't use or wear every day such as seasonal items and sporting equipment. Pack yard equipment and yard furnishings like deck tables and chairs, cleaning them as you pack them. List them on your master inventory list and note which boxes they're in. Label them with colored Sharpies or packing labels.
Pack valuables in specific boxes to go in the car or plane with you. Take pictures of them that will stay with you. Note these on the master inventory list.
Set aside linens, socks, and thick winter coats for packing and cushioning dishes and electronics. Pack a few boxes every day so you aren't left packing out the whole house the day before moving day.
As you empty rooms, clean them before closing the door to signify it's empty. Clean the tops of windows and doors, dust the baseboards, wash windows, and sweep floors. Dust the shelves in closets. Repair any marks on walls or flooring and remove any stains from carpet. Polish hardwood floors.
Three Weeks Out
Time is getting down to the wire now. You've gotten all the paperwork you need in your pocket file folder and changed your address. Check in the new city for doctors, vets, schools, lawyers, and note where the DMV is located. Change over the utilities, making special note of the turn-on date in the new house and the turn-off date in the old.
Confirm your moving date with the moving company once again as well as any flights and hotel reservations for the trip.
Begin emptying the freezer and fridge of open or unused food. Donate them to a homeless shelter in your town or a church with a food pantry. Prep meals for the remaining time that you're sure will be consumed. Pack up the kitchen and use paper plates and plastic flatware and cups for the remaining time you're in the house.
Make arrangements to transport pets and plants, or give plants to neighbors or family. Properly dispose of flammables like paint and paint thinner, gas in the lawn mower and leaf blower, nail polish remover, aerosol cans, and cleaning fluids. Moving companies aren't allowed to take these and other flammable liquids on the truck.
Two Weeks Out
You should have the majority of the house packed out. All that should be left is every day clothing, items you use every day like personal grooming items, some kitchenware, and food for pets and people.
Back up your computer and keep the thumb drive on your person or in a box or bag that goes with you in the car or on the plane. You'll be glad you did if anything happens to your computer.
Empty your safe deposit box as well as lockers at the gym. Fill prescriptions. Return library books. Transfer your home insurance to the new house. Change your address with online shopping sites or services you use such as Amazon or PayPal.
Research doctors, lawyers, vets, plumbers, and electricians in the new town. It wouldn't do to have a ruptured pipe or sparking electrical outlets in the new house where you know no one who can help. Research the best routes to your new job and set your Google Maps or GPS on your phone.
Time is getting short now. See all the friends you and the children can. Take plenty of pictures and perhaps record conversations where you IM people. Give your pets a chance to be with their own friends at the pet park or at friends' homes one last time before you move.
One Week Out
This is going to be an emotional week. Not only will you be dealing with things going wrong (if they do,) but you'll deal with the emotions of friends stopping by for one last cup of coffee and a hug. It will be harder on the children, though, so talk with them a lot to help them work through it.
Call to confirm your moving truck on the moving date as well as any plane and hotel reservations. This is the week you don't want those things to go wrong.
Complete your packing with an eye toward being completely packed out the day before moving day. Pack a "first day" box for the first day in the new house. In it should be personal grooming items like toothpaste, toothbrushes, floss, mouthwash, soap, towels and washcloths, shavers, hairbrushes and combs, toilet paper, paper towels, the paper plates, plastic flatware and cups, dish soap, trash bags, and like items. Pack some food for the first day.
Keep this box with you in the car or on the plane. It wouldn't do for the truck to get lost and you not have everything you need.
Moving Day
It's finally here! Direct the moving truck as it backs up to the front door or the garage door. Park a kid at the front door to make sure it remains wide open for ease of truck loading. Keep the pets in a room with the door closed so they won't get in the way. Put a child in the room with them to keep them calm.
Clean the rooms in which the boxes and furniture were placed for ease of truck loading as they're emptied out. The truckers are on a schedule, so this won't take long. Do one more walk-through to make sure you got everything. When the house is empty, leave the keys on the kitchen counter, lock the windows and doors, and put your pets and kids in the car.
Have some food on hand, perhaps pizza or chicken which would be easier to nibble during work. Get plenty of bottled water. Use trash bags to clean up the mess. Remember to take out cash to tip your movers. Activate the GPS in a box on the truck.
The New House On Moving Day
Your new house should have been cleaned when the former owners moved out. However, moving in is going to be a mess of kids and pets running around, boxes, packing paper, bubble wrap, and more boxes. You'll need those trash bags. You'll need to collapse the boxes and bundle them for recycle to pick up.
You don't have to unpack every box the first day. Take some time to enjoy the new place with the kids and your pets. Enjoy the view from the windows and deck/patio. Play games together in the yard. Admire the trees. How far up can you climb?
Walk the neighborhood to meet your new neighbors. They'll come outside to pet your pets and meet you and the children. The kids can begin making new friends this way. Oh, yes, deactivate the GPS in the boxes.