Leaving Jacksonville? 5 Best Places to Move from Jacksonville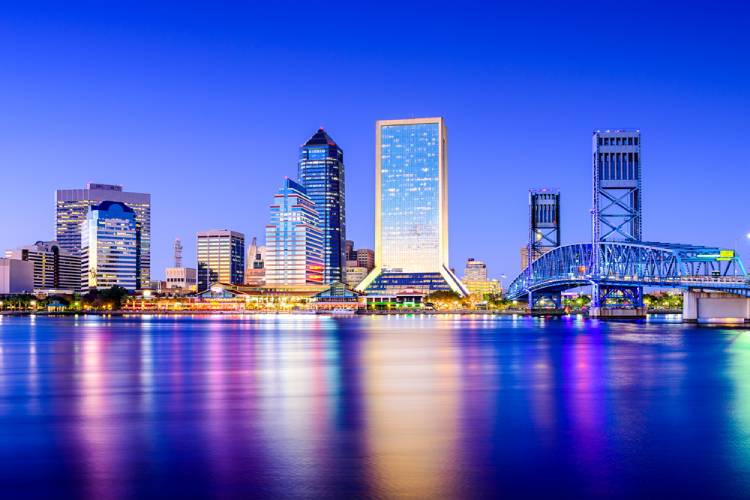 The Floridan city of Jacksonville has long been the center of attention for residents and people from beyond the state boundaries. Being a hub of tech industries, there is no doubt people here have enjoyed a good work-life balance. The street arts and coastal cuisines fit the description of an ideal city. And with some of the largest nature park trails in the entire country, Jacksonville has proved to be among the top cities in the entire state. Then what is it that is driving people away from Jacksonville?
The first and foremost reason is the high crime rate in the city. Jacksonville fairs well than just 10% of the other U.S cities when it comes to being a safe place to reside. The intense summers here are no joke either. Since the city is close to the coast, hurricanes often arrive announced and cause quite a bit of damage. So, if you find yourself conforming to these reasons, refer to the below list of the best places to move from Jacksonville.
5 Best Places To Move From Jacksonville
Naples
Tampa
Sarasota
Atlanta, Georgia
Chattanooga, Tennessee
Naples
This small city in Collier County has become one of the top destinations for families and retirees. It has all the amenities and leisure activities that one looks for in an ideal city. Safety is one of the most significant advantages of relocating from Jacksonville to Naples. According to Neighborhoodscout data, the city of Naples is safer than 40% of the U.S. cities as opposed to Jacksonville which is safer than just 10% of the cities nationwide.
One of the many reasons retirees find it convenient to spend the rest of their lives in Naples is the golf courses! These green patches are filled with people riding golf carts and enjoying a nice swing. The high-end stores around here also see a myriad of celebrities out in the flesh, buying a thing or two. Apart from that, the top-tier wining and dining options in the city provide the perfect lavish lifestyle you'd hope for. Also, a city in Florida is bound to be filled with exotic beaches and Naples is no exception with its white-sand beaches.
Not just respite, but the city also checks all the boxes of a metropolitan area. Naples ranks among the cities with one of the highest per capita incomes in the entire country so the high housing costs shouldn't be much of a problem either. If we talk about education here, the excellent schooling systems will take good care of your little ones and their aspirations. The Collier County School System is responsible for providing such good quality education in the city. Tourism is one of the strong points of the city, it is a no-brainer that you will find tons of popular attractions here. The Everglades National Park, Florida Panther National Wildlife Refuge, and the Corkscrew Swamp Sanctuary are some of them.
Downsides:
While you will enjoy abundant sunshine chilling on the beach, the rains are something that might be a turn-off from time to time. However, the precipitation doesn't exceed 2-3 inches per month either.
Population: 22,280
Median Home Value: $546,180
Monthly Rent: $2,260
Median Household Income: $107,020
Unemployment Rate: 3%
Best Neighborhoods To Live In: Park Shore, Old Naples, Pelican Bay, and Aqualane Shore.
Another family-friendly city that makes the list is Tampa. The city has seen a huge influx of people looking for a change of pace. A good work-life balance is also something which you will find in the residents here. With a myriad of outdoor activities to enjoy all year round, no wonder Tampa generates big revenue in the tourism sector too.
The residents here enjoy an affordable cost of living and Florida's no-income-tax policy only makes it easier. Since you're going to be saving quite a few bucks, the nightlife in Tampa could be a great place to splurge some of it on. Every dollar you put down will be absolutely worth it as the bar, restaurants, and clubs have a vibe of their own and an excellent place to socialize too.
Moving in with the kids? You won't need to fret about what school to send them to as the city is blessed with top-rated schools that provide good quality education. Both public and private schools have a good reputation across the city. All work and no play make Jack a dull boy which is why you need to take your kids to all the exciting attractions in Tampa. You can start with the ZooTampa at lowry park where you will find a variety of animals and a lot of fun activities too. The Glazers Children's Museum will keep your little ones entertained for sure.
Downsides:
There is not a place in Florida where you can completely ignore the humidity. A coastal city like Tampa is also one of them. Apart from the beach city heat, the Home Owner's Association (HOA) can be a real buzzkill during your time in Tampa. To avoid the complications that may arise, make sure you do your research before renting or buying a house.
Population: 407,120
Median Home Value: $387,140
Monthly Rent: $1,840
Median Household Income: $53,850
Unemployment Rate: 3%
Best Neighborhoods To Live In: Hyde Park, Downtown, Ybor City, and Seminole Heights.
Somewhere on the southern coast of Florida is a beautiful and culturally diverse city called Sarasota. Having earned the reputation of a recreational galore, there is no shortage of outdoor activities in this city. If we take into consideration the livability conditions, Sarasota ranked among the top 10 Best Places to Live in the U.S. as per the U.S. News & World Report 2021.
This Floridan city's high-quality healthcare system is the reason why many retirees find abodes here regularly. With beaches a stone's throw away, you will always have access to the pleasures of walking on clean white sands and playing in pristine clear waters. Another perk of living in Sarasota is that you get free entry and parking at every beach. That alone is reason enough to relocate here because the last thing you want to pay for after spending a fortune on gas is parking! Being surrounded by waters, activities like fishing, boating, skiing, and surfing are always happening around here.
Other fascinating amenities here have a lot to do with arts and music. Ballet, opera, live music, and famous museums to name a few. The city is also blessed with good schooling opportunities and houses the Pine View School which is ranked among the best 30 schools in the entire country.
Downsides:
Moving from Jacksonville to Sarasota will see you spend a little extra dollars as the cost of living and the house prices fall on the expensive side of the spectrum. However, the kind of amenities you'll be experiencing here will make the relocation worthwhile.
Population: 59,915
Median Home Value: $447,025
Monthly Rent: $2,140
Median Household Income: $53,680
Unemployment Rate: 2.6%
Best Neighborhoods To Live In: Southside Village, Fruitville, South Sarasota, and Laurel Park.
Also read: Best Places To Retire In Florida
Atlanta, Georgia
The beach vibe of Florida sure is calming but nothing beats the peace of living in a place that is surrounded by mountains. One such city is Atlanta. Your morning coffee sessions are going to be all the more pleasing with breathtaking views right outside your window. The aesthetics of this city are not limited to the scenery. Atlanta is a melting pot of arts and music festivals that attracts artists from all over the world. Its lavish nightlife and energetic sports culture will completely absorb you.
The economic side of the city is equally flourishing. It is home to a number of Fortune 500 companies which include your famous Coca-Cola company. Various fields like media operations, aerospace, information technology, film & television, and logistics help generate sizable revenue for Atlanta. The housing market is also something that is not too heavy on the pocket in this part of the country. You will have the option to choose from affordable to high-end luxurious neighborhoods depending on your requirements. Plus, the friendly locals with help you blend in within no time.
Lastly, the one striking quality that makes Atlanta stand out is its perfect blend of concrete buildings and lush green open spaces! So, moving here will be a great choice doesn't matter if you're single or with a family.
Downsides:
The downside to living in this city has to be the lack of public transportation which compels residents to own a car to move around. This also leads to a lot of traffic congestions which only adds to the misery.
Population: 532,700
Median Home Value: $403,375
Monthly Rent: $1,815
Median Household Income: $59,960
Unemployment Rate: 3.8%
Best Neighborhoods To Live In: Cabbagetown, Inman Park, Old Fourth Ward, and Buckhead.
Also read: Moving From Florida To Colorado
Chattanooga, Tennessee
Moving a bit farther from Florida to the state of Tennessee, you will find this lightning-fast city of Chattanooga. Why such a name you ask? The city is known to have the fastest internet network in the entire country. This is also one of the reasons why many entrepreneurs and tech enthusiasts are relocating to Chattanooga.
If you are on a tight budget and want a simple yet decent lifestyle to spend your days in, Chattanooga's affordable cost of living and house rates will take good care of that. The no-income-tax policy of Tennesse certainly helps the case even more. The low expenses doesn't mean that there is nothing to do in the city. It is actually the opposite here. Your eyes will never get tired of marveling at the astounding scenic beauties this place has to offer.
The fact that Chattanooga is located at the foothills of the Appalachian Mountains is an added bonus. Try your hand at rock climbing or rock those new shoes and go trekking! Since the city is filled with a relatively younger demographic, it is safe to say that the nightlife here is going to be as vibrant as it can get.
Though the average cost of living in the city is pretty inexpensive, you still have the option to move to some of its upscale neighborhoods if you can afford it. Martin Luther King (MLK) and Lookout Mountain are a couple of them. You can experience the Jazz culture and sip on amazing craft beers from the numerous breweries in these areas.
Downsides:
There are a few cons to living in Chattanooga. Some of which include a higher than national average crime rate, not that great public schooling system, and the frequent heavy downpours the city experiences.
Population: 185,450
Median Home Value: $263,380
Monthly Rent: $1,250
Median Household Income: $45,540
Unemployment Rate: 4.6%
Best Neighborhoods To Live In: Lookout Mountain, Signal Mountain, Ooltewah, and Downtown.
Conclusion
There is no denying that the kind of lifestyle the Floridan city like Jacksonville offers is up there with the best cities in the country. However, when the cons of living in a place start to outweigh the pros, it is time for you to start looking for other options. The above list of cities is aimed at helping you narrow down your search for the ideal place to call home.
Also Read: 7 Best Moving Companies in Jacksonville
FAQs On Best Places To Move From Jacksonville
How Far Are Tampa And Jacksonville?
The distance separating Tampa and Jacksonville is about 200 miles. You can take the I-75 N Highway to traverse this distance which would take nearly 3 hours.
What Are The Cons Of Living In Jacksonville?
The city of Jacksonville has a few downsides to it. Few prominent ones include the increasing crime rate, the skull-scorching summers, and destructive hurricanes. Apart from this, the lack of good schooling systems makes it difficult for families with kids.
Does Jacksonville Smell?
Jacksonville has had an infamous reputation for being one of the smelliest cities in the country. The stretch of Talleyrand Avenue is responsible for the most part of it among other factors.