Leaving Atlanta? 5 Best Places to Move from Atlanta


VanLines Inc
Secure Storage
Easy Booking Process
Fully Trained Employees
GET QUOTE

Colonial Van Lines
Storage Services
Long-Distance Moves
Corporate Relocations
GET QUOTE

Moving APT
Available Nationwide
Award-Winning Movers
Extensive Vetting Process
GET QUOTE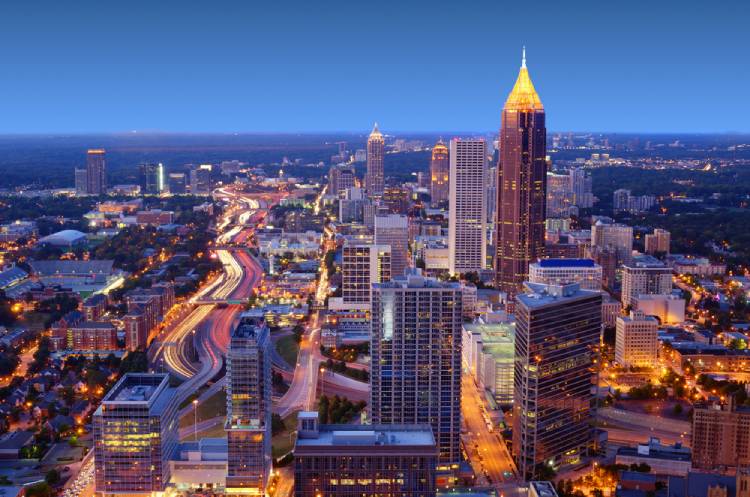 If you live in Atlanta, Georgia, and have gotten tired of waiting in traffic for hours during the sweltering summers, you aren't the only one. In the past few years, people of the city have been moving out for various reasons.
The never-ending traffic jams during the peak and after peak hours are just straight-up terrible to deal with. You also have the summer heat that can be really harsh during the months of July and August. These things have also led to the air quality of the city deteriorating by the day. The urban sprawl in the city can also get very difficult to deal with, along with the scarce entry-level jobs. All of these factors combined have contributed to many people leaving Atlanta and moving to neighboring cities. If you want to leave Atlanta, we do have a list of 5 cities that you may want to move to.
5 Best Places To Move From Atlanta
Athens, Georgia
Athens is a city in Georgia that has been popular among families, students, and even older, retired people. The city has a small-town vibe with amenities of a modern and upbeat city where the people celebrate the culture and music in the form of festivals. The city has a pretty lively environment with an energetic nightlife, the best local food places, bars, and restaurants, along with the many other benefits of living in a college town. There are also ample green spaces spread across the various neighborhoods in Athens that help you breathe fresh air and keep the pollution a bit low.
If you're looking to buy a house, Athens has a variety of housing options available. Plus, the market is not very competitive and you'll find plenty of affordable options as well. Along with housing, the cost of living is also lower than the national average in Athens. But, when you compare both the cities, they have a cost of living that is lower than the national average by exactly 1%. This means that when you move from Atlanta to Athens, you'll be spending almost the same amount of your salary on your basic expenses. The sales and property taxes are also lower than the national average in the city. All of these things combined make Athens an affordable place to live in.
Downsides: Living in Athens has its own set of downsides that include a higher income tax rate. A higher income tax rate means you'll be spending a bit more of your salary paying it off. There's also the competitive rental market that makes renting a property a bit difficult here. This has also led to an increase in property crime rates.
Population: 130,087
Median Home Value: $290,650
Monthly Rent: $1,120
Median Household Income: $41,968
Unemployment Rate: 2.9%
Best Neighborhoods To Live In: Five Points, Downtown, Chicopee-Dudley, Normaltown, Timothy Road, Cobham, Boulevard, and Chicopee-Dudley
Decatur, Georgia
With the traditional small-town atmosphere, low-key vibe, and the sophisticated and exciting nature of a college town, Decatur is one of the best and fastest-growing cities in Georgia that you can move to from Atlanta. Tree-lined streets and amazing schools and colleges that provide quality education are something that draws families with children to the city. Education from primary to secondary and higher levels is top-notch in Decatur. The city also has public and private libraries located in various locations within the city.
Decatur also has extensive employment opportunities. So if you're a newbie to the system or even want to explore your career options, you can look for jobs in the education, finance, healthcare, hospitality, manufacturing, and food production sectors. These are some of the leading industries that provide job opportunities to the residents of Decatur. In the city, there's an abundance of outdoor activities, festivals, and entertainment happening throughout the year that will give you ample things to enjoy and have fun.
Downsides: Living in Decatur you'll notice that it's a bit detached and aloof from the rest of the cities in Georgia. It's also not close to any major highways that connect it with the rest of the cities in Georgia. You may have to drive a few hours before you reach any of the neighboring cities. This is also because the traffic scene is not the best. Like Atlanta, Decatur too faces traffic congestion throughout the day.
Population: 25,817
Median Home Value: $250,248
Monthly Rent: $1,210
Median Household Income: $114,613
Unemployment Rate: 3.4%
Best Neighborhoods To Live In: College Heights, Ponderosa, Oakhurst, Westchester Hills, Downtown, Glenwood Estates, Laurel Ridge, and Belvedere Park
Canton, Georgia
Canton is also one of the safest cities in the state and you'll find ample neighborhoods that are great to raise a family in. The crime rate here is lower than the national average by a marginal difference. This means that your chances of being a victim of any kind of crime are very low. You also have the opportunity to work in companies such as Hydro-Chem, Belnick, Inc. PlayNation, Universal Alloy, Piolax Corporation, and Morrison Products, Inc. These are some of the top employers in the city that offer you entry-level as well as higher-level opportunities.
Families with children have been drawn to the Cherokee County School District in the city. This school county is known for the strong education program that they have for students of the city. Liberty Elementary, Freedom Middle, and Creekview High are some of the best local schools located in the school district in Canton. You'll definitely find more than enough places to eat and do fun things close by in the city.
Downsides: Canton has a cost of living that is on the higher spectrum of the scale, which means that living here is not going to be the most affordable. So buying or renting a house, paying your utility bills, food, healthcare and all of the other monthly expenses are going to be higher in Canton.
Population: 34,326
Median Home Value: $444,128
Monthly Rent: $1,648
Median Household Income: $73,823
Unemployment Rate: 2.4%
Best Neighborhoods To Live In: Grand Oaks, Prominence, Summer Walk, Copper Hills, Union Hill, Bridgemill North, River Green, Macedonia, Towne Mill, and Hampton Station.
Orlando, Florida
Orlando is a city with a tourism industry that is better than NYC. The tourism industry in this city is blooming and is generating income that has led to rapid economic growth throughout the city. This also allows the locals the opportunity to engage in outdoors all year round and have fun. You have many parks, camping spots, theme parks, zoos, walking trails, hiking and trekking trails, and boating locations spread well across Orlando, which is one of the best things about the city.
Other than the tourism industry, you also have the healthcare, hospitality, transportation, government, aerospace, defense, entertainment, and education sectors that have been providing employment opportunities. So when it comes to the economy and employment in Orlando, the scene is pretty much sorted. Besides, the city also has a decent transportation system, an affordable real estate market, and even a low cost of living. All of these factors combined make Orlando a good choice to move from Atlanta, with ample opportunities for all.
Downsides: Orlando faces some serious tropical storms, hurricanes, and tornadoes that occur occasionally. You may need to get insured for these natural disasters as they cause quite a great deal of damage. Orlando also has a history of sinkholes that you need to be mindful of. Alligators, mosquitoes, and cockroaches are some of the bugs and animals that you need to be careful about. Don't be surprised if you spot random alligators crossing the roads because that can be a sight in Orlando!
Population: 292,065
Median Home Value: $354,262
Monthly Rent: $1,847
Median Household Income: $80,984
Unemployment Rate: 3.4%
Best Neighborhoods To Live In: Lake Como, Rose Isle, Lake Eola Heights, Delaney Park, Lake Davis, Baldwin Park, Greenwood, Audubon Park, and College Park
See Also: 7 Best Neighborhoods In Atlanta For Singles And Young Professionals
Jersey City, New Jersey
Jersey City is one of the cities that offers you white-picket-fence-living, which symbolizes the perfect middle-class suburban life. The quality of life in this city is one of the best in the country. Even after being the big city that it is, the property and violent crime rates are comparatively lower than the national average in Jersey City. You have safe neighborhoods to live in and also some family-friendly places where you can raise your family in. Being in close proximity to New York, Jersey City also enjoys easy accessibility to many of its neighboring cities. You also have an array of outdoors, restaurants, clubs, parks, gardens, and other places that you could go to.
Jersey City is a city that has something for everyone, from job opportunities for freshers to a comfortable life for the retired. However, the cost of living in this city is on the higher end and can get a bit heavy on your pockets. The city has some of the best universities and schools in the nation that are a huge attraction among families. People from all over the country fly here for higher education and enroll in universities such as Jersey City University, Seton Hall University, and Stevens Institute of Technology.
Downsides: The cost of living in the city is going to be much higher compared to Atlanta. Right from your food, groceries, utilities, internet, transportation, and healthcare down to your rent and even buying a house is going to be really high here. That is one thing that you need to account for when you move from Atlanta To Jersey City. The city is known for being the one with the highest property tax rates in the country. Renting here is going to be comparatively much more expensive than in the rest of the country, so that's an added expense that you need to account for.
Population: 9,200,000
Median Home Value: $446,568
Monthly Rent: $3,152
Median Household Income: $85,245
Unemployment Rate: 4.6%
Best Neighborhoods To Live In: Princeton, Hoboken, Saddle River, Avalon, Franklin Lakes, Sea Girt, Haddonfield, Alpine, Stone Harbor, and Fair Haven
Summing Up
Moving out of your house to a new city or even a state can be very challenging and we know it. But, if you want a change of pace, lifestyle, opportunities, and things to engage in, you must make that move and settle in a city that gives you all that you need. When you're considering leaving Atlanta, the aforementioned cities are places that might be a good choice to consider. Some of them have ample opportunities while some have a low cost of living and others have a better lifestyle and educational opportunities. If Atlanta has been a city that you need to get out of, you can move to any of these five places.
See also: 7 Best Moving Companies in Atlanta
FAQs On 5 Best Places To Move From Atlanta
Should I Live In Canton Or Atlanta?
Both Canton and Atlanta are cities in Georgia that offer you ample opportunities. Living in Atlanta, life can get stagnant, and some of the industries are struggling which has resulted in people moving out. Canton, on the other hand, has good housing options, educational and job opportunities, and low crime rates. If these things interest you, Canton might be the place you prefer over Atlanta.
Where Are People Moving From Atlanta?
The people of Atlanta have been moving to the neighboring cities of Decatur, Canton, and Athens. Other than these cities within the same state, you also have cities like Orlando in Florida and Jersey City in New Jersey, where the people of Atlanta have been moving to in the past years.
Why Are People Moving From Atlanta?
People with families have been moving out of Atlanta, Georgia, for better educational and job opportunities. Some have been moving to a quieter city with low-key living while some others just need a change of weather. Some other reasons why people from Atlanta have been moving out are the terrible traffic conditions, limited outdoor opportunities, and lack of quality lifestyle.