Leaving Dallas? 5 Best Places to Move from Dallas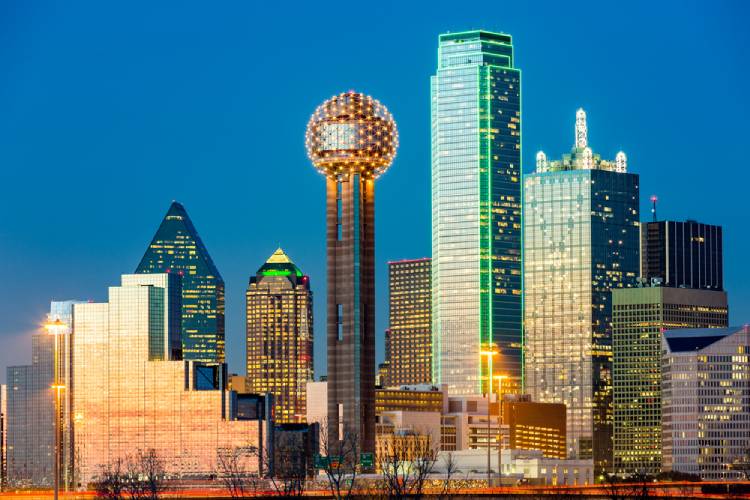 Home to vibrant culture and art, the Texan city is certainly one of the most loved cities. Even with all the commercialization, it has maintained its authenticity and old-world Cowboy charm. Though great for the most part, Dallas has become increasingly populous and expensive over the years and we understand if you are contemplating a move.
If you haven't finalized the city yet, we are here to do the ground research for you. Now that you are planning to leave the Big D, here are our 5 picks that can become your ideal destination to create a nice new life.
5 Best Cities To Move To From Dallas
Houston, Texas
Austin, Texas
Lubbock, Texas
San Jose, California
Atlanta, Georgia
Houston, Texas
The greatness and livability of Houston are no secret. The city has consistently made its appearance in almost every list that talks about the best cities to live in The Lone Star State. If you love the Texan vibe and just want to shift cities, Houston can be your best bet. Not only you will be able to find the change you are looking for, but you have the opportunity to retain the benefits, culture, and lifestyle you had in Dallas.
If you make the move to Houston, you will find many people who moved to Houston from Dallas. You will get a sense of community and familiarity along with one of the most friendly people and a diverse population. Everyone wants to raise a family in an inclusive and diverse community hence Houston can be a perfect fit if your move includes your family. It is known as the "Space City" because of its contribution to the field of Science and technology hence education and job market are pretty solid in Bayou City. The city of Houston also has various affordable and safe neighborhoods with parks and great schools in close proximity.
Moving to Houston will also reflect positively on your bank account because, in terms of cost of living, the city of Houston is 5.3% cheaper than the city of Dallas. The interesting part is that even though Houston is more populous and larger as compared to Dallas, the crime rate of the city is lower than the Big D. So, a move to Houston can literally be said as a move towards bigger and better things and that's an upgrade everyone needs and deserves, right?
Downsides: Houston is larger as compared to Dallas which certainly has its own perks but downsides too. The traffic and population in Houston can be a big downside for you if you prefer a quiet and less chaotic life. The daily commute can be a big hassle when you make the move but we are assuming that living in Dallas might have prepared you well for that.
Population: 2,325,353
Median Home Value: $84,179
Monthly Median Rent: $1263
Median Household Income: $84,179
Unemployment Rate: 4.8%
Best Neighborhoods To Live In: Memorial Park, Houston Heights, Montrose, Braeswood Place, River Oaks.
It is one of a kind of joy when you become a part of something that is already pretty good. You feel as though you're moving towards greatness and this is exactly what describes the decision to move to Austin. It can be another wonderful option if your heart is not ready to say CIAO to the Lone Star State. The city of Austin is preferred by many especially because it offers excellent quality while also being pretty affordable.
If you are planning the move from a business prospect, Austin should be your ideal place. It can offer you strong job prospects and has been ranked as one of the best cities to start a business multiple times. Austin is interesting because it can offer something for everyone. There are calm and posh suburbs for families as well as densely packed urban city life for someone looking to experience the hustle.
Your weekends will be sorted in the state capital as it has one of the most vibrant live music scenes along with amazing restaurants with a delicious variety of food. Austin is also home to big parks offering plenty of outdoor activity options such as hiking, swimming, and even biking.
Downsides: The Austin weather because of its humidity can be bothersome to many. Other than the hot weather, the lack of a strong public transportation system can certainly affect your expenses and routine.
Population: 1,028,226
Median Home Value: $676,077
Monthly Median Rent: $1,735
Median Household Income: $102,876
Unemployment Rate: 3.20%
Best Neighborhoods To Live In: Crestview, Windsor Park, Mueller, Zilker, Terrytown.
Lubbock, Texas
Not everyone enjoys the big city life and that is completely valid and understandable. Lubbock is for those who want to stay in the charming state of Texas but escape the big city life. The city is home to Texas Tech University and can be ideal for peace-loving families who enjoy suburban life. Lubbock will suit you well if your ideal life includes music, art, and trip to various wineries.
Also known as the "Hub City", Lubbock has various culinary and cultural activities. If you have kids, you will never run out of activities for them, be it indoors or outdoors. Lubbock has a solid job market where you can easily get a high-paying job. The cost of living is low in the city and housing is pretty affordable due to which the majority of the residents own their homes. You can be assured of good health for your family because the city has excellent health care and not to forget, the traffic is not at all crazy in the city. Lubbock can truly be a paradise for families if you do not mind the conservative ideology which is followed by the majority of the residents.
Downsides: Texan heat will not leave you in Lubbock as well. Other than the hot climate, the crime rates can be a concerning factor because, in spite of Lubbock being a smaller place, the crime rates are higher in the city.
Population: 266,041
Median Home Value: $197,077
Monthly Median Rent: $1,061
Median Household Income: $71,273
Unemployment Rate: 3.7%
Best Neighborhoods To Live In: Northridge, Caprock, Tech Terrace, West Carlisle, Regal Park, Texas Tech.
San Jose, California
Wherever you stay in America, it is an accepted fact that nothing is greater than living in the state of California. If you can afford a long-distance move and can move out of The Lone Star, trust us, you will not be the only one making this move to the Golden State. San Jose is a perfect city where you can start a fresh life in the most pleasant weather. No Texan heat and it is a pretty affordable city as compared to many Californian cities.
San Jose has a solid job market due to the expansion of tech and when work gets too much, you will always have plenty of options to just let go and relax. San Jose is known for its amazing mountains, and hiking trails so if you are an explorer or adventure lover, you will have a lot to do on weekends. You will experience a huge cultural change from Dallas and you will be spoiled with an enormous variety of Japanese and Vietnamese food. As compared to the Big D, San Jose has an excellent public transportation system and walkability so you will save some bucks there along with supporting the environment.
Downsides: Though cheaper as compared to the big cities of the Golden State, the overall cost of living in San Jose will be higher than in Dallas. Roughly, you will be spending 30% more as compared to Dallas which certainly can be a big downside for your finances if you are not prepared.
Population: 1,003,120
Median Home Value: $1,300,000
Monthly Median Rent: $2,754
Median Household Income: $142,635
Unemployment Rate: 3.4%
Best Neighborhoods To Live In: Berryessa, Japantown, Silver Creek, Willow Glen, Almaden, West San Jose
Also read: Fastest Growing Cities In The US
Atlanta, Georgia
For the ones willing to relocate to another state and who want an inclusive plus historically significant city, nothing can be better than the city of Atlanta, the state capital of Georgia. Atlanta will be especially ideal for young professionals because it can offer you unique exposure due to its young population and vibrant culture. It can also offer you great quality of life at a low cost of living as compared to Dallas. You will love that Atlanta also has excellent walkability and big parks.
The neighborhoods in The Big Peach have their own stories, significance, and beauty where something can be found for everyone. The people are warm and friendly in the city so you will never run out of options when it comes to scenery and delicious food. Atlanta is a pretty safe city for the most part where you can venture and explore freely while of course being cautious. You will also enjoy all four seasons while in Atlanta with moderately pleasant weather year-round. So if history, scenery, and affordability are your jam, Atlanta might just be the answer to all your ponderings.
Downsides: You might experience crazy traffic and humid summers in The Big Peach so if you are leaving Dallas because of the traffic and heat, Atlanta might not be the most ideal place for you.
Population: 532,695
Median Home Value: $403,367
Monthly Median Rent: $1,812
Median Household Income: $106,300
Unemployment Rate: 3.3%
Best Neighborhoods To Live In: Buckhead, Downtown, Piedmont Heights, East Atlanta, Cabbagetown, Grant Park
Summing Up
Moving can occur at any point in time and whether it's due to a necessity or simply the need for change, it is not an easy decision to make. Selecting a city to build a new home requires planning, patience, and correct research. We are hoping that this article might help you feel confident about the research aspect.
Leaving Dallas will certainly not be easy but an informed decision can definitely add to your confidence. These five cities in the article include options for an interstate move and even cities in other states. We are hopeful that you will most likely find your ideal new place amidst these.
See also: Best Moving Companies in Dallas
FAQs About Leaving Dallas
What Is The Safest Suburb Of Dallas?
The city of Dallas has many safe neighborhoods depending upon your location and budget preferences. The neighborhoods of Oak Lawn, Preston Hollow, Lake Highlands, Bishop Arts District, and Deep Ellum are some of the lowest crime-rated neighborhoods in the city of Dallas. Just keep in mind that the housing cost for some of these neighborhoods can be really high.
What City In Texas Is Safest?
The state of Texas has a high crime rate generally, so finding a safer city can be really important if you are considering relocation and you should not worry because the Lone Star state has many safe options such as Irving, Parker, Garden Ridge, Fulshear, Chandler, Lockhart, etc. These are the Texan cities that have the lowest violent crime rate so you should be safe and sound.
What Is The Best City To Live In Near Dallas Texas?
There are many benefits when it comes to living in the state of Texas, especially in the city of Dallas. If you are not someone who prefers to live in the center of a big city, there are many amazing cities close to the city of Dallas. Highland Park, Plano, McKinney, Garland, and Richardson are some of the cities that can be your ideal city to start a new life around Big D.