Best Moving Companies in Dallas


VanLines Inc
Secure Storage
Easy Booking Process
Fully Trained Employees
GET QUOTE

Colonial Van Lines
Storage Services
Long-Distance Moves
Corporate Relocations
GET QUOTE

Moving APT
Vetting Process
Award-Winning
Available Nationwide
GET QUOTE
Our Take
Price
Rating
Minimum Shipment Size
Storage
Booking Deposit
Cancellation Policy
Quoting Options
Discounts

Best Overall Value


GET QUOTE

2+ bedrooms




Free 30 Days




10%

Free up to 72 Hrs

Phone / FaceTime / Text

Senior / Same day Booking

Best Industry Reputation


GET QUOTE

1+ bedrooms




30 Days




20%

Free up to 72 hrs

Phone / Facetime

Seniors Discount

Best Customer Service


GET QUOTE

1+ bedrooms







Free up to 72 hrs

Phone / Virtual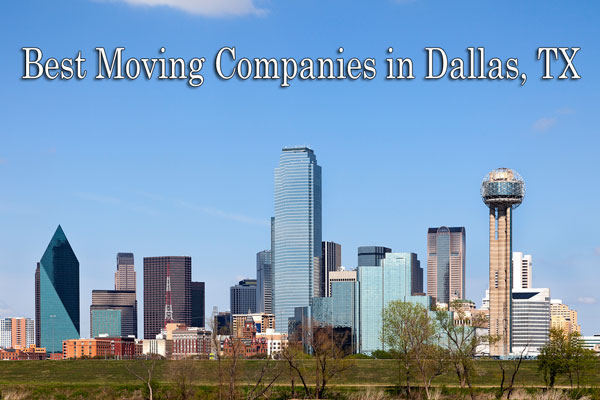 Moving is one of the biggest jobs you'll ever face, but for most people, it's one they'll experience a number of times over their lifetime. When you're preparing to relocate, its essential that you do so with the assistance a moving company offers. Without a moving company, getting where you are going may not be so simple. But, then again, choosing a moving company is pretty difficult as well, considering the number of moving companies found in Dallas. Don't let this worry your mind. There is enough to think about already when you know what to look for and how to choose a moving company in Dallas, things will go smoothly.
If you want to hire a great moving company, you've come to the right place. Below you'll learn five of the top moving companies in Dallas, TX that you can call when it's time to find a great moving professional. Read the reviews to learn a little bit more about each company to further narrow the choices. These moving companies are names that people in the city know and trust -and so can you. Now the only difficult task left is choosing a name from this list.
How to Find a Good Moving Company
Before you start the search for a great moving company, take the time to learn the qualities that you should look for in that professional. When you know the important qualities a good moving company in Dallas offers, narrowing down the choices is much easier. It's your move and a big day in your life. Don't settle for less than what you want, need, and deserve during this important event.
A good moving company offers qualities such as:
– Experience: Experience matters. The more experienced movers bring to the job, the more at-east you'll feel during the relocation process. Always look for movers with a few years' experience to ensure they can take care of any mishaps that may arise during the move.
– Available Services: If you're a business owner, you need a company that offers corporate business moves. Not every company offers the same list of services. Do not automatically assume that the moving company you're interested in using offers the services that you need and find yourself in trouble after you sign a contract. Most moving companies offer a list of services on their website. If you prefer, you may give the company a call to inquire about their moving services.
– Prices: Some people think that moving company costs are well above their budget, but with a few comparisons and the right company, most anyone can afford to hire a moving company. Request estimates from four-five moving companies before you hire. A good mower offers this estimate at no-cost. Compare prices with these companies to further narrow the selection and find the best movers for your needs.
– Reputation: Don't hire a moving company that lacks a good reputation. Doing so may result in lackluster service that dampens the moving spirit. Read reviews posted online and ask friends, neighbors, coworkers, and family for the scoop about movers.
– License & Insurance: Never, under any circumstances, hire unlicensed movers that do not carry insurance. This could cause a world of trouble in the event there is an accident or mishap during the move.
Top-Rated Movers in Dallas, TX
In a city as large as Dallas, even narrowing down the moving companies is a chore. Rather than spend hours narrowing the search, start with the five companies below. These Dallas moving companies are names that people in the city know and trust for quality moving services at great prices. While you must still choose from the following list, it's certainly easier than sorting through the hundreds of options in moving companies available in Dallas. Take a look at the reviews below to ease your search when it's time to find a great moving company.
Here's the list of 5 best Dallas moving companies
1. 1st Gen Moving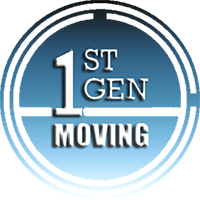 1st Gen Moving offers local and long-distance moving services for Dallas customers. The company is licensed and insured and carries with them a long history of exceeding expectations of those eager to get to their new location. Residential, office, and corporate moving services at great prices ensures customers get what they want from their move without spending a small fortune. Long-distance moves get a free month of storage when they hire 1st Gen Movers. In business for more than 12 years, this moving company offers customized moves designed with the needs of each family in mind. More than 1,000 families have trusted 1st Gen Moving over the years. The company is accredited by the BBB and a member of the National Mover's Association. Request a free estimate to learn why so many customers trust this moving company.
2. Dallas Moving & Storage
Dallas Moving & Storage is the official moving company for the Dallas Cowboys. If a major NFL team trusts this moving company, why wouldn't you? Free in-home and written estimates help you learn how little it costs to have one of Dallas' top moving companies relocate you. Whether you're moving across the city or across the country, Dallas Moving & Storage gets your belongings there quickly and safely at a price you can afford. Along with local and long-distance residential moving services, Dallas Moving & Storage also offers industrial and office moves, auto relocation, packing services, and storage units to hold your belongings before, during, and after the move. top-rated, licensed, insured, and experienced movers take the stress out of moving when you hire Dallas Moving & Storage to handle your moving needs. And, with contacts with more than 150 Allied Van lines across the country, getting you where you are going is simple.
3. Green Van Lines

With a slogan like 'Moving You Forward,' Green Van Lines proves from first contact they're committed to serving the needs of their customers. Moving is exciting when the right movers make the process smooth and carefree. That's exactly the type of service you expect with this locally owned company. Green Van Lines is licensed, insured, and has the experience you can trust. With six locations throughout the Dallas area, customers can always expect prompt, professional services that exceed expectations. Green Van Lines brings years of experience to every job, making small and large moves easy once again. Green Van Lines also relocates offices, businesses, and factories. Count on this moving company to provide top-notch moving services, whether you need auto relocation, residential moves, corporate moves, or something else. Customers may request a free, no-obligation estimate to learn how little it costs to hire a moving company that Dallas residents trust.
4. Suburban Relocation Services

A+ rated with the BBB and ASMA accredited, Suburban Relocation Services offers local moves, long-distance moves, residential and business moves, corporate moves, packing and shipping services, international moves, and a variety of services that minimize the stress of moving. The company has a great reputation they've earned through exceptional services for every client they've served in the more than 20 years' they've been around. Efficient service coupled with moving experts who cater to your needs to minimize the stress that oftentimes accommodate a move. Get a free customized estimate to learn why many Dallas residents say Suburban Relocation Services is the best name in the city.
5. Puma Van Lines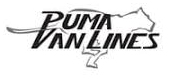 Puma Van Lines is another name that Dallas movers trust to provide them with low-cost, professional relocation service. Puma has years of experience and offers a full line of services to cater to the needs of every mover. Local and long-distance moving, interstate moves, packing service, piano moving service, storage, and many other services make it easy to get where you are going without worrying about your belongings being damaged or not making it to their intended location. Puma Van Lines has an excellent reputation with the BBB and is an accredited member of the ASMA. Free quotes are available upon request. Speedy, friendly, professional service combined with low pricing and a versatile list of services are qualities that keep Puma Van Lines a top Dallas moving company.
Make Your Move Simple With a Great Dallas Moving Company
Each Dallas moving company on the list above has the services, professionalism, prices, and expertise needed to ensure a smooth, simple move. There are so many things to focus on when moving, but the moving company hired isn't one of the things. Make sure the time is taken to research the moving companies, starting with the five names above. A bit of research is all that it takes to find a moving company in Dallas that won't let you down. It's your move. Make sure you get where you are going with a smile on your face and hire the right moving company.
If you are looking to move to Dallas, TX, here's an interesting article on that topic: https://9kilo.com/national-moving/moving-to-dallas