How to Move Furniture Long Distance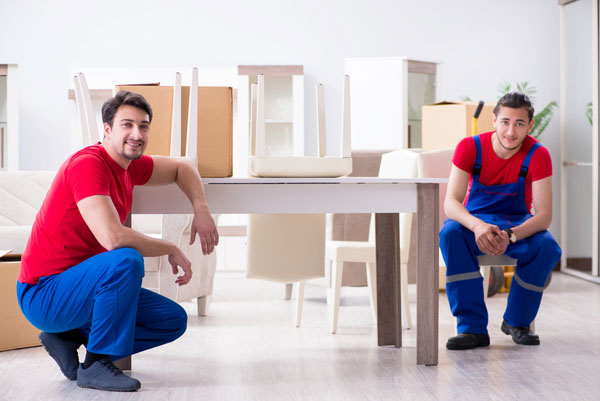 Moving anything, right from that huge grandfather clock to the sleekest of chairs over a long distance is a giant task. No, you don't just shove that furniture inside the truck and drive to your new home. Moving furniture over a long distance is like a war, and the way to prepare for any war is strategy. You can save a backache the next day if you put your mind to work.
It's your call how you plan the move, by hiring full-service movers or just a shipping company. In both instances, you need dollops of planning and a sprinkle of luck. So let's get right into it!
Before The Move
Check If Your Furniture Fits In Your New Home
Imagine moving a huge recliner cross country only to find that it doesn't enter the doorway of your new home. When planning on moving furniture, the first thing you do is check if your furniture is going to fit inside your new property.
We know you cannot go over to your new house just to measure space if it's in another state altogether. But you can definitely measure your furniture and send the reading to your agent. This way, you can be assured that your furniture is going to fit their designated places. If not, no harm in selling off that particular furniture and buying a new one upon reaching your new city. You'll be saving both shipping money and disappointment.
Research Your Shipping Options
When you hire a freight shipping company to carry your furniture over a long distance, there are two options in front of you. They are LTL (less than truckload) and FTL (full truckload), depending upon the quantity of your load and the distance.
| | | |
| --- | --- | --- |
| | LTL | FTL |
| Transferring Frequency | Shipment transferred from one truck to another multiple times | Shipment remains in the same truck all through the journey |
| Chances Of Damage | Higher since goods are moved a lot | Lower since goods stay secure in one place |
| Cost Comparison | Cheaper as compared to FTL | Costlier as compared to LTL |
| Ideal For | Few items of furniture in no hurry to reach the destination | More items of delicate furniture that are required to reach faster |
| Weight Of Goods | Between 100 and 10,000 pounds | Between 42,000 and 44,000 pounds |
| Average Rates | Calculated according to weight- Cost per pound will vary between $0.10 and $0.75 | Calculated according to miles- Costs $4.15 per mile to ship the truck less than 100 miles |
Once you know the amount of furniture you want to ship, it will be easier to choose between the two options. We recommend going for a full truckload if you have lots of delicate furniture to ship over a long distance. This way, it won't be moved from one truck to another, ensuring all delicate pieces reach their destination without damage.
Shipping Single Items
Have a look around your home. If you're planning to sell off some furniture and have only a few items left, then we seriously recommend not wasting money over less than truckload shipping. When you plan to ship only a single item or few small items, going for parcel shipments is a good alternative. You just pack up your small furniture item, say a tiny bedside table, and take it to the shipping store. You'll be charged based on the box's dimensions and weight.
We'll tell you where this kind of shipping comes to the rescue. For instance, you've shipped all your furniture and left a small chest of drawers, thinking it will fit inside your car. But then you realize it won't fit in your vehicle, just use the parcel shipping method. Another instance where this can be used is when you're renting all furniture at your new home, but want to carry a particular item that has some emotions tied to it.
Hire Movers For Complex Furniture
If you're planning to move that grand piano or an 8-foot pool table by yourself, you might want to consider otherwise. This isn't a small distance move that you can handle with a couple of friends you made at the gym. You need people who know their niche.
Professional movers will manage the disassembling and reassembling, pack with extra layers of bubble wrap, and load these heavy, complex furniture skillfully in the truck. But it is not always 100% risk-free, your furniture can be transported with other people's belongings. So we won't lie, there are chances of damage. If you ask us, we suggest getting extra insurance above the coverage your mover already provides.
See also: Best Furniture Moving Companies
Renting Storage Containers
If you haven't considered portable storage containers, it's time you do. While moving long distances, you might need to store your furniture midway. Reasons can be anything, like evacuating your old home before the month ends or keeping the furniture in storage until your new home undergoes renovations.
Another benefit of using storage containers for a long-distance move is that your furniture is more secure inside a storage container as it is transported cross country. You can do the loading and unloading yourself when it comes to a portable container, ensuring all the fragile furniture is under your personal care. Renting an 8-foot container is enough for a few items and will cost you around $1,500. Go for a 12-foot container if you have more furniture. Remember that rental charges vary depending on whether you want to keep the container in your driveway or a storage center. Don't forget to budget for the delivery and pickup of the container which can range anywhere from $100 to $500.
See also: Best Self-Storage Companies in the U.S.
Dig Into The Quote
Say you're hiring full-service movers. Everything looks like it's in place, you're happy with the quote and the movers have a 5-star rating on Google. But here's the catch, have you gone through all the overhead costs your mover is going to charge you? Remember you're moving furniture to another state or even further. Ask the mover for a basic classification of the costs they added to your quote, labor charges, freight charges, hidden fees, and so on.
An easy way to know this in detail is by asking for the quote in writing so you're well aware of what you are paying, eliminating the chances of any surprise fees later on. Be shameless here, it's your money and moving doesn't come cheap!
In the end, the ball is in your court to decide which is the best option to move your furniture. Calculate the budget you need to set aside and pick an affordable moving method. If you pick traditional movers, don't go with cheaper movers just to save on the bill. You also need to make a conscious choice to leave some furniture behind if you can't see it being used in the new home.
During The Move
Have you chucked aside the option of hiring traditional full-service movers? Then these points will make your DIY furniture move easier. With skills, tact, and a little patience, you can carry the large furniture over long distances.
Make Use Of Equipment
You don't want to end up pulling a muscle while pulling that heavy sofa. Rent equipment that is going to make moving easier. Use moving straps while lifting heavy items so the weight is distributed evenly. Remember that whichever furniture can be slid should not be lifted. Why undergo unnecessary efforts? Get furniture sliders before you do this to avoid marks all over the floors. Sliders are made from foam or rubber, hence preventing friction. They help your furniture slide smoothly across tiles or hardwood floors. Rent a dolly if you want to move a piano, try it once and you'll thank the one who invented it. (Trivia Alert- It was Thomas Dent who invented the Shoulder Dolly)
Use Protective Materials
Moving furniture over a long distance means long routes and bumpy rides. You cannot do much once the furniture is inside the truck. Secure it beforehand by using protective materials. Bubble wrap isn't your only ally here. Make use of furniture pads/moving blankets, paper padding, and stretch wrap. Fasten all these protective supplies in their place with tape so they don't slide off the corners while in transit.
Follow Safety Precautions
Take care of yourself as you move the furniture to the truck or portable container. Follow the right lifting techniques like bending from your knees and not waist while lifting anything heavy. Maintaining proper balance while carrying furniture prevents hazards, so hold it closer to your body. When you go up and down the stairs carrying furniture, maintain the pace as you coordinate with your partner on the other side. Wear shoes as you do the entire process, better to be safe than sorry!
Smartly Load The Truck/Portable Container
Here comes the tricky part, and also one where you'll be using more brains and fewer muscles. We told you that while shipping, full truckload is a good option for lots of furniture, so now, ensure all your furniture sits in there. Similarly, while loading in a portable shipping container that you rented, use every inch of space there is inside the container. You're paying for every mile your truck covers, so be strategic to make full use of the space. This is a great way to save money while moving furniture over a long distance.
Dismantle and separately pack whatever furniture you can. The things that cannot be disassembled, like a bookshelf, can be smartly used too. Put smaller items between the shelves, like a small table lamp or sofa cushions. Secure glass tops and mirrors by marking 'X' on their surfaces with masking tape, this prevents damage from vibrations. Before you load any chest of drawers inside the truck/shipping container, empty the drawers of the chest and pack the items separately. Once the chest of drawers is inside the truck, fill the drawers with other smaller items to make full use of the space.
How To Save Money When Moving Furniture
Nobody can resist that extra cash, right? So here are some tips that can help you save that precious moolah!
Sell Or Donate Unused Furniture
You already know how expensive it is to ship furniture over a long distance. Why not plan a garage sale and sell off some items? There may be many small or big items you might reconsider packing and moving across the country. Take a quick tour around your home, clear out the junk and you'll discover you never needed all that furniture, like a bedside table filled with pamphlets or expired medicines. If there's no purpose it really solves in your new home, organize a garage sale or donate it to charity organizations. You'll end up saving shipping money and earning some money too!
Choose An Off Day To Move
Trust us, choose an off day, like the middle of the week or mid-month to move. Lesser demand means cheaper rates. This way you can afford to avail everything from professional labor to shipping. This means that you don't need to bend that back and focus on the long drive to your new home as the movers take care of the rest.
Rent Your Furniture
There is a growing trend of renting furniture rather than owning it among millenials. We would say this is an ideal option for long distance moves. Why waste money and effort on shipping all that heavy furniture when you can rent furniture at the same rates or cheaper at your new property? Nowadays, houseware giants like IKEA are stepping into rental services. If you go for this option, the only furniture you will be shipping is something that holds emotional value.
Long distance moves can be pretty tiring. You won't feel like unloading all that furniture right away. Renting a portable shipping container helps here, as it sits in your driveway until you're in the mind space to unload the furniture. Give yourself rest before you get down to sliding the furniture in its new positions.
Conclusion
You now know all there is to know about moving furniture long distances. Being smart about it and planning well in advance is the way to go!
FAQs
Can I Make Diy Furniture Move Over A Long Distance?
Yes, with the right equipment and skill, you can move furniture over long distances. But we won't encourage you to as there are several risks associated with it. You can drop heavy furniture and hurt yourself, or strain a muscle. There are chances of losing smaller parts when you disassemble furniture for moving. Professional movers have been there and done that, and so are capable of handling furniture. They even prevent your furniture from damage during the long trip to your new home.
How Much Does It Cost To Move Furniture Cross Country?
This depends on which option you choose for moving your furniture. Hiring a full-service moving company is obviously going to cost more than renting a container. A full-service moving company will cost you anywhere between $4,000 to $9,000 whereas renting a moving container will cost you around $2,000-$4,000. One of the cheapest options is going for a DIY truck rental, which will cost you something between $1,200 to $2,000. Compare your options and study your furniture. Factors like weight, space, and distance are all going to affect your moving costs.
See also: Best Long Distance Movers Near You | How to Move Heavy Furniture by Yourself | DIY Move vs Hiring Movers