How Much Does it Cost to Move a Mobile Home


VanLines Inc
Secure Storage
Easy Booking Process
Fully Trained Employees
GET QUOTE

Colonial Van Lines
Storage Services
Long-Distance Moves
Corporate Relocations
GET QUOTE

Moving APT
Vetting Process
Award-Winning
Available Nationwide
GET QUOTE
Our Take
Price
Rating
Minimum Shipment Size
Storage
Booking Deposit
Cancellation Policy
Quoting Options
Discounts

Best Overall Value


GET QUOTE

2+ bedrooms




Free 30 Days




10%

Free up to 72 Hrs

Phone / FaceTime / Text

Senior / Same day Booking

Best Industry Reputation


GET QUOTE

1+ bedrooms




30 Days




20%

Free up to 72 hrs

Phone / Facetime

Seniors Discount

Best Customer Service


GET QUOTE

1+ bedrooms







Free up to 72 hrs

Phone / Virtual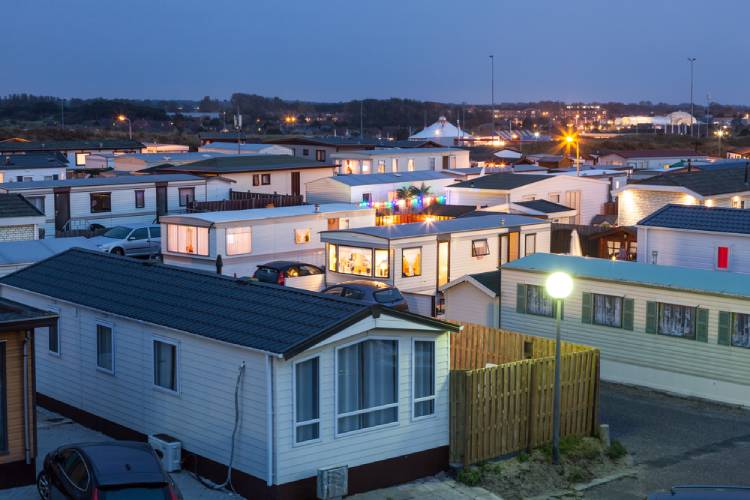 Buying and living in a mobile home sure comes with a lot of convenience, namely the fact that you can move around without ever having to leave it behind. But moving a mobile home isn't as simple as hitching it up to a pickup truck and driving off. From permits and laws to budgets and distances, there are multiple things to think about. "How much does it cost to move a mobile home" is probably the main question on your mind; we've answered it, alongside providing all the possible related information you need to know about moving a mobile home.
Let's Find Out the Cost of Moving a Mobile Home
A full service move for a single-wide mobile home within 50 miles can be between $3,000 to $8,000. This includes all the additional things to tick off the list like acquiring permits and sorting the utilities. The same factors when applied to a double-wide home will cost around $10,000 to $13,000. Movers will charge local moves by the hour or will have a minimum fee that they charge irrespective of how close your destination is. Long distance moves may have around $6 to $15 added on each hour as transport costs, and your total can even go upwards of $20,000.
See also: Moving Cost Calculator
Needless to say, these are all just estimates and your final cost varies depending on a range of factors.
Factors That Determine Your Final Cost
Size Of Your Mobile Home: Single-wide homes or smaller-sized mobile homes will naturally cost less to move than double-wide homes. Plus, if you have a broad, wide mobile home that doesn't fit into one lane, you may even have to pay for a temporary road closure, special permission, or a police escort. Escort vehicles can charge $1–$5 per mile.
Distance Of The Move: It goes without saying that the shorter the drive to your destination, the cheaper your move will be. Long distance moves cost the most, since lugging a mobile home requires gas, and the movers can't speed up to cover the distance in a shorter time.
Weight Of The Home: Mobile homes that are older and have been manufactured a while ago tend to weigh between 35 to 40 lbs per sq ft, while newer homes are heavier, between 45 to 50 lbs per sq ft. What also factors into the price is if your home is made with metal or vinyl siding and skirting. The heavier the home, the more equipment will be needed to haul it.
Condition Of The Mobile Home: If you have an older mobile home, it's probably gotten a bit worn as it stands the test of time. A mobile home that's been stationary for several years may need repairs on the wheels and axles to make it safe for transportation. You can expect to pay around $50 per tire to repair them, and axles can cost around $150 to be fixed.
Permits: Moving a mobile home generally requires permissions and permits, particularly if you're crossing state lines to get to your destination. Hiring professional movers is a great way to take care of this since they're well versed in what permits are needed where. However, you'll be charged a certain amount if you need to get these permits in place. You may also need to get something called a "set-up" permit to install your mobile home in a new city. The cost of a permit can be between $15 and $100.
Additional Services: Hiring full service mobile home movers means you don't have to worry about a thing. But opting for additional services, whether it's a full service move or not, will cost you more. Many movers will charge an additional fee to take apart and set up your mobile home, which generally includes disconnecting and reconnecting utilities, removing and reinstalling features like a porch or skirting, and the reconnection of double-wide homes. Some movers can also clean up the lot after you move and offer this as an additional service. These additional services can cost anywhere from $1,000 to $5,000.
Insurance: While some moving companies offer basic coverage, you may still need to purchase outside insurance. Also, make it a point to check with your carrier regarding their coverage of a mobile home when it's in transport if you already own mobile home insurance.
Also See: Cost of New Mobile Home
How To Avoid Paying Too Much When Moving A Mobile Home
Any move brings along a whole load of expenses with it, and cutting corners by compromising on safety can often result in unwanted mishaps. Thankfully for you, there are a bunch of ways on how to save some money when moving a mobile home, mainly when choosing the mobile home moving company for your move.
Ask your friends and family if they've had a positive experience with mobile home movers before since word-of-mouth is usually one of the best ways to start your search for a reliable mover. Whatever you do, don't take referrals for granted. We recommend reaching out to local mobile home parks, dealers, and other mobile home owners for their recommendations. Look up movers online, and make sure you check for things like customer reviews and accreditations or awards.
Another helpful tip is to look for mobile moving companies that offer discounts or price matching. This helps you save money without having to compromise on services. Make it a point to inquire about exactly what services your final price includes, whether there are any additional costs that could hike your price up in the end, and whether they provide coverage or insurance. Once you've finalized on three to four movers, contact each of them and get estimates for your move. Go with the company that offers you the best price with the services you require.
Things To Remember When Moving A Mobile Home
Know Your Permits: The process of getting a permit depends on the city or state you're in, and your movers will likely handle it for you. But you should still know what's involved since this is an essential step. You'll mostly likely need:
A certificate from the county treasurer that states that you have no unpaid and/or overdue taxes on the property.
A certificate of title or a copy of the same for the property.
If you happen to be handling the paperwork yourself, make sure you give yourself enough time to visit the local municipal government and start to process the paperwork.
Avoid DIY: Unlike a regular move, you can't Do-It-Yourself when moving a mobile home. That's because it's illegal to do this yourself and you need to hire a professional licensed moving company to help you out.
HUD Codes And Other Inspections: Department of Housing and Urban Development or HUD codes were put into place in 1976 to ensure that there's a proper process being followed when getting a new mobile home. If your home was built before 1976, you might just not be able to move it. In terms of inspections, some states need you to do a mandatory inspection if your mobile home is on the older side. Also ensure you check and fulfill all zoning restrictions in the new location.
FAQs
Is It Worth Moving A Mobile Home?
Moving a mobile home isn't something you can do by yourself and it can be expensive. Remember to take everything into consideration when deciding to move and only then finalize on a moving company. Simply deciding to move and later regretting it once you realize the permits and arrangements required isn't ideal.
Can You Move A Mobile Home By Yourself?
No, moving your mobile home by yourself isn't a possibility. The law requires you to use the help of a professional, licensed mobile home mover to move your home. Though this means you'll have to spend, approaching it in the right manner and enough research can help you get the best possible deal.
Can You Move An Old Mobile Home?
Old mobile homes can be moved as long as they meet HUD codes and aren't too rundown. States like Florida require a mandatory inspection of old mobile homes before you can move them to their new location. If your mobile home is too old to pass the inspection, you won't be able to enter the state.
How Much Does It Cost To Move A Small Mobile Home?
Moving a small mobile home (single-wide) can cost anywhere from $1,000 to $10,000. If you're moving within 50 miles, you may just pay around a thousand dollars, but longer distances hike up your final price by a fair bit.
How much does it cost to move a mobile home 250 miles?
It is not easy to move a mobile home, but it's also not impossible. The cost of moving house can vary depending on how far you are going and what type of transportation option you choose (i.e., truck or train). If it's your first time trying to transport a trailer 250 miles, be prepared to pay anywhere from $7K to $10K!
What does it take to move a mobile home?
The process of relocating a mobile home is an arduous and costly task that can cost up to $13,000 for a single-wide or doublewide. Obtaining permits alone will set you back about 10% of your total budget if you move within 50 miles; this number goes higher each time you move farther away.
How much does it cost to move a 14×70 mobile home?
Prices vary depending on the size, location, and distance of your destination. A single-wide unit will range anywhere between $3k-$5k for 60-mile moves, while doublewides can be expected at about $4K-$10K or more based on their size and location.
Can you move a mobile home with a pickup truck?
It is possible and depends on if your mobile home has three axles or just two. If there are only two, your pickup truck should be able to handle this task without any problems as long as you have proper towing equipment and the necessary experience.
See also: Moving Deals and Discount | Best Mobile Home Movers | Laws On Moving A Mobile Home