5 Best Mobile Home Movers


VanLines Inc
Secure Storage
Easy Booking Process
Fully Trained Employees
GET A QUOTE

Colonial Van Lines
Storage Services
Long-Distance Moves
Corporate Relocations
GET A QUOTE

Moving APT
Available Nationwide
Award-Winning Movers
Extensive Vetting Process
GET A QUOTE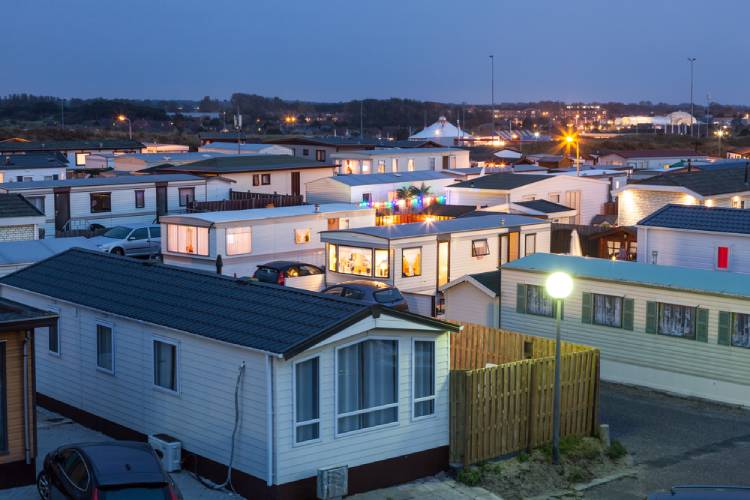 It is said, "Home is where the heart is." Naturally, it can be difficult to let go of your home when moving to a new place. But if you have a mobile home, then moving to a new location means taking your home with you! That being said, it is incredibly difficult to transport your mobile home from one place to another, all by yourself. Here, mobile home movers can make things simple. The best mobile home movers in the industry can easily transport your home from one location to another, safely and without any damage. Read through our carefully curated list so you get a better idea of who to hire for your move!
See also: How Much Does it Cost to Move a Mobile Home
5 Top-Rated Mobile Home Moving Companies to Contact
Before going on the lookout for a good mobile home mover, you need to determine your needs. What services are you expecting from the company? What is your budget? Have you decided on a pickup and dropping point? How urgently do you need to transport your mobile home? All these questions need to be answered before you look for a suitable company. By answering these questions, you can narrow your search to a small circle of companies that are cost-effective and tick all your requirements.
Here are some of the 5 best mobile home movers in the market, selected based on several factors like presence in the market, expertise in transportation, customer support, reliability, flexibility in terms of commodities, etc. We have also provided their key features and contact details to speed up your search.
Nationwide United Auto Transport
Heavy Haulers
Bennett Truck Transport
Roadmasters
Trailer Transit
1. Nationwide United Auto Transport
Established in 2003, Nationwide United Auto Transport has been shipping a variety of vehicles across the country. However, they have a range of services apart from just auto transport; these include boat and truck transportation, enclosed car shipping, expedited shipping, flatbed shipping, and RV & travel trailer transport. The last bit's where mobile home transportation comes in.
With 15 years of rich experience in mobile home moving, the company offers a stress-free way of moving homes from one corner of the country to another. Their expertise particularly lies in towing and hauling manufactured homes, park model homes, modular homes, mobile offices, and tiny homes. Additionally, they also work with a network of trusted agents across the country. Nationwide United's website is informative, giving you a thorough rundown of the details you need to know before hiring a moving company. These include details like:
The type of mobile home you own
Whether it's a single or double wide
Your pickup and delivery locations
A survey of the route to see if there's a need for commercial route planning
Whether it's legal or oversize transport that may require towing or hauling
Whether your move requires various permits
If you need set-up services
Knowing about these details before you get on a call for a quote ensures that the company gives you an accurate estimate. Clearly, Nationwide United cares enough about its customers to ensure they're equipped with the right knowledge. The site also goes into estimated mobile home moving costs. The company believes in a personalized approach with experts guiding you through the entire process, and they include basic insurance coverage with every shipment, meeting FMCSA regulations.
Nationwide United Auto Transport provides a simple, 3-step process to book and execute the delivery of your automobile. The process is as follows –
Step 1 – Get a personalized quote from the moving company
Step 2 – Schedule your convenient pickup date and point
Step 3 – Choose your delivery point and date
With just three steps, you get yourself a good deal from one of the best mobile home movers in the US! However, do note that the website currently states that their mobile home moving department is temporarily closed. We recommend getting in touch with the company to enquire about their services in detail.
Key Features Of Nationwide United Auto Transport
Provides a personalized approach
Insurance coverage available
Dynamic fast pickup and delivery system
24/7 customer support
Nationwide United Auto Transport Contact Details
Website: nationwideunitedautotransport.com
Contact Number: 800-311-8305
Address: 2202 S Figueroa St #506, Los Angeles, CA 90007
Operational Hours: Mon – Fri 7:30 am–5 pm, Sat 8 am–12 pm, Sunday Closed.
Nationwide United Auto Transport Review
Google – 4.8/5
2. Heavy Haulers
Heavy Haulers is a family-owned moving business that specializes in transporting heavy equipment as well as oversized and super loads. The company dedicates itself to developing innovative methods of shipping hauling. With over a decade of experience, Heavy Haulers definitely enjoys expertise in logistics and providing the best transport solutions at affordable rates. And this golden trio of logistical expertise, transport solutions, and cost-effectiveness is hard to miss.
Heavy Haulers transport a range of mobile homes including container homes and offices, modular buildings and homes, modular office trailers, and precast buildings. Dedicated transport specialists and a mobile home mover specialist will walk you through every detail of your mobile home. That includes how to prepare your mobile home for transport, mapping out the best route, obtaining all the permits, and more. The company website has detailed information on their services in every state, alongside information about previous work done there.
Heavy Haulers has several offices in Kentucky, Florida, and New Jersey. Another benefit – this mobile moving company transports across all 50 states in the US. It also transports to neighboring nations like Canada and Mexico. The company houses more than 90 logistic experts along with 30,000+ available carriers. These numbers are enough to impress and persuade anyone to get on board with one of the best mobile home moving companies.
Key Features Of Heavy Haulers
Offers 24/7 customer support
Line of shipping credit options
Strategy of a personalized approach
Zero up-front costs
Provides dedicated agent to each customer
Offers same-day pickups
Heavy Haulers Contact Details
Website: heavyhaulers.com
Email Address: Dispatch@heavyhaulers.com
Contact Number: 800-908-6206
Address: 2252 Burlington Pike #200, Burlington, KY, 41005
Operational Hours: Differ by location. 24/7 customer support available
Heavy Haulers Review
Google – 4.5/5
3. Bennett Truck Transport
Driven by the ambition of becoming a leading domestic and international transportation service provider, Bennett Truck Transport offers a wide range of services. The seeds of the company were first sown in 1994, and today, they have a total of 30 terminals dedicated to mobile home moving across North America.
If you are looking to transport a modular building, mobile home, or even a manufactured building, Bennett Truck Transport is surely the way to go. In fact, Bennett is a national toter provider and a big name in safely moving HUD code-manufactured mobile homes from one place to another. The company also provides cargo and liability insurance coverage.
Key Features Of Bennett Truck Transport
Enjoys a huge national network
Logistics support team available
Offers a variety of transportation services
Provides upfront costs on request
Operates through independent contractors
Bennett Truck Transport Contact Details
Website: bennettig.com
Contact Number: 800-866-5500 (Toll-free number)
Address: 1001 Industrial Parkway, P.O. Box 569, McDonough, Georgia 30253
Operational Hours: Open at 8 am
Bennett Truck Transport Review
Google – 3.4/5
Birdeye – 4.9/5
4. Ship A Car, Inc. (SAC Transport)
Dedicated towards safe and reliable transport of vehicles across the country, Ship A Car Inc. is one of the sought-after moving companies in the market. With over 30 years of shipping experience, Ship A Car Inc. provides hassle-free and affordable shipping services. These include a broad range of services such as heavy equipment shipping, shipping almost every kind of vehicle including boats and tractors, and camper, mobile home, and RV transportation services.
SAC Transport states that they take between 1 and 5 business days for pick-up, and mention transit time in the 5 – 7 day range. This can be a great option for someone looking to move in a hurry. They include all charges, including taxes, fees, and fuel charges in their original quote, which they claim will be competitive! SAC Transport is also known for its dynamic and instant customer service. So if you are a new customer looking for a reliable moving service, this company is here to answer all your doubts and queries.
Ship A Car, Inc. also prides itself on its customer-driven attitude, providing personalized services to its clients. To book a transportation service with Ship A Car Inc, you need to follow 4 simple steps –
Step 1: Calculate your instant quote
Step 2: If the quote is feasible for you, book your shipment
Step 3: A carrier will be assigned to you
Step 4: Your mobile home will be picked up and delivered to the desired location
Key Features Of Ship A Car, Inc. Transport
Nationwide vehicle shipping services
Door-to-door service available
Dedicated and experienced industry professionals
Short transit time
Fuel and insurance cover included in plan
Offers Hawaii and Alaska shipping as well
Ship A Car, Inc. Transport Contact Details
Website: shipacarinc.com
Email Address: info@shipacarinc.com
Contact Number: 866-821-4555
Address: 5645 Coral Ridge Drive #137 Coral Springs, FL 33076
Operational Hours: Mon-Thu 9 am to 7 pm, Friday 9 am to 6 pm, Saturday 11 am – 3 pm, Sunday – closed
Ship A Car, Inc. Transport Review
Google – 4.3/5
5. Trailer Transit
Established in 1981, Trailer Transit is definitely one of the sought-after and known names in the industry of transportation. The company lauds itself for working with professionals from various industries including oil, energy, agriculture, etc. Trailer Transit comprises professional drivers who can move items like portable machinery, race car haulers and equipment, stage sets, RVs, drilling equipment, airplane parts, and much more. Moreover, they have the ability to transport cargo across difficult terrain and far-off destinations.
The company is known not only for flexibility in terms of transportation of goods but also for its reliability and customer retention. If you have a mobile home to transport, you will definitely need robust logistical support. And Trailer Transit can give you just that!
If you are looking for a quote to avail of their services, all you need to do is provide them with some basic details. These include your name, contact number, origin state, details of your mobile home, etc. You can also ring them up to get additional details about their reputed freight transport.
Key Features Of Trailer Transit
Services available across 49 states in the US and Canada
The reputation of providing reliable services
Wide range of transportation services
Trailer Transit Contact Details
Website: trailertransit.com
Email Address: ttinfo@trailertransit.com
Contact Number: 800-423-3647
Address: 1130 East U.S. 20, Porter, IN, 46304 US
Operational Hours: Monday to Friday – 7 am to 5:30 pm, closed on Saturday and Sunday
Trailer Transit Review
Google – 4.6/5
Conclusion
Transporting a mobile home on your own, without any professional assistance, is a herculean task. Dedicated mobile home transportation companies have immense experience in that field. So, your mobile home can get transported to your desired location without any damage, especially when you hire from among the best mobile home movers in the country. Moreover, the market has various affordable options to choose from along with additional benefits like insurance coverage, 24/7 support, nationwide transport, etc. But the key is to opt for the company which fulfills all your moving needs.
FAQs
How Much Does It Cost To Move A Mobile Home?
The cost of moving a mobile home depends on a number of factors such as distance between pickup and dropping point, size of the home, logistical requirements, specific needs, etc. So, this question does not have a simple answer. However, there are online tools on companies' websites that you can use to get an approximate cost of transporting your mobile home.
What Is The Cost Range For Moving A Single-Wide And Double-Wide Home?
There are several mobile home moving companies out there that can quote a different price for their services. But on average, moving a single-wide home within 50 miles can cost between $3,000 to $8,500. To move a double-wide home, it can cost between $9,500 to $14,000.
Why Do You Need To Hire Professionals To Move Your Mobile Home?
Most states require you to hire a professional for moving your mobile home. While this is an obvious reason, there are other benefits too. Mobile home moving companies usually tend to take care of the necessary permits required, can safely transport your home without any damage, and save you both time and energy. Of course, they may cost you a hefty amount. But such companies are definitely worth the price!
Must Read: Moving Checklist | Top Cross Country Movers | How much does a Mobile Home Costs | Mobile Home Moving Laws