How Much Does a New Mobile Home Cost?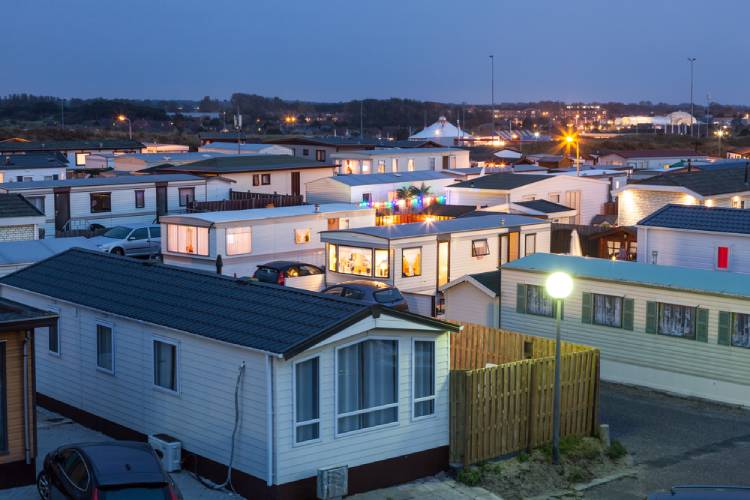 Mobile homes are gaining popularity in the United States, as Americans favor a more minimalistic lifestyle. There are many reasons to consider a mobile home over standard housing, including a lower cost of living. New manufactured homes cost less than traditional housing options; hence, it is important to understand all of your options and how much new manufactured homes cost before making any purchases.
Mobile homes are trendy in the USA, especially in 2016, there were over 81,000 new mobile homes on the market, a 15% jump from 2015. In many communities, particularly in the South and Midwest, a new mobile home is more affordable and faster to construct than a standard site-built house.
Before getting much deeper into it, let's understand first what a mobile home is?
According to the U.S. Department of Housing and Urban Development, a manufactured dwelling in the United States is considered a mobile home erected before June 15, 1976, while a factory-built house is one that was built after. The terms are frequently used interchangeably.
If you are planning to buy a mobile home, you must know how much a new mobile home costs and what characteristics make it either more or less expensive? In this article, we'll look at the types, costs and advantages of mobile home living as well as everything you need to know about purchasing a new mobile home.
Mobile Homes: What Are the Different Types?
The expense of a new mobile home may vary considerably depending on where and when you're buying. For example, mobile homes in the West are more costly than those in the South and Midwest. Similarly, the cost of a mobile home also depends on the size and facilities available in it. There are three different sizes of mobile homes: tiny (from 600 to 1,300 square feet), modest (between 2,000 to 2,500 square feet), and large (4,500 square feet and 50 feet in length).
Single-Wide Home
If you don't want to buy a large house, you should opt for single-wide homes. These are less expensive and generally include one to two bedrooms and two bathrooms. A mobile home is a small single-wide house with 18 feet or less of width and 90 feet or less length, which is about half the size of today's typical site-built family homes.
Double-Wide Homes
On the other hand, double-wide homes include two bedrooms, separate dining rooms, and two bathrooms. The Double-wide homes are larger and more spacious as well. In addition to this, these houses have a wider frame that makes them more stable in terms of weather conditions. These are good options for those who want to buy a big mobile home with all modern facilities at an affordable price.
Triple-wide or Multi-wide Homes
A triple-wide mobile home, also known as multi-wide mobile homes, is a bigger and more spacious version of double-wide mobile homes. These houses are suitable for those looking to buy spacious and large homes without spending too much on them. With a triple-wide mobile home, you'll have considerably more layout flexibility, and you'll most likely discover at least three bedrooms and two bathrooms.
Benefits Living in a Mobile Home
Mobile homes are more affordable than other types of houses, and their lower price tag is only one of the reasons why buyers find them appealing. Mobile Homes offer several advantages over traditional site-built homes, such as
Less Home Tax
As mobile homes are classified as personal property, therefore, your home-related taxes will be considerably lower than those of a site-built property.
Lower Utility Costs
Mobile homes are not fixed in one place. Mobile homes have efficient insulation that allows passing breezes to keep them cool in summer and warm in winter. Therefore, they do not waste energy on heating or cooling the whole house when at work or away for a few days.
Mobile Homes are Safer Now
The introduction of HUD codes on manufactured housing in the late 1970s has reduced mobile home fires by two-thirds since 1980. Hence it is proven that mobile homes are safer than ever before.
Quick to Construct
Manufactured homes are constructed in factories. Because of the manufacturing process, they have an inherent efficiency that is necessitated by their design and construction. They won't be delayed due to inclement weather either.
Customizable
A new mobile home allows buyers to personalize their living area without spending excessive money.
More Flexible and Affordable Payment Options
Mobile homes offer very flexible payment options to buyers, including Chattel mortgage, land contract, and rent to own. All these options provide you with great flexibility when it comes to making your payments.
Approximate sales prices of Mobile Homes
According to the U.S. Census Bureau, the average cost of a trailer home or mobile home can be more than $81,700. However, the price of mobile homes depends on many factors such as size, type of the home, and how it is made. California and Colorado have some of the most expensive mobile homes.
Building Costs
The average cost of a single-wide trailer home is approximately $40,000 if the mobile home is new. However, used single-wide homes cost between $10,000 to $25,000. A double-wide trailer home might cost for square footage ranging from 1,000 to 2,300. A typical double-wide trailer is 56ft x 26ft, and it costs about $75,000. A triple-wide trailer has the most room in terms of square footage, with a maximum area of 3,000 square feet. On average, a triplex trailer costs around $100,000.
Land cost
Once you have decided to buy a mobile home then, you can either purchase lands or rent a plot in a local trailer park or mobile home community. The land cost is generally determined by lot size, which depends on the park's rules & regulations. If you're buying a new double-wide home, then the average land cost is about $30,000 for a minimum of 1/4 acre or more and will be around $50,000 for a 1/2 acre parcel. If you're buying a new triple-wide home, then the land cost will be between $50,000 and $75,000, depending on the size of the lot.
Customization
Like any other traditional home, the mobile or manufactured homes can also be customized and personalized, such as adding an extra room or a patio. The customization cost is meager compared to traditional home construction; the customization costs only about $1,000 to $5,000.
Financing options available for your mobile homes
Like any traditional home, you can finance a mobile home. There are different types of financing that you can choose from, and it's important to talk with your financial advisor or lender about the type of loan that makes sense for your situation and needs.
Mortgage Loan
The benefit of applying for a mortgage loan is that it grants you ultimate ownership of your property. The mortgage interest rates are low, and the loan is tax-deductible, which means it's worthwhile to invest in a home. The downside of putting your money into a single-family house or condo is that you will be forced to sell the house and lose your investment if something happens, like job loss or illness.
Lease-to-Own
This kind of home financing allows you to rent and borrow simultaneously. You pay a one-time fee along with the security deposit, which you receive back at the end of the lease term if all conditions on the contract are met. It's a win-win situation for both parties because you can invest the security deposit into the house and take over full ownership.
Also See: Why Renting a House is Better than Buying | How to get back your Security Deposit when you Move
Personal Loan
Mobile homes are cheaper as compared to traditional homes. Hence it becomes easy for the buyer to get a personal loan from a bank. A personal loan from the bank can be used to pay for a down payment, closing costs, and renovations of existing homes. You can also use a personal loan as a second source of money if you want to buy a house with your spouse or partner.
See Also: Tips to get Mortgage when you are Self Employed
Federal Housing Administration (FHA) Loans
You can apply for Federal Housing Administration Loans to buy or build a mobile home. With FHA Loans, you get a competitive interest rate and flexible payment plans. You can also roll in the cost of improvements or closing costs into FHA Loans, making these loans very affordable for mobile home buyers.
HUD Loans for Mobile Homes
You can apply for a HUD loan, which means that your mobile home is insured by a federal agency called the Department of Housing and Urban Development. This insurance protects your home and land from natural disasters like floods or other unusual events.
USDA Loans for Mobile Homes
You can also look into USDA Loans if you're planning to buy, build or modify your mobile home. This loan is especially outstanding for rural areas with no conventional loan options available. However, it has strict regulations for eligibility, so you should read the fine print carefully before sending in your application. is no down payment required with a USDA Loan, and borrowers can finance 100% of the mobile home's purchase price.
V.A. Loans for Mobile Homes
If you are a former military member who wants to buy or build a mobile home, then V.A. Loans are another financing option to look into. With a V.A. loan, you can finance up to 100% of the mobile home's purchase price, but you need to be sure that you qualify for the loan.
Chattel Loan for Mobile Home
This is a unique loan designed for mobile homeowners who lease the property on which their house stands. A chattel loan's down payment may be as little as 5%. However, its interest rate is rather steep. The chattel loan is only available in some states.
How much does it cost to transport and erect a mobile home?
Mobile homes are more affordable and convenient than most people realize, but they aren't as simple to shift as you'd expect. It requires proper planning, the right equipment, permits, and insurance. The cost of relocating a mobile home varies from $1,000 to $20,000 or more based on the distance and size, and condition of the residence. And most removal companies charge separate fees for disassembling and reassembling your mobile house. Removing and reinstalling features like a porch, skirting, or utilities.
Also See: Cost of Moving a Mobile Home | Best Mobile Home Moving Companies
Conclusion
The cost of mobile homes ultimately depends on their size, location, facilities, and so on. Mobile homes have advantages and disadvantages; hence you need to do proper research and planning before buying a mobile home. There are various financing options available for those looking to purchase a mobile home. Whether you're interested in an FHA Loan, HUD loan, USDA Loan or V.A. Loan, it's essential to do your research and find the right option for you. Keep in mind that each loan has its own set of eligibility requirements, so be sure to read all the fine print before submitting your application.
Frequently Asked Questions
Is it cheaper to buy a house or a mobile home?
Manufactured homes are significantly less expensive than on-site houses. These residences are less costly and offer comparable or greater safety than site-built ones. When you are thinking about the cost of a mobile home, you need to consider the purchase price and what it will cost to move it, park it, and hook up utilities.
Are mobile homes cost-effective?
Manufactured homes are typically the more sensible choice, especially if you seek high-end, low-cost housing. Not only are they less expensive than typical houses, but you also save money over time/resale value. The only drawback is the cost of moving, but it pays for itself in the long run.
Why are mobile homes a bad investment?
A mobile home is a depreciating asset. It devalues over time rather than increasing like a conventional house. It's also more challenging to get rid of one if you want to sell it. They're not well constructed, and most of the sub-systems will be worse than those in a typical house, so problems will begin to arise soon compared to the usual.
How long do mobile homes last?
Although a manufactured or modular house may require more labor during the construction process than traditionally constructed homes, Mobile homes should last just as long as a traditional home built directly on a site. Manufactured homes that adhere to the HUD standard can survive anywhere from 30 to 55 years.
What is the best month to buy a new mobile home?
According to the National Association of Homebuilders, there is no right or wrong time to shop for homes. But, if you are planning on buying in the winter months, it's best not to start your search during January or February, as fewer people will be looking for housing.
Also Read: How to save for New House | Laws On Moving A Mobile Home | How Much Does It Cost To Move A House