Best Moving Companies in North Carolina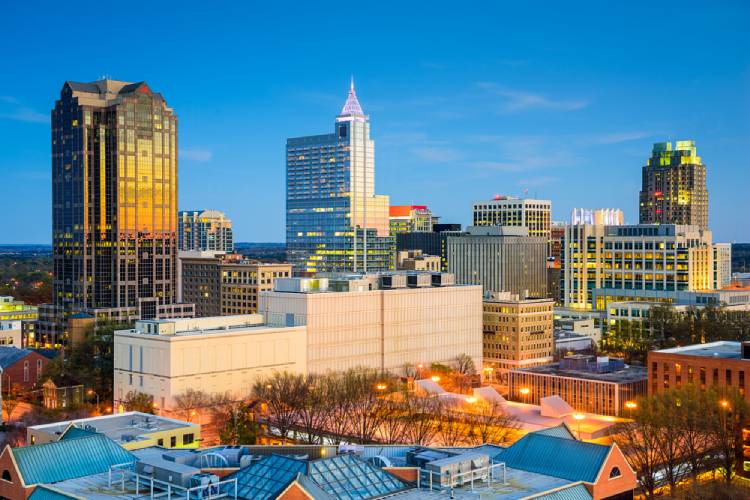 Relocating to a new location is usually fraught with emotions that are difficult to fathom. Though this tricky ride may bombard you with a lot of questions, there is something about the thought of starting a new life that keeps you running after the idea. To wing the whole move right from the very beginning, you need to have a great moving company to fly with you. So, here is a list of some of the best moving companies in North Carolina.
Top-Rated Moving Companies in North Carolina
You Move Me
Hornet Moving
Little Guys Movers
Athens Moving Experts
College Hunks Hauling Junk and Moving
Gentle Giant Moving Company
1. You Move Me
Three words that can melt even the stormiest of minds during a big moving day. That is exactly what this company aims at because who wants a move that is ridden with stress. The locally owned and operated Charlotte-based movers go out of their way to make your move smooth and hassle-free. Also, to start your moving day on the right note, the movers even bring you coffee!
Before these movers work their magic and load your items on the truck, they will complete a walkthrough of your home. During this process they enquire about items that need special care and decide what will be loaded last for easy access. By this, you can tell that the company does indeed think things through before moving your belongings. There is also a military discount option available should you avail of the services of You Move Me. Among the heaps of services like local/commercial moving, office and furniture moving, the company also has a senior moving facility. If you are moving into a retirement community, You Move Me will get in touch with them to make sure all the protocols and procedures are correctly followed.
This polite and hardworking business is legally licensed, insured, and registered with the US Department of Transportation. You Move Me will make your entire moving procedure full of smiles, from packing your first item to leaving a housewarming plant at the end of the move.
You Move Me Contact Details
Email Address: pr@youmoveme.com
Contact Number: (800) 926-3900
Address: 4300 Barringer Dr, Charlotte, NC 28217
Operational Hours: From 8 am to 9 pm on weekdays. From 9 am to 6 pm on Saturdays and on Sundays, the company operates from 10 am to 4 pm.
Website: www.youmoveme.com
You Move Me Reviews
Google Reviews: 4.9/5
Angi: 4.8/5
2. Hornet Moving
Making it to the list of the best moving companies is a humble locally owned business called Hornet Moving. The movers are known for their friendliness and adapting to the customer's schedule (even last-minute changes). To ensure transparent communication with its loyal customers, the company charges a flat hourly rate with no travel charge within Charlotte, thereby removing any doubt of hidden fees involved.
Hornet Moving can take care of all your packing, unpacking, and crating requirements without any hassle. You can pass the baton to Hornet for any kind of move ranging from complete office relocation, a mere local move, a long-distance move or even moving your piano for that matter. The company also carries full commercial insurance including actual value replacement so you can rest assured in that aspect too.
Speaking of the company's authenticity, its movers are properly licensed and insured. It is also a BBB accredited business.
Hornet Moving Contact Details
Email Address: hornetmoving@gmail.com
Contact Number: (704) 620-2154
Address: 6161 Brookshire Blvd, Charlotte, NC 28216
Operational Hours: From 8:30 am to 6 pm on all days of the week.
Website: www.hornetmovingnc.com
Hornet Moving Reviews
Google Reviews: 4.9/5
Thumbtack: 4.7/5
3. Little Guys Movers
Don't be fooled by the company's name because the kind of work they do on a daily basis is no small feat. Celebrating its 30th year anniversary, the company has come a long way in building trust among the locals and building a compact team of hard-working employees. A testament to their hard work can be witnessed in the myriad of positive reviews posted by customers who have availed of their services in the past.
You will have no trouble getting in touch with Little Guys, all thanks to their prompt response time and solution-driven approach towards things. The company very truly stands by its philosophy "do right by people and you will be rewarded." Of the many services available to you, Little Guys excel at both residential and commercial moves. If you have no plans of moving from your home sweet home but feel like amping up the look of the house, give Little Guys a call. Their In-House Shuffle service could come in handy for you to move some furniture and decor around and reorganize your home as you desire.
Commercially speaking, the company can also take care of your large shipments and store them in secure warehouses. Coming down to the very foundation of a moving process, you can also rely on Little Guys to provide you with moving supplies such as boxes, packing tape, bubble wrap, and so on. The company is as reliable as they come since it is properly insured, licensed, and registered with the US Department of Transportation.
Little Guys Movers Contact Details
Email Address: raleigh@littleguys.com
Contact Number: (919) 439-2454
Address: 1301 Capital Blvd, Raleigh, NC 27603
Operational Hours: Monday to Sunday from 8 am to 6 pm.
Website: www.littleguys.com
Little Guys Movers Reviews
Google Reviews: 4.9/5
Angi: 4.9/5
Also read: How To Find Free Packing Supplies
4. Athens Moving Experts
The term Athens conjures up images of something old and historically significant. Though this may not be the case with Athens Moving Experts, which was created in 2015, the company does have a wealth of experience in terms of providing high-quality service. Because the founders (best friends) have previously worked as movers for a larger company, you may rely on the company's understanding of moving and its minute nuances.
This Rayleigh-based company will ensure that your items are relocated with utmost care and attention. The movers collaborate closely with their clients to tailor the services they receive to their individual requirements and situations. You can hire Athens Moving for services ranging from residential and local moves to long-distance moves in the entire state of North Carolina!
They also offer specialized moving services for heavy and sensitive items such as pianos, gun safes, aquariums, hot tubs, etc. The company is well equipped to handle heavy moves and tasks like packing, unpacking, and unloading is mere cakewalk for them. In a rare scenario of your items being damaged, you can head to the company's website and fill in the form mentioned under the "Claim" tab.
Athens Moving Experts Contact Details
Email Address: move@athensmovingexperts.com
Contact Number: (919) 760-7774
Address: 6601 Hillsborough St #111, Raleigh, NC 27606
Operational Hours: All days of the week from 8 am to 6 pm.
Website: athensmovingexperts.com
Athens Moving Experts Reviews
Google Reviews: 4.9/5
Yelp: 4.5/5
5. College Hunks Hauling Junk and Moving
Moving items is no featherweight task, it requires muscle, endurance, and a whole lot of strength. This is where these famous hunks step in and lift the load off your shoulders. Keep in mind they don't fall in the category of "all muscle, no brains". The company has well-trained professionals who understand that every move is different and requires individual attention.
College Hunks cover all the moving processes and more! Apart from helping you with local and long-distance moves, the company also offers the labor-only option. This comes in handy when you only require a few muscles to lift bulky items like a piano, furniture, etc. Having been around in the industry for over 18 years now, College Hunks goes above and beyond to help the local community in its own way.
The company is in partnership with multiple non-profit organizations and charities that help the less fortunate with certain necessities. This is done by collecting junk and unused items from the families that wish to move and cannot find a place for these items. So, once you've finished packing and are looking for ways to get rid of the things you don't need, give College Hunks a call!
The company is properly licensed and registered with the USDOT so you don't have to worry about hiring the services of this nationwide famous moving company.
College Hunks Hauling Junk and Moving Contact Details
Email Address: stressfreeservice@collegehunkshaulingjunk.com
Contact Number: (910) 473-5163
Address: 2051 Andrew Jackson Hwy, Leland, NC 28451
Operational Hours: From 8 am to 9 pm Monday through Saturday. From 9 am to 9 pm on Sundays.
Website: www.collegehunkshaulingjunk.com
College Hunks Hauling Junk and Moving Reviews
Google Reviews: 4.9/5
Yelp: 4/5
Also read: How Does Junk Removal Work | College Hunks Hauling Junk and Moving Review
6. Gentle Giant Moving Company
A couple of college friends who love rowing, rowed their way into the moving industry and now have quite literally become the giants of this space. Named among Charlotte's best moving companies, Gentle Giant takes care of all the minute details that are involved in the moving process. The company also serves prime locations in the country like Philadelphia, New Hampshire, Providence, and NYC among others.
Marching forward with the aim of making every move stress-free, Gentle Giant offers custom moves for each and every customer. Be it residential moving or complete office relocation, piano moving, or even furniture assembly, all of these are within the reach of these giants!
Another peculiar service that this company offers is the crane moving service where they will literally lift speciality items out your house with a crane! This is done for items that run the risk of getting seriously damaged on staircases. Let us be real, we don't want a repeat of what Rossfrom Friends had to go through while moving the sofa upstairs.
They also have solutions for your storage needs. You can opt for electronic inventories that include itemized photographs of each of your items. With an A+ rating from the BBB and a hoard of accolades under its belt, Gentle Giant is a trusted and reliable moving company.
Gentle Giant Moving Company Contact Details
Email Address: info@gentlegiant.com
Contact Number: (704) 376-2338
Address: 3827 Barringer Dr, Charlotte, NC 28217.
Operational Hours: The company operates from 8 am to 5 pm on weekdays. On Saturdays, from 9 am to 5 pm. Not operational on Sundays.
Website: www.gentlegiant.com
Gentle Giant Moving Company Reviews
Google Reviews: 4.9/5
Angi: 4.8/5
See Also: Gentle Giant Moving Company Review
Things To Keep In Mind When Choosing A Moving Company
A smooth and unproblematic move can be pulled off only if you hire a good moving company and for that to happen, you need to know a few things about going about such a hiring process. So, below are a few things you must keep in mind when choosing a moving company.
The golden, platinum, emerald, or diamond rule, whatever one may call it, is the necessity to get at least 3 different moving quotes from a number of companies before fixing your heart on that one moving company.
It is normal for you to get overwhelmed by the huge price range these companies offer. Look for the one that suits your budget best and offers the kind of services you require. Isn't that the recipe for a perfect match?
Do complete background research on the company. From its licenses, insurance, and registration with the USDOT, leave no stone unturned in terms of research. Read online reviews by the company's past customers to get a better knowledge of how the company functions.
Instead of getting surprised and hit with a wave of regret, ask the company about any hidden fee you might incur at any stage of the move.
See Also: Most Affordable Places to Live in North Carolina
Conclusion
No heavy task is achieved easily and that is also the case with a moving process. It has its own obstacles but with the right planning and execution, nothing is impossible. The above list of moving companies is sure to help you get through this daunting task.
FAQs On Best Moving Companies In North Carolina
How Much Are Movers In NC?
Though moving costs depend on various factors, the average moving costs in the state of North Carolina tend to be around $615 to $1,670.
How Much Is An Average Local Move?
Considering a local move of under 200 miles, the average cost of moving will range from $820 to about $2,570.
What Is Considered A Long-Distance Move?
Typically, a move of over 400 miles is considered to be a long-distance move.
See Also: Best Long Distance Moving Companies in the U.S. | Moving to North Carolina