Best Moving Companies in Massachusetts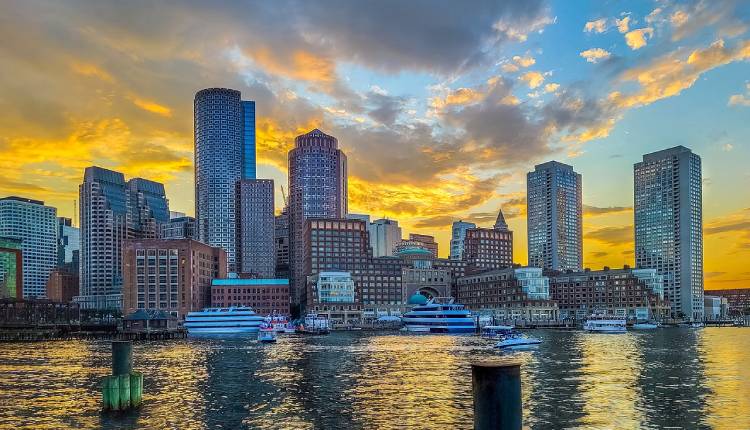 Finally, the time has arrived for you to part ways with your house in Massachusetts which has provided you with limitless memories. But as they say, life goes on and you need to move to a new abode to begin yet another journey. To make sure this transition as smooth as possible, you need a good moving company to assist you. So, we have a list of some of the best moving companies in Massachusetts to help you find your moving buddy.
Top-Rated Moving Companies in Massachusetts
Move and Care Moving Company
Stairhopper Movers
A-Plus Moving & Storage
Premium Q Moving and Storage
Gentle Giant Moving Company
Fresh Start – The Moving Crew
1. Move And Care Moving Company
A relatively new company that started out just 5 years ago, Move And Care Moving have been making quite a noise in the moving industry, for all the right reasons might we add. Michael, along with his business partner movedinto this industry to give it a more human approach and so far, they've been doing a splendid job. The reviews by their customers are solid proof of that fact.
It is a full-service moving company that believes in complete transparency with the customers. A testament to that is the separate pricing section available on the company's website which clearly states that there is no hidden fee involved. The company handles local and long-distance moves effortlessly. It also provides storage solutions in case your moving process takes longer than usual. Count on them for packing, unpacking, furniture assembly, and well, just about any service you require. The company has definitely mastered all the arms of a moving process. Additional services like senior moves, piano moving are some of the various areas of their expertise.
If you pick labour only services, the company gives you the option to hire 2 movers at the rate of $120 per hour for 1 Room/Studio. 3 movers will cost you $170 per hour for a 1-2 Bedroom house/apartment and 4 movers come at a cost of $210 for a 3-4 bedroom apartment/house. You can also choose the free estimate moving option available on the website. The company is properly licensed and insured to provide uninterrupted services in Boston and surrounding areas.
Move And Care Moving Company Reviews
Google Reviews: 4.9/5
Thumbtack: 4.9/5
2. Stairhopper Movers
Rated as one of the best moving companies in Massachusetts, Stairhopper Movers have earned a reputation for being a meticulous and a master-planner of a company. With 21 years of experience under its belt, Stairhopper Movers take pride in being the first choice company for local moves in the Boston area. Not just limited to local moves, the company covers every single state of the country when it comes to long-distance moving. They also have their own fleet of dedicated licensed trucks permitted to move out of state lines.
The company has a competitive edge due to its stellar referral rate. Their business referral rate is at 95% and this speaks volumes about the kind of trust past consumers have in them. So, it is safe to say that you can climb the stairs of trust and hire their services for any sort of move like a commercial, residential, office relocation, or just even packing services!
The company has a BBB rating of A+ and is fully licensed, bonded, and insured to handle any kind of move. So, hop on a call with the company and let them take the load of a stressful move off your shoulders.
Stairhopper Movers Reviews
Google Reviews: 5/5
Angi: 4.9/5
Also read: Moving From Boston To Seattle
3. A-Plus Moving & Storage
There is something about the sight of an A+ rating that automatically builds confidence, be it at a class test or a moving company in this case. The company scores full marks in almost all aspects of moving. As the name suggests, A-Plus also provides storage options ranging from short-term storage for college students to long-term storage for cross-country or overseas moves.
What sets them apart from the majority of the moving companies in Massachusetts is their on-the-dot punctuality. Their prompt response time will also eliminate any sort of delay in your moving inquiries and help you make a better decision. They've been around in this industry for more than 15 years now and have learned all the tricks of the trade. In a very subtle fashion, the company sums up its services as "We'll Pack it, Stack It, Rack it, and Track it, but never ever Crack It" and that's just about everything you need to know about A-Plus Moving & Storage!
The company is properly insured, licensed, and registered with the USDOT which means it is as legit and reliable as it gets. A-Plus also has a (no surprises here) A+ rating on BBB so you have that to look forward to.
A-Plus Moving & Storage Reviews
Google Reviews: 4.8/5
Yelp: 4.5/5
4. Premium Q Moving and Storage
The early bird catches the worm is taken seriously by Premium Q Moving. They are an early-to-rise company that starts its operations at 5 in the morning. It's not just their impressive time management but their ability to handle all kinds of moves effortlessly and deliver top-quality services that makes them one of the best moving companies in the state.
Apart from the usual local and interstate move which Premium Q obviously excels at, the company has a load of other services you can avail of. Whether you are looking for a complete office relocation or thinking of ways to move that bulky piano, Premium Q Moving has got you covered. You can avoid the stress of carrying your belongings by simply availing of the excellent storage services this company provides.
Though it is unlikely that such a case would arrive on the off chance your items are damaged or misplaced for any reason, you have the option to file a claim for compensation on the company's website. Premium Q Moving has all the licensing and insurance in place and is also properly registered with the USDOT so you don't have to worry about their authenticity even for a minute.
Premium Q Moving And Storage Reviews
Google Reviews: 4.9/5
Angi: 4.9/5
Also read: Largest Cities In Massachusetts
5. Gentle Giant Moving Company
Gentle in their approach, giants of the industry is the most appropriate definition one would give to this company. Serving the Boston area primarily, the company has garnered a surfeit of positive reviews for its top-notch services over the years. Commencing its operations in the year 1980, the company has come a long way in becoming Boston's most trusted local moving choice. Safe to say, they know every nook and corner of your area more than you do!
You can count on Gentle Giants Moving for not just local but long-distance moves too. After all, those giant legs won't just be limited to short distances. The company has its base in about 20 other locations in the country. This only means that your belongings are going to be singing sweet melodies during their relocations across the nation. Few of these locations include San Diego, San Francisco, New York City, and Philly. Apart from packing and unpacking services, Gentle Giants also offers a money-back guarantee if you feel the services provided by their movers were not up to the mark. Talk about confidence in one's employees!
Gentle Giant Moving Company Reviews
Google Reviews: 4.9/5
Angi: 4.8/5
6. Fresh Start – The Moving Crew
Moving to a new location brings with it a lot of enthusiasm, new experiences, and new adventures. However, in order to ensure that your new life genuinely gets the fresh start you've been wishing for, you'll need a reliable professional company to transport all of your belongings without you having to intervene. To be honest, it's difficult to ignore the vibrant and passionate image of dedicated personnel that a company named "Fresh Start" conjures up in your mind.
It's not the name that is the selling point of the company, but it is the ability to deliver services of the highest quality in the given time which makes them a repeated choice among customers. The affordability is yet another reason this company has gained tremendous support from loyal customers over the current span of 8 years since the company's inception. The said services include residential and commercial moving, packing, and highly secure storage options. The heavy lifting part of a move is often tiring and at times bone-cracking if one is not careful enough. The company being aware of the possibilities of such mishaps, provides furniture moving services that include pianos, dining tables, etc.
This New England area company is properly licensed with the MDPU – Massachusetts Department of Public Utilities and takes all the necessary precautions and safety measures seriously.
Fresh Start – The Moving Crew Reviews
Google Reviews: 4.9/5
Angi: 4.9/5
Also See: Massachusetts DMV Change Of Address
Things To Keep In Mind When Choosing A Moving Company
There are times in life when you reflect on a specific event or occasion and wonder what may have happened if you had been better informed and aware of the circumstance. Well, to make sure your memories of any incident related to moving are filled with positives only, below are a few tips you must keep in mind when choosing a moving company.
To never settle for less is the usual saying but in case of picking movers, it changes to never settle for the first moving company you contact! Always get at least 3 moving estimates from different companies and get yourself up to speed with the current market rates.
Look for a company that offers the most affordable prices for all of the services you need. Once you've chosen the one, conduct a comprehensive investigation into the company's license and registration.
A lot of companies have bogus websites and fraudulent schemes which they try to pass off as genuine and rip off their clients. To know more on this read our article on How to Avoid Moving Scams and Frauds. Steer clear of such unlawful activities by reading online reviews, and asking friends who have availed any sort of services from the company to know the real picture.
Ask the company you choose about any hidden fee which you might incur at any given stage of the entire move.
Conclusion
You've already gotten a good start on your search for the best moving company in Massachusetts by reading this article. Hiring a good moving company is half the battle won, and the other half will be accomplished by the said company regardless. So sit back and relax as your belonging traverse the distance in one piece once you've done your part in selecting the right company.
FAQs On Best Moving Companies In Massachusetts
How Much Do Movers Cost In Boston Ma?
On average, a 3 movers crew in Boston MA will cost you anywhere around $600-$800 for a 2 bedroom apartment.
How Do I Find A Reputable Local Mover?
In order to find a reputable local mover, you need to get multiple moving quotes, do a background check on the company, read up reviews online and check whether their license is in place.
What Is The Best Month To Move?
Peak moving season usually lasts from April all the way to September and you can consider moving this time if it works for you. However, keep in mind that it gets busy. If you wish to save on costs, you can move during the off-season which is during the winter months.