Tips for Moving Alone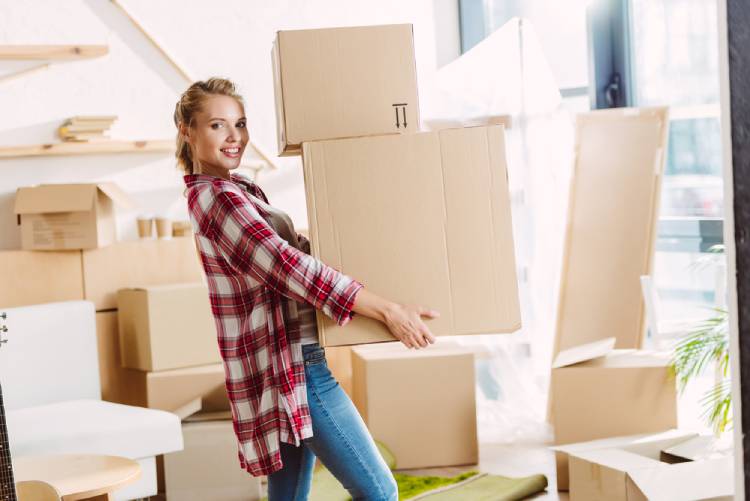 Moving as a family is easier, with all the extra helping hands and extra emotional support. But every year, many people move to new places alone. You could be a student moving for college, or a working professional moving for work. People of all age groups move at some point in their lives. The reason for your move can be anything from starting a new job or just for starting afresh in a new city.
Starting from square one in a strange city can seem scary at first. Homesickness can eat you up in the first few days. But looking at the brighter side of it, nothing is more reassuring than the independence of living by yourself. Look at it as a healing process, where you actually embrace your solitude and make gold out of it. Apart from tips on packing and moving, there are several tips that will help you settle in a new place alone.
Research The City You Are Moving To
Research in-depth about the neighborhoods of the town/city you are moving to. Doing this alongside your research for homes is going to help you make a better decision. Researching neighborhoods doesn't limit to Google searches alone. Those searches will only give you blogs or tourist reviews that touch the external surface of the city.
Dive into the subreddit of the city. Explore the popular questions and shoot out any questions you have. This way, you will be aware of the unsafe areas of the city, popular public transport, and things to do in the city. Since all answers will be from the locals, you can be assured of their authenticity.
Additionally, look for nearest departmental stores, gas stations, and pharmacies. Make full use of Google Maps to explore the transportation of the city, and which transport option takes you easily to your workplace/college. Once you narrow down whether you will be taking a bus, a train, or a subway, accounting for ticket expenses too will be easier.
See also: Best States to Live in
Plan Your Finances
A common mistake that many young people make is moving out of their parent's homes without a fixed budget. You don't want to end up living from paycheck to paycheck. Budgeting cannot be ignored when you are moving alone. You can use budgeting apps for the same. You could even note every expense you make to keep an account of how much of your income you need to set aside every month. Ideally, you should save up for three to six months of living expenses before you decide to move out. This will cover you for all the new expenses after the move.
See also: How to Finance a Move
If you are moving as a tenant, get rental insurance. You will be secure against any thefts that happen in your rental accommodation. Make sure to have enough money saved up for a security deposit. There are a ton of expenses that keep popping up when you move alone. Investing in kitchen supplies and the furniture itself demands a huge chunk of your income. Planning your finances in advance helps set money aside for a comfortable life alone.
See also: Cheap Cities to Move to
Consider Moving In Co-living Spaces
Students or young working professionals don't need a lot of space. If having an entire house or apartment to yourself is not a necessity, you can look for co-living spaces. When looking for homes in the city you are moving to, look for roommates. If you can't find an ideal home or an ideal roommate. Start looking for common apartments or co-living spaces.
This kind of accommodation is a brilliant choice for people moving alone. These spaces have separate private rooms with a common community space, such as a common hall and a community kitchen. You end up saving a great deal of money and make many new friends. The monthly fees of co-living spaces cost anywhere between $550 – $1500. Often cities and towns with a concentration of colleges and workplaces have many coliving spaces. Moving to a new city all by yourself can be a lonely process, and the community you meet at co-living spaces makes it so much easier.
Have A Plan In Place
Hopping on a plane and moving to a new city is not going to solve all the problems, especially if you are moving to a completely strange city to start a new life. You might already have a job in the city you move to. But there are many things to plan apart from your finances alone. Carry your medical records along and research healthcare professionals in your neighborhood. Note down things you want to explore in the city, things to do, and places to eat. Such a plan is going to make you feel closer to the city which will soon be your home. Have a long-term plan, this sense of purpose is going to make your life in the new city more driven.
See also: Common Moving Problems and Solutions
Organize Your Relocation
You are the only one paying attention to a hundred things while moving alone. You will be juggling between booking movers, changing your address details, transferring medical records, and the list never stops. It is normal to go berserk in such situations. Even with movers on board, the entire responsibility of the move lies on your shoulders. So making notes, creating a checklist, and planning in advance will help you.
Ask friends to come over and help you with the packing. Often when people move alone, there are people to help when they move out of their current homes but have no one to help them when they reach their new house. You will likely be on your own after your movers leave your belongings at the new home. If the town/city is completely strange to you, ask co-workers or neighbors for help. People are always ready to help, you just have to ask!
Leave Most Belongings Behind
Moving alone on a budget can be difficult with all your belongings. They make your move expensive and drain you out when you unpack them. Remember, you will be unpacking and setting up your home single-handedly. Moving with only the essential belongings is going to save you a lot of trouble. You can even cross out the need for movers if you eliminate large items like furniture and appliances.
Go for a truck rental to carry your essential belongings. If you are on a tight budget, you can even ship them by train. Amtrak is any day better to ship clothes, mattresses, and household goods, as such items are too bulky to ship by post. But for furniture or electronics, you need to hire a cross-country mover. Making a decision to leave bulkier goods behind is going to make your move affordable. Moving into a furnished apartment is going to solve most of your problems.
Meet New People
In a city full of strangers, meeting new people is going to win you friends in no time. Start striking conversations with your co-workers or classmates. Initiate conversations and participate in group activities, show enthusiasm in hanging out with them if you are invited. Try meeting new people outside of your workplace or college. Start a hobby and join a class like cooking, photography, writing, or painting. If you have a thing for sports, play soccer or attend yoga classes for weekends. Soon you will make friends with people who have similar interests like you.
You can even take time out and explore the city alone, walk over to a bookstore or sit at a cafe by yourself. Be open to conversations; people are often welcome to newcomers. Don't focus all your attention on your cellphone while outdoors, who knows, you could miss a chance to meet a great friend or a partner!
Make Connections Online
While face-to-face interactions are the best way to make meaningful connections, they are not always possible. Install some apps that will help you meet new people. Apps like Meetup, Bumble BFF, Nextdoor, Friender, etc. help you connect with new people in your city. Playing online games and using services like Teleparty are some ways to share bonds with your online friends.
Whenever you go to meet a friend you made over an app, it is better to let a close friend know. You can even meet new people through your old friends. Before you move, ask them to connect you to the people they know in the city you are moving to. Follow such mutual friends on social media and initiate a conversation with them. This way, you will already have friends in the city when you arrive.
Carry Things That Remind You Of Home
We told you to eliminate belongings that you don't really need in your new life. But if a huge Christmas present reminds you of your family, include it in the move, even if it is bulky. Put all the things that hold memories around your new home. Pack all belongings like framed photos from family vacations, the artwork of your younger siblings, and other memories that remind you of the people who love you.
When you reach your new home, unpack this box first and place all mementos in your home. Keep them alongside your bed, or on your study table. You can even keep them on your desk in your office. Looking at them will keep the feeling of homesickness away. Along with this, stay in touch with your old friends through video calls and chats. This will remind you of happier times and make you hopeful.
Keep Checking On Your Safety
Start your move early in the morning, and drive only during the day. If you are carrying some belongings in your car, keep them hidden, especially items like laptops, tablets, and jewelry. If it is a cross-country move and you need to make a stop at night, choose a reputed hotel in a bustling city. Motels along the highway are not always safe.
As soon as you move into your new home, change the locks and set up a security system. When you move into a co-living space, your security isn't such a major concern. But it is different if you move alone into a house. You are exposed to threats, so taking precautions is always recommended. Contact a locksmith to change your locks, you can even get new locks from a local hardware store and do it by yourself.
When you buy things off Craigslist, ensure that you meet your seller in a public place. Never make the mistake of going to any seller's home alone. Follow the same precautions if you are meeting someone you met through a dating or meetup app. Look up the contact numbers of your local police department, nearest hospital, and fire department. Save these numbers as emergency dials or shortcut dials on your phone.
Set Up Your Home
A benefit of this newly found independence is the freedom to set up the house according to your taste. Go crazy and paint your favorite corner, put up posters of icons you admire, hang up paintings and get indoor plants. Anything that adds your personal touch to the bare walls of the house will make the space feel more like home.
Setting up a home without a family to help you might feel bored and could lead to procrastination. But trust us on this, start setting up your home as soon as you move in. Carry along familiar things from your old home like blankets, books, and coffee mugs. Unpack immediately and set up a place that makes you feel warmer in a new city.
Get A Pet
Just like setting up your home to create a familiar homely environment, getting a pet helps a great deal. They are stress relievers and will stick with you through all ups and downs you experience after the move. Check if your place has a rule that bans pets. If you do get a pet, taking it to the dog park opens possibilities for meeting new people. You can even bond with animal lovers and communities that work for animals. Start with volunteering for events or fostering pets. After all, a furry friend to cuddle with always lessens loneliness!
Record Your New Life
Moving to a new place comes with diverse challenges. Keep noting all the novel things you experience and how you overcome challenges. You can write everything in a diary or start a blog to share your experiences. You could even shoot everything you do, like a vlog. These journal records will help you plan your finances, career, and interests better. You can look back on your records if you are stuck somewhere. Sharing these records with your community will help people learn from your experiences. This healthy practice will prepare you for the moves you will make in the future. Soon, you won't be a novice anymore when it comes to moving cities alone.
FAQs
How Much Income Is Needed To Live Alone?
The income you need to live alone can differ from one US state to another. It depends on the cost of living of the city you move to. A single person can live comfortably in Kentucky or Arkansas on an income of about $28,000 annually. But if you move alone to Hawaii or Maryland, you need to earn an income of about $40,000 annually to lead a comfortable life. If you budget well, you can even keep aside savings. For this, if you allocate 50% of your annual income to spend on housing and 30% towards expenses like travel, you will have 20% left as savings.
What Is The Right Age To Start Living Alone?
Many young adults move out as early as 16 to pursue an education away from home. But many people complete their education and get a job in the same town as their parent's home. In such cases, living in a parent's home is a good way to save money. Many commentators state 25-26 years is the right time to start living alone. If saving money isn't a priority, you can move out earlier than that age.
How do you deal with loneliness when living alone?
Living alone can be difficult. It's essential to have a routine to keep your mental state fixed. Find out what makes you happy and do it every day. If you enjoy being around people, find a part-time job to give you some exposure to people in an environment outside of a home setting. Reach out to your close friends or family as well, even if they live far away. Lastly, find ways to maintain your physical health by exercising and eating healthy.
What should I know before living alone?
One should know that a person living alone must be able to take care of themselves. One can do many things to improve the quality of life for themselves, such as learning how to cook healthy meals and buy healthy groceries. One should also know that people living alone may need a social life outside of work and friends to have someone to talk to about their thoughts.
What are the disadvantages of living alone?
It is harder to make new friends and stay in touch with old ones. There is a lack of support when you are feeling down or need help. You might find it challenging to maintain a healthy lifestyle without the oversight of your community. Your family may not be close by, and your income will not always cover all of your needs. Finally, living alone can be very lonely.
Is living alone lonely?
Just because you live alone or by yourself doesn't mean you're lonely. Like all humans, we want to find people to have a connection with. It's just that living alone means that we feel the need for this type of connection more acutely.
Is living alone scary?
Some people believe that living alone is scary. One of the main reasons people fear this is the lack of companionship, which can lead to loneliness. Loneliness and solitude are different in that solitude is a state of isolation, while loneliness implies that someone does not have enough social life outside the house. Living alone can be seen as an extension of their home life, which means it's a safe space where they know what to expect daily. It also enables them to have more security when it comes to sexual protection or not being robbed in their own home. Another common reason why some people may find living alone frightening is because of how much privacy they will have. You might feel like you're constantly being watched.
Is living alone expensive?
This will depend on your weekly budget and your living cost. If you live alone, there would be fewer people to share the expenses of living with you; therefore, living alone may seem more expensive than when shared with other people. However, if your living costs are high, the additional cost may not offset any savings from paying less in rent or utility bills. Living alone is inexpensive for some, while it can be costly for others. There's no single answer to this question because each situation will have its own unique set of variables.
How do I stay happy alone?
One way to stay happy while living alone is to be in a good state of mind. We all have an irrational side that needs reassurance and support from time to time. Fill this need by spending some quiet one-on-one time with yourself when you feel low on self-esteem. Doing so nurtures the part of you that might need to feel needed, which leads to a healthier sense of self-worth.
See also: How to Move Out of Parents' House | Best Apps to Help You with Your Move