Moving From NYC To Miami: Expert Tips and Advice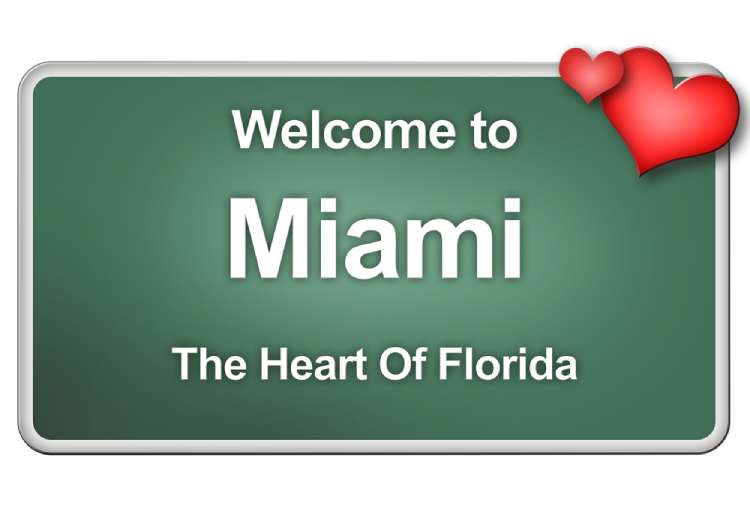 Want a city with a culture that is more palatable? Then it's got to be Miami! The city is also a food lover's paradise that you'd probably even happily let go of NYC-style pizza. To top it up the beaches are immaculate and you're accompanied by way more sunny days than New York City. The idea of moving to Miami is one that strikes many New Yorkers but let's look at the practicalities of such a life-altering decision.
Factors To Consider Before Moving From NYC To Miami
Weather Conditions
Winters in Miami are mild and short which is in complete contrast to the winter conditions in NYC. New Yorkers have to actually 'survive' the winters but in Miami it's just sweater weather where you get a break from soaring high temperatures. You probably must be used to dressing in layers in NYC but you can actually make it through Miami winters without boots and bulky winter jackets. There's plenty of sunshine in the city and it will be far less gloomy than NYC in January.
Here's the difference in temperatures that you can expect during the winter months:
Winters In NYC (December to March) – Average temperatures fall in the range of 28°F to 39°F.
Winters In Miami (December to February) – Average temperatures fall in the range of 62°F to 76°F.
This proves there's going to be a massive shift in how you experience winter in Miami after NYC.
In terms of summer, July is the hottest month in Miami and since the climatic conditions mainly get classified into tropical monsoon climate, expect humidity and sudden downpours. Easy access to the beach, having a drink at the waterfront and pools makes it a breeze to get through a Miami summer. Most homes also have an air conditioning unit. The only downside is that it rains pretty often so you need to have your rain gear with you.
Here's the difference in temperatures that you can expect during the summer months:
Summers In NYC (June to September) – Average temperatures fall in the range of 71°F to 85°F.
Summers In Miami (June to September) – Average temperatures fall in the range of 79°F to 90°F.
For summer you'd more or less feel like you're dealing with what you dealt with in NYC. It's more breezy in Miami and the sudden rains cool the air which makes it easier to manage.
Few Things To Bear In Mind About Miami Weather:
The year-round weather conditions in Miami are in the 62°F to 90°F zone but for NYC it's in the 28°F to 85°F zone.
Torrential downpours in spring and summer are common so you must be mindful of them.
Many vacationers and tourists visit Miami during the winter months to escape from brutal winters so roads and beaches could be more crowded than they usually are.
Now that you know what weather conditions you're getting into, let's learn more about how you have to prepare financially for the move.
Cost of Living
If you want a straightforward answer then it's that Miami is cheaper to live in than NYC. The taxes in New York are a burden and you can escape the weight of carrying it by moving to Miami. The lack of state income tax makes Miami inviting. It also ultimately allows you to have more money to yourself.
Keep in mind that Miami is as popular a destination as Midtown Manhattan so prices here are slightly higher than the rest of Florida. But if you're a New Yorker who earned six-digit figures annually then Miami could look like a very affordable place to live.
For instance, if you review the prices at which homes are sold in Miami, you'd probably be able to afford a much larger property in Miami. In NYC you're likely to get a less spacious place even though the price is high but that's not really the case with Miami. If owning a larger home is one of the goals you want to achieve with the move it certainly can be made a reality in Miami.
See also: Moving to Miami – Relocation Guide
Here is the difference in costs if you look at real estate (according to Zillow):
Median value of homes in Miami – $326,457
Median value of homes in New York City – $652,012
Homes are roughly double the price in NYC so you can imagine the huge sums of money you'd save on property.
In terms of utility bills and groceries, you could roughly expect things to be 15% to 20% cheaper in Miami. The biggest difference in costs would be for groceries because there's a 19% gap between the two cities. All in all, there's a very good chance that your expenses become considerably cheaper in Miami. This is mainly because NYC is among the most expensive cities to live in the nation while Miami is still not there yet.
Job Market
The business activity in Miami and NYC are both above average. The only vast difference is that NYC is at an elevated position. It sits tall for being the nation's largest city by GDP. All those skyscrapers and tall buildings in the city host some of the globally recognized finance, media, marketing, and technology companies.
In the case of Miami, the key industries are healthcare, real estate, and tourism. NYC has already earned the title of City of Dreams because it provides world-class career opportunities. Miami hasn't earned the title yet but in its essence, the city also has a good stature for lucrative jobs.
In Miami, there are several Latin-American multinational corporations. Tech companies have a smaller presence in comparison to what you'd have in NYC. To give you a gist of the key industries of Miami, let's look at the city's largest employers:
Largest companies in Miami:
Norwegian Cruise Lines (Cruise Line)
Royal Caribbean International (Cruise Line)
Lane Bryant (Retail Company)
Ryder (Logistics and Transportation)
Sitel (Customer Service)
Akerman LLP (Law Firm)
Do note these are just the top few and the job market isn't limited to just companies tied to these industries. But keep in mind that retail, construction, and the hospitality industry are some of the largest contributors to the city's economy.
In terms of income, you'd probably see a dip in salary after you move to Miami. To give you perspective, see the difference in income below:
Median household income in Miami (according to Niche) – $39,049
Median household income in NYC (according to Niche) – $65,323
We suggest that it's best not to be taken aback by the drastically low household income because you'd probably not require a higher income bracket to live well in Miami. On an average a single adult makes 22k to 30k annually in Miami. If you manage to get a salary that brings in more than this amount, you can live more than comfortably. But in the case where you're going to move with family and kids, your annual household income should ideally be 85k or more to live comfortably.
Transportation
In NYC, most residents opt to take public transportation and you don't really require a car to get around the city. You have the subway which is the lifeline for commuting, cabs, and even the bus which is reliable and affordable.
Speaking of Miami, your options for public transportation are cut in half and this is why a vast majority of people choose to travel via a private car. To sum up your options for public transport here, they are:
Tri-Rail – This is a commuter rail that runs in the north-south direction. This line connects residents from Fort Lauderdale uptil West Palm Beach.
Metrorail – This is a metro system that serves the Miami-Dade County consisting of two lines and 23 stations. Most of Downtown Miami and those residing in the urban core of the city benefit from this rapid transit system.
Metrobus – The extensive bus services are most accessible from Miami Beach, Key Biscayne, West Miami-Dade, Broward County, Homestead, Florida City, and the Middle Keys. The bus mainly passes through points of entertainment, schools, and hospitals.
MetroMover – This is a free transit system that serves the Greater Downtown Miami area. The MetroMover consists of 2 lines and 21 stations. It stops at spots where you can take a Metrobus and even the Metrorail.
These are the main modes of public transportation and to an extent this helps residents of Miami feel less handicapped without a car. The only downside is that these modes are concentrated and most accessible mainly from Downtown Miami while other suburbs are left in the dark.
In NYC, even without a car you won't feel like you're living under a rock or in isolation because you can still be connected to most of the points of interest. In Miami, without a car you'd possibly feel slightly disconnected from places you want to reach.
Miami's Strong Points
Sun, sand, and sea
International cuisines
Multicultural communities
Quality healthcare
World-class entertainment
Tax friendly
Affordable property
Vacation-like lifestyle
Relaxing pace of living
Top Neighborhoods To Move To In Miami
1. Brickell
The neighborhood of Brickell sits in the heart of Miami and is the most desirable place to live. If you choose to reside here you'd have easy access to the Metrorail and the free MetroMover. Real estate is on the expensive side but that's the price to pay to enjoy a prime location. For recreation here you have the neat and clean Simpson Park. There's no shortage of eateries and grocery stores as well.
Median value of homes sold: $452,059
Median rent: $2,103
2. Coral Gables
Coral Gables sits 15 minutes away from Downtown Miami and is another lively popular neighborhood for new residents. According to the review site Niche, Coral Gables is the second-best suburb in Miami. The housing costs here almost touch the real estate market in Manhattan. It's an affluent neighborhood with its own shopping strip called the Miracle Mile.
Median value of homes sold: $846,100
Median rent: $1,693
3. Pinecrest
If having quality schools in the neighborhood is the top priority for you then make sure to check out Pinecrest. The school district here is highly rated and if you're moving with kids chances are you'd find a good school in Pinecrest. The communities here are safe, neat, and friendly which makes them ideal for families. If you find the real estate over your budget, you can also check Palmetto Bay which is another family-friendly neighborhood in close proximity to Pinecrest.
Median value of homes sold: $949,400
Median rent: $1,549
4. Coconut Grove
If you've always loved having quick access to the waterfront then Coconut Grove is the place to pick. The atmosphere and vibe of the place are somewhat similar to Coney Island. The neighborhood is dotted with sports centers, bayside parks, and yacht clubs. If you want to pick up sailing activities, this is a good place to revive that skill.
Median value of homes sold: $737,714
Median rent: $1,624
5. Doral
The perk of living in Doral is that you're just a mile away from the Miami International Airport. If you're someone who has to travel for work often, this could be the neighborhood for you. Doral also has a central park but it's just 82 acres unlike the iconic 843-acre park in NYC. This neighborhood is 30 minutes away from Downtown Miami, so it's less touristy as well.
Median value of homes sold: $394,900
Median rent: $1,991
Things To Take Care Of When You're Moving From NYC To Miami
Keep in mind that this is an interstate move because you're relocating to a new state. The demands of such moves are way more than local ones so ensure you've started working on moving-related tasks 3 months in advance.
Look at your move as an opportunity to purge. The lesser the weight of your move the less costly it would be.
Summer months are the peak season for people to move homes and most of the best moving companies tend to be booked out. This is why we suggest confirming a mover beforehand.
Look up Google reviews and remarks against the moving company on Yelp, Angie's List, NextDoor, and more.
Ensure the company you pick is licensed with trucks registered to move across state lines.
Ease your moving project by flying to Miami once before you actually settle there (if possible). This would help you select a property and a neighborhood of your liking.
NYC To Miami Moving Costs
On an average expect to receive a quote somewhere between $3,000 to $6,000. This would be the cost for full-service professional movers that take care of packing, unpacking, loading, unloading, and driving the truck.
If you wish to reduce the cost of the move, you can consider taking on the task of packing your belongings independently. To get an estimate of the move it's best to begin conversations with a professional moving company. The quote varies depending on total weight, ZIP code, and even things like whether your mover has to climb staircases. If you live in NYC, chances are your apartment has staircases and this is something that could increase the quote you receive.
Also See: Top 5 Neighborhoods in Miami for Families
FAQs
Is Miami more expensive than New York?
Miami is less expensive than NYC because of the low tax burden. Florida has no state income tax and property taxes in Miami are also much lower. The average value of homes in Miami ($326,457) is less than the housing market of NYC ($652,012).
Should I move to Florida from New York?
If you're experiencing burnout and no longer like the hustle culture and fast-paced lifestyle of New York, you could consider Florida, where the way of life is on the other spectrum. Florida also enjoys warmer temperatures and is a great escape from brutal winters. If you resonate with the relaxed vibe, diversity, and overall lifestyle of Florida, you can think of moving here from NYC.
Is it cheaper to live in Miami or New York?
There are several factors that contribute to the overall cost of living. One of them is the housing cost. If you reside in Miami, you'll have to pay around $326,457 as your median house cost as opposed to $652,012 in New York. Speaking of your other essential utilities like grocery expenses, they will be cheaper in Miami compared to New York. Also, Miami doesn't charge you any state income tax. That's why it's cheaper to live in Miami compared to New York.
How many New Yorkers are moving to Miami?
Around 300,000 New Yorkers have moved to Miami in recent times, according to Multi-HousingNews. It's mainly because of the low tax rates. Apart from that, the warm beaches and low housing costs make New Yorkers want to move to Miami.
Is Miami more dangerous than New York?
On a scale of 100, Miami has a violent crime rate of 48.8 whereas in New York the rate is 28.2. Speaking of property crimes, Miami has a crime rate of 62.7 whereas in New York, it's 24.9 according to the research conducted by BestPlaces. As you can see, the crime rate is more in Miami compared to New York, making it more dangerous.
Should I move to Miami from NY?
Both Miami and New York are popular metropolitan areas. But New York City compared to Miami has a very busy lifestyle with expensive housing of around $652,012 which is higher than $326,457 in Miami. While the housing costs are high in NYC, you get to experience the most lavish and busy city lifestyle. But in Miami, you'll find the city to be relaxed with low housing costs and plenty of activities to do. So if you like sunshine and a relaxed lifestyle, you should move to Miami from NYC. But if you like the hustle and bustle of city life, then you should stay in New York City.
Is 50k a good salary in Miami?
A salary of 50k can be considered to be decent and help you meet your basic needs in Miami only if you're a single person. To live comfortably in the city, you need a salary of at least 70 to 80k.
Is living in Miami cheaper than living in New York?
When it comes to taxes, Miami doesn't charge you any state income tax as compared to New York. Also, your housing cost will be around $326,457 as opposed to the high price of $652,012 in New York. You don't even have to worry about burning a big hole in your pockets in Miami as your grocery prices tend to be cheaper than New York. So, yes, living in Miami is cheaper compared to living in New York.
What places to avoid in Miami?
Model City and Downtown are the two most dangerous places that you need to avoid in Miami. According to the research conducted by Areavibes, Model City has had almost 1,919 violent crimes per 100k people while Downtown has had 1,195 violent crimes per 100k people. Other dangerous places with high crime rates that you should avoid going to are Little Haiti, Allahpattah, Overtwon, Wynwood, and Upper East Side.
Is Miami dangerous to live in?
The crime rate in Miami for violent crimes is 48.8 whereas the national average is 22.7. In terms of property crime, Miami has a property crime rate of 62.7 as opposed to the national average of 35.4 as per the research conducted by BestPlaces. As you can see, Miami is dangerous when it comes to crimes as the crime rate for both violent and property crimes is higher than the national average. Although the beaches and sunshine may seem inviting, you'll have to deal with the heat almost throughout the year.
Where in Florida are most New Yorkers moving to?
Most New Yorkers are moving to West Palm Beach in Miami to escape the busy hustle and bustle of New York and enjoy the warm sunshine. The Lion Country Safari, Mounts Botanical Garden, Clematis Street, and Okeeheelee Park at Palm Beach have captured the hearts of most New Yorkers moving to Miami.
Why are people moving from NYC to Florida?
As opposed to the busy city lifestyle in New York, most New Yorkers are attracted to the relaxed lifestyle in Florida. Many New Yorkers are moving to Florida to enjoy the sandy beaches, warm weather, or take a walk surrounded by palm trees. Apart from that, Florida's zero state tax, low cost of living, and low tax rates have interested many New Yorkers in moving there.
See also: Moving to Florida from New York
Conclusion
If you're personally at a stage in life where you are overtaxed by the city's high taxes and fast-paced lifestyle, then Miami is a nicer change to switch to. Nothing can beat the spirit of NYC but it's also hard to say no to a warmer and beachier place. Ultimately, it depends if you find that the city of Miami invites the kind of life you want for yourself. All in all, now that you're also more informed about what you'd be getting into, we bet you're confident about the leap.
See also: Moving from NYC to LA | Moving from NYC to Chicago