Moving from LA to Seattle: Expert Tips and Advice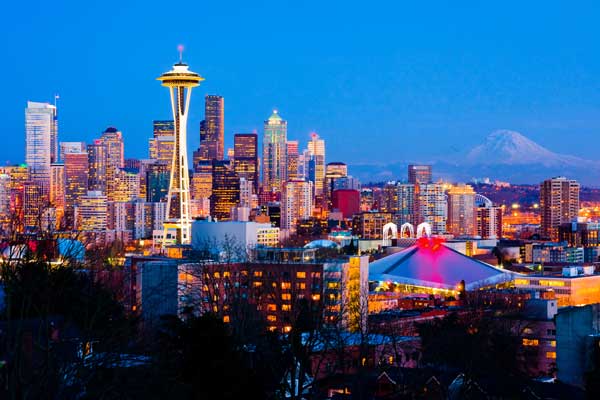 Among all the chaos that engulfs our lives, change is what remains constant. You might think that your life is perfect right now, there is no need to change anything. But did you realize that you are depriving yourself of the opportunity to explore newer and more exciting things? Your life in the La La Land of America might seem as good as it can get right now. After all, LA has it all, be it wonderful weather, sandy beaches, Hollywood stars, or stunning mountains. Why not mix it up a little bit, explore a little more and move further up the West Coast to a city like Seattle?
Moving to Seattle comes with its own set of perks! With bike trails, coffee shops, breweries, and tech companies scattered in the city, you will truly be able to redefine what West Coast life actually is. If you are tired of living the Kardashian life, maybe it's time for you to make some choices that will allow you to have new experiences! Want to know what living in Seattle would be like? Read on to find out!
Factors To Consider Before Moving From LA to Seattle
Weather Conditions
LA is quite capable of casting a spell on its residents when it comes to its weather. After all, who doesn't love to spend their days sprawled on sandy beaches under the warm sun? To add to that, winters are practically non-existent here. In fact, standing amid the cool winter breeze is what a lot of people look forward to every year in LA.
On the other hand, cloudy weather is what you will get when you move to Seattle. Don't get us wrong here, we aren't saying that Seattle is gloomy and it rains at all times. Seattle indeed has that kind of reputation but we are here to bust down the stereotypes. Rains are what keep Seattle fresh and green throughout the year. You would be surprised to know that the amount of rain it receives is actually at par with the national average.
Seattle is known to be surrounded by nature and you won't be able to get enough of it when you move here. The summers are extremely beautiful. That's when everyone enjoys the sunny days to the fullest by attending the cultural fests that are organized at that time. Want to find out how hot it exactly gets during the summers? Let us tell you that!
Here's the difference in temperatures that you can expect during the summer months:
Summers In LA (June to September) – Average temperatures fall in the range of 66°F to 85°F.
Summers In Seattle (July to September) – Average temperatures fall in the range of 59°F to 79°F.
Summers in LA and Seattle are more or less in a similar temperature zone. However, you should know that summers in LA are hotter and arid with lesser humidity as compared to Seattle summers.
Here's the difference in temperatures that you can expect during the winter months:
Winters In LA (December to March) – Average temperatures fall in the range of 48°F to 67°F.
Winters In Seattle (November to March) – Average temperatures fall in the range of 37°F to 53°F.
Winters in both LA and Seattle can be long, cool, and wet. LA tends to get cloudy in winters as well. You can expect rainfall during winters in both cities. In fact, Seattleites are rather thrilled if the city gets a little bit of snowfall. To sum it up, winters in LA and Seattle are quite manageable as the temperature doesn't dip much.
Few Things To Bear In Mind About Seattle Weather:
Speaking about the year-round weather, the temperature in Seattle falls in the range of 37°F to 79°F. On the other hand, the temperature range for LA is 42°F to 93°F.
Summer is the best time to visit Seattle. The locals often organize fairs, festivals, and other cultural events during this season.
It rains frequently in Seattle, especially during the winters. Don't forget to keep your rainwear with you before leaving the house.
Cost Of Living
Many people have heard that living in Seattle is super expensive. Buying a house there sounds like a financial struggle and putting money aside in your savings accounts seems next to impossible. Let us tell you that moving to Seattle won't cause a dent in your bank account if you are already used to the LA lifestyle. This is because the cost of living in both cities is almost similar. In complete honesty, LA is a tiny bit more expensive than Seattle (only 0.6%).
Apart from the housing costs, you will end up spending comparatively less on other things in Seattle. Housing is in huge demand in Seattle which has ridiculously elevated the price of the homes here. If you are looking to buy a house in the city, you can rest assured that you will pay a price that's 3.5% more than what you would have to pay in LA.
Have a look at the home prices in both cities to get an insight into the housing costs:
Median home Price in Seattle: $714,400
Median home Price in LA: $689,500
Although the sales tax in Seattle is slightly higher in comparison to LA, it will come as good news to you that you won't have to pay the state income tax after moving to Seattle. To add to that, there is a major difference (36.2%, if you were wondering) in what you will be paying for utilities, Seattle being the cheaper one out of the two.
You can expect to spend almost 20% less on transportation and 4.9% less on health care after moving to Seattle. This could be so because Seattleites end up walking or biking everywhere and maintain a healthy lifestyle. There isn't a drastic difference in what you will be paying for food and groceries as LA is only 4.2% more expensive.
In conclusion, you will probably be glad that you moved to Seattle as you will be able to cut down on the cost of living considerably. Living costs won't be something that you have to worry about when you plan this move. That's because living a comfortable life in LA translates to the fact that you will be able to live comfortably in Seattle as well.
Job Market
What comes to your mind when you think about the job market in LA? You are most probably thinking about how celebrities and movie stars end up making a fortune here. You aren't wrong, the media industry is certainly booming in LA. However, don't forget that the economy of LA is also supported by other major industries like tourism, international business, education, and retail trade.
The economies of both LA and Seattle are rather strong and they haven't stopped growing in a long time. However, the economy and the job growth rate in Seattle are certainly progressing faster than that of LA.
It is a well-known fact that Seattle is a vibrant technological hub. You will find the headquarters of plenty of Fortune 500 companies like Amazon, Starbucks, etc, here. Because of these giant corporations, Seattle has become the dream city for many tech professionals.
Seattle is a city of startups. If you are visionary and have a strong entrepreneurial spirit running through your veins, you will certainly find the right way to go about your ideas in Seattle.
However, it would be faulty to assume that only the tech sector has contributed to the formation of the resplendent economy of Seattle. Here are the major industries that offer great jobs to Seattleites:
Clean tech
Biotech
Manufacturing
Maritime
Life sciences and global health
Seattle boasts about having a much lower unemployment rate as compared to LA. About 5.1% of the LA population is unemployed whereas only 2.9% of the Seattleites are unemployed. The residents of Seattle also bring home a lot of money as compared to the residents of LA.
Have a look at the median household income of the residents of Seattle and LA to know how much more you can earn after moving out to Seattle:
Median household income in Seattle (according to BestPlaces) – $79,565
Median household income in LA (according to BestPlaces) – $54,501
If you are a single adult who wants to live comfortably in Seattle, you need to earn in the range of 50k to 72k. The more you earn, the more luxurious your lifestyle can be. If you end up earning less than 45k, there is a possibility that you will have to cut down on your expenses and struggle to live comfortably. If you live with your family, you can expect your expenditure to rise according to the size of your family.
See also: Moving to Seattle – Relocation Guide
Transportation
If you are living in LA right now, you probably know that you absolutely can't do without a car. LA does offer public transportation options (buses, 2 subway lines, and 4 light rail lines), but it is nowhere as extensive and excellent as the Seattle public transit. To add to that, it has one of the worst traffic congestions in the country and you must have experienced it several times in your life.
Although Seattle is also known for its bad traffic, you can expect your life to change a lot here (commute-wise). That's because Seattle is known to have the best public transit system in the entire nation. This means that you have plenty of options to choose from while you commute and it's really okay if you don't own a car.
Link Light Rail: Light Rail operates one line in the city that connects the Seattle-Tacoma International Airport to the University of Washington. The railway also makes several stops as it travels between these two stations.
Bus: The King County Metro Bus can charge you a steep fee but the pros of traveling by bus really outweigh all this. The bus operates along many routes in the city and takes you wherever you want and also saves you a lot of money.
Seattle Streetcar: The Streetcar runs two routes namely the First Hill Streetcar and the South Lake Union Streetcar. It runs throughout the day so there are no time restrictions on when you choose to travel by the Streetcar.
Monorail: The Monorail runs between the Seattle Center and Westlake Center Mall.
Water Ferries: The Water Taxi or the Ferry systems are extremely widespread and connect Seattle Downtown to several distant places like Vashon Island and Bremerton.
Taxi: Ridesharing services like Uber and Lyft are available almost everywhere.
To add to that, the Emerald City is known to be super pedestrian-friendly. A large proportion of people tend to walk or use the bike trails to get around in the city. The hilly landscapes and the stunning scenery make walking enjoyable and commuting in the way keeps the locals healthy.
Best Schools in Seattle
Mercer Island School District
Bellevue School District
Bainbridge Island School District
Lake Washington School District
Northshore School District
Best Colleges in Seattle
University of Washington
Seattle Pacific University
Pacific Lutheran University
Seattle University
University of Puget Sound
Seattle's Strong Points
The fastest-growing economy and a booming job market.
Has maintained several greenspaces for the locals and is eco-friendly as well.
One of the best public transport systems.
An abundance of adventurous activities (swimming, kayaking, parasailing, etc.).
Intense sports culture.
No income tax.
A lot of rain ensures that Seattle remains green and fresh.
Heaven on earth for coffee and beer lovers.
Among the most educated city in the US.
Hosts several festivals that celebrate music, arts, cinema, etc.
Top Neighborhoods To Move To In Seattle
1. Lower Queen Anne
The first thing that comes to mind when one thinks about this Lower Queen Anne is the lively shopping centers and the flourishing art scene. However, this neighborhood is so much more than that. No doubt that people often visit the Space Needle and Seattle Center (both situated near this neighborhood), many often choose to move permanently into this neighborhood as well.
Why is that? It's because the neighborhood offers some great housing options. You will find condos, multi-unit residences, and some great houses here. To add to that, it is very well connected by public transit. This means that you can depend on the bus or monorail instead of a car whenever you need to get around in the city.
Median value of homes – $462,500
Median rent – $1,425
2. Ballard
Where are all the youngsters hanging out at night in Seattle? They are in Ballard, which is one of the hippest and trendiest neighborhoods. The waterfront bars and the energetic nightlife is what Ballard is all about. Located to the north of Downtown, it is surrounded by sandy beaches and a view of the stunning mountains. If you want to move to a place that is lined up with trendy restaurants and bars, do consider moving to Ballard.
Median value of homes – $849,475
Median rent – $1,945
3. Greenwood
Greenwood is pretty much a popular area of residence because of its strategic location. Downtown is easily accessible from here. The neighborhood is laid out in a simple grid-like fashion and it houses a warm and friendly community. It is one of the most popular neighborhoods among young families. There are plenty of bars and charming coffee shops where you can spend your evening in Greenwood.
Median value of homes – $794,051
Median rent – $1,095
4. Downtown Seattle
Want to stay where all the action happens? Downtown is a major hotspot of the city which houses the sky-touching buildings that form the spectacular skyline of Seattle. You will also find famous places like Pioneer Square and Pike Place Market in this neighborhood. There are several entertainment venues (museums, music, etc) that are visited by almost all residents of the city. The streets are always crowded because of which the locals prefer walking or biking to their destinations.
Median value of homes – $770,719
Median rent – $2,177
Things To Take Care Of When You're Moving From Los Angeles To Seattle
Seattle is roughly 1,130 miles away from LA which means that this is going to be a long-distance move. You must give yourself enough time to plan this move as working haphazardly won't be of any help.
Make sure that you are moving with a company that is licensed and is also accredited by organizations like the Better Business Bureau (BBB) or the American Moving & Storage Association (AMSA). Read up on reviews of the company online. All this will ensure that you are not hiring a company that is looking to scam you.
There is a possibility that your belongings and you might not arrive in Seattle at the same time. Your belongings might arrive earlier or sometime after you reach Seattle. So don't forget to make the necessary arrangement.
It is imperative to have enough insurance, especially when you are going for a long-distance move. Check whether your homeowners' or renters' insurance covers your move before purchasing any additional insurance.
Moving during the summers (May to September) might be expensive as the movers charge their customers an elevated rate due to the high demand for their services.
LA to Seattle Moving Costs
A move from LA to Seattle could cost you anywhere between $2,000 – $7,500 on average. What you would have to pay would eventually depend on how big your house is. For instance, moving a one-bedroom house would be much cheaper than moving a 4-bedroom house. The cost of your move is further influenced by the season of your move and the type of moving company you choose.
Let us have a look at how much you would have to pay if you choose the following types of moving companies:
Moving Company: $1,630 – $7,150
Moving Container: $1,726 – $4,369
Freight Company: $1,330 – $2,835
Truck Rental: $898 – $1,705
Although it's okay to use the above-mentioned cost range to plan your budget, don't assume that your move will cost exactly in that range. Your move is unique, and the price of your move will vary according to your personal needs. If you want to make your move cheaper, consider doing most of the work by yourself.
FAQs
How much money should I save before moving to Seattle?
You need to earn about $70k annually to live comfortably in Seattle. Make sure that you have money to sustain yourself for at least 4-5 months. You might take some time to find a new job that pays you well so it's better to have some money in your account before moving to Seattle.
Is it cheaper to live in Seattle or Los Angeles?
Living in Seattle and LA costs roughly the same amount of money. Although housing in Seattle is more expensive than housing in LA, other costs like utilities, transportation, food, and healthcare are slightly lower in Seattle. You shouldn't expect to witness any drastic changes in your expenditure after the move. Seattle is cheaper than LA but only by a very small percentage (0.6%).
How much does it cost to move from LA to Seattle?
Moving from LA to Seattle is a major life event. The average cost of this relocation varies based on the distance traveled, but it's always an expensive move that costs anywhere from $3,000 to $6,000 or more!
How much do you need to make in Seattle to live comfortably?
Seattle has notoriously high living costs. If you want to live comfortably there, the median rate for renting a one-bedroom apartment is $78,000 per year, and two-bedroom apartments are at least 120 grand annually.
Is Seattle expensive to live in?
Seattle has been the sixth most expensive city since 2018, and it isn't going anywhere. The cost of living index was about 52% higher than average in 2017-2018.
Is Seattle expensive to rent?
Seattle was ranked third most expensive to rent in a recent Zumper Seattle Metro Report. As of the report's release date, the most significant increase is that of neighboring Olympia, where rents rose 25% since last year and now average $1,400 per month, according to the study data.
How much does a single person need to live in Seattle?
Surprisingly, people living there only require about $72k per year. However, they spend 50% of their income on necessities and 30% on discretionary spending, thus leading them to have an average net worth below the national median at just under $30,000 or so adjusted for inflation.
Conclusion
Living in Seattle is obviously going to be a different experience when you compare it to living in LA. However, the transition from LA to Seattle won't be much difficult. This is because you are already used to living in a metropolitan area that has a booming economy. Moving to Seattle has its perks, we believe that living here will help you to explore a different part of your personality and experience massive growth in your career. Now that you know everything about Seattle, you can decide whether this move would be the right choice for you!
See also: Cheap Long Distance Moving Companies in the US | Moving From Los Angeles To Seattle | Moving From Phoenix To Seattle – Expert Tips & Advice | Moving From NYC To Seattle