Leaving New Orleans? 5 Best Places To Move From New Orleans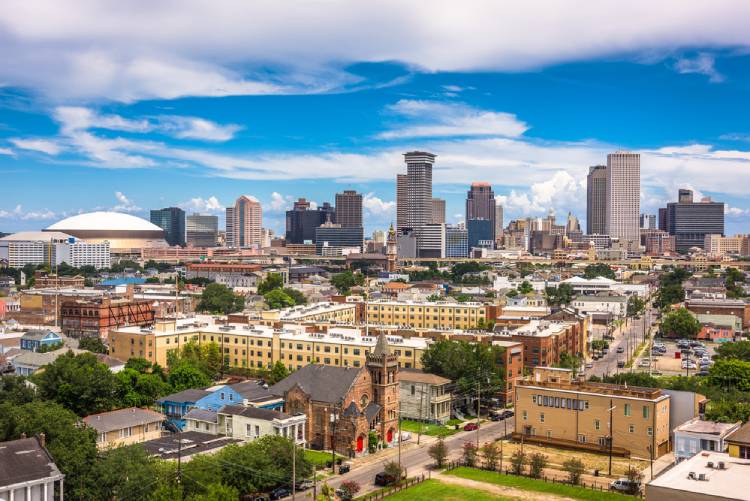 The city of New Orleans is located in the state of Louisiana near the Gulf of Mexico. It sits right next to the Mississippi River due to which the city offers locals stunning waterfront-facing views. Residents here also have great access to outdoor activities and exciting nightlife to mention a few. It is without a doubt a gorgeous city to live in and moving away from it will certainly not be an easy choice.
But we exist here to make these difficult things a bit easier for you. So no need to fret even if you haven't finalized the new city to move to. This is for all of you contemplating on where to move next? Here's our recommendation of the best places to move from to New Orleans.
5 Best Places To Move From New Orleans
Washington DC
Atlanta
Baton Rouge
Lafayette
Shreveport
Washington DC
New Orleans is without doubt considered the best place to live in the state of Louisiana. But if you're considering a move outside state lines, your best bet is Washington DC, the nation's capital. It could very well be a move from great to the greatest and a big welcome change for you. Washington DC is not only known for its historical significance but also is a perfect place to raise a family. DC is also the heart of the country's politics and culture. If you are in the field of political science and public affairs, there is no place better than the center of politics itself. By moving here, you will be living in one of the prime locations on the east coast.
Washington DC is also a bike-friendly city and you can also depend on the Washington State Department of Transportation (WSDOT) for your commute. While New Orleans with its Tulane University can be considered a hub for education, the compact capital city doesn't fall behind and is home to many national Universities. The famous University of the District of Columbia is also located in Washington DC and is the only public university in the district. You can enroll in some of the best political science and public affairs programs in DC.
Another reason you will love moving to DC is because of how diverse the city is. It is very much possible to meet different cultural communities because of the city's ethnic composition. The city is also brimming with job opportunities and has a high median household income of $76,687, making it a great place to live for working professionals.
Downsides: It is the fourth most expensive city to live in America with a sky-high cost of living. Living in Washington DC will only be a joyride if you manage to secure a high-paying job otherwise it can get a bit difficult to manage all the living expenses. DC also has an 8.5% income tax rate which is higher than the 6% income tax rate of New Orleans.
Population: 718,356
Median Home Value: $703,253
Monthly Median Rent: $2,261
Median Household Income: $76,687
Unemployment Rate: 6.3%
Best Neighborhoods To Live In: Forest hills, Chinatown, Clarendon, Georgetown Bloomingdale.
Atlanta
Atlanta is part of southern USA just like New Orleans. This is why it is a considerably good place to live in if you don't want to give up on the experience of southern hospitality. Just like New Orleans, Atlanta also has great historical and cultural significance while offering you ample job opportunities with its bustling job market. The Big Peach also has a comparatively low cost of living and is home to a fairly young population. Atlanta will be perfect for young professionals and new families. It has urban parks, walkable neighborhoods, and a pretty good school system.
Known to have grown from a large southern town to a large cosmopolitan city, Atlanta is also a bit safer as compared to New Orleans with a lower crime rate. Georgia Institute of Technology is known as one of the best colleges in the city. Atlanta is also known as the Hollywood of the South so you will always have plenty of entertainment options. By living here, you will never run out of places to visit and things to do because there's a ton of them.
Downsides: Atlanta is as hot as New Orleans so you will not be skipping the good part in terms of the weather. You might also largely miss the vibrant unmatchable music and food culture of The Big Easy.
Population: 532696
Median Home Value: $395,088
Monthly Median Rent: $1812
Median Household Income: $66,657
Unemployment Rate: 3.3%
Best Neighborhoods To Live In: Inman Park, Buckhead, Peachtree Hills, Westview, Summerhill, Underwood Hills.
Also read: Moving To Atlanta, Ga
Baton Rouge
There will be times in life when you want to move away from a place but don't want to move far. It is possible because you don't want to leave behind the essence of the place. If that's exactly how you feel in your heart about leaving New Orleans, then the city of Baton Rouge will be perfect for you. It gives you a blend of country simplicity and the comfort of city life which be a nice change from the fast-paced New Orleans.
Baton Rouge is also a lot safer and smaller than New Orleans due to which there's a certain charm about living here. In terms of expenses, you might find yourself saving on costs when it comes to rent and cost of living. You will find many peaceful neighborhoods here along with varied well-performing schools.
Baton Rouge might be smaller but it doesn't lack in terms of things it can offer, not only it is Louisiana's capital city, but Louisiana State's flagship university is also located here. You will also experience Cajun and Creole cultures coming together to create a beautiful cultural vibe in the city. It is truly the perfect place for families because the overall vibe of the place is pretty tight-knit and family-oriented with plenty of outdoor activity options.
Downsides: While the closeness of the cities seems like a benefit, they are pretty different in terms of overall vibes. As stated Baton Rouge is a smaller city but it leans more toward conservative ideology so you might miss the more inclusive and liberal vibe of New Orleans.
Population: 214,377
Median Home Value: $219,141
Monthly Median Rent: $1128
Median Household Income: $70,902
Unemployment Rate: 3.8%
Best Neighborhoods To Live In: Scotlandvile, Downtown, Garden District, Ogdon Park, Midtown
Lafayette
Located in the Southern portion, Lafayette can also be a great alternative if you wish to move out of New Orleans but not leave the state of Louisiana. You will be able to enjoy all the culture and food in New Orleans since Lafayette is roughly just 2 hours away. The music lover in you will be pleased to know that the city of  Lafayette also has great traditional music and organizes world-class festivals. So you won't have to worry about running out of good music, you will always have something or the other to look forward to.
The Hub City also has a strong job market wherein Gulf Coast's oil and gas industry plays a major contribution to its economy. Lafayette has great education options and the University of Louisiana here is one of the main universities located in the city. The city has a median income and low cost of living as compared to New Orleans. All in all, you will certainly not miss the food because Lafayette has wonderful cuisines to try out.
Downsides: The city is rapidly growing in size and due to the influx of people moving here, the city is steadily becoming congested. You might find it crowded and roads filled with traffic but it is the growing case in most cities.
Population: 125,628
Median Home Value: $202,220
Monthly Median Rent: $1,044
Median Household Income: $78,055
Unemployment Rate: 3.8%
Best Neighborhoods To Live In: Whittington Oaks, Bendel Gardens, River Ranch, Oil Center, Downtown
Also read: Best Moving Companies in New Orleans for 2022
Shreveport
Another great option within the state of Louisiana is the city of Shreveport which is located in the northwest part of the state. Known as the commercial and industrial center for a three-state region called Ark-La-Tex, Shreveport offers you a business-friendly environment. The city has a strong manufacturing industry that provides various necessary products like petroleum, chemicals, natural gas, and cotton to mention a few. Safe to say that the employment opportunities is in a healthy state in the city.
Ratchet City is also safer as compared to the city of New Orleans and is pretty affordable when it comes to renting options. Shreveport has plenty of entertainment and art-based places and it is especially known for its Casinos and museums. So, you will have options to keep you entertained. The city is also vibrant and hosts plenty of festivals around the year. In terms of road connectivity, things are well-connected and it even has some of the best hospitals, Willis Knighten being a renowned one.
Downsides: One of the major downsides of Shreveport is the fact that it has a very high poverty rate which has just been increasing over the years. Another downside is the fact that the city is not too pleasing to the eyes in terms of natural sceneries and you will have very limited options. But you can always drive towards green spaces in the state.
Population: 180369
Median Home Value: $62,756
Monthly Median Rent: $726
Median Household Income: $62,756
Unemployment Rate: 4.2%
Best Neighborhoods To Live In: Hollywood Heights, Highland Stoner Hill, Queensborough, Jenkins-Pinecroft, Downtown Riverfront
Summing Up
Leaving New Orleans can feel like a difficult decision but whatever may have caused you to contemplate this move, making an informed decision can save you from big adjustments. The list above offers options for everyone, ranging from someone who might not want to move too far and even for the one who's well prepared for a long-distance move. Just keep an open mind and know your priorities and we are sure you will most likely find your new place in our list of the 5 best places to move from New Orleans.
Also See: Moving to New Orleans | Top Interstate Movers in the USA
FAQs About Leaving New Orleans
What Is The Safest Area To Live In New Orleans?
New Orleans has a really high crime rate, especially violent crimes so knowing some of the safest neighborhoods is a wise and necessary thing to do. Lakeview, Algiers Point, Lake Shore-Lake Vista, East Carrollton, Garden District, Old Aurora, and West End are some of the safest areas in New Orleans.
Where Should I Not Live In New Orleans?
New Orleans can be a dangerous place if you are not careful enough around certain neighborhoods which has the highest possibilities of violent crimes. You certainly should avoid or be extra cautious around areas like Pines Village, Central city, Florida, Saint Roch, St Claude, and Seventh Ward as they have the highest crime rates in the city.
Is New Orleans Cheap Place To Live?
The definition of cheap can vary for everyone as it is pretty subjective but generally, the city of New Orleans is not as expensive as other big cities like New York or Washington DC and can be considered a comparatively affordable place to live.