Moving To Louisiana – 2022 Cost of Living and Relocation Guide


VanLines Inc
Secure Storage
Easy Booking Process
Fully Trained Employees
GET A QUOTE

Colonial Van Lines
Storage Services
Long-Distance Moves
Corporate Relocations
GET A QUOTE

Moving APT
Available Nationwide
Award-Winning Movers
Extensive Vetting Process
GET A QUOTE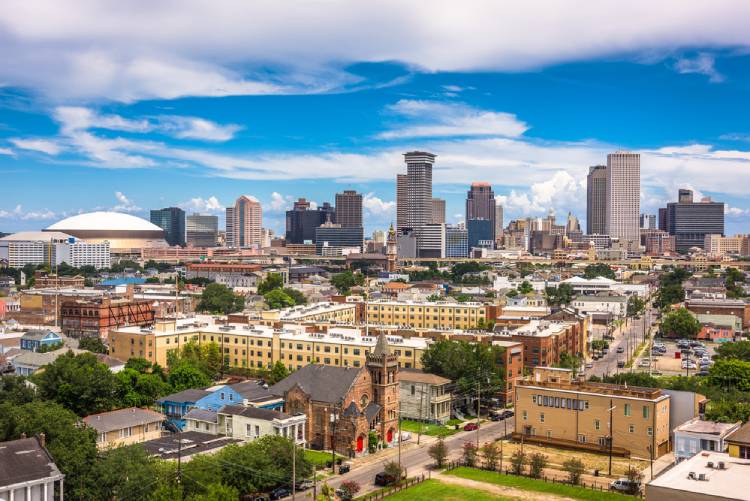 The deep south side of the country comfortably trumps almost every state in terms of being hospitable and financially inviting to everyone. The reason for such a bold claim is not absurd, but actually quite logical. The southern weather, sparsely crowded towns, and affordability make it an easy pole position holder. If you are half-convinced about our claims at this point, the below article about one such southern state called Louisiana should get you on the same wavelength as us.
Weather In Louisiana
Summers
Known to have a humid subtropical climate with more inclination towards hot and long summers, the state conforms to its southern vibe. On average it experiences an average temperature range of 73°F to 94°F. The major reason behind this excruciatingly hot and muggy weather is the influence of the Gulf of Mexico. Interestingly enough, this state makes for a great shoot location for movies with an old southern undertone.
Winters
Winters serves as a short refreshing cameo role when we talk about Louisiana's climate. The northern side of the state during winters is relatively cool since it doesn't come in the radar of the intensely hot Gulf of Mexico. The average temperature in this part of the state ranges from 46°F to 59°F while the southern region of the state sees average winter temperatures touching 67°F.
Spring
The flowering season in Louisiana marks its presence in the months from March to May. The state being on the hotter side of the weather spectrum, the climate is still pretty warm around this time with average temperatures ranging from 67°F to 85°F.
Fall
The Autumn season in Louisiana gives you a very similar vibe to what the character Autumn from 500 Days Of Summer brings, a hopeful optimistic state of mind! With the average temperature ranging from 60°F to 80°F, this is the best time to go outdoors and breathe in the fresh crisp air you've been longing for!
Also See: Most Eco-friendly Cities in the US
Transportation In Louisiana
Roadways
If you like commuting with a crowd going on about their day just like you, then the Greyhound buses are your best bet in the state. Its fairly cheap fares make it a convenient option for the residents here. Taxis are another commonly used commute option by the residents of Louisiana.
If you have the good fortune of moving to New Orleans, you will have a plethora of public transportation options readily available. The New Orleans Regional Transit Authority is the frontrunner in the city's transportation scene and is also the state's largest transit agency. A few more such transit agencies in the state are listed below.
Capital Area Transit System – Primarily operates in the East Baton Rouge Parish
Shreveport Area Transit System – Bus service system in Shreveport and Bossier area.
Monroe Transit – Residents of Monroe can take advantage of the nation's oldest publicly owned transportation system.
Airways
The state has a total of 7 passenger service primary airports. Out of those, 2 airports are international or "Worldwide" as Pitbull would put it. If you manage to recover from that horrible wordplay, you must also know that the Louis Armstrong New Orleans International Airport and Alexandria International Airport are among the most commonly used airports in the state.
Railways
Amtrak is the major rail service provider in the state of Louisiana. Hammond, Lafayette, and New Orleans are some of the major Amtrak stations in the state making life easier for its residents. The rail-guided trams (streetcars) have also been a popular commute option for residents of the city of New Orleans.
Also read: Best Places To Move From New Orleans
Job Market In Louisiana
Talking about the big bucks, Louisiana heavily depends on petroleum and coal products manufacturing to scale its economy to new heights. The state also has an abundance of oil and natural gas which makes it a good revenue source. The healthcare landscape in Louisiana is also a strong booster for the state's economy. So, if you are seeking job opportunities in the Pelican State, you will be greeted with a variety of options here. To get a quick overview of some of the largest companies in the state, refer to the list below.
Some Of The Largest Employers Of The City According To Zippia Are:
Entergy
Acadia Healthcare
Turner Industries
CenturyLink
Ochsner Health System
Momentum
Future Pipe Industries
Kronos Louisana
Odyssea Marine
The unemployment rate in Louisiana is something that is showing positive signs at a steady and promising pace. As of March 2022, the unemployment rate stands at 4.30% which is marginally higher than the national average of 4%. The state has recovered well from the past year's average rate of 6.50% and the long-term average of 6.96%.
Speaking of taxing jobs and deductions, Louisiana's income tax rates range from 2% to 6% depending on your income and marital status. While the state's sales tax stands at 4.45%, the parishes (Louisiana is the only state in the country that has political subdivisions named parishes, similar to what you might call a county.) have the liberty to levy additional taxes!
See Also: Property Tax Rates By State
Real Estate In Louisiana
Buying A House In Louisiana
No need to buy pants with long pockets as the housing costs in this state won't make you dig much deeper. Considering the national average of $333,500 as the reference, you will be saving quite a bit since buying a house in Louisiana comes at an average price of just about $207,145. Despite a 12.3% spike over the past year, the housing costs here still continue to be best friends with your wallet!
Renting A House In Louisiana
When it comes to renting housing in Louisiana, you'll find yourself spilling about $1,210 per month for an average 930 sq. ft. apartment. The national average of $1,650 seems like a mountain you don't wish to climb when compared to the median rent in this state.
If you want to further cut down on the already inexpensive rent prices in the state, consider moving to Abbeville or Patterson where the prices come down to about $697 and $817 respectively. If you don't mind spending a wee bit more to experience the best of what Louisiana has to offer, plan a move to the popular parts like New Orleans or River Ridge where the rent prices run at about $1,255 per month.
You may also read our article on States With The Most Mortgage-Free Homeowners
Crime Rate In Louisiana
According to NeighborhoodScout data, the crime rate in Louisiana stands at a higher footing with an average of 6.38 violent crimes per 1000 residents as compared to the national average of 4! Breaking it down into simple math, your chances of being a victim of violent crime is one in 157. If we speak of property crimes, the chances of you being on the receiving end is one in 35.
Looking at the numbers, the crime rate is not something you should take for granted in this state. To reduce your chances of falling victim to such heinous acts, consider moving to the relatively safer neighborhoods in the state. Baskin, Sibley, Ringgold, and Shongaloo are some of the safer parts of the state you can reside in.
Also Read: 10 Safest States in the U.S.
Cost Of Living In Louisiana
The cost of living in this budget-friendly state is fairly low (not surprised) as compared to the national average. To give you a number, your life in Louisiana will be 7% less expensive than the national average. If you are a retiree looking for a place to spend a decent lifestyle in Louisiana, the state extends a helping hand by not taxing income from public pensions. An already low cost of living added with a benefit of low taxes is a pretty sweet deal really!
Utilities
To give you a glimpse of what your utility bills in Louisiana would look like, the average electricity bill will cost around $122 while your water bill will read $72. Compared to the national average, the grocery costs will see you spend 2% less while healthcare costs are about 1% less than the national average. Savings all the way through, it doesn't get any better than this, does it?
Education
Top Rated Universities
1. Tulane University
2. Louisiana State University – Baton Rouge
3. Louisiana Tech University
4. Loyola University New Orleans
5. Centenary College
Top Rated Schools
1. Haynes Academy School for Advanced Studies
2. Louisiana School for Math Science & the Arts
3. Benjamin Franklin High School
4. Patrick F. Taylor Science & Technology Academy
5. Baton Rouge Magnet High School
Top Cities To Move To In Louisiana
Baton Rouge
This state capital definitely makes it to the list of top cities to move to in Louisiana. A perfect neighborhood to raise your kids, this city has some of the best schools the state has to offer. Mckinley High School, Baton Rouge Magnet High School, and Belaire High School to name a few. Apart from that, the experience of a lavish nightlife that will still leave quite a few bucks in your wallet on return, is nothing less than a dream come true in this city. Even during the day, you will find one or the other festival popping up all around the city to ensure your life here is not even remotely boring.
Median home value: $220,515
Monthly median rent: $1,137
New Orleans
You probably have read the name of this city about 10 times by now in this article. We take full responsibility of feeding this city in your brain because it is just that good. The best part about this city is the friendly community of people that welcomes just about anyone with the same warmth and gratitude! The city boasts of its rich and diverse culture that has seen the glorious times of freeing people of color! With a friendly community and diverse culture, the final jewel in the city's crown is its food and music scene, particularly cocktails and Jazz Music respectively. By living here you will be able to reminisce the Jazz scenes from La La Land in just about any music spot you find here.
Median home value: $273,334
Monthly median rent: $1,255
Lafayette
If you are looking for a city that has mastered the perfect work-life balance, then Lafayette should be on top of the list. The reason why this city nails that combo is because the residents of Lafayette conclude or even begin their day in the best possible way, by munching on delicious delicacies. The food scene in this city is unparalleled and if you have a soft spot for Cajun and Creole cuisines, you will never want to leave this part of the state. Don't worry you won't just find yourself munching on these exotic food items here. You can also burn calories by engaging yourself in the multitude of outdoor activities this city has to offer. Maintaining an active lifestyle has never been easier special thanks to its fantastic weather year round in Louisiana.
Median home value: $203,145
Monthly median rent: $1,023
Shreveport
Savings on savings on savings! – The best possible description of a place we can provide you with. With housing costs sizably lower than the national and even the state average, you are bound to save practically a fortune which you could very well put to other uses. The city is filled with festivals lighting up every corner of the place, ensuring that there is always something for you to do around here. It is also the cultural and economic hub of Ark-La-Tex (a rendezvous spot of Southern Arkansas, northwestern Louisiana, and northeastern Texas).
Median home value: $128,460
Monthly median rent: $850
Bossier City
Known for its tourism industry and gambling, Bossier City is one of the top cities you might want to reside in. This city has time and again featured in the lists of most diverse cities for people of age group, and very rightly so! The city also takes pride in its excellent education system and the above-average educational qualifications in the city. All in all, if you are looking for an affordable place to live with a good livability score (above average), then Bossier City is the place to be!
Median home value: $193,545
Monthly median rent: $935
Also See: Top 7 States to Live Off the Grid in the USA
Conclusion
Louisiana is an all-rounder of a state and you now have a fair idea of whether it hits a home run for you. So you can get to packing and shortlisting moving companies to get you here. Rest assured we can also help you find lifesaving moving companies to assist you with your big move.
FAQs On Moving To Louisiana
Is Louisiana A Good State To Move To?
An all-round state which has a vibrant music scene, rich culture, and delectable food options is bound to be a great relocation destination.
Is It Easy To Get A Job In Louisiana?
With diverse job options available in Louisiana added with the fact that the state is seeing a steady decline in the unemployment rate, shouldn't make it difficult to get a job here.
What Is Louisiana Weather Like Year Round?
The state of Louisiana experiences a humid subtropical climate which sees fairly long and hot summers while having short and mild winter weather.
What Should I Know Before Moving To Louisiana?
A few things you should know about Louisiana is that the summers get humid and hot reaching 94°F and crossing over as well on certain days. People are hospitable and the state is a true melting pot with the most popular city being New Orleans.
See Also: Top-rated Out of State Movers in the USA