What Is A Linear Foot And Why Is It Important When Moving?


VanLines Inc
Secure Storage
Easy Booking Process
Fully Trained Employees
GET QUOTE

Colonial Van Lines
Storage Services
Long-Distance Moves
Corporate Relocations
GET QUOTE

Moving APT
Available Nationwide
Award-Winning Movers
Extensive Vetting Process
GET QUOTE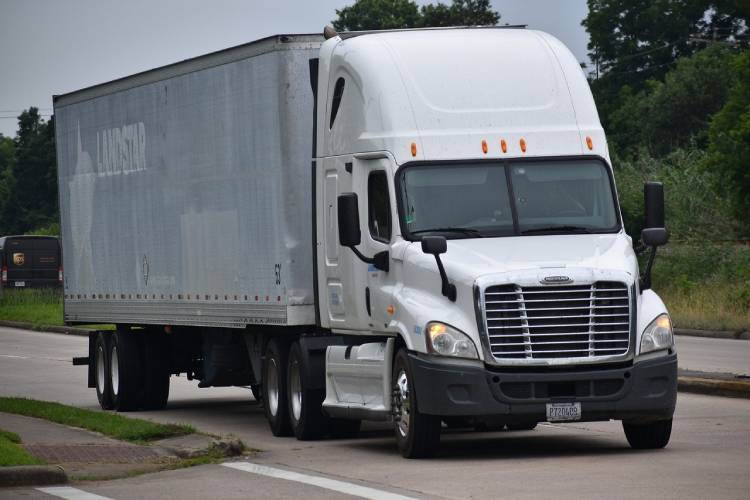 When you're planning a move, you have several options like moving with a relocation company, renting a truck, or using a freight trailer. If you're moving with the last option, you need to familiarize yourself with the term 'linear foot'. Freight moving companies charge you based on how much space your belongings took up in the trailer. That means you'll be charged a rate per linear feet your goods occupy.
Moving with this option is cheaper if you're moving long distances like cross country or international moves. That's because unlike rental trucks or movers who charge you by weight or by miles covered, freight trailers charge you for only the space you need. This means you're in profit and that's why you need to know all about a linear foot!
What's A Linear Foot?
Knowing how to measure is a life skill you can't run away from, especially when you're moving houses or moving furniture within the house. Whether you're mounting a television set on the wall, placing a refrigerator in the kitchen, or moving a sofa to another corner of the living room, you need to know it. Most things like rugs are measured on the basis of square feet; but did you know that linear foot is important when you calculate your budget for a freight trailer service?
So, a linear foot is nothing but a 12 inches long measurement and measured in a straight line, which is why it's called linear! Just keep in mind that it is a one-dimensional measurement. Whenever you're measuring, measure the containers from one corner to the other and note the measurement in the linear foot. If this confuses you, we have covered how you can calculate linear foot while moving further in the article!
Difference Between Linear Foot And Square Foot
If you grew up hearing square foot, then linear foot must be a fairly new concept. There's a basic difference between the two; a square foot is used to measure an area in a square in a two-dimensional way. Square foot is calculated by multiplying 2 linear measurements. That means multiplying the length by width, which is 2 linear measures. In comparison to that, a linear foot is calculated in a single line and used to refer to floor space.
Importance Of Linear Feet
Long distance relocations are expensive when they're calculated by weight or miles covered. When you go for a truck rental, you end up paying for the whole truck irrespective of whether you used the entire truck space or not. This is why the linear foot is important because you can move even fewer goods without paying for unused space.
If you approach a freight moving company, then their estimates will be based on linear feet. You can measure the linear feet yourself and then multiply it by the rate per linear foot to understand how much your expenses will be. This helps you design your budget and compare freight moving companies to land the best deal.
There are some freight companies that send their team over to check the size of your home and give you an estimate. In most cases though, you need to measure the linear feet yourself and load the cargo onto the waiting trailer.
The freight companies deliver a trailer to your doorstep and give you 3 days to fill the container. The company then picks the container and moves it to your new home. In such cases, the freight company measures the space your goods took up inside the container in the linear feet. In either case, knowing the concept of linear foot and how to calculate it helps big time!
Calculating Linear Foot
Unlike cubic feet or square feet, calculating linear feet is quite easy. Grab hold of your measuring tape and measure something from one point to another by inches, or measure from one corner to the other. Note the inches and divide it by 12, there you have the linear feet.
How Do Freight Companies Work?
Opting to move with a freight moving company is a fun and cost-saving DIY move that makes you feel involved and saves you the effort of hiring movers. In a freight move, the company gives you two options. In the first option, the company drops and picks a 28-foot container right from your home. In this scenario, you have 3 days to load all your packed belongings inside the container.
In the second option, you need to pack all your belongings and carry them to the company's dropping terminal to load them in the trailer. This option saves you some money, but carrying your heavy household items to the terminal is a big task. You can use our guide on Getting Free Packing Supplies to get packing material for packing your stuff.
Whichever option you choose, remember that there is no labor to help you with loading and unloading the trailer. You need to do the packing, lifting, and loading all by yourself. But don't worry because most freight companies send ramps along with the trailer so it's easier to load the goods!
After this, a professional from the freight company will drive the trailer to your new destination or to the terminal. If it's delivered to your home, you have 3 days to unload the trailer.
Top Freight Trailer Moving Companies
You can consider these companies if you're planning a move. You should check out reviews, ask for estimates, and compare your options. This will give you a better idea of which freight trailer company to go for.
ABF U-Pack
You'll see an ABF U-Pack trailer in many driveways when the moving season is at its peak. Many people go for this company when they're moving across the country and don't want to risk driving a truck all the way to their new home. The sizes of the company's trailers are 28 feet long and can easily accommodate belongings from an apartment or an entire house. The services of ABF U-Pack are spread across 250+ locations in the United States. You'll be in for competitive rates and several discounts but remember to look out for going over the budget.
Moving over a long distance with ABF U-Pack costs you around $3,185 on average.
OD Household Services
Old Dominion is a reputed freight moving company and stays true to its legacy in the moving industry. You pay only for how much floor space your goods occupy in an OD trailer. Keep an eye on the receipt and calculate how much extra space you took up. One more advantage of moving with this company is the ease of booking an appointment online. The services of this company are spread across 225 plus locations, so you can easily find a terminal point near your city!
Moving over a long distance with OD Household Services costs you around $2,888 on average.
Estes SureMove
SureMove's parent company is Estes Express Lines which is an 80-year-old veteran moving company. The 22-foot trucks from SureMove are available to rent in partitions. You just have to pay for the space you use and everything else will be taken care of. You get 3 days to load the truck and then a professional from the company will come to pick your truck to drive it to your new house. The trailers from Estes are also 28-foot long and are spread over 200 locations.
Moving over a long distance with Estes SureMove costs you around $2,511 on average.
Figuring Out How Much Linear Foot Trailer Space You Need
Moving companies know that you find measuring linear feet tricky, especially when nothing is packed. This is why companies give you size guides from a small studio apartment to a three-bedroom home.
These are the size guides provided by Estes SureMove so you get an idea-
| | |
| --- | --- |
| Size Of Apartment | Space Needed |
| Studio apartment | 4 linear feet |
| 1 or 2-bedroom apartment | 10 to 12 linear feet |
| 2-bedroom home | 12 to 14 linear feet |
| 3-bedroom house | 18 to 20 linear feet |
| 4-bedroom home | 26 to 28 linear feet |
If your house has an attic, a basement or a storage unit, you should account for more space. That's because sometimes attics and basements end up having more stored belongings than your bedrooms or living rooms!
See Also: Tips to Pack Garage and Storage
Advantages Of Paying By Linear Foot
You save the money you otherwise would have spent on gas and travel expenses.
You don't have to worry about driving the vehicle with your precious belongings since the job is up to the professional driver. You can just reach your new home and unpack your belongings.
Paying by linear foot is much cheaper than full-service movers who account for everything from the moment they load your cargo.
You only pay for the amount of space you need, so if you have less cargo you don't end up paying more over longer distances.
Paying by linear foot is the best and cheapest option for cross country or international moves. There are no extra costs and the calculation is straightforward. Find Best Cross Country Moving Companies for yourself.
Efficient for larger homes as it eliminates the need to hire a big rental truck to load a lot of cargo.
Reduces the stress of researching the size of a rental truck according to the size of your home and the weight of your belongings. Also Read our article on Does my Moving Truck need to stop at Weigh Station.
There are options to drop off cargo at terminal points which further saves your money for a budget move.  
Disadvantages Of Paying By Linear Foot
There are no packing services when you're paying by linear foot. It becomes a challenge if you cannot pack smartly to save space.
If you have light but bulky goods like mattresses then paying by weight is cheaper than paying by linear foot. Please check out our article on How to Move a Mattress.
If you have chosen a particular estimate, then it's stressful to meet that bar by reducing some load or packing it more compactly.
As much as it benefits long distance moves, it's not ideal for local moves like moving within the same city. It's cheaper to pay by distance in this case.
Freight moving companies leave the trailer by your door for 3 days, you have only this time window to load your goods. Unloading also becomes stressful since you're under a time limit.
Tips To Save Space While Moving By Linear Foot
When you calculate moving costs by the linear foot, you save best when your packing is compact. The more your belongings, the more space they occupy and the more feet you need. It's best to use fewer boxes and fit more belongings in each box so you save space. This is how you can do it:
Narrow down your possessions and leave behind things that you don't really need in your new life. This gets easy when you declutter your home before the move and give worn-out or old belongings to charity or recycling.
Use the Russian doll packing method where you pack items one inside the other. Use hollow spaces to store smaller items like stacking pots and then packing small containers of spices, salt, sugar, etc inside the topmost pot.
Suitcases and travel bags are bulky and use up lots of space. Make use of them and pack clothes inside them so the space inside them doesn't go to waste.
Don't move drawers completely empty; leave non-breakable items inside the drawers so you don't have to pack them separately.
Pack bulkier clothes like winter apparel and wool in vacuum bags.
Wrap breakable items in blankets and towels so you save the space occupied by the likes of bubble wrap or moving blankets.
Conclusion
Understanding the concept of linear feet is profitable in the long run for future moves. Once you learn the trick of calculating it and saving space, you'll save a great deal of your moving budget. Think of this as a game of Tetris and get packing! Then grab a measuring tape and measure the linear feet. Don't forget to compare options by researching different freight companies on the basis of customer reviews and price estimates!
FAQs On What is a Linear Foot
What Is A Linear Foot?
A linear foot is a 12 inches measurement in a one-dimensional straight line. It's an important term when you're moving with a freight company since the charges are calculated per linear foot your cargo occupies in the trailer.
How Much Linear Foot Space Do I Need?
All freight moving companies will give you estimate of the linear foot you require according to the size of your home. You can check the size chart and understand how much you'll need. To pu it very simply, moving a studio apartment would require about 4 linear feet while a 3-bedroom apartment requires about 20 linear feet.
What Is The Benefit Of Moving By Linear Feet?
Paying by linear feet means you pay only for the space your cargo occupied. This is very unlike moving with a rental truck where you pay for the whole truck irrespective of whether your goods occupied the whole truck or not.
Also Read: AmeriFreight Review