Should You Hire Day Labor to Help You Move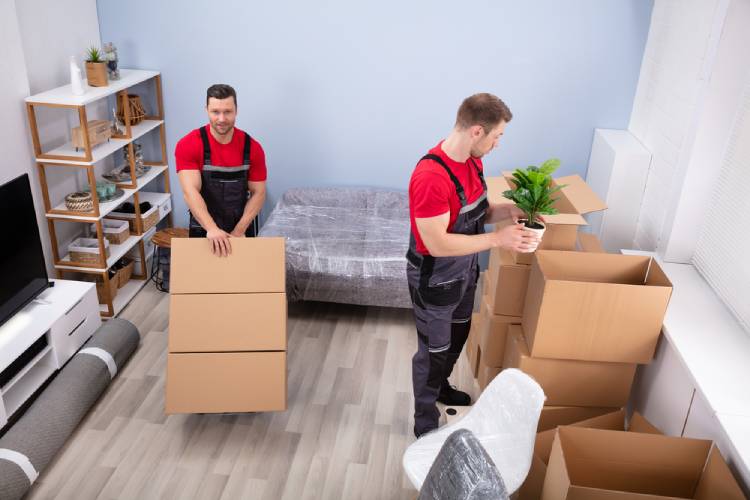 Hiring just the muscle or like it's said 'manpower' to haul your belongings into a rental truck is an approach taken up when it's a self move. You probably want professional movers out of the picture for reasons like costs or the move is a manageable one, so you take up this option.
But let's really look into whether you should hire day labor to help you move? We'll probe into the practicalities of such an approach, so that you can gauge if you'd have success by hiring day labor.
Reasons To Hire Day Labor To Help You Move
To Have Muscles To Do All The Lifting
Only fictional characters like Hulk could actually lift all the boxes from your home into the truck in less than 15 minutes. In reality it could be extremely tiring and physically dangerous to pack a truck alone. Even if you believe you have a manageable number of boxes, you're actually straining yourself every time you lift a box. Also, if you're not maintaining the right lifting posture, you run the risk of permanently damaging a muscle (worst case scenario). This is when it's more than a good reason to hire day labor.
Keep in mind that a self-move is triple the trouble since you're taking up all moving projects independently. Your mind and body would most likely be tired so you would need extra people to help with the task of hauling. So, the labor you hire will be a blessing. If you hire day labor, the worker would lift every box into the truck and you would get to supervise or help with navigation. You won't have to lift a finger but stay around almost like a manager of a retail store just to give direction.
See also: Risks of a Self-Move
To Maximize Your Time
On moving day, time is of the essence. You may have already planned a schedule to stick to and if you don't have help, things can go south pretty quick. Without help it can feel like it's taking ages to load the truck. If there's just 2 people loading a four-bedroom house, things are going to take way longer than it should. At times it can even take upto 4 hours and above if there's a ton of bulky furniture like wardrobes, beds, and storage cabinets.
So, if you want to spend your time wisely, hiring labor to fasten the moving process is a pretty good idea. Things will automatically move at a faster rate than it would without any help. You may also have a time limit by when you need to return the rental truck so for such a scenario, hiring labor will be ideal.
To Avoid Depending On Friends And Family
If you have friends and family who are happy to clear their schedule to help you with the move, that's great. But it's possible for their plans to change and you could then find yourself in a situation where you have no one to depend on. In such cases, it's rationally best to hire labor for a day.
Generally speaking asking for help for an arduous task from friends or family is kind of a big deal. They would probably need to ask for time off their jobs and shift their whole schedule around your move. Also, if you ask the favor assuming it will take 2 hours but then it takes 4 hours, you're practically disrupting your friends schedule, which without doubt is an awkward situation to be in.
Your friends and family will be saving you money by helping you but they run the risk of hurting themselves too. So, if you personally feel that you have too many bulkier items to be moved, it's best to cast friends and family out of the moving saga and hire day labor.
To Save On Moving Costs
By hiring just labor help, you'd actually be saving a ton on costs. On an average it could cost you somewhere between $25 to $40 for an hour of labor. Now this is relatively way cheaper than hiring full service professional movers that charge $500 to $1,000 for a local move. Ideally, hiring labor is fit for local moves because it's less demanding and you could end up packing everything in an hour or so.
Also, since we're already on the subject of costs, we'd like to mention that at times when you hire labor there's a base charge that must be paid. For instance, the labor you hire demands $30 for an hour but finishes the moving task in less than an hour, you would still need to pay the full amount.
This cost does not include the charge to come with moving equipment like a dolly, moving straps or a moving blanket. So, you'll need to consider these additional costs.
Reasons Not To Hire Day Labor To Help You Move
Day Laborers Don't Do Disassembly
When you hire a day helper, you cannot expect them to help with additional tasks like furniture disassembly. For that matter you also cannot turn to them for consultation or any other assistance besides lifting the furniture into the back of the truck and unloading it if you like. On the other hand, full-service workers would be willing to consult, share moving knowledge and help with additional tasks like disassembly, cleaning and so on at an extra cost.
A Day Laborer Won't Provide Insurance For Damages
When you hire a moving company there's two types of coverage provided by them. One is full value protection where the mover must pay the full value of an item that got damaged during the move. The other is released value protection, where you get just 60 cents for each pound of the damaged item. So, if you had a printer that's 5 pounds and has a value of $600, you would still get just $3 as compensation for damage.
Now in the case of hiring a day laborer, there's no such concept in place. So, if your stuff gets scratched or worse, dropped while the worker transfers it in the truck, you won't receive compensation for it. Some helpers could be extremely careful while others are at times not that concerned about transferring it with care, this makes hiring day labor a risky decision.
Not Every Day Laborer Is A Professional
Now when you hire day laborers, it's almost like a game of Russian roulette, by this we mean it's a hit and miss situation. You never know if you're going to get a genuine worker or you've invited trouble into your home. The helper you get would be transferring some expensive items and will be inside your home. In such cases, there's always a risk of the safety of your belongings. If the person who has arrived at your doorstep is fishy and not genuine, they might do a lousy job and ultimately this is counterproductive to your move.
On the flip side, moving companies have a hiring process and also train their employees. This is because the workers are a reflection of the brand name and company identity. The workers that arrive are also at the risk of losing their jobs if they don't conduct themselves well and so tend to maintain a professional demeanor.
With day laborers, this isn't the case and so there's always a risk of hiring a rogue mover. The potential for miscommunication and misunderstandings are also always high, so make sure the price and conditions are discussed at the beginning.
Things To Keep In Mind When Hiring Day Labor
Keep boxes and everything else packed. Things should be ready to be loaded way before the labor arrives at your destination.
Have a plan in mind for the hauling process. If things are not organized enough it could take way longer than usual to load the truck. And the longer it takes the more money you'll pay.
Keep water and energy drinks available at the time of moving. Also, have some towels and wipes around for the worker to use if it's a sunny day.
Make sure you have all the big stuff moved into the truck first. Recheck the house and ensure that all the bulkier items are hauled by the mover first. The worker would have more energy at the start and could later lift the smaller boxes into the truck.
If you feel that a large piece of furniture won't fit through the doorway, make sure you get the door taken out in advance. A day laborer won't be able to help you with this because it's technically not part of the job. Disassembly, cleaning, dealing with electrical installations or specialty items are all tasks that a day laborer could be unfamiliar with.
You cannot expect help with cleaning after the worker has packed your truck. Cleaning is a whole different service which is generally not done by a day labor unless specifically requested for additional labor costs.
Discuss the per hour fee in advance with conditions to avoid disagreements on the quote later. Inform the laborer about how long it would probably take to load the truck so that they have a fair idea.
Keep a backup hire ready in case the day laborer you hired decides to bail on you. This is a common hassle and you must be prepared to face the consequences, if your day laborer doesn't show up.
It's ideal to get references while hiring a day laborer. Think of it as doing a background check on the person who you will be letting into your home.
Make sure to buy your day laborer lunch and they'd probably even ask you to drive them back home. So, you must be prepared to provide a pick up and drop service.
Best Options For Day Labor
HireAHelper
With headquarters in the state of California, HireAHelper has been able to help customers across the nation with move help by the hour. So if you need 2-3 people at your doorstep to do lifting even if it's a renovation, you can consider reaching out to this company.
On an average you can expect to pay roughly $110 for an hour. They do fall on the expensive side of things but it's because you'll be hiring licensed and insured workers. You can also check reviews against each worker so you know that you're not hiring a novice.
Dolly
Dolly is another moving company that doesn't fit the traditional picture of full-service movers but leans towards being a help for hybrid moves. If you just need some manpower to clear the junk or deliver a dozen of filled boxes you've kept for donation then this is the company to turn to.
The company is often referred to as 'an Uber for moving items'. This is because it's an app where you request for movers and you can track when a Dolly helper will be at your location. Do note that this service is expanding but is currently operational in just 36 major metropolitan areas.
College HUNKS Hauling Junk And Moving
College HUNKS is another non-traditional moving company that began its operations in 2004. If you're actually on the hunt for young, energetic hunks to haul your belongings and come along with a truck, this company fits the bill.
You can also use their services for small menial tasks like shifting the furniture around since you're doing a home renovation. You can hire the HUNKS on an hourly basis so you don't have to do any lifting. It's an easy and affordable service for those looking to hire professional manpower.
TaskRabbit
TaskRabbit will connect you with helpers that can arrive the same day you ask for help. You can get helpers for all kinds of projects such as cleaning, furniture assembly or even delivery. You can filter out task helpers according to reviews and price point.
It's a mobile app that's pretty convenient to use to get help for any household tasks. So you can even use this service for any small tasks that come up during or post the moving saga.
FAQs
Can you hire someone to help you move?
You can hire labor by the hour to help with tasks like loading and unloading. This is an approach to take if you're hiring a rental truck and just need manpower to do the lifting.
How much should I pay someone to help me move?
The typical costs to hire help with moving related tasks is $25 to $40 per mover per hour. The more complex the move is the higher the quote could be. If you wish to hire professional movers, you can expect costs to fall in the premium bracket of $50 to $80 per hour.
Is hiring a day laborer illegal?
No, hiring a day laborer is not illegal in the U.S provided you hire a laborer who is authorized to work in the country.
How do I get help moving?
If you need help with moving with respect to financial aid, you can approach charities like the Salvation Army, Catholic Charities, The YWCA, Modest Needs' Self-Sufficiency Grants, etc. You can also check U-haul Moving Help which is a marketplace that will connect you with affordable moving companies.
How much should I pay someone to move furniture?
The average cost to move furniture falls in the price range of $150 to $200. This price may increase spending on the size of your furniture, how big or small the moving company is and the distance of your move. On most occasions, this fee includes disassembling and reassembling your furniture too.
What happens if a day laborer gets hurt?
In case a day laborer you've hired gets hurt during the work, you first need to see to it that proper medical assistance is provided. The laborer's employer or contractor needs to be informed about the workplace injury and the laborer's representative can file for compensation. If there's a homeowner's insurance policy, then the compensation costs of the injured laborer can be covered.
How much does a moving crew cost?
Hiring a professional moving crew for a local move will cost you between $300 to $1,500. If yours is a long distance move, the price may go up to $2,400 to $5,000 depending on the size and distance of your move.
What is considered day labor?
Day labor is when a laborer gets paid for the day's work on the day you hire him once the job is completed.
Are day laborers employees?
Day laborers can be considered as temporary employees who are hired on a day to day basis and get paid one day at a time. They could be associated with an agency or a day labor center that helps find jobs for laborers. So day laborers don't really come under the company payroll under normal circumstances.
Where can I find cheap labor?
You can find cheap labor in the states like Mississippi, Arkansas, West Virginia, South Dakota and Louisiana.
How do I write off day labor?
If you want to write off the wages you paid to a laborer who is a temporary employee, you have to:
Make sure you report the wages on federal W-2 and W-3 forms.
Fill the form W-2 and make sure you give the copies of B, C and 2 to the laborer that very year when you hired him.
For writing off the wages for a self-employed or independent contractor, you'll have to:
Report the payments made on form 1099-MISC and make sure you give the copy of form B to the employee on January 31 that following year.
Give the copy of form A of 1099-MISC to the IRS by February 28 or March 31 if you e-file.
---
Final Thoughts
Sometimes pizza and beer don't work as bait to lure your friends or family into helping you. It's possible that they have a busy schedule and can't commit to something as huge as helping you move homes. That's when it's ideal to look at hiring day labor. It's affordable but comes with it's own set of risks. You have to be careful about the labor you hire and ensure that you've read the reviews and looked for red flags.