Red Flags to Consider when Hiring Movers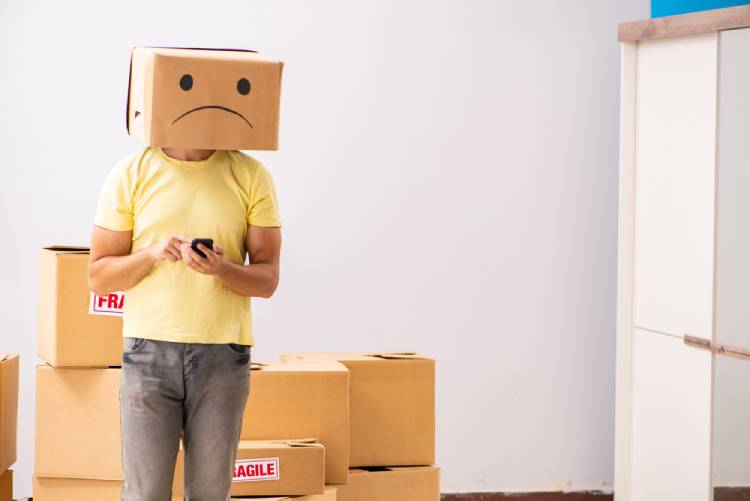 When you hire a mover, the feeling is as scary as giving a stranger your house keys. You pay a significant amount and bestow responsibility to unknown faces to haul every single belonging you own into a new home. There's no doubt it's a daunting task to decide which mover should get this opportunity when there are so many to choose from.
Things can also quickly go south if the wrong type of mover is picked. But fortunately, by looking out for certain red flags, you can truly avoid hiring an unreliable mover. In this article on red flags to consider when hiring movers, we'll share all the small cues you should pick on to keep away from the ones that give the moving industry a bad name.
9 Warnings Signs That Your Mover Is Illegitimate
1. The Company Is Not Licensed
The moving company's registration and license are extremely important to prove the legitimacy of the mover. If your mover doesn't confidently display their USDOT number at the bottom of their website or share it with you upon requesting for it, don't hesitate to completely drop the idea of hiring them.
A USDOT number is issued to moving companies by the Federal Motor Carrier Safety Administration (FMCSA). An official number, its main purpose is to ensure that the mover is following all the safety regulations they've set in stone. If your mover refuses to show they have this license, it is undoubtedly the biggest red flag. It creates room to doubt them and it's possible that their license is revoked, which is why they don't wish to present it at all.
Tip – Always look for the USDOT number of your moving company and pull out a report about the history against that number. You'd be able to take out information regarding crash records, complaints, their insurance status and even the safety rating they hold. This should help you sieve through the quality movers during your search.
2. Long Record Of Complaints On Various Platforms
The digital era we live in has made it a common practice to look for any company online along with the reviews attached to the name before hiring them. And this is a practice to follow even when you're researching for a mover.
If you notice that there's a whole thread of negative experiences on platforms like Better Business Bureau, Google Reviews, Facebook, and even Yelp, it could be a sign that the company works in a fraudulent manner. Keep in mind that no company will ever have a clean list of positive reviews; there will always be a few negative ones. But when you see the negative ones outdo the positive drastically then it's best to avoid the company.
Tip – Always read reviews before confirming a mover. When you get the slightest doubt, consider requesting the company for a referral and speak with a customer that has used the same company in the past.
3. The Movers Don't Perform An On-Site Inspection
When movers refuse to come visit your home to do an evaluation of the number of things that need to get moved, they're most probably taking you for a ride. You must remember that an estimate provided only by answering a few questions on a phone call with no physical, personal visit is usually also inaccurate.
Plus, when companies send representatives to visit your home, you ultimately get to put a face to the name and it allows you to interpret the body language or mannerisms of the employee. In cases where they send you a quote online and keep everything strictly virtual, it becomes even more difficult to trust and believe everything they tell you.
Tip – Always opt for a pre-move inspection so that you and the movers have a crystal-clear understanding of the number and categories of items. Point out the specialty items or furniture pieces that already have visible damage to avoid misunderstandings on moving day.
See that the mover also studies doorways, staircases and so on to be well prepared for moving day. Take your chance to address issues or concerns you have about the movers to the representative of the company directly at this time.
4. The Moving Company Asks For A Huge Deposit
Yes, most movers will take a small amount of money as a deposit from you in advance to confirm that you've booked your move with them. Many other small businesses also always collect deposits to prevent losses for when the customer cancels at the last moment. But the only time you should be on your guard is when the mover asks for a full deposit or over 50% of the total amount you owe them.
Some movers could also insist on only paying the huge deposit via cash which is another tell-tale sign that something isn't right. When your mover is engaging in fraudulent activity, they'd most likely ask for cash and not accept a card payment so that there's no trace of that transaction and also no way for you to retrieve any of it.
Tip – A reasonable deposit to movers is 25% of the grand total. Anything between $100 to $500 can seem decent depending on the final amount owed. Every moving company will have a different policy and condition to this, so make sure you get it confirmed before agreeing to it.
5. If The Estimate Offered Is Extremely Low
Once you start searching the internet and leaving your contact information on a moving website, be prepared to be bombarded with various sales calls. Some might even be super convincing, but your way to know if you're being scammed is when they offer a price that's too good to be true.
Rogue movers often choose unethical paths like this to reel in customers, only to scam you of your money later. It can be tempting to give in because of the attractive price range offered but trust us, it's best to stay far as possible from such offers. In hindsight, it's going to be financially damaging.
Tip – Shortlist a few moving companies you'd like to consider hiring and compare the quotes you receive. The price range should more or less match and that would tell you that these companies are offering you an average market rate that is followed in the moving industry.
6. When Getting In Touch With The Movers Is A Pain
Before you even hire the mover, you may notice that it's been next to impossible to get in touch with them on phone call or in person. It just proves to you that things will be even more difficult post moving day. When you call and all you hear is the sound of crickets chirping, it just adds to your moving stress.
So, if your movers don't assign you a company representative or someone who is supposed to get back to you on truck status, paperwork and so on, you know things are going to be disorganized going ahead. This is why you should consider putting a stop to hiring such a mover from the beginning. Also, when the representatives themselves aren't courteous at all, don't revert often and practically keep you in the dark, this is another warning sign that you can't really depend on such movers.
Tip – You want to be on the lookout for signs that show you that your mover is responsible and most importantly, responsive. Pick up cues on phone calls and understand if the person on the line with you is being professional.
7. The Moving Contract Has Unusual Conditions
The Moving Contract, also known as the Bill Of Lading (BOL), is the most important document that is provided to you by the moving company. This is a legal document that serves to protect you from asset theft. If the moving company is unethical in nature, they'll most likely tamper with the information on this contract. If you find that certain terms and conditions don't make sense and seem out of place, then avoid signing it.
Tip – We cannot stress this enough – it is absolutely essential that you fine-comb through the moving contract before leaving your signature on it. If you have any questions, make sure you get them clarified so that nothing on the contract can be held against you.
8. Deceptive Brand Name
Legitimate moving companies maintain a certain standard of service and also live up to to it. This is the reason why when you hear a specific brand name in the market, you know for sure that you're in for quality service. Rogue movers understand this and use this tactic to their advantage.
They create convincing websites, add a fake address and even go to the extent of duplicating part of their company name to resonate with a legitimate company just to get leads. If you notice that the name and physical office address is flakey, be convinced that this is a mover pretending to be of high standards and in reality, isn't.
Tip – When you find a moving company that you'd like to hire, start doing more research on the company if you find the name too generic. You'd also be able to detect that the company is phony if every single review is super positive, vague and not detailed at all.
9. Don't Arrive With Any Functional Equipment
You can avoid hiring the bad apple version of a mover if they arrive with just a few laborers and a truck. A mover that is oriented towards keeping the client's belongings safe and undamaged will reach your property with a dolly, moving straps, tools to lift, and even carts if needed. If your mover didn't bother to get any equipment and is solely depending on the physical strength of their employees, it shows that they won't do a very safe and good job.
Tip – When your mover evaluates your belongings, think about whether they bother to ask you questions about the heavier or specialty items. When your mover is asking you a bunch of questions, it shows that they are concerned about the fine details of your move. They also ask so that they can pre-plan and understand the weight of the job. Many questions and concerns the mover addresses before moving day is a sign that they want to secure things that are delicate and important to you.
Tips To Safeguard Yourself From Hiring A Fraudulent Moving Company
Always ensure that the estimate is calculated based on the weight of the things being moved to a new home. When movers determine the quote solely on cubic feet of the space being taken up instead of weight, understand that you should walk away. This is illegal in some states, and movers can only charge by cubic feet in limited instances.
Know the rights you hold as a customer using a moving company. To do this, we highly recommend requesting your mover for a booklet titled 'Your Rights And Responsibilities When You Move'. This is drafted by the FMCSA to bring customers up to speed with the regulations of the moving industry.
Do thorough research on platforms like Better Business Bureau, Google Reviews and Yelp to get a different picture of the company as displayed on the main website. You can also use the word 'scam' in your internet search to pull up dirt on the company.
A legitimate moving company will have membership at organizations like AMSA (American Movers & Storage Association) proving that they live up to a certain level of professionalism. Look for such a sign so that you know if the company is reputable.
Ask friends, family and acquaintances for the names of moving companies that they had success with. This can sometimes make all the difference for your search.
Look for locally run moving companies where you have the opportunity to meet the company owner who also takes personal responsibility and interest in your move.
Make sure you get a binding estimate which is a quote that you and your moving company agree on before closing the deal. A binding estimate guarantees that the quote doesn't increase or decrease without reason upon delivery of belongings.
Conclusion
If you find it challenging to pick a legitimate moving company, consider using the tips shared above so you're nowhere close to being a victim of a moving scam. It will also make things a lot easier. We highly recommend that you begin the search in advance so you have sufficient time to research your moving company. Lastly, don't rush yourself into confirming a mover because it certainly is a heavy decision to make.
FAQs
What To Watch Out For When Hiring A Mover?
When you hire a moving company, you want to first make sure that they are licensed and insured. Spend enough time reading testimonials of the company on platforms such as Better Business Bureau, Yelp and Google Reviews. Lastly, it's good practice to ask for a referral so you get candid insights about the movers from a past customer.
Is Hiring A Moving Company Worth It?
Hiring movers definitely reduces the stress of moving. Movers save you both time and energy. A moving company brings all the equipment, the manpower and reduces all your moving related tasks in half, making it worth consideration.
What To Look For In A Moving Contract?
Before you sign a moving contract, you want to fine-comb through the whole document paying special attention to the sections of fees, payment and delivery window.
See also: What to do When Movers Are Working too Slowly on Purpose