Moving From Los Angeles To San Francisco: Expert Tips and Advice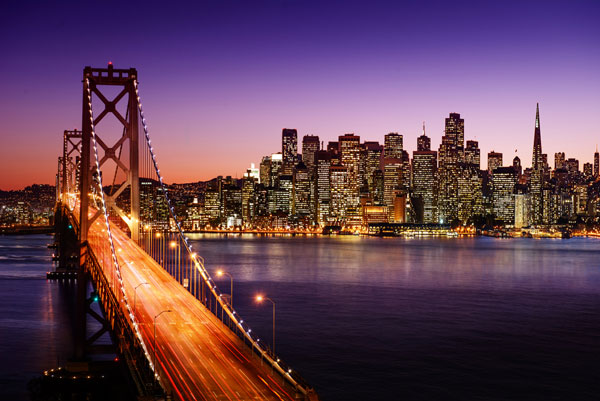 When you convey to friends and family that you'd like to move to San Francisco from LA, the possible reactions are surprising, followed by a debate about NorCal vs SoCal. Even though both cities occupy the same state, the north and the south are considered as two different sides of a coin. Moving to San Francisco from LA to others might seem like you're doing the unthinkable and yes, it's a big deal.
Many argue that NorCal is the winner for its view, recreational spots, and tech startups. But we're here to present to you the differences between both cities so you can take a stance on which city is a better place to call home.
Factors To Consider Before Moving From Los Angeles To San Francisco
Weather Conditions
Generally, the temperatures that the north of California experiences is much cooler than the cities in the south. The Mojave Desert that lies in the south of the state is roughly just 4 hours away from LA and is probably the main reason it's warmer here. On the other hand, in the north there's a more dense concentration of mountains and national forests like Stanislaus, Yosemite, and Sierra.
Keep in mind that the north of California also receives more rainfall than the south. This is why on an average, SF receives about 68 days of rain while LA receives about 35 rainy days.
These are the main areas where there's a vast difference between both cities. To give you a wider perspective on variance in temperature, see below.
Here's the difference in temperatures that you can expect during the summer months:
Summers In San Francisco – Average temperatures fall in the range of 58°F to 72°F.
Summers In LA – Average temperatures fall in the range of 66°F to 85°F.
In San Francisco, the summer temperatures are just going to be way more comfortable than it is in Los Angeles. San Francisco records 259 sunny days while LA observes 284 sunny days.
Here's the difference in temperatures that you can expect during the winter months:
Winters In San Francisco – Average temperatures fall in the range of 45°F to 56°F.
Winters In LA – Average temperatures fall in the range of 48°F to 67°F.
For winter temperatures, there's not a massive difference but you'd probably be calling it hoodie weather for longer in SF than you did in LA. Both cities are driving distance from parks and mountains that experience decent amounts of snowfall. Mammoth Mountain, Yosemite National Park, Big Bear Lake, and Frazier Park are some popular places to see snowfall.
All in all, both cities enjoy good weather conditions. Some would consider SF to be better because it's not so warm, but it all comes down to individual preferences.
Cost of Living
Even though both San Francisco and Los Angeles lie in the same state, the cost of living in both cities are drastically different. Before you accept a job or hunt for homes in San Francisco, it's advisable to know what you're getting yourself into. So let's look at the financial bits that you have to consider if moving to San Francisco.
To begin with, let's look at housing costs where there's a considerable difference between the two cities:
Here is the difference in costs if you look at real estate (according to Zillow)
Median value of homes in Los Angeles – $835,721
Median value of homes in San Francisco – $1,425,867
The costs of homes in San Francisco are in the seven-digit sphere but that's not the case in Los Angeles. Real estate is expensive in SF because of the pool of tech companies and high pay that allow residents to have the money to spend over a million dollars for a home.
Do note that transportation is going to be less expensive in SF but in terms of healthcare, utilities, and groceries, it's all going to cost you more than LA. Utilities are 4.1% higher and groceries are 12% more expensive in SF.
A gallon of gas in SF will set you back by $3.94 and by $3.84 in LA. There won't be a vast gap except for the housing factor but between the two, San Francisco is a much costlier city.
Job Market
One major difference between the job markets in San Francisco and Los Angeles is that SF has a larger cluster of high-tech companies. All the top dogs in the tech industry such as Google, Facebook, Apple, and Twitter have offices situated in San Francisco. This shouldn't be surprising news as Silicon Valley is in San Francisco. The city also has a legacy with the financial industry. Fintech is an established industry in the San Francisco area and you're bound to find lucrative job opportunities if you work in this field.
In LA, media and entertainment are the key players. Again, this is not surprising because the city is home to Hollywood. So just like how Fintech is the dominant contributor to the economy of San Francisco, the entertainment industry is a key industry in LA. So, there would be a considerable change in which industries get more importance.
Here's a list of the largest companies based in SF to get a gist of the market:
Salesforce (software)
Wells Fargo (financial services)
Uber Technologies, Inc (technology)
Charles Schwab Corporation (financial services)
Slack Technologies (software)
Williams-Sonoma, Inc. (retail)
You could have it better in SF salary-wise as the median household income is much higher than what the average income in LA is.
To give you perspective, see the difference between the two below, according to Niche:
Median household income in San Francisco – $112,449
Median household income in Los Angeles – $62,142
Individual income in SF is roughly $52,677 while it's $28,072 in LA. There's a pretty big gap in salary and that's mostly because it's more expensive to live in SF. Both cities have strong, healthy economies that are often compared to the diverse nature of NYC.
Transportation
In LA, you probably depended a lot on your car to get around since the public transportation options are limited to the buses, 4 light rail lines, and 2 subway lines. But in SF you can easily entertain the idea of ditching your car completely. As per BestPlaces, the aspect of transportation is less expensive in SF in comparison to LA by roughly 4.3%.
You can rejoice at this fact because you're basically going to be spoiled with many choices.
Here are your options for commute in San Francisco:
Bay Area Rapid Transit (BART): This is a train line that connects 3 major hubs which are San Jose, San Francisco, and Oakland. Residents who live in Alameda, Contra Costa, Santa Clara, and San Mateo counties largely benefit from this mode of transportation.
San Francisco Municipal Railway (Muni): Muni is a rapid transit system consisting of 54 buses, 3 cable cars, 7 light rail lines, 17 trolley buses, and 2 streetcars. It's the most extensive network of public transportation that is still expanding.
Caltrain: This is a commuter rail line that stops at 31 stations. The line serves the Santa Clara Valley (Silicon Valley) and the San Francisco Peninsula.
Ferry: As you know, San Francisco is surrounded by water on 3 sides. So if you want to get to Oakland or Sausalito, you can always take the waterway. Ferry Building and Pier 39 are the two points in the city from where you can take a ferry.
All in all, the existence of public transportation in San Francisco covers a much larger ground than the ones in LA. The majority of the residents commute via the BART or Muni. The city also has an impressive walk score of 87 on 100, so some errands can be made on foot. You can also choose to bike everywhere.
San Francisco's Strong Points
Multicultural communities
Plenty of parks and gardens
Home to tech giants
Great climate for outdoor activities
Gorgeous natural wonders (Yosemite, Death Valley, Kings Canyon)
Extremely walkable and bicycle-friendly
See also: San Francisco Relocation Guide
Top Neighborhoods To Move To In San Francisco
1. Berkeley
Berkeley is situated on the east side of the city of San Francisco and is popular because it's home to the University of California. The place is super green and the students contribute to the vibrant atmosphere. You'll also find plenty of spots to camp, rock climb, and trek. Tilden Regional Park is a popular spot for recreational activities. Also, don't forget to visit Grizzly Peak Park if you wish to catch a panoramic view of the city. The real estate prices here are similar to South Pasadena in LA.
Median value of homes sold: $1,004,900
Median rent: $1,722
2. Oakland
The cost of housing is relatively low in Oakland and this is why it's a popular neighborhood for new residents to pick. Not every area of Oakland is safe, so you've to be practical about the community you choose to live in. There are several waterfront parks and eateries in the city of Oakland. It's just 15 minutes away from San Francisco and you'll have access to the Bay Bridge to get there. It lacks gentrification, which is something that most cities in LA have succumbed to.
Median value of homes sold: $687,400
Median rent: $1,445
3. Walnut Creek
Walnut Creek has a bunch of bougie stores and restaurants so tends to lean towards the vibe of Santa Monica but a less expensive version. There's a mix of both luxurious and affordable housing. Residents here have easy access to BART so that makes transportation a breeze. If you're moving with kids, this is the city to consider since it hosts a good number of top-notch schools. It's in the Berkeley and Oakland area, so you're occupying a central location.
Median value of homes sold: $793,100
Median rent: $2,095
4. Belmont
Belmont falls in San Mateo County that's located in the South Bay of San Francisco. So far, we've covered neighborhoods in the East Bay since it's the first choice for new residents but Belmont breaks that notion. If you're into the hustle culture of LA, it's a perfect city to take sanctuary in. At the same time, you're not entirely cut off from the pace of San Francisco because you can easily reach the city in 30 minutes. The only downside is that the real estate prices are high and it's not really affordable for all.
Median value of homes sold: $1,527,500
Median rent: $2,342
5. Redwood City
Redwood is another interesting place in San Francisco to call home. If you simply take a drive here, you're bound to fall in love with all the big, neat and unique houses. The city has gorgeous green spaces like Bedwell Bayfront Park. Also, safety is the last thing you have to worry about here since the area is relatively quiet and has a peaceful family atmosphere.
Median value of homes sold: $1,251,000
Median rent: $2,355
Things To Take Care Of When You're Moving From Los Angeles To San Francisco
The distance between Los Angeles to San Francisco is roughly 381 miles which makes it easier for you to drive to the new city, explore it and get a vibe of the place before settling.
You can use local moving companies that have a good reputation within Los Angeles and it's best to go with companies that your close friends and family recommend.
The drive from LA to SF is going to be 6 hours but ensure that you plan breaks and you're well-rested on the day of moving. Calculate the toll costs, food and more to see if taking a direct flight will save you the trouble.
If you've picked an apartment and there's going to be stairs involved make sure you inform your mover about this in advance. It's necessary to give your mover a heads up about possible hurdles to get an accurate estimate.
Los Angeles to San Francisco Moving Costs
On an average, expect costs to be less than $3,000 for hiring full-service movers to move you from Los Angeles to San Francisco. The majority of the quotes you receive will be somewhere between $1,600 to $2,600. Chances of quotes being over $3,500 is very rare, unless the move is extremely complex.
The estimate you receive will be based on the distance, size, and difficulty of the move. To get an accurate quote, it's best to start a conversation with moving companies. Ask plenty of questions and clarify doubts with your mover so that there are no surprises with the quote.
If you wish to bring down the costs of your move, you can easily do so by hiring a rental truck or a portable container that you load and unload. By taking up the task of packing independently, you can also decrease the total budget for moving.
Also see: Top Neighborhoods In San Francisco For Families
FAQs
How much money should I save to move from Los Angeles to San Francisco?
San Francisco is much costlier than LA in terms of groceries, utilities, and even housing. The median value of homes in SF is at $1,425,867 while it's just $835,721 in LA. In SF, most single adults earn $52,677 annually. Depending on your own personal lifestyle choices, you'd need to save 6 months of how much you think you'd spend monthly in SF.
Is LA or SF better?
LA and SF are both diverse and cosmopolitan in nature. The tech scene is big in SF while media and entertainment is huge in LA. So depending on the field you work in your career might benefit more in SF or LA. Costs of living and wages are higher in SF and this is an attractive aspect that draws new residents. It's necessary to weigh the pros and cons of both cities and decide which one is more your style to decide which is better for you.
How much does it cost to move from Los Angeles to San Francisco?
The average cost for moving from Los Angeles to San Francisco can be around $3,000 if you're hiring a full-service moving company. It's good if you ask your moving company for a free moving quote before you hire them. The average cost for your move based on your moving quote would be between $1,600 to $2,600. But if at all yours is a large move with too many belongings and a long distance, then your moving cost may go up to around $3,500 or above. Do keep in mind that the size, distance, and location of your move are some of the important factors that will influence the overall cost of your move.
How much money should I save to move to San Francisco?
The basic cost of living expenses in San Francisco, for example, a one-bedroom apartment costs $3,500 per month while utilities cost around $150 per month as per the data shared by Investopedia. As you see, San Francisco is one of the most expensive places in the US. You'll also have to save enough money for other expenses like transportation, healthcare, electricity, and phone bills. That's why you'll need to save some money that'll cover your living expenses for at least six months in San Francisco. So you can save around $25,000 to $30,000 before you move here.
What is the cheapest way to get from LA to San Francisco?
The distance between LA and San Francisco is 381 miles. Driving from LA to San Francisco takes around 6 to 7 hours and so can be your best option for saving time. You can also choose to travel by bus as it's one of the cheapest ways to get to San Francisco from LA. But it'll take around 12 hours to reach as the buses stop at multiple places in between. Your average cost for a bus ticket from LA to San Francisco would be around $23 to $35 for a one-way trip.
Most buses have their pick-up stop at Downtown Los Angeles. You can choose to travel by the Megabus or Fixbus that will take you to the San Francisco Caltrain Station. There's also the Greyhound that will drop you off a few blocks north of the Salesforce Transit Center.
Another cheap way of traveling from LA to San Francisco is by flight. Your average flight one-way ticket will cost around $45 and this cost can increase in case you book your ticket at the last minute. There are many flights between the Los Angeles International Airport (LAX) and the San Francisco International Airport (SFO). There are a few flights that land at Oakland or San Jose as well.
Is there a train from LA to San Francisco?
Yes, you can travel from LA to San Francisco by train as there are 11 trains scheduled daily for San Francisco. The train ride is very time-consuming and would take around 10 hours to reach San Francisco. If you choose to travel by Amtrak, it'll take you to San Francisco in almost 9 hours and 30 minutes. The average price for a train ticket from LA to San Francisco would be around $53.25. But you'll have to pay around $10.94 more than this price if you book your train ticket at the last minute.
Is LA cheaper than the Bay Area?
Los Angeles and the Bay Area of San Francisco are in the same state of California. Although both are really expensive cities, Los Angeles is comparatively cheaper compared to San Francisco. The average cost of a house in San Francisco is around $1,425,867 which is expensive compared to the average cost of a house in LA of $835,721 as per the data shared by Zillow. As you can see, San Francisco has housing costs not less than seven digits unlike LA. There is a slight difference when it comes to transportation and other utility expenses in both the cities. Having said that, the healthcare and other utility costs are still cheaper in LA compared to San Francisco except for transportation costs. So in terms of affordability, LA is way cheaper than the Bay Area.
Is 100k a good salary in San Francisco?
As one of the most desirable and lavish cities in the US, San Francisco's overall cost of living is among the highest in the country. The median home value itself is 7 digits— a whopping $1,425,867! Speaking of median house rents, your average rent would be around $4,300 in the city.
Apart from that, you'll also have to take care of other utilities like food, transportation and electricity bills. With a salary of $100k per month, you can surely meet your living expenses in the state. But it'll be better if you save up enough money for at least six months of your stay in advance if you're moving to San Francisco.
Is it cheaper to fly to LA or San Francisco?
The prices of flying to both these airports are almost the same. But flying to San Francisco airport is a better option as it's smaller. Also you won't have to worry about hiring a car from the airport. That way you can reduce the time in renting a car and save yourself a few bucks as well.
What is the best way to travel from LA to San Francisco?
The best way to travel from LA to San Francisco is by car as it takes only 6 to 7 hours. It'll be a good leisure time for you to stretch your legs and enjoy the scenic beauty from outside the window when you take the Pacific Coast Highway. There are several rental car companies in LA that start at the price of only $30 a day. Do keep in mind that there can be additional gas costs that you'd have to pay. Driving by car is your most economical option and you also get to greet Pismo Beach, Santa Barbara, and Monterey along the way.
How long is a train ride from Los Angeles to San Francisco?
The journey from Los Angeles to San Francisco takes almost 12 hours. Amtrak is the fastest way to get to San Francisco by train in almost 9 hours and 30 minutes. The average price for your train ticket will be between $40 to $275. Of course, the type of coach you want to travel in will influence the cost of your ticket.
Conclusion
There are plenty of differences between San Francisco and Los Angeles but it ultimately depends on which city feels right to you. If you believe that you'd fit right into the culture and lifestyle of San Francisco, you can consider moving there.
But keep in mind that it's going to be way more expensive than LA, so planning the financial aspects should be a priority before you make the decision. If you need assistance with finding a moving company that fits your budget, we can help you out with that too.
See also: Best Moving Companies in Los Angeles | Moving From Los Angeles To San Francisco