Leaving San Antonio? 5 Best Places to Move from San Antonio


VanLines Inc
Secure Storage
Easy Booking Process
Fully Trained Employees
GET QUOTE

Colonial Van Lines
Storage Services
Long-Distance Moves
Corporate Relocations
GET QUOTE

Moving APT
Vetting Process
Award-Winning
Available Nationwide
GET QUOTE
Our Take
Price
Rating
Minimum Shipment Size
Storage
Booking Deposit
Cancellation Policy
Quoting Options
Discounts

Best Overall Value


GET QUOTE

2+ bedrooms




Free 30 Days




10%

Free up to 72 Hrs

Phone / FaceTime / Text

Senior / Same day Booking

Best Industry Reputation


GET QUOTE

1+ bedrooms




30 Days




20%

Free up to 72 hrs

Phone / Facetime

Seniors Discount

Best Customer Service


GET QUOTE

1+ bedrooms







Free up to 72 hrs

Phone / Virtual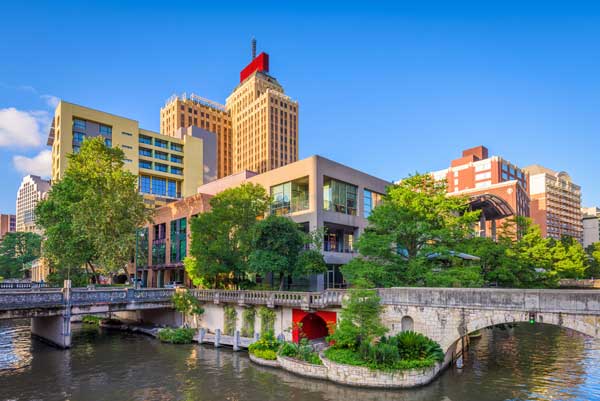 The city of San Antonio has been long hailed for its treasured history lessons and the secrets it holds. The tight-knit community of people is also something that has been a great benchmark for the other cities to imbibe. Plus, the affordability of this Texan city has been a great weapon in its arsenal.
But wait, there is more than what meets the eye probably because the scorching heat here will make you squint your eyes. The high property crime rate is not something residents here are a fan of. The chances of being a victim of it being one in 25 is no joke. A bunch of other silent cons is why people are moving away from this city. If you can relate to this and have something similar in mind, have a look at some of the best places to move to from San Antonio.
5 Best Places To Move From San Antonio
Austin
Houston
San Francisco, California
Boulder, Colorado
Beaumont
The list wouldn't be complete without mentioning the capital city of Texas. This Travis County city has seen tremendous growth in terms of the population over the last decade. Reason? Austin has been nailing almost every aspect of what an ideal city must take care of. For example, Austin's economy has been on the rise and it has a lot to do with its dominance in the tech industry. Other industries like finance, biomedical and entertainment have also helped put this city on the map. Plus, the no-income-tax policy is the icing on the cake.
The Live Music Capital of the world will have your ears engaged with a tune or a melody at all times. The city hosts a myriad of live music events covering every genre and suitability for every age group. The locals in this part of town are so welcoming that it won't take you long to call yourself an Austinite. Though this city has a millennial majority population, Austin provides a great environment to raise your kids too. The exceptional education system here has garnered heaps of praises from a vast majority.
One thing in particular that has been seriously overlooked about this city is the food scene. From food trucks offering delicious tacos to experiencing the Texas barbecue and Tex-Mex cuisine, the food scene in Austin has given critics some food for thought.
Downsides: Now that you've read all the amazing things about the state capital city, it shouldn't come as a surprise that Austin ranks among the most expensive cities in Texas. But with the kind of amenities this place has to offer, you can hardly have any complaints about it either. Another thorn in the flesh for Austin is the summers here like to have a dual with your patience with the temperatures crossing the 92°F mark during peak season.
Population: 1,028,240
Median Home Value: $676,100
Monthly Rent: $1,700
Median Household Income: $71,590
Unemployment Rate: 3.20%
Best Neighborhoods To Live In: Rosewood, Downtown Austin, Barton Hills, and Allandale.
If the expensive cost of living in Austin doesn't quite suit your interests, you can always resort to the beautiful H-town. Make no mistake, the city has all the amenities at a very budget-friendly cost. Don't believe us? The fact that Houston is home to 24 Fortune 500 companies should tell you about the thriving job market here for starters. This also implies that the city has a very diverse population as people from all walks of life seek employment in this beautiful metropolitan city.
Moving in with the kids but worried about their education? It just so happens that the largest school district in Texas, the Houston Independent School District is right here in this city. No matter which part of Houston you plan your move to, you will always have a variety of options to choose the best school for your kids. As for when your little ones ask for an exciting trip, you can rely on the Space Center Houston, Houston Zoo, Downtown Aquarium, and the Children's Museum to save the day.
It is a sin not to mention sports when talking about Houston. The city is home to some of the best teams in various sporting events. The Houston Rockets are a great example of that. Are you a baseball fan? Because the Houston Astros will compel you to become one if you are not! The atmosphere and the sports culture around here are truly hypnotic and will put you under a spell.
Downsides:
If we talk about the flip side of living in Houston, the scorching heat is something that not many people would be a fan of. However, if you've lived in Texas for quite a while, you won't find any major difficulties to adjust with the Houston summers. This gulf coast city is prone to hurricanes which is why you need to take necessary precautions beforehand. You can consider having flood insurance if your new home is in the flood zone.
Population: 2,325,360
Median Home Value: $256,220
Monthly Rent: $1,275
Median Household Income: $52,450
Unemployment Rate: 5.1%
Best Neighborhoods To Live In: Montrose, Midtown Houston, Museum District, Greater Heights, and Downtown.
San Francisco, California
If you don't mind spending quite a bit for a lavish and dreamy lifestyle, there is no place you'd rather be than San Francisco. You have the opportunities to work in world-class companies like Twitter and Wells Fargo as the city is a hub of such global conglomerates. You're in luck if you're a tech-savvy, as the city has a thriving tech industry and is always looking to expand its horizons in the same.
Apart from the work and economic side of the city, you will also get to experience the breathtaking scenery this city offers its residents. How often do you find a bridge being named in the top tourist sights anywhere in the world? It's not just a bridge, the Golden Gate Bridge apart from being a visual treat has a lot of stories to tell. To access the many landmarks in the city, you can resort to the city's robust public transportation network that has made the residents' lives much easier.
No need to scour the internet to search for the best neighborhoods in San Francisco as all the places around here are equally good and well-equipped with amenities. The city has its fair share of history with a diverse culture which will only make your life in San Francisco interesting.
Downsides:
The taxes in this city are the highest in the entire country but with the high median income and the kind of lifestyle, it shouldn't be that big a deal after a while. The work, work, work culture often makes people forget that there is more to life than just office. So, when in San Francisco, make sure you find the correct work-life balance and enjoy all the wonderful things this city has to offer.
Population: 884,120
Median Home Value: $1,608,950
Monthly Rent: $3,240
Median Household Income: $112,460
Unemployment Rate: 3%
Best Neighborhoods To Live In: North Beach, Nob Hill, Mission District, and SOMA.
Also read: Moving From Texas To California
Boulder, Colorado
Every city has that one particular thing that makes it stand out from the rest. In the case of Boulder, it's the breweries. The craft beers are the ones you cannot miss out on and a big part of the city lifestyle. At Avery Brewery or the Upslope Brewery, you can get a full brewery tour and uncover what goes into the making of this amazing liquor. The fantastic view of the Rocky Mountains will help you make an evening out of it while you sip on a few cold ones.
Speaking of education, the famous University of Colorado is located right here in Boulder. Every year, the city witnesses a huge influx of students looking to give wings to their future by enrolling in this university. If you are seeking employment opportunities in the city, cleantech, aerospace, IT, natural products, bioscience, and outdoor recreation are some of the fields you can start your job hunt in.
When you're out and about in the city, there are a bunch of attractions you can enjoy. The Pearl Street Mall is a great example of it. The art galleries, restaurants, and boutiques will also keep you invested for a good while. Parks and open spaces in the city also make for a great family trip on the weekends. The Fiske Planetarium and the Museum of Natural History, are among the popular attractions this city has to offer.
Downsides:
The cons of living in Boulder city is that the price tag is a bit more expensive than your usual American city. Be it owning or even renting a house here, you're looking at a pretty hefty price.
Population: 104,680
Median Home Value: $1,060,020
Monthly Rent: $2,270
Median Household Income: $69,540
Unemployment Rate: 3.2%
Best Neighborhoods To Live In: North Boulder, Table Mesa, Chautauqua, and Mapletown Hill.
Also read: Moving From Texas To Colorado
Beaumont
A rather quiet and less of a hustle-bustle place is what one seeks every once in a while. Beaumont in Texas is that very city that delivers on that promise. For a small Texan city, Beaumont sure has a lot of outdoor activities to its name. You can enjoy a good time in the city's national park and the lack of traffic problems make commuting around the city only make it better.
Apart from this, the economy of this city is driven majorly by energy, healthcare, and education industries. The big players in the economic field here are Exxon Mobil Oil Corporation, Baptists Hospitals of Southeast Texas, and Lamar University. The prestigious Lamar University finds its residence in Beaumont making it a great place to complete your secondary education.
Some famous attractions in the city include the Texas Energy Museum, the Art Museum of Southeast Texas, and the Cattail Marsh Wetlands. So, if you want a calm and serene place to spend a decent lifestyle, consider a move to the quaint city of Beaumont.
Downsides: Though the city has big companies under its belt, it is not that big on employment opportunities as the unemployment rate is on the higher side than the national average. The declining environmental health is a major downside of living in Beaumont. The major reason behind this is the energy industry in the city.
Population: 114,315
Median Home Value: $536,780
Monthly Rent: $730
Median Household Income: $50,650
Unemployment Rate: 7%
Best Neighborhoods To Live In: Downtown, Oaks Historic District, and West Oakland.
Conclusion
A moving process gets a whole lot easier once you have a narrowed-down list of places to relocate to. The above article aims at delivering just that. Be it an upscale lifestyle or a quiet getaway, it all boils down to what you imagine the next place you move to should look like.
Related: Best Moving Companies in San Antonio
FAQs On 5 Best Places To Move From San Antonio
How much does a moving company cost in San Antonio?
If we talk about hiring a moving company in San Antonio, availing the services of 2 movers for a 1 bedroom apartment would cost around $50 per hour; 3 movers for a 2 bedroom apartment would see you spill about $65 per hour, and the services of 4 movers for a 3 bedroom house would cost you close to $85 per hour.
Also Read: Moving Cost Calculator
Is it better to live in Austin or San Antonio?
Apart from the financial aspect, your life in Austin will be much more upscale than in San Antonio. The job opportunities, the food experience, and the recreational activities are only going to get better in Austin.
Is San Antonio Unsafe?
According to Neighborhoodscout data, San Antonio is 4% safer than cities in the nation, meaning that it has a comparatively high crime rate. This is also one of the many reasons why people are planning a move away from San Antonio.