Leaving Phoenix? 5 Best Places to Move from Phoenix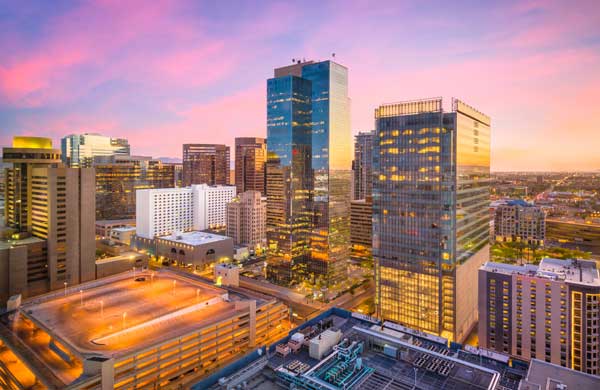 The astounding state of Arizona has a different vibe to it altogether and its capital city, Phoenix has a lot to contribute to it. Making good use of space, as it is the largest city in the state, Phoenix's expansive golf courses have given Tiger Woods-like aspirations to many. And it is not just about the leisure activities, the unemployment rate (lower than the national average) has been a testament of how efficient the job market here is.
So, if the city has so many great qualities to its name, then why are people planning a move away from Phoenix? To give you a few reasons, the dust storms have been a real pain in the lives of the residents. The deserts surrounding the city have a lot to do with it. This is also why this city hits the 100°F frequently – another reason to move! With the education system not being up to the mark and the average income being slightly on the lower side, life in Phoenix isn't that easy lately. If you find yourself in such a fix too, have a look at the below list of best places to move to from Phoenix.
5 Best Places To Move From Phoenix
Scottsdale
Tucson
Tempe
Denver, Colorado
Los Angeles, California
Scottsdale
Are you more of an outdoorsy person and haven't had the chance to fully explore that in Phoenix? The city of Scottsdale will take good care of you in that regard because Scottsdale really knows how to party. Known for its fantastic outdoor activities and bustling nightlife, your life in Scottsdale is going to be filled with amazing memories. While we are comparing the two cities in various aspects, Neighborhoodscout data points that Phoenix is 7% than most cities in the nation while Scottsdale is 24%. Since numbers don't lie, your life in Scottsdale is going to be a lot safer.
Just as you draw a clear-cut painting of a beautiful landscape, the city of Scottsdale quite literally embodies that. Cleanliness is one of the strong suits of Scottsdale which is why you will rarely find garbage lying on the curb here. The clean curbs and beautiful sites topped with the dog-friendly nature of the city make it a great place for families.
Ending the summary of the city on a high note, Scottsdale ranks among the best cities in the country when it comes to employment opportunities. While Phoenix is almost at par with the current national unemployment rate of 3.6%, the city of Scottsdale is doing amazingly well with a 2.4% rate. So, job seekers, there is no place you'd rather want to be in than Scottsdale.
Downsides:
With all cards on the deck, switching from Phoenix to Scottsdale will be a costly move. The housing costs in the latter are almost double than that in the former city. But if you don't mind spending that kind of money on an upgraded lifestyle, it shouldn't be a cause of concern.
Population: 268,850
Median Home Value: $820,150
Monthly Rent: $2,150
Median Household Income: $88,240
Unemployment Rate: 2.4%
Best Neighborhoods To Live In: North Scottsdale, McCormick Ranch, DC Ranch, and Gainey Ranch.
Tucson
What's the one basic thing that all human life form wants in pure, unadulterated form? Air! Consider moving to Tucson to give your lungs a feel of fresh crisp air. Well, the city's lower cost of living as compared to Phoenix will heave a better sigh of relief through that recently cleared nose. While we are talking about things that are good for our health, you'll be pleased to know that the city is extremely bike-friendly with its numerous biking trails.
If you're the mountain over beach kind of person, Tucson will only strengthen that belief of yours. The city is surrounded by not one, not two, but five mountain ranges. The Tucson Mountains and the Rincon Mountains are a couple of them. The wide-open spaces in the city are also something that helps soothe the calm-seeking souls. On the contrary, if you are all in for the nightlife, Tucson will cater to that as well. From hip bars to top-notch fine-dine restaurants, Tucson has it all.
Let's talk money. The economy in this city is booming with aerospace and defense being the major contributors. Tourism is another industry that has been a great help to the city's economy. With the unemployment rate here at par with the national average, you will have no trouble seeking jobs in the city.
Downsides:
If we keep Phoenix as the reference point, summers are a little less hot. But it is still pretty hot and might give you some serious sunburns. So, sunscreens should be the one thing you might not want to forget while heading out.
Population: 557,730
Median Home Value: $311,900
Monthly Rent: $1,210
Median Household Income: $43,430
Unemployment Rate: 3.6%
Best Neighborhoods To Live In: Sam Hughes, Civano, Downtown, and Dunbar Spring.
Also read: Largest Cities In Arizona
Tempe
This city of Tempe in Arizona is best suited for young adults and college-goers. Arizona State University is a major reason behind it. What appeals to the college students the most, you ask? Exciting nightlife and great restaurants that offer lip-smacking delicacies that leave a lasting taste. The Mill Avenue District in the city is the one you should be looking for. High-end restaurants, great nightlife, local and high-end stores to shop your heart out.
Some of the other attractions in the city include the Tempe History Museum which will take you back to the golden age of American history. The ancient architectures around this part of town which include the Niels Petersen House serve as great eye candy for you.
Should you choose to move to Tempe from the city of Phoenix, your financial budget won't see any major changes as the cost of living in both cities is practically the same. The location of this city is also an advantage for the residents here. Easy access to major metropolitan areas like Scottsdale and Phoenix make it convenient for outbound job goers.
Downsides:
Since this city qualifies as a proper college town, there isn't much of a thriving job market here as the city focuses more on the education side of things. The crime rate in the city raises important questions with regard to its safety.
Population: 208,000
Median Home Value: $466,025
Monthly Rent: $1,880
Median Household Income: $58,000
Unemployment Rate: 2.6%
Best Neighborhoods To Live In: Alta Mira, Clark Park, Camelot Village, and Raintree.
Denver, Colorado
If living in a high-altitude city is something that excites you, there is no better place than the Mile-High City. The elevation also makes this place an amazing location for winter weather as the city experiences about 20 inches of snow every month during peak winters. When you have such amazing weather, all you need is a few cold ones to complete the ensemble. The city is filled with breweries for you to drink your heart's content.
Don't let the cold nature of the city fool you into thinking that the city has only white color in its pallette. The city has tons of greenery that will provide you with a good getaway on a Sunday evening. Among the other amazing qualities this city possesses, its economy is also something that has been a consistent selling point for the incoming residents. This diversified economy has its stronghold in multiple sectors.
Energy and high-tech industries are the prominent ones here. The other major industries that drive the economy upward are healthcare, bioscience, aerospace, and broadcast services. Denver is also widely known for its educational institutes. Some of the top-rated schools and universities in the state can be found in Denver. The University of Colorado – Denver is a great example of that. To give you a bit more insight into the world of education, Colorado ranks among the most educated cities in the entire country!
Downsides: Like many Colorado cities, the traffic congestion in Denver has raised some serious questions about its livability. The already high housing costs which are only increasing by the minute is also one of the reasons it is difficult for many residents to prolong their stay here.
Population: 760,060
Median Home Value: $627,300
Monthly Rent: $1,895
Median Household Income: $68,600
Unemployment Rate: 4.3%
Best Neighborhoods To Live In: Washington Park, Capitol Hill, Five Points, and Cherry Creek.
Also read: Moving To Colorado Springs
Los Angeles, California
Ever wondered what it's like to live in one of the most populous cities in the country? Let Los Angeles tell you that. Contrary to popular belief, it is actually quite an immersive experience living amongst so many people, each having a story to tell. Another popular dream of getting to see your favorite movie stars can turn to reality in Los Angeles. The much-coveted Hollywood is located right here in this city.
The versatile nature of the state of California is very rightly depicted by Los Angeles. People here are not limited to regular jobs like lawyers, engineers, or accountants. You will see a lot of people pursuing careers in arts, media, and entertainment. Given the fact that there are so many career avenues, it is safe to say that the city is quite diverse too since people from all over the world try a shot at unconventional careers. The various creative fields help the residents maintain a healthy work-life balance because let's be real, it is all we want at the end of the day.
It shouldn't come as a surprise by now that the city is big on arts and attractions across all neighborhoods. The art festivals, exhibitions, and museums will keep you engaged for a time indefinite! The city has a lot to offer in pretty much all aspects which is why a move to Los Angeles should definitely be on the cards for you.
Downsides:
The downside of living in a city like Los Angeles is the lack of public transportation. So, you might want to consider owning a car to make your daily commute here easier. Another factor, which is a pretty obvious one, that you will need to consider a move to LA is the cost of living. With housing costs here going through the roof, earning a living here is not a piece of cake.
Population: 4,041,707
Median Home Value: $965,700
Monthly Rent: $2,670
Median Household Income: $62,160
Unemployment Rate: 5.50%
Best Neighborhoods To Live In: Hollywood, Silver Lake, Venice, and Downtown Los Angeles.
Also read: Moving From California To Arizona
Conclusion
Whether it is a move within the state of Arizona or an interstate move, your move away from Phoenix should provide you with a slightly better feeling if not the best. The above article aims at assisting you in finding a city that provides you with just that.
See also: Best Moving Companies in Phoenix
FAQs On Best Places To Move From Phoenix
Should I Move To Phoenix Or Scottsdale?
If you're seeking a job in Arizona state, Scottsdale is a better-suited option for you considering the job market and the unemployment rate here is better than that in Phoenix. The median household income is also something where Scottsdale trumps Phoenix.
What Are The Cons Of Living In Phoenix?
Phoenix has a few thorns in its flesh that make it difficult to spend a decent lifestyle. The scorching heat in the summers and the irritating dust storms are the prominent ones. Low annual household income and lack of good schooling opportunities being the others.
Is Phoenix Unsafe?
The capital city of Arizona has been ranked amongst the most unsafe situations in the entire country according to Neighborhoodscout. The high property and violent crime rates prove that this city isn't doing very well when it comes to safety like most populated metropolitan cities.