6 Largest Cities in Arizona
The state of Arizona is accumulating hundreds of people towards it every year. It's as though there's a Black Friday sale sticker on the map of Arizona that people from all over the US just tend to rush to move here. Over the last few years it's grown to be the 14th most populous state in the nation with a population of 7.2 million people!
The low tax rates on income, property and gas truly make Arizona a crowd pleaser, especially to those looking to escape outrageous tax rates. Besides this, the state also has tons of interesting cities on its shelf that can make you happy to put up with Arizona heat. (Yes, the heat requires you to carry double walled water bottles).
Without further ado, let's look at the names of the largest cities in Arizona and why you should consider moving there.
1. Phoenix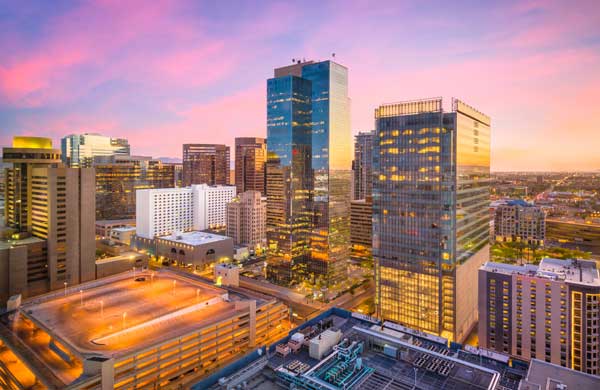 City Overview
You think of France and Paris comes to mind, similarly you think of Arizona and Phoenix is the name that's on everyone's lips. The city is rich in diversity and is a popular choice for new residents. In Phoenix, you're bound to spot residents from all generations and different walks of life, this makes it a super interesting city.
There's no shortage of opportunities in terms of jobs and educational opportunities. It's also the capital of Arizona and this makes it the center of all activity. The infrastructure and layout is progressive and urban. This means residents living here have easy access to modern amenities like the light rail, bus services, and the valley metro rail for commute.
Even though it's a desert, there's a bunch of scenic lakes in a 50-mile radius from Phoenix. Some of them are Lake Pleasant, Saguaro, Bartlett, Canyon, Apache, and Roosevelt. Hiking to these areas allows you to have an active lifestyle and makes living here more enjoyable. Dog-friendly parks and tons of mountains also contribute to making this city an outdoor lover's paradise.
Upsides
Plenty of mountains and parks that gives the city a balance of recreational spots to hike, jog, or bike to. There's also a good number of advanced industries and modern infrastructure that makes it a business-friendly hub. Retail and tech are two of the easiest fields of work to explore in Phoenix.
Downsides
The most obvious one is that the summer heat can be intense and you need to take some time to get used to it. Also, the roads can get clogged when snowbirds flock to the city and this makes Phoenix way more crowded than it usually is.
Quick Facts
Population – 1.6 million
Median Value Of Home – $235,400
Median Rent – $1,053
Also Read: Moving to Arizona
2. Tucson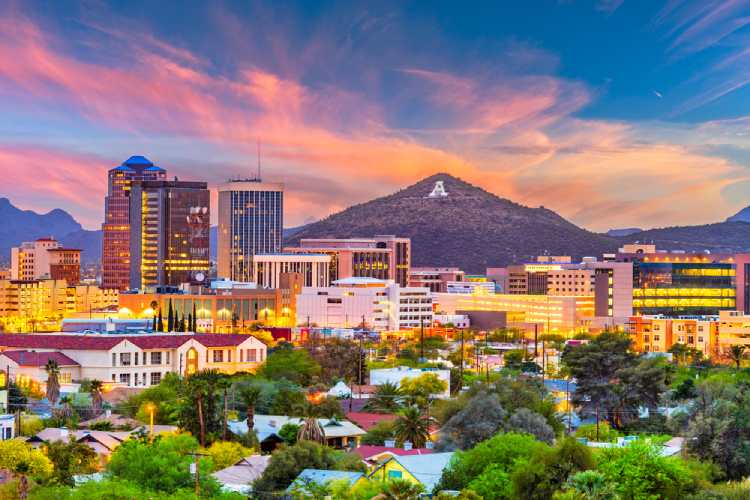 City Overview
Tucson is an easy-going college town with lots of events happening here all year round. The city is home to the University of Arizona and the student population tends to pump up the atmosphere of the place. There's plenty to do outdoors; catching views of the sunset and stargazing are few of many of the hyped up activities in Tucson. If you're an outdoorsy person, you can always take trips to Mount Lemmon and Sabino Canyon which are two equally great options for hikes.
In terms of cuisine, you'll find that there's a huge variety of dishes to choose from. Food is a huge part of the identity of Tucson and it's popularly called the City of Gastronomy. There's Mexican and Spanish influences in the cuisine and the authentic Sonoran food is a staple. So consider yourself in for some really incredible food combinations, if and when you move here.
Something to keep in mind about this city is that things can be pretty spread out so you could see yourself making longer commutes to reach a point of interest. But if you want to get connected to the most popular areas of the city you can always use Sunlink, the streetcar system in Tucson. Overall, it fits the personality of a growing small-sized city that still has the potential to deliver more than it does for its residents.
Upsides
Residents lean towards embracing the adventurous and relaxed way of life, this allows you to have a great work-play balance.
Downsides
The longer commute times can eventually be frustrating and the city does have fewer entertainment options in comparison to Phoenix.
Quick Facts
Population – 541,482
Median Value Of Home – $155,300
Median Rent – $846
See also: Best Moving Companies in Tucson, AZ
3. Mesa
City Overview
Mesa is the third-largest city in Arizona and an incredibly modern city to reside in. If you choose to live here, you'll have great hiking opportunities at Usery Mountain Regional Park. For water activities like rafting, fishing, or swimming you can head to Apache Lake or the Salt River. The city also has its own waterpark, Golfland Sunsplash, which is a popular place that locals visit with friends and family.
Mesa also has a great number of neighborhoods that are pedestrian-friendly and bikeable. There's tons of great school systems in the city, which is what draws many families or individuals looking to raise kids in Arizona to Mesa. It's also easy to sense that feeling of community in Mesa in comparison to bigger sized cities like Phoenix or Tucson.
It isn't a trendy or city with glamorous vibes but offers a simple and calmer atmosphere than most other cities. Do note that the northeast part of Mesa tends to have the wealthier and is the most preferred side of the city to live in.
Upsides
It's close to all the major metropolitan areas in Arizona. You can drive to Phoenix, Gilbert, Chandler and Scottsdale in less than an hour if you ever need to.
Downsides
It's not a busy city so it can seem a bit too dull for those looking for a more fast-paced lifestyle. For instance, the nightlife or lively entertainment options cannot be equated to those in Phoenix.
Quick Facts
Population – 499,720
Median Value Of Home – $226,500
Median Rent – $1,044
Also See: 5 Best Neighborhoods in Mesa, AZ for Families
4. Chandler
If you pay close attention to where Chandler lies on the map, you'll slowly realize that it's surrounded by the names of every major city there is in Arizona. It's as though it is the main center of attraction and there's cities like Tempe, Mesa, Gilbert, and Phoenix orbiting around it. The city is also filled with a little bit of everything that all the other big cities in Arizona have to offer.
We've to say that it's not as huge as the Phoenix metropolitan area, so you get to figure your way around the city with ease. Also, the liveliness in Chandler isn't as toned down as you would think for a city its size, which makes it a place to reside with a good balance.
Chandler gets plus points for having a decent amount of local eateries and big chain restaurants too. There are regular events being put up by the communities here and there's tons of new developments too. The city also has a low crime so you should definitely give Chandler a thought if you're thinking of moving to Arizona.
Upsides
The urban sprawl-like feeling is significantly lower in the city of Chandler. You'll always get to be just 30 minutes away from any other big city you want to explore in Arizona. So Chandler definitely gets some brownie points there.
Downsides
Chandler has a good number of affluent communities because of which living here might feel like you're part of a clique. The diversity in Chandler is not as high as other cities on this list because the housing here is on the upper end of the spectrum. Not everyone can afford living in Chandler, so this can be a con.
Quick Facts
Population – 252,692
Median Value Of Home – $300,800
Median Rent – $1,312
5. Scottsdale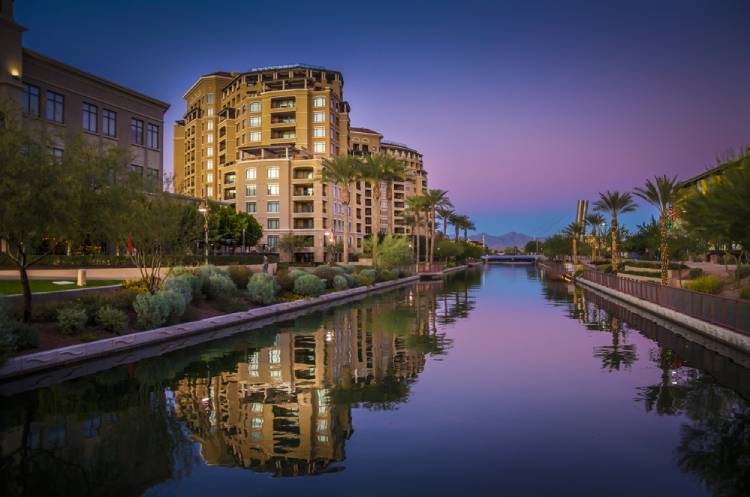 Scottsdale is often referred to as the West's Most Western Town. It's a city to head to only if you truly dream to live a high-end living lifestyle. Scottsdale is considered to be the finest city to live in Arizona and you can get the feeling that something here smells fancy. By this we mean that the city screams luxury and modernized.
For homes you can easily spot luxury condominiums and 2-storey homes with huge pools and big yards. You'll also find lots of independent boutique and upscale shopping areas.
To no one's surprise, Scottsdale even gets an A plus for school systems and safety. Do take note that this city sits in close proximity to the McDowell Mountain Ranges and this gives residents great opportunities for outdoor recreation. There's also over 200 golf courses in the Scottsdale area and more than a dozen luxury resorts. These few facts itself paint a picture of the lifestyle that Scottsdale gravitates towards.
Upsides
Scottsdale is popularly recognized to be the 'Beverly Hills of the West', so the pros of living here is that you have access to well-kept parks and neighborhoods.
Downsides
It isn't a cheap place to live. There are lots of single family homes, so there's less scope for affordable housing.
Quick Facts
Population – 250,602
Median Value Of Home – $475,300
Median Rent – $1,365
6. Tempe
Tempe is a city in Arizona that is a big deal because of the goldmine of job opportunities. It's home to dozens of established companies and even a Fortune 500 company – Insight Enterprises. Other well-known organizations in this city are Wells Fargo, Arizona State University, Honeywell, and State Farm.
Tempe is landlocked with outdoor opportunities as well. The Tempe Beach and Kiwanis Park are great spots to hangout and engage with the community. The city is also home to everything kids love! For instance, there's a botanical garden, zoo, water park, museum and dozens of playgrounds. Not to mention, there's even a huge Legoland amusement center.
A large majority of the neighborhoods in Tempe also have a park nearby so there's no shortage of open green spaces. These small aspects add more character to the city and prevents Tempe from turning into a dull urban place filled with office buildings.
Upsides
The city is close to where all the action lies in terms of jobs and is also extremely family-friendly.
Downsides
The city is small and isn't ready for the influx of people moving here. This is why you'd notice that the infrastructure is lacking and not up to the mark for the population.
Quick Facts
Population – 187,454
Median Value Of Home – $272,900
Median Rent – $1,164
See Also: 10 Most Affordable Places to Live in Arizona
Who Is Arizona Ideal For?
Arizona is a great state to move to if you're in a search for cities that are modern but yet affordable. Weather wise, if you're not a fan of winters and snow, then Arizona could be for you. If you plan to move here, it's essential that you give yourself time to get used to the heat. There's much more to the scenery in Arizona than the image of barren desert landscape. You would easily find a huge diversity of mountains and lakes to choose from for recreation.
Overall, it's not too costly for the high standard of living it offers. It also falls in the list of the top 10 states that people are moving towards in the US. Arizona is also the third fastest growing state. So, we'd say it's best to call dibs on Arizona.
Final Thoughts
An aspect that is consistent in all of the largest cities in Arizona is that good hiking options is just a short drive from the city. Even though Arizona is a desert, it doesn't really feel like one when you start to explore the wide variety of landscapes here.
In terms of cities, the one with the most demand is without a doubt Phoenix. However, none of the largest cities fall short of convenience and modern amenities. Most of the remote towns are situated far away from the state center which is Phoenix. The farther you move this capital city, the less lively it's going to be.
All in all, there's a growing number of people moving to Arizona and if you're also giving the state a thought, it's best to keep these top 6 cities in mind.
See also: Moving to Arizona – Relocation Tips | Best Moving Companies In Arizona | Best Neighborhoods in Tucson for Families
FAQs
What are the top 05 largest cities in Arizona?
Phoenix, Mesa, Tucson, Chandler, and Scottsdale are the names of the top 5 largest cities in Arizona.
What are some of the safest cities in Arizona?
San Luis, Florence, Gilbert, Oro Valley, and Sahuarita are some of the safest cities to live in Arizona. On the other hand cities like Page, Tolleson, and Globe get a bad rap for being dangerous cities.
What are the dangers of living in Arizona?
Since Arizona is largely a desert, there are few things you have to worry about. One of those things are creepy crawlers. You've to watch out for poisonous snakes, tarantulas, and bugs if you go on hikes.
Some small scrubs are also dangerous to touch, so it's best to be mindful about these things. Other than that, the heat waves and sandstorms in the summer can be a threat but you could easily steer clear from such events.
What are 5 major cities in Arizona?
The 5 major cities in Arizona are Phoenix, Mesa, Tucson, Chandler, and Scottsdale.
What is the prettiest city in Arizona?
Bisbee is one of the prettiest cities in Arizona that resides along the Mule Mountains. You'll find the most beautiful Victorian-style architecture here along with some of the best art galleries and boutiques on Main Street.
What are the three main cities in Arizona?
Phoenix, Mesa, and Tucson are the three main cities in Arizona.
What is the smallest town in AZ?
Sedona is one of the smallest towns in Arizona. Other small towns in the state are Bisbee, Jerome, and Wickenburg.
What is the oldest city in Arizona?
Tucson is the oldest city in Arizona which was founded way back in 1877. Other old cities in the state are Globe, Phoenix, and Tempe.
What is the most dangerous city in Arizona?
Globe is the most dangerous city in Arizona with high violent (32.26 per 1,000 people) and property crime rates (78.26 per 1,000 people). This is incredibly higher than the US average of 4 and 21 per 1,000. The other dangerous cities you should avoid are Tolleson, Page, and Winslow.
Is it cheaper to live in Arizona than California?
Arizona is much cheaper to live in compared to California. The median house cost in Arizona is around $333,965, which is cheaper than the median house cost in California of around $654,269.
What Arizona city is closest to California?
Blythe is the closest city to California from Arizona. The city is located right on the banks of the Colorado River, which separates the two states.
Where do the most millionaires live in Arizona?
Most of the millionaires live in the capital city of Phoenix, including Ernest Garcia.
What is the cheapest city to live in Arizona?
Holbrook is the cheapest city in Arizona with a median house price of around $135,785 which is lower than the national average of $281,370. The overall cost of living index here is 77.3, which is much lesser than the US average of 100.
What's the best city in Arizona to live in?
Paradise Valley is one of the best cities to live in Arizona. Although the city's median home price is very expensive, it's worth it as the city has an unemployment rate of only 2.1%.
Is Arizona a big state?
Arizona is one of the biggest states in America with a population of around 7,278,717 people and an area of almost 113,985 sq. km.
What is the main city in Arizona?
Phoenix is the main and capital city of Arizona with a lot of amenities and a booming economy.