How to Move a Trampoline


VanLines Inc
Secure Storage
Easy Booking Process
Fully Trained Employees
GET QUOTE

Colonial Van Lines
Storage Services
Long-Distance Moves
Corporate Relocations
GET QUOTE

Moving APT
Available Nationwide
Award-Winning Movers
Extensive Vetting Process
GET QUOTE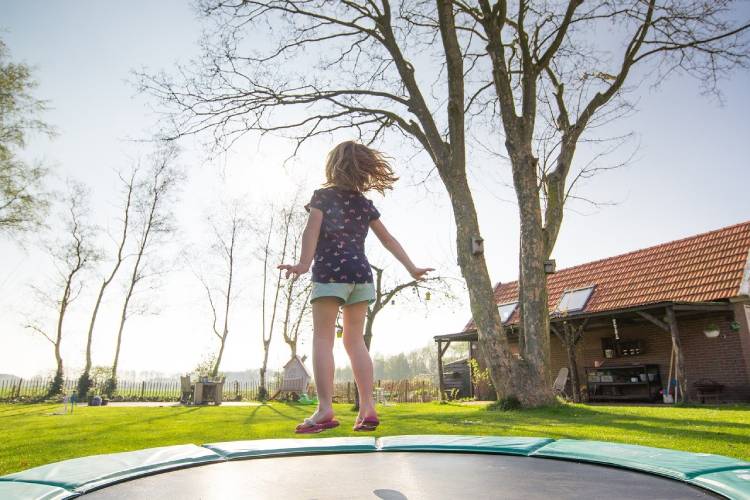 Trampolines are a lot of fun, but they're also big, heavy, and somewhat chaotic when it comes to relocating them. Avoiding the hassle of moving a trampoline with springs to another location may be worth it if you have access to an effective and cheap removal tool. However, whether or not you have access to such a device depends on whether or not your trampoline has springs. If you don't know how to disassemble your trampoline for moving purposes, then read on.
The best way to move a trampoline depends on how far you are moving, and if you are moving it just across the yard, then you can lift the trampoline by yourself, if it is too far or you are just unsure about how to move it safely, then you can get help from some friends. If your trampoline is big enough and you don't think you can move it, I recommend hiring a professional.
Moving a Trampoline Short Distance
If you plan to move the trampoline for a short distance, you can do it yourself easily. First of all, you need to un-anchor your trampoline, which means removing the stakes or concrete blocks holding it on the ground. The next step is to remove the metal springs on the jumping mat using a spanner wrench. If your trampoline has a mesh enclosure, cut them using a blade on the multitool and remove the netting. If you have an enclosure wall, use the spanner wrench to remove all the springs on that side; cut the spring mesh with a blade and slowly lift that section of the trampoline by yourself.
Also See: Short Distance Moving Tips
Ask for Help
If you feel that you can't move the trampoline by yourself, you can ask for some help from your friends. Ensure that you are wearing adequate protective gear while working with the trampoline. Backyard trampolines weigh well over 100 pounds. With three to four sturdy individuals, the trampoline's weight may be divided and moved safely.
Also, if you have a trampoline with a mesh enclosure, then the process of moving the trampoline may be a bit difficult as it is going to be much heavier. The next step is to disassemble your trampoline and move it to the desired location.
How to Move a Trampoline Long Distance
If you are moving the trampoline for a long distance, you shouldn't follow all these steps. First of all, hire professional movers if your trampoline is big enough to merit hiring professionals. Or else, contact some friends and ask them to help you move it. If you plan to move it by yourself, first remove the metal springs using a spanner wrench and then slowly lift the trampoline with your hands. Again, don't forget to wear proper protective gear while moving the trampoline manually because it can fall on top of you anytime.
See Also: Top Long Distance Moving Companies in the US
The alternative methods to transport a trampoline long distances all have major problems, to begin with, such as :
Moving a Trampoline in a Trailer
When you move a trampoline across town or state, transporting it without taking it apart is simply cost-effective. Let's say you're moving from one city to another. Renting a large trailer to transport your trampoline across the country will be very costly, and there won't be enough room for anything else on the truck. Furthermore, trampolines on the truck bed could bounce and slam into each other. Instead, you can hire a company to transport your trampoline for you without taking it apart if one is available in your area.
Moving a Trampoline on Wheels
It's not worth it to pay for the whole truck to transport your trampoline. Yes, you may be able to squeeze in a few more items around the trampoline, but that's about all you'll be able to do. There's just not enough space.
No matter what, when you're done transporting the trampoline, you'll have to put it all together again. Therefore, your best option is to transport it in its original box or container. That way, everything is already in place and ready to go!
Moving a Trampoline with a Truck
Most truck drivers will not transport trampolines; they consider it too much of a load. But there are some companies available in your area that specialize in transporting trampolines and other recreational equipment, such as bounce houses or inflatable mattresses. You can contact them about pricing and availability. However, be prepared to pay cash because they will not accept credit cards.
Hire Professional Movers
It is always better to hire professional movers. They will make sure that your trampoline is moved safely without damage to the trampoline itself or any other object in its path. Professional movers are experienced, they know how to move heavy objects, they have all the tools needed for the job, and most importantly, they are insured.
How to Disassemble a Trampoline
Now that you know that disassembling a trampoline is the only method to move it, let's get started:
Prepare the Necessary Tools
Before beginning to disassemble the trampoline, it is necessary to prepare all the required tools for the task. To disassemble a trampoline easily, you'll need to have pliers, screwdrivers, bolts, wrench, etc. If you bought your trampoline brand new, you should have received a spring tool in the assembly kit. If you've got the trampoline second-hand, then you might not have a spring puller on hand. If that's the case, you can use a thick metal bar to push out the springs.
Be sure that the power supply of your trampoline is turned off before you start disassembling it.
Click photos
After gathering all the necessary tools, it is advisable to click photos while disassembling the trampoline and keep it for future reference. If you are disassembling by yourself, having photos will help you a lot while resembling the trampoline.
Disassemble the Trampoline One by One
The next step is to disassemble the trampoline parts gradually. Remove all the screws, bolts, etc., so that you can take apart each section easily. After removing all parts of a particular section, you can also mark it if required with colors or numbers for future reference.
Remove the Safety Net and Pad
The exact way to remove the safety net will depend on the specific design of your safety net. Some nets can be removed simply by opening up the Velcro attached to the net. Other safety nets may require you to unscrew a few screws before removing them completely.
If your trampoline has an enclosure net, that will also need to be removed. The enclosure net has got a zipper to unzip and open it up most of the time. This will help you remove the enclosure, especially if you are dismantling a trampoline with worn-out nylon threads.
To remove the safety padding from your trampoline, all you have to do is untie all of the ties that connect to the pads of the base. Begin at a specific location and work your way around the trampoline untying those straps as you go.
Keep Track of all the Small Parts
The small parts, such as bolts and nuts, can be stored in a container or bag to ensure that you don't lose track of them. After removing each section, make sure that you keep those parts safe from getting lost or misplaced. And after each section is completed, set those sections aside, so it becomes easier for you later when the time comes to assemble the trampoline again.
Dissemble Trampoline Springs
There are two ways you can choose from to disassemble your trampoline's springs. The first method is to remove them one by one. You will need a pair of bolt cutters or wire snippers for this method. If you have got the spring tool that came with your assembly kit, then using that will be easier.
But if you don't have the spring tool, you can go with the second method. This involves removing all of the springs at once without disconnecting them from each other. You'll need a couple of ladders or sturdy chairs to climb on top of your trampoline, so you are high enough to reach the springs. Now remove each of the springs quickly, so they don't get damaged by bouncing against each other.
After removing all of the springs, place them on top of your trampoline and then sit down on a chair or sturdy surface to untie all of their hooks and ties one by one. After you're done untying the ties, place the springs in a safe place, so they aren't stepped on or tripped over.
Fold it
Next, fold the trampoline mat inwards and make it easier for you to manage. The mat will be quite hard to handle when it's laid straight out, but once you fold it up, it becomes much more manageable and gives you a better grip on the mat.
Make sure that the mat is folded evenly and neatly without any twists or cracks in it. Ensure that the mat's exterior is facing upwards, so you can see that it hasn't got any damage or tears on the outside.
Carry it Carefully to your Vehicle
After everything is completed, please carefully pick up the folded mat and carry it over to your vehicle. Ensure that you keep the folded mat upright because if it slips out of your hands, it can damage your trampoline's exterior.
Place the folded mat in your vehicle and start driving to where you want to store the trampoline. After you arrive at your storage area, unload everything slowly and then proceed to assemble the trampoline later when you're ready.
How to Move a Trampoline that is Set Up
If your trampoline is the model that comes in pieces and you are unsure whether it's safe to move it while assembled, contact a local trampoline manufacturer or distributor before attempting to move it. It could be very difficult or dangerous to move it in its assembled state.
Sectional Trampoline vs. Full Set
If your trampoline is the sectional type, you will have an easier time moving it, but if your set-up has more than one piece, things will be a lot harder for you because the larger the trampoline is, the more difficult it will be to transport.
Transporting a Trampoline by Yourself
Moving a trampoline on your own can also have some serious drawbacks – especially if you're trying to move a larger trampoline with many pieces. There's going to be a lot of heavy lifting involved, and that is bound to cause injury to your back.
Conclusion
It is important to take extra precautions when moving a trampoline, especially in an assembled state. Ensure that you have all the necessary tools and equipment before starting, and be very careful when folding up the mat and transporting it to your vehicle. If you are not confident about moving it on your own, consider hiring professional movers to do the job for you.
Frequently Asked Questions
Can I move a trampoline without taking it apart?
You can move a trampoline without disassembling it if you have the strength to do so. As there is no enclosure net and poles attached to your trampoline, movement is difficult. If you are certain that the trampoline is the sectional type, it will be much easier for you to transport it without disassembling it.
What is the best way to move a large-sized trampoline?
Since moving a large or heavy trampoline can be very difficult and dangerous, many people hire professional movers instead. You can also try to convince a friend or two to help you move it if the trampoline is small and manageable enough for you to bring it on your own.
Is it hard to take apart a trampoline?
Taking apart a trampoline is much easier as compared to assembling it. However, if you assemble your trampoline for the first time, it might take a while to put all of the pieces together.
How do you move an outdoor trampoline?
It is not difficult to relocate an outdoor trampoline. Two adults can easily slide a trampoline across the yard into its new position if your ground is hard-packed. Taking a trampoline apart and moving it piece by piece is probably the best method to move it.
Also Read: Best Out of State Moving Companies | Moving a Mattress