Best Moving Hacks To Ease Your Move


VanLines Inc
Secure Storage
Easy Booking Process
Fully Trained Employees
GET QUOTE

Colonial Van Lines
Storage Services
Long-Distance Moves
Corporate Relocations
GET QUOTE

Moving APT
Available Nationwide
Award-Winning Movers
Extensive Vetting Process
GET QUOTE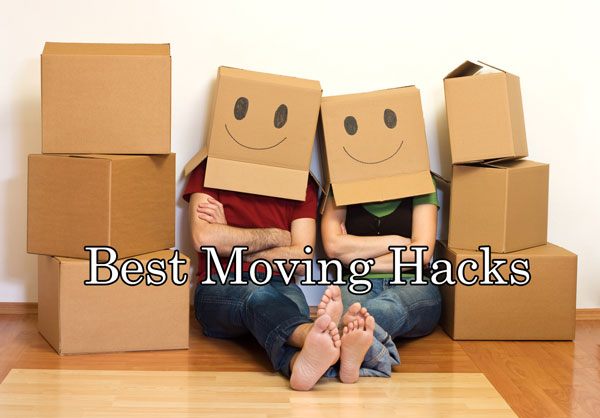 It is part of life to move from time to time. Whether you are used to moving, or it's the first time you are packing your bags, you always want to organize your items carefully for the journey. People are always looking for more natural ways to move. Unfortunately, there is a shortage of tutorials out there that will make the notoriously stressful moving process a breeze.
Luckily, we have got you covered. The best moving hacks guide below will help you reduce the amount of work dramatically and make your moving process a lot smoother. If you are skeptical about it, try the hacks yourself, and you will soon discover a horde of creative ways to ease your move.
Preparing yourself for the move
Before you even pack your bags to facilitate your departure, there are a lot of things you need to do to help you start the process on the right foot. Below is a few hacks that will keep you ahead of the woes of moving.
Set your moving budget
Moving can be ridiculously expensive if not planned ahead of time. You do not want to run out of finances before you settle into your new home. There is a horde of resources and moving calculators online that could help you calculate your approximate cost of moving. Contacting movers in your locality will also give you a rough estimate of how much you could end up spending.
Find a mover
Referrals are undoubtedly the best way to find convenient, fast movers around you. You want a mover that is reliable and considerably priced. Make sure to get at least three different mover companies so that you can get the best possible price and service.
Donate any items you do not need
Clothes and utensils might have piled up during your stay at your current residence. Bulky items could make your move much more hectic and expensive. Donate your items to organizations like ClothingDonations.org or the Salvation Army and ask for a receipt to claim tax deductions later.
Cancel your utilities at the house you are vacating
It only takes a couple of phone calls to cancel services at the house you are vacating and setting up new ones at your new home. However, moving is hectic, and you could get so immersed in your other duties that you forget to take care of your utilities. Getting this all-important task out of your way will go a long way in giving you a flawless moving process.
Prepare your new house for your move
If it is possible to access your new residence before moving in, make sure to clean the kitchen and bathroom. You could also clean the panes and dust off shelves and hidden surfaces. Cleaning with the furniture and equipment already in the house could be hectic and fussy.
Update: Here's a more detailed article about this topic – Your First Apartment Checklist
Plan your meals
Two to three weeks to your move, make it a goal to eat up as much of the perishable and frozen food as you can. It could be extremely hectic to move your pantry, freezer, or fridge full of foodstuff. Throwing them out is, however, wasteful. Get creative with recipes to make sure none of the half-open containers have any food left in them by the time you plan to move. You could have friends come over a few times if the food is too much for you. You could also do some good by donating the unexpired and unopened food to a local food bank.
Electronics
Throwing away old electronics is harmful to the environment. Instead, look for an electronics recycling center in your neighborhood, and if you are lucky, you could get a reasonable price for them.
Scheduling your move
Make sure to plan your move for the middle of the week or the middle of the month to avoid extra costs. It is much cheaper to move when the roads are clear. If you are planning to move without a moving company, make sure you request a quote for the moving truck of your choice before-hand.
Fix up the house you are vacating to get your deposit back
Any dents left in the carpet by furniture can be removed using ice cubes. Just place them on the dented area and leave them to melt into the fibers, and then use a spoon to pull the strands back into place gently.
If there are any holes on the wall from hanging nails, you could use toothpaste mixed up with ivory soap, and some sawdust (if available) to fill them up. Make sure the color of the items used to fill up the holes closely resembles the color of the walls.
When removing nails from the walls using a hammer, avoid scuffing the surface by wrapping a cloth around the head of the hammer.
If the carpet is stained, you could easily clean it using a mixture of water and hydrogen peroxide with a few drops of lemon essential oil. Spray the mixture on the stained area after shaking the mixture lightly. Let the area soak up the mix for about a minute before scrubbing out the stain using a scrub brush.
Let's Move your kitchen
Most people dread packing up kitchen utensils when moving. With bulky appliances, breakable pieces, and sharp items, the kitchen could be the most hectic room to move. With proper organization and planning, the kitchen could, however, be one of the most comfortable rooms to pack up.
The most important rule when planning to move your kitchen is packing similar items together. Once you have used up all the remaining food and donated off the unopened food cans, it is boxing time. We have set up a detailed guide below to show you how you could ease the process of packing up your utensils and appliances.
Kitchen Moving Hacks
Pack your spices inside your pots and crockpots. It maximizes space and keeps your spices safe during the move. You could put an oven mitt over the cans before closing up the container to restrict collision during transport. Use rubber bands to keep the lid sealed by tying it to the pot.
To prevent your toaster from damage or crumb mess, pack it in a bag.
Secure your unsheathed knives by stuffing their sharp ends in glove mitts and secure them using a rubber band.
Store up liquids like laundry detergent, dish washing soap, and hand soap in different bins and seal them up. Liquids could spill if put under high pressure during movement and stain clothes or spoil electronic equipment.
Fit glasses and stemware that could break easily into clean socks for free padding.
Drape sheets over chairs and tables and fit in light cushions between the sheets and furniture surfaces to prevent scuffs and scratches. If rubber bands are available, wrap them around the sheets to secure them.
Put spoons, forks, and other utensils in their respective organizers and wrap them using plastic wrap.
Use liquor store boxes to pack your wine glasses to keep them from breaking during transportation.
Use soft material like clothing as padding for breakable dishes.
Two or three days prior to moving, defrost your fridge and make sure it is clean and dry on the moving day.
Let's move your bedroom
After donating all the clothing and personal items you do not need after moving, you are ready to pack up your bedroom. If it is tough for you to decide which items you will not require at your new residence, consider purging those items you have not used in a while.
You will need to pack easily accessible clothes, shoes, and accessories in one bag so that you can easily change into new clothes when you get to your new house. The following hacks will get you ready to move your bedroom in no time.
Bedroom Moving Hacks
Use clean garbage bags to pack clothing with their hangers. Packing clothes with their hangers is easy since you only have to hold the hook and slide the garbage bags onto them. It also makes unpacking easy after a tedious moving process. Make sure to secure the open end of the bags with ties.
Instead of folding clothes in drawers, roll them to save space. Remove each full drawer and put plastic wraps over it. It will make it much easier to unpack your content once moving is complete.
Put all your valuable items such as necklaces in safes or lockboxes to secure them from damage or loss during transportation.
Pack baby clothes, seasonal clothes, and old clothes in comforter bags to keep them ready for storage on arrival at the new house.
Keep your fitted sheet clean by putting it on both ends of the mattress before loading it into the moving truck.
Stuff small items into your shoes to save space.
As you dismantle furniture such as beds, make sure to label the bags in which you put small bits of hardware such as nuts and bolts. You could tape the bags to their respective furniture pieces or secure them together in a box.
If wine boxes are available, you could use them to store shoes since they have dividers that will keep them organized over the journey.
Take snapshots of the contents of each box to know the items in each box when unpacking. The pictures should be clear enough to give you an idea of each box's contents.
Let's move your living room
The living room is usually the largest in the house. It can be a huge challenge to move for those who have not prepared in advance. Before packing up anything, be sure to have tools to disassemble and reassemble the furniture for easy movement. Moving your living room is a breeze with the right preparation. The following hacks will significantly ease the process of moving your living room.
Living Room Moving Hacks
Protect the edges of your picture frames using pipe insulation or pool noodles.
Take a picture of the wiring setup of each gadget in the living room before moving them into a package. Label each set of wires before unplugging to efficiently rewire the devices when setting up the entertainment center in your new home.
Make sure to unscrew any light bulbs from lamps before packing them. Christmas ornament boxes are great for packaging the lamps. You could also bubble-wrap them before storing them to protect them from damage.
Hardwood floors could have scuff marks or scratches on them. To get t rid of these marks, stick a tennis ball on one end of a broomstick and rub the scuff until it fades off.
You could use priority mail envelops to store your artwork during transportation. Put the envelopes inside a larger container to protect the delicate material against wear and tear.
Unplug all your gadgets one at a time, packing them in the packaging they came in. Make sure delicate devices such as the TV fit squarely into their boxes using either spare pillows and blankets or Styrofoam pieces.
If your furniture has removable parts, for instance, backs and feet for some couches, unscrew them for easier transportation. The idea is to make every object the least bulky it can be.
Use toilet paper rolls to corral all your cords and label them correctly for easy rewiring when settling into your new home.
Put an X across mirrors using a strong tape to prevent them from breaking. It is also advisable to store the mirrors facing each other if you have more than one.
Things to keep in mind on the moving day
The moving day is much more hectic than the preparation since you have to do a lot of tasks all in the same day. Any delays could cost you extra money, so it is in your best interest to make sure everything moves smoothly. The following list of details the things you must keep in mind on the moving day.
Moving Day Hacks
Buy easy breakfast items for the morning after the moving day. It is nearly impossible to set up the kitchen on the same day and be ready to make breakfast the next day. To avoid this hassle, buy light breakfast items like cereal and milk before getting to your destination.
To keep your energy up during the move, pack a bin of snacks and water. If you are moving with kids, the snack bin will save you a lot of time stopping over for snacks and food.
Keep your moving day essentials in a different bag. It is stressful to have to sift through a pile of boxes to find your medications, toiletries, or laptop.
Make sure you have your personal items and valuables such as your Social Security Card on you during the moving day as they could easily go missing.
If you have young kids that would be troublesome to move with, make alternate plans with family or friends to relieve you of the stress. The same is valid for pets.
Once you have arrived at your new home, there will still be work to do. Unpacking, just like packing, must be organized to speed up the process of settling in. Start with the kitchen and work your way through to the sitting room. Do a little unpacking at a time and give yourself time to sit back and enjoy your new environment.
If you keenly follow the best moving hacks and guidelines above, you will find that moving is not such a big hassle, after all.
Content Update: We have recently published a detailed article about moving tips and packing advice. Here's the link to the same: https://9kilo.com/national-moving/best-moving-tips-for-smooth-relocation