7 Best Moving Companies In Richmond, VA


VanLines Inc
Secure Storage
Easy Booking Process
Fully Trained Employees
GET QUOTE

Colonial Van Lines
Storage Services
Long-Distance Moves
Corporate Relocations
GET QUOTE

Moving APT
Vetting Process
Award-Winning
Available Nationwide
GET QUOTE
Our Take
Price
Rating
Minimum Shipment Size
Storage
Booking Deposit
Cancellation Policy
Quoting Options
Discounts

Best Overall Value


GET QUOTE

2+ bedrooms




Free 30 Days




10%

Free up to 72 Hrs

Phone / FaceTime / Text

Senior / Same day Booking

Best Industry Reputation


GET QUOTE

1+ bedrooms




30 Days




20%

Free up to 72 hrs

Phone / Facetime

Seniors Discount

Best Customer Service


GET QUOTE

1+ bedrooms







Free up to 72 hrs

Phone / Virtual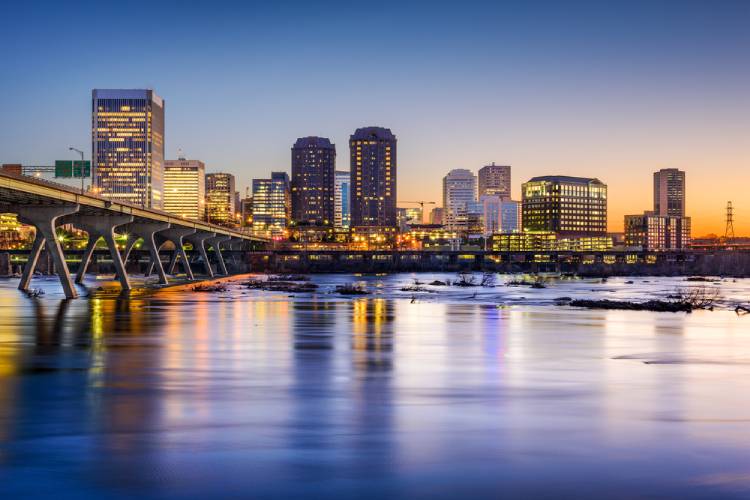 "Give me liberty or give me death"? More like "Give me the best moving company or give me a truck and I'll do it myself". We'll admit we're not great with the humor, but that statement truly does personify the stress it is to find a reliable, efficient moving company. Moving houses is a stressful milestone, and the last thing you want is to regret your choice of a moving company. Thankfully, we're quite good at helping you narrow down on moving companies. Here's a list of the best moving companies in Richmond VA, so that your move can go down in history as the smoothest one ever.
How To Pick A Moving Company In Richmond, VA?
Sure, Richmond is one of the oldest cities in the US, but you don't need to go poking around the history books to understand how to pick a moving company. It all starts off with understanding just what you need, and narrowing your search field from there. Moving companies have different services and offerings which is why this next step is extremely important.
Answer these questions to understand what kind of moving company you need.
Are you moving within Richmond, within the state of Virginia, crossing into another state or moving across the country?
Will your move be less than 100-200 miles or more?
Is your current residence a studio, 1-bedroom or 2-bedroom apartment, or a larger house with stairs?
Will you be moving alone, or do you have other people i.e a friend / family / spouse moving with you?
Will children or elderly people move with you?
How much do you need to move i.e. how big is your inventory?
In terms of additional moving services, do you also need services like packing, disassembling, storage, fragile packing, and assembling?
Answering these questions is the first step for you to understand the nature of your move, thereby helping you filter through moving companies in a much more efficient manner. Another important part of choosing a good moving company is researching them thoroughly. Some moving companies need to be informed about moves within a certain timeframe, while some others require deposits before the move. Make sure you look them up online, and remember, word of mouth is important; if family and friends around Richmond recommend some companies, start by looking them up.
In addition to this, make sure the companies have a Department of Transportation licence. If they're interstate movers, they need to have an MC (Motor Carrier) number assigned to them. Also chalk out a rough moving timeline so you can understand just how much other help you'll need. No time at all or too much else on your hands? Opt for a full service move so you hand over everything to them. Plenty of time but low on a budget? Go the DIY way, hiring a truck or a portable storage unit to store and transport your things.
There's plenty of options, and plenty more moving companies to tick them all off your list, so go through our list of the best moving companies in Richmond, VA, and start things from there.
7 Top-Rated Movers in Richmond, VA
---
1. All My Sons
All My Sons is a family owned and operated moving company where the same familial care is shown to every client. They've been in the moving business for over four generations, and are practically pros at this point! All My Sons has local, long-distance, auto, residential, commercial, and corporate moving services. Wait, there's more – they also offer additional services like full service moves, packing supplies and storage services.
But beyond these usual offerings is that familial care we spoke about. For one, they save you the hassle of unpacking those dressers for long distance moves, since they include full dresser hauling. Have to suddenly move somewhere? Just like family does, All My Sons shows up to help – they have same and next-day services for last minute moves under 500 miles. Just like family is concerned for your safety, they've been following CDC and WHO guidelines to ensure they can keep serving clients even during a pandemic.
When it comes to storage, all your items are tagged, inventoried and padded with extra cushioning before being stored in climate-controlled, alarmed facilities. Short term or long term, your belongings are as safe as possible. All My Sons is locally-owned and operated in Richmond, VA, with over 25 years of experience moving families and offices. They are fully licensed, risk-management certified, and insured as well. Plus, they come with a shiny ProMover certification from the AMSA (American Moving & Storage Association).
All My Sons Contact Details
Contact Number – 804-466-3200
Address – 8176 Mechanicsville Turnpike Building B, Mechanicsville, VA 23111
Operational Hours – Monday – Thursday 8 am to 9 pm. Saturday 8 am to 5 pm. Sunday 10 am to 5 pm.
Website – www.allmysons.com/
All My Sons Reviews
Angie's List – 4.7/5
Google Reviews – 4.2/5
2. On The Fly Moving Guys
One worry people have with moving companies is that they won't know the lay of the land too well. Well, the folks in Virginia have nothing to worry about since On The Fly Moving Guys was founded in Glen Allen (a stone's throw away from Richmond). It was formed by two childhood friends, and today has a wide range of services including local moves, long distance moves, packing services, moving labor, and other moving services like local moving help, free trunk rentals, and flat rate long distance moves.
On The Fly promises a stress-free, relaxing moving day – a far cry had it not been for their excellent range of services. They repeatedly state that moving with them means no hidden fees, no misleading quotes and no inexperienced movers. They even give flat-rate quotes for long distances, dealing with the worry of surprise last-minute "additional costs" by getting rid of them completely.
They also claim to be cheaper than other moving companies, part of which is their offer to drive your truck rental for free. They also do disassembly and reassembly of most items at no additional charge. According to their statistics, moving with them will likely be 30 to 40% cheaper than moving with top Richmond moving companies. Lay those doubts to rest by getting in touch with their customer service department for either a quote or even packing help.
On The Fly Moving Guys Contact Details
Email ID – ontheflymovingguys@gmail.com
Contact Number – 804-552-5855
Address – 424 E Grace St # 92, Richmond, VA 23219
Operational Hours – Monday – Saturday 9 am t o 6 pm. Sunday closed.
Website – ontheflymovingguys.com
On The Fly Moving Guys Reviews
Google Reviews – 5/5
3. My Guys Moving & Storage
Strong players in the moving industry for over 20 years, My Guys Moving & Storage provides exemplary moving services in Richmond, Virginia. But they don't stop there; they've also handled international moves, and are interstate agents for Stevens Van Lines. They have services for local moves, long distance moves, and office moves, having expanded to Maryland, Washington, DC, and Florida.
They also have packing services for people who need them, and can also help you with procuring moving supplies and storage services. Plus, they bring that familiarity that can make all the difference with local moves – their staff live in and around Richmond, making them capable to answer any and all questions you may have about how your move will go.
My Guys Moving & Storage Contact Details
Email ID – dtindall@myguysmoving.com
Contact Number – 804-644-2770
Address – 401 Dabbs House Rd, Richmond, VA 23223
Operational Hours – Monday – Friday 8 am to 5 pm. Saturday 8 am to 12 pm. Sunday closed.
Website – www.myguysmoving.com/
My Guys Moving & Storage Reviews
Google Reviews – 4.7/5
4. MR. MOVING LLC
A relatively new player in the moving industry of Richmond, VA, MR. MOVING LLC was founded in September of 2020. The name of the company is derived from the initials of Maurio and Rachel, a husband and wife duo that have founded it. Maurio Barham has over 22 years of experience in the moving industry, and it was at a moving company that he first met his wife! Clearly, moving has always been part of this duo's lives, and it is this passion for a job they love so much that fuels Mr. Moving.
Mr. Moving LLC caters to all residential moves, and the services they offer are for both local and long distance moves. They also have services for in-home packing and unpacking, and loading and unloading. Getting in touch with them is as easy as a phone call, and they have free in-home estimates. All estimates with Mr. Moving are based on 2 hours' labor at minimum, and they also offer military discounts. Their reviews seem to be positive, which means Mr. Moving LLC has certainly gotten off on the right foot and is keeping it that way!
MR. MOVING LLC Contact Details
Email ID – mr.movingllc@gmail.com
Contact Number – 804-972-8296 (Maurio), 804-405-7900 (Rachel), 804-674-1603 (Office)
Address – North Chesterfield, VA 23235
Operational Hours – Monday – Friday 8 am to 5.30 pm. Saturday 8 am to 112 pm. Sunday closed.
Website – www.mrmovingllc.com/
MR. MOVING LLC Reviews
Angie's List – 5/5
5. Moxie Movers
Moxie Movers is an independent and locally-owned business that has been moving families in and around Virginia since 2011. The crew handle local and residential moves, moving apartments, houses and also helping those who need to shift things in and out of storage. They also provide loading services for people who have hired a portable storage unit like Pods and U-Haul, or a rental truck. Moxie Movers include the disassembly and reassembly of beds, placing furniture just where you want it, and putting boxes into their designated rooms, making unpacking a breeze for you.
Unlike several other movers, Moxie Movers has a fairly informative website. For one, they give a thorough breakdown of the way they charge for their moves. They charge $139/hour for 3 men equipped with a truck and fully insured, and $159 for 4 men. You'll be charged for a minimum of 2 hours, and those who pay with cards incur a 3% premium. Your final quote will look something like this: (Hourly rate x time used) + flat fee of $25 (fuel/mileage charge) = your total
They also give you an idea of how long the move will take including the time taken to travel. With the information on their site, you can get a good idea of how much your move will cost. Have any doubts? Moxie Movers encourages you to ask questions, whether it's just when contacting them or throughout the move. Here's an example of what moving with them looks like money-wise:
Moving from Richmond to Midlothian (14.2 miles), the 3-man crew takes 3 hours to load, drive and unload your items. There's 30 minutes of return travel for the crew, which makes it a total of 3.5 hours. Keeping in mind that they charge $139/hour for 3 men; 3.5 x $139 + $25 = $511.
Apart from these, their website also has helpful information and tips, even including some that can help you save a pretty penny.
Moxie Movers Contact Details
Email ID – booking@moxiemovers.com
Contact Number – 804-928-1111
Address – Richmond, VA 23220
Operational Hours – Monday to Friday 9 am to 5 pm. Saturday 9 am to 12 pm. Sunday closed.
Website – www.moxiemovers.com/
Moxie Movers Reviews
Yelp – 4.5/5
Google – 5/5
6. Moving Made Easy
With over 17 years of experience in the moving industry, Moving Made Easy is one of the top moving companies in Richmond, VA. Moving Made Easy makes your local moves easy in the states of Virginia, North Carolina, Maryland, Florida & the surrounding states. In terms of long distance moves, they service the 48 contiguous United States. They move homes, apartments and offices over local distances and long distances, have services for military moves, and also do in-house moving.
In addition to these, Moving Made Easy lives up to their name with a bevy of moving-related services like full packing service, moving pianos, labor for people hiring portable storage containers (PODS), mini storage, furniture deliveries and dumping trips. They also do senior moves, and can help provide you with all the possible packing materials you could need. Moving Made Easy will send someone for a free in-home estimate.
Moving Made Easy Contact Details
Contact Number – 804-658-0243
Address – 5631 Corrugated Rd, Sandston, VA 23150
Operational Hours – Monday to Sunday 9 am to 5 pm.
Website – www.movingmadeeasyva.com
Moving Made Easy Reviews
Angie's List – 5/5
Google Reviews – 5/5
7. Mover Dudes
A bunch of dudes who know their way around safely and properly moving things, from a small home to an entire company, that's Mover Dudes for you. But don't be fooled by their apparent casualness – they're so good, they're even certified ProMovers by the AMSA (American Moving & Storage Association). They started in 2006 and have been in the moving business ever since then.
Mover Dudes has two locations in Virginia, one in Winchester (corporate office) and the newest in Richmond. Collectively, these serve Northern Virginia (NOVA), the Shenandoah Valley, Charlottesville, Washington, D.C., RVA, Chesapeake, Roanoke, Norfolk, and beyond. They are also a licensed nationwide moving company that can help with your interstate moves in Portland, San Francisco, Denver, Phoenix, Houston, Hanover, Boston, Pittsburgh, Atlanta, and Miami.
Apart from local and long distance moves, Mover Dudes also picks up donations, and helps with shipping and storage. They are also pros at moving odd and fragile items like hot tubs, pool tables and antiques. The best way to know just how much the Dudes can help you is to get in touch with them, but rest assured that there's little they'll say no to!
Mover Dudes Contact Details
Email ID – info@moverdudes.com
Contact Number – (540) 450-0770
Address – 1114 Fairfax Pike, Suite 1, White Post, VA 22663
Operational Hours – Monday to Friday 9 am to 5 pm. Saturday 10 am to 3 pm. Sunday closed.
Website – www.moverdudes.com/
Mover Dudes Reviews
Angie's List – 4.9/5
Google Reviews – 4.6/5
---
FAQs
How Do I Choose A Reputable Moving Company?
There's several important aspects to choosing a reputable moving company, the most important of which is research. Ask friends and family for their suggestions since word of mouth makes all the difference. Also ensure the companies are licensed and insured; an AMSA ProMover certification and BBB accreditation are green flags.
How Far In Advance Should I Hire Movers?
As a rule of thumb, you should be narrowing down on movers 2.5 months in advance. After you get quotes from at least 3 companies, finalize on one and hire them with 2 months to go.
See also: When Should You Call Movers
How Much Does It Cost To Hire A Professional Moving Company?
An estimate for a local move with a professional moving company is between $300 and $1,500, while a long distance move can cost $2,400 – $5,000 on average. However, this is but an estimate; calculating the quote with a professional moving company depends on a range of factors and estimates will differ.
---
Conclusion
Remember to ask friends and family in and around where you live to know more about their recommended moving companies in Richmond, VA. Word of mouth is often a make-or-break when it comes to narrowing your search pool. Coupled with our suggestions and recommendations, you should do just fine.
See also: Cheap Moving Companies in America | Moving to Richmond VA